Hey there, I'm Ruth!
and I KNOW EXACTLY HOW FRUSTRATING IT CAN BE TO STRUGGLE WITH MANAGING YOUR WEIGHT WHEN LIFE GETS HECTIC.
Like you, I wear a lot of different hats. By day, I'm an author, entrepreneur, blogger, podcaster, product creator, the CEO of my company, Ruth Soukup Omnimedia, and the founder of four successful brands—LWSL & Company™, Elite Blog Academy®, Do It Scared®, and now Thinlicious™.
But I'm also a busy wife and mom to two teenage girls, as well as the fiercely loyal (but slightly bossy) social director to my friends. There's nothing I love better than organizing a completely-over-the-top party, but I'm also an extroverted-introvert, a Harry Potter Super Nerd, a wannabe runner, a low-carb enthusiast, and a big fan of kickboxing, martini-making, and pork-rind nachos. (Really—it's a thing!)
Suffice to say, life can get a little crazy sometimes!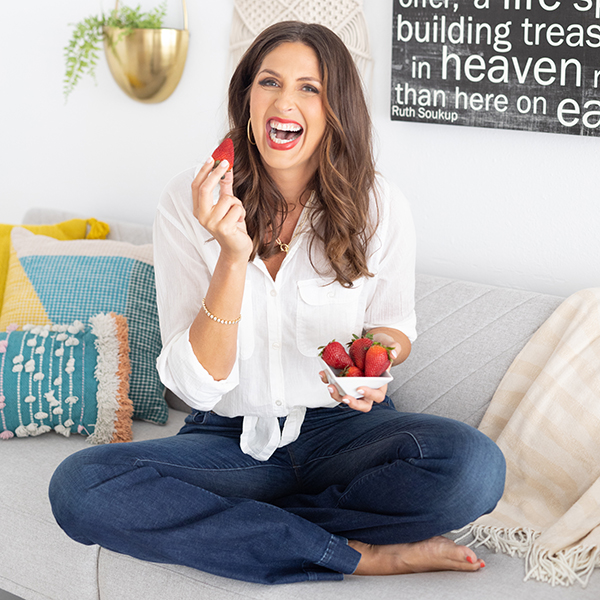 And for me, that was exactly the problem.
Because for many years after starting my company, my main focus was on growing a successful business, NOT looking after my health or watching my weight. After all, between all the demands of work and home, there wasn't really a whole lot of time for anything else.
I tried not to notice as my clothes got tighter, and that number kept creeping up on the scale. I told myself it wasn't that bad, and looked for creative ways to hide my body with jackets and Spanx and bold accessories.
Several times a year, I'd vow to do better. I'd find yet another new diet plan, and I was always sure that this next one was going to be the thing that worked for me.
It often felt like no matter how hard I tried—and no matter how much success I was seeing in the other areas of my life—I couldn't seem to get a handle on my weight.
And I was so frustrated.
Even as I tried to pretend like those extra pounds didn't bother me, they did.
I was embarrassed by all those size XL tops hanging in my closet. I avoided looking in the mirror or having photos taken, or letting my husband see me naked. I dreaded running into people I hadn't seen in a while. I refused to wear a swimsuit in public.
Not only that, I was secretly starting to fear that maybe my best days were behind me. Maybe I was already too old. Maybe I'd never again feel cute and skinny. Maybe there really was nothing I could do.
It felt like I had tried everything.
Literally everything.
Green smoothies. Juice cleanses. Cabbage soup. Weight Watchers. Noom. The F-Factor. BistroMD. Sunbasket. An app that pairs you up with a personal coach who was supposed to hold you accountable by having you send photos of everything you eat.
I hired a personal trainer and worked out 3 days a week.
I started running.
I even paid thousands of dollars for CoolSculpting at the local medi spa, hoping maybe I could freeze off the extra fat.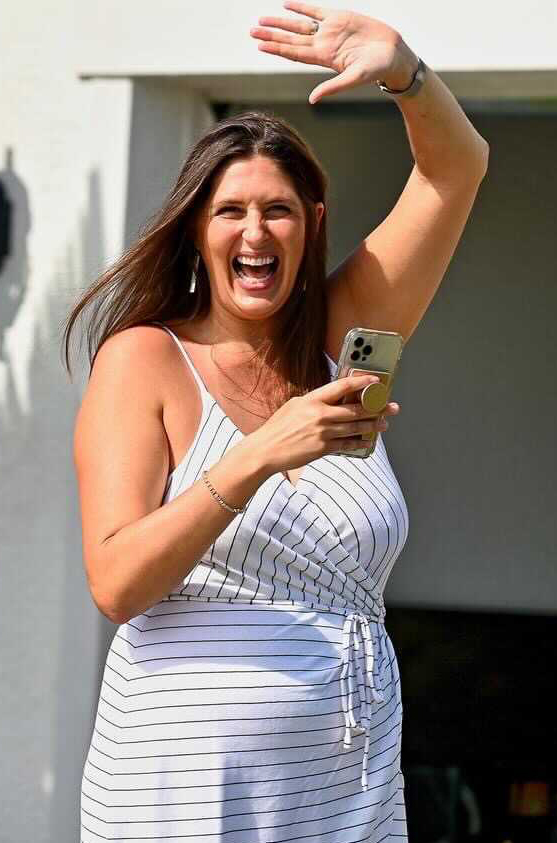 With every new attempt I'd lose a few pounds—sometimes even 10 or 15—but then I'd get busy or have to go on yet another work trip, or have some sort of party or event or gathering to attend, or we'd go out to eat for the umpteenth time that week, and I'd struggle to stay on track.
Or worse yet, I'd get so hungry that I couldn't focus, and I'd just give up.
I had too much to do to worry about being hungry all the time.
So I'd go back to pretending it didn't bother me.
My turning point happened when a neighbor shared a photo they had taken of me on the Fourth of July. I was the heaviest I had ever been. I weighed more than I did at 9 months pregnant. I weighed more than my husband.
And honestly, I didn't even recognize myself. I was so embarrassed.
How had I let myself get to this point?
It was the moment I realized something needed to give.
But after SO many previous failures, I also knew I'd have to figure out a solution that would actually work for MY busy life.
I needed to be able to eat out multiple times a week.
I needed to be able to socialize.
I needed something flexible and easy.
I needed to be able to make food that my whole family would happily eat.
I needed my teenage daughters to see me eating, not starving myself.
And I could never, ever be hungry.
That's really when Thinlicious™ was born.
I developed a whole new way of eating, with a few very simple rules, the most important of which is this:
You should never feel deprived.
I took a deep dive into the science, and I learned how to reset my metabolism and change the way my body burns fuel. Within 6 months, I lost 40 pounds and completely transformed my body.
Not only that, I was never hungry. I ate out all the time. I continued to socialize every weekend. I got to eat delicious food. My kids never saw me dieting. And I never felt deprived.
In fact, I still don't feel deprived, even though I continue to eat this way every day. I finally discovered a way of eating that I know I can stick with forever, because it's everything I need—super easy, super flexible, completely satiating, and absolutely delicious.
It's a way of eating—and living—that has completely changed my life, so much so that I knew I had to share it.
Because I KNOW I'm not alone.
I talk to women every day who are just like me, and probably a lot like you too—high achievers who feel like this is the one piece of your life you just can't seem to get a handle on.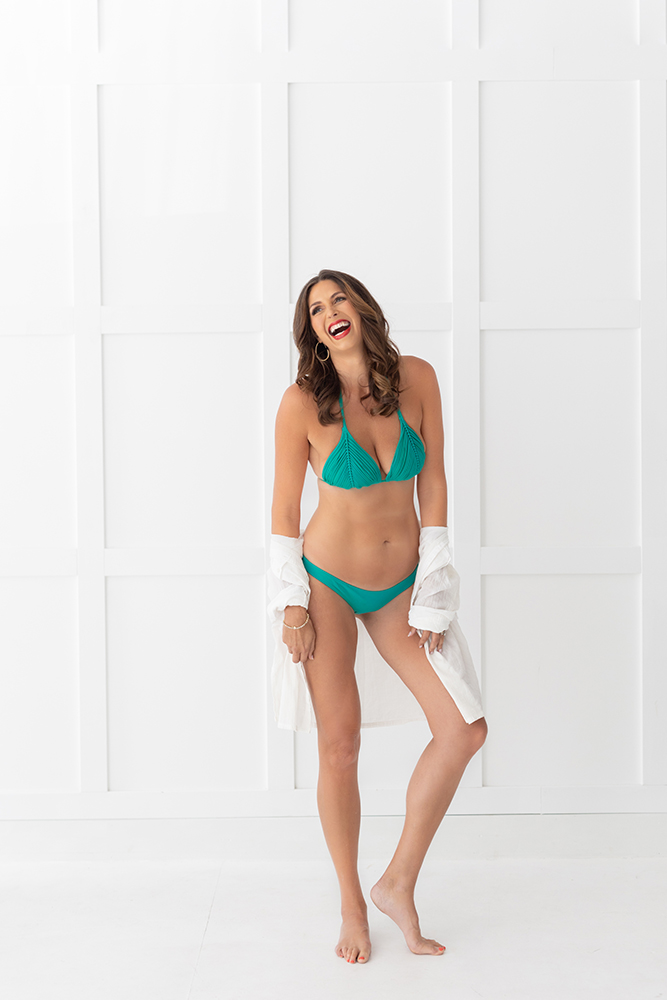 And yet, your life is far too busy for complicated diet plans. You tend to live on the go, which means constantly eating out. And being hungry simply isn't an option, because it causes you to lose focus on all the other things you need to get done.
What you really want is a new way of eating that actually WORKS! Not a diet, but a lifestyle—a way of eating that's so simple and so delicious, you could easily eat that way forever.
The Thin Adapted System™ is that new way of eating, and Thinlicious™ is here to help you make it as easy as possible. Because here at Thinlicious™, we believe that getting healthy should taste and feel good.
And if you're ready to jump in, I recommend starting with our 28-Day Metabolism Reset. It's a four-week plan designed to introduce you to this new way of eating, and to help you change the way your body burns fuel forever. (Oh, and in case you're worried—the food is all so delicious, you won't even know it's healthy!)
I can't wait to be your guide along the way.
xoxo, Ruth