If you're looking for an easy healthy family meal, cooked in just 30 minutes, then Keto Beef Stroganoff In The Instant Pot could be on your dinner table tonight.
And if you don't have an Instant Pot – no problem, I have instructions for using the slow-cooker too!
Keto Beef Stroganoff In The Instant Pot
You all know by now I absolutely LOVE my slow cooker, I couldn't live without it, but since I discovered my Instant Pot – I am now only using my slow cooker to cook my sugar-free grain-free granola, or to keep my mulled wine warm at parties.
Why? Because an Instant pot is actually 9 appliances in one. Yes, it can pressure cook and slow cook (and saute, yoghurt maker, soup maker …). And it is faster than any other cooking method.
Ready to lose weight and get healthy for life without dieting, drugs or making yourself miserable?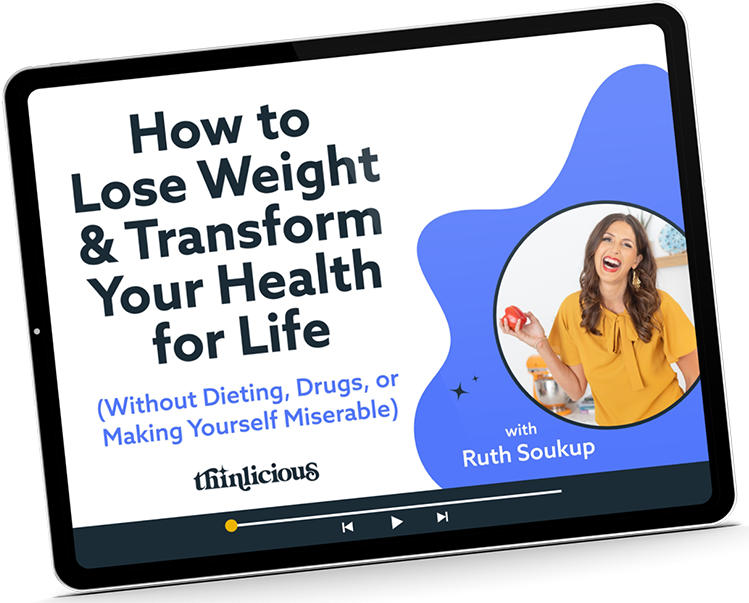 Our free on demand video training will help you understand why it's been so hard and what do to about it.
Using an Instant Pot (or pressure cooker), is the easiest way to have the most amazing healthy family meal on the table each night.
Why An Instant Pot Or Slow Cooker Will Save You Time (And Money

)

No matter which one you choose to cook by, you can turn cheap casserole meat, into a juicy, tender and flavoursome healthy family meal.

You can cook the same meal using the slow-cooker function in 6-10 hours, or using the pressure cooker function, will allow you to cook the same meal in only 30 minutes!
Keto Beef Stroganoff: The Instant Pot OR Slow-Cooker
I have given you recipe instructions below for both the Instant Pot or the slow-cooker.
Simply follow the recipe as shown in the photos and video to cook Keto Beef Stroganoff In The Instant Pot. But if you would like to cook Keto Beef Stroganoff In The Slow Cooker, then all you have to do is throw all the ingredients together in the slow cooker in the morning, mix, set on LOW for 6-8 hours or HIGH 4-6 hours.
Head over to see my full recipe for Low-Carb Beef Stroganoff in the slow cooker.
What To Serve With Keto Beef Stroganoff
Beef stroganoff is traditionally served with high-carb pasta, but rather than that stodgy filler which adds zero nutrition, why not serve with vegetables? I like to enjoy mine with zoodles or mashed cauliflower.
By giving up pasta, you cut your carbohydrate intake and double (or even triple) your veggies. Add sour cream or cream cheese to the low carb beef stroganoff before serving, and place the sour cream/cream cheese on the table for the vegetables too. Sprinkle with parsley.
If you are serving other beef dishes and want to know what are the healthiest side dishes to serve with beef, I have over 21 easy ideas, some don't even need a recipe.
How To Make Keto Beef Stroganoff In The Instant Pot
Watch the quick video below, but this step-by-step recipe guide will help you make this for an easy and quick dinner tonight.
Saute/fry the ingredients for the keto beef stroganoff as shown in the Instant Pot.
Place the lid on, turn the lid to click, and ensure it is fully sealed.
Dial the Instant Pot to "High Pressure" for 30 minutes.
Once it has beeped and finished, turn the Quick Pressure Release valve to release the pressure, then open the lid.
Instant pot – 11 in 1, and it even comes with an air fryer lid.
Accessory pack – boil eggs, make muffins and cakes, steam vegetables etc.
Steam vent – direct the steam where you want it to go.
Get our FREE guide to finally fix your metabolism!
Losing weight & getting healthy is never easy, but lately you might feel like it's suddenly become impossible.
Our Flip the Switch guide will help you clearly understand what's been going on, as well as exactly what you can do to get your metabolism working again so that you can look and feel your best—it's easier and more simple than you think!