This easy keto chicken curry kebabs recipe with a tasty turmeric cauliflower rice is about to become a new family favorite dinner. Not only does it taste delicious, but it's also the perfect healthy keto family dinner for all to enjoy.
You can cook them in the oven, on the BBQ, or in the air fryer.
And if you find cauliflower rice boring … you're in for a treat!
Are there carbs in chicken?
There are zero carbs in chicken meat. Chicken is perfect whether you are following a low-fat diet, low-carb diet, keto diet or carnivore diet.
Are you ready to create the ultimate 12-month blueprint for reaching your health & weight loss goals this coming year?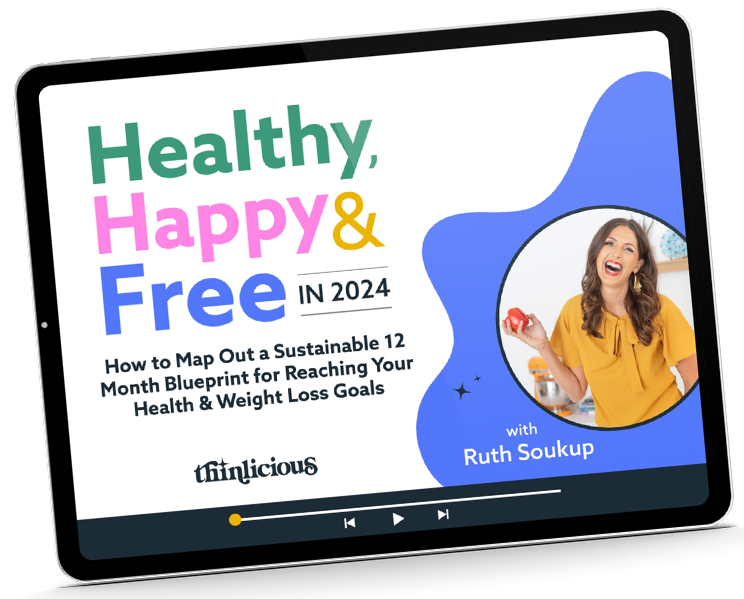 Our free on-demand video training will walk you through how to make 2024 THE year you set health goals…and keep them.
Chicken meat is delicious and high in protein. If you follow a low-fat diet, you may wish to remove the chicken skin before cooking, however, those who follow a low carb or keto diet enjoy the tender delicious succulent flavors that the fat brings.
It's a myth of living low-carb or keto that we eat, drink and add fat to every meal. I do not advocate excessive fat. Enjoy the fat that naturally comes with the meat, adding excessive fat is where I see most people stop their weight loss efforts in Ditch The Carbs PRO.
If you are unsure of how many carbs per day, how much protein and fat to consume, you need to use my macro calculator.
If you prefer beef curry, you may want to try my slow cooker beef Rendang (Malaysian beef curry) with a fluffy curried keto "rice".
What is a kebob or a kebab?
They are the same thing. It's just that American's say kabob while Bristish says kebab. Some people and some cultures may have their own version, but generally speaking a kebab, kebob, or a kofta is various types of meat, fish, or vegetables roasted on a skewer or spit.
They can be pieces of meat, cubed vegetables, sliced or ground. You might also like my keto lamb kebabs if you want something a bit different to add to your for your family dinner rotation.
How many carbs and calories are these in kebabs?
The nutrition panel has been calculated for the keto chicken curried kebabs and yogurt marinade. The nutrition panel shows the nutrition for 1 serving of chicken kebabs and marinade. The recipe serves 4.
1 keto chicken kebab with curry sauce = 3g net carbs, 34.5g protein, 6.3g fat, 221 calories.
To reduce the carbs even further, you may omit the yogurt and just use the spices as a dry rub instead, then the kebabs would be almost negligible carbs.
How to cook kebabs
Keto chicken curry kebabs can be cooked in a variety of ways. All of which are quick and easy.
They can be cooked in the oven, grilled on the BBQ, the frying pan, or cooked in your air fryer.
How to cook kebabs in the oven
Once your chicken kebabs have been marinading for some time, place all your prepared kebabs onto an oiled baking tray/sheet pan or a wire tray sitting on top of a sheet pan. Using a sheet pan will help collect all the juices and fat that are rendered out during the cooking process.
Use silicone tongs to turn each kebab once during cooking. Turn gently so you don't remove any of the yogurt crust. Cook until browned and completely cooked into the center of each kebob.
How to cook kebabs in the air fryer
Before you begin, brush the BBQ grill with your favorite cooking oil. Place all your chicken kebobs onto the BBQ. As the juices and fat render out during the cooking, they will drip on the hot charcoal or gas heating element, and you will get that smoked flavor onto your keto lamb kebabs.
Cook until browned on all sides and you can see BBQ grill marks. Test one or two to ensure they are completely cooked into the center of each kebob. Turn each time you can see a kebob starting to become chargrilled.
How to cook kebabs in the air fryer
Cooking low carb kebabs in your air fryer is genius! It will save you time and air frying cooking helps to retain the moisture. Your chicken kebobs will remain succulent, tender, and juicy.
Exactly how you cook them however will depend on which air fryer you have.
If you have a basket or oven-type air fryer, make sure your kebabs are short enough to not scratch the basket or oven. If you have a rotisserie air fryer, it often comes with a kebob rotator gadget.
Remember to soak wooden skewers well to prevent them from burning.
Using an air fryer to cook kebobs is a quick and easy mid-week dinner or cheats BBQ.
Preheat to 190C/375F.
Spray the wire basket with cooking oil.
Gently place each kebab/kebob onto the oiled basket. Ensure there is plenty of space between them.
Cook for 10 minutes, open the drawer and turn each kebab.
Cook for a further 5-10 minutes, depending on the size of kebabs being cooked. Cook until the outside his charred and the inside is tender. The ground lamb (or other type of meat) must be completely cooked into the centre of each piece.
If you love using your air fryer, I have 101 keto air fryer recipes for you to choose from (chicken, pork, ground beef, salmon, vegetables, and even desserts). Discover how to use your air fryer plus FREE printable air fryer cooking cheat sheets.
Ingredients
The healthy whole food ingredients can easily be found in your local grocery store. You don't need to visit any specialty grocer.
In fact, you've probably got most of the ingredients for the keto curry marinade in your pantry right now.
The coconut marinade sauce is delicious and can be made as spicy or as mild as you prefer.
Chicken breast – cut into cubes. You can also use other meat such as cubed lamb or beef.
Natural unsweetened yogurt – always read the nutrition label to make sure there are no aded sugars and it is a natural yougurt which adds the lovely authentic tart sharp taste to the marinade.
Curry powder – add more or less to your liking and preferences.
Crushed ginger – this can be swapped out for dried powdered ginger if that is what is in your pantry. The fresh ginger however gives a powerful flavor.
Crushed garlic – this can be swapped out for dried powdered garlic if that is what is in your pantry. But fresh is better.
Seasoning – if desired and add to your preferences.
Many people tend to shy away from cooking with curry powder, but that's just because they've never had a recipe that it works perfectly in.
Truth be told, using chicken with curry powder is almost always going to be a win. There's just something about how well those two ingredients go together!
How to make it more (or less) spicy?
If you love your curry HOT then add more powdered chili, more chili flakes or more curry powder to your marinade.
If you like your curry to be a little milder, then feel free to use a mild curry paste, a mild curry powder or add more yoghurt to dilute the spice.
How to make homemade kebabs
There are just 3 easy steps to make homemade chicken kebabs.
1: Soak your skewers in water for at least 20 minutes – soaking the bamboo skewers helps to prevent the meat and marinade from sticking to the skewer or catching fire on a BBQ grill. If you are trying to cut back on single-use items, you can use metal reusable skewers.
2: Marinade your meat – place all the curry marinade sauce ingredients in a large mixing bowl. Mix until the spices are uniformly distributed. Add the cubed chicken breast and mix. Cover and keep in the fridge for at least 1 hour.
3: Thread – take each wooden skewer or metal skewer into the center of the cubed meat. Keep adding more cubed meat pieces but make sure you leave a small gap between each piece of chicken, otherwise, they will not cook properly right through to the center.
Storage
Can you make chicken kebabs ahead of time?
Yes, you can make these chicken kebabs ahead of time. You must prepare the skewers as shown then place them in an airtight container in the fridge for up to 24 hours.
You may need to drain any excess water that the salt has drawn out of the yogurt. Cook on the day that you need them then keep in the fridge, cooked, covered, for up to 3 days.
Can you freeze cooked kebabs?
Yes, you can freeze kebabs but they must be COOKED. You cannot freeze raw marinated kebabs. Keep your cooked keto chicken kebobs in an airtight container for up to 2 months. To defrost, leave the kebobs out on the kitchen countertop, covered, for 1 hour. When they are completely defrosted, reheat in the oven, grill, BBQ, microwave, or air fryer
Sides
While you can serve this up with curried cauliflower rice, you can also have it served with a large leafy green salad or a keto roti flatbread.
Traditionally, chicken kebabs, koftas, and kebobs are served with high-carb side dishes such as rice, pitta bread, and often, sweet sauces.
An easy way to stay n track and within your daily carb limit, is to enjoy these instead with coconut cauliflower rice, cauliflower couscous, mixed salad, spaghetti squash, garlic bread, or a tortilla wrap. Ths makes for a far more nutritious dinner.
More family-friendly dinner recipes
Being a parent also means one thing … dinner time is weighing on your shoulders every-single-night. But what this means for you is that you hold the key to creating a truly tasty and healthy meal for your family. But you want it fast right?
The good news is that there are plenty of healthy family dinner recipes that you can enjoy. Even if you have picky eaters.
You might like to try cream keto pulled pork mac'n'cheese, cheeseburger pizza, or 3 cheese pesto stuffed chicken.
The most popular curry recipes are: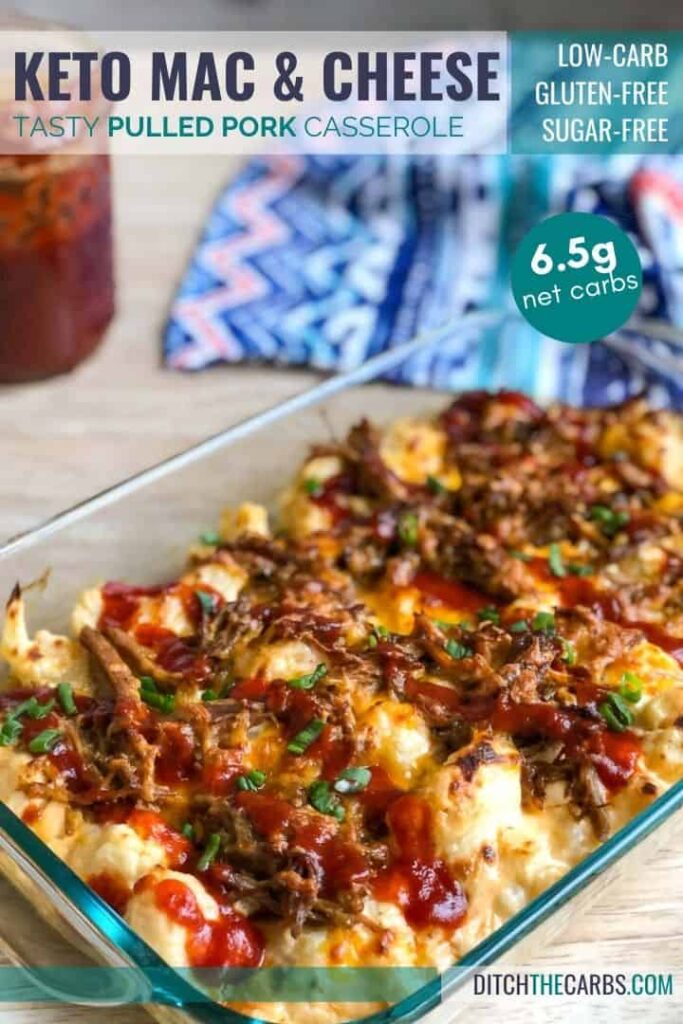 How to make TASTY cauliflower rice
The wonderful thing about adding healthy low-carb cauliflower rice to your dish is that it gives it such a nice texture. And if you haven't eaten cauliflower rice yet, I challenge you to do so! I promise you that you actually think that you're eating actually rice.
The texture is so similar to rice and it's another one of those foods that really does a great job of soaking up the tastes and flavors of the other added ingredients.
What if I Hate Cauliflower Rice?
Seriously, you need to pick up my 4 top tips below that help transform bland smelly cauliflower into the tasty healthy rice alternative that cauliflower rice is.
CAULIFLOWER RICE TOP TIPS:
Don't over boil it – who wants mushy rice? Not me.
Don't add too many liquids when cooking – you will end up with damp, soggy rice.
Add coconut cream – give the cauliflower rice and amazing rich texture and flavour. Cook with the saucepan lid off and continue to stir as it cooks in the coconut cream. Any extra moisture will evaporate
Flavour the heck out of it – always add salt and for this recipe, additional curry powder added to the cauliflower rice is a great flavour enhancer.
To see the full recipe for Easy Curry Cauliflower Rice and read even more top tips. It is the supreme guide and the last cauliflower rice recipe you'll ever need.
Pin and save this keto chicken curry kebab recipe!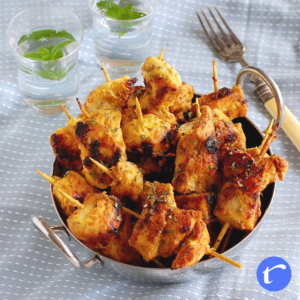 Quick keto chicken curry kebabs recipe
Easy keto chicken curry with a tasty turmeric cauliflower rice. The perfect healthy keto family dinner.
Print
Pin
Rate
Want to lose weight and get healthy for life—without dieting, drugs, or making yourself miserable?
We can help! Tell me how!
Equipment
Measuring cups and spoons

Mixing Bowls
Ingredients
600

g

chicken breasts

250

ml

natural unsweetened yoghurt

2

tbsp

curry paste/powder

½

tsp

ginger minced

½

tsp

garlic minced

½

tsp

salt
Instructions
Cut the chicken breast into chunks or strips.

In a large mixing bowl, mix the yoghurt, curry powder, ginger, garlic and salt.

Add the chicken to the curry yoghurt sauce and mix. It's best if you can allow the chicken to marinade for 1-2 hours, but it can also be made immediately for a quick and easy dinner or barbecue.

Thread a few chicken pieces onto skewers.

You can cook the keto chicken curry in various ways. Bake in the oven on a lined baking tray 180C/350F, gently fry, or barbecue – for 15 minutes and ensure the chicken is fully cooked in the centre.


Serve with your favourite side dish or salad, or preferably, my Easy Curry Cauliflower Rice – CLICK HERE to see the full recipe.
Nutrition
Serving:
1
serve (serves 4)
Calories:
221.3
kcal
Carbohydrates:
4.2
g
Protein:
34.5
g
Fat:
6.3
g
Sodium:
499.6
mg
Potassium:
704
mg
Fiber:
1.2
g
Sugar:
3
g
Vitamin A:
137
IU
Vitamin C:
2.9
mg
Calcium:
100.2
mg
Iron:
1.5
mg
Looking for more keto-friendly meals? Check out these great options: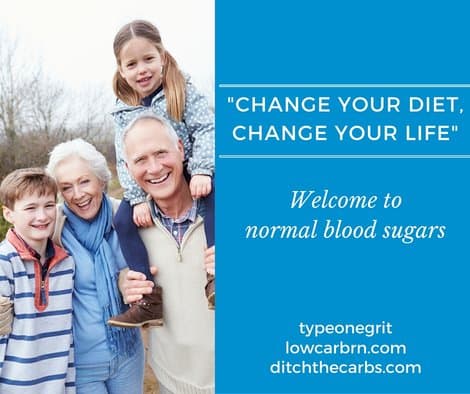 Get our FREE guide to finally fix your metabolism!
Losing weight & getting healthy is never easy, but lately you might feel like it's suddenly become impossible.
Our Flip the Switch guide will help you clearly understand what's been going on, as well as exactly what you can do to get your metabolism working again so that you can look and feel your best—it's easier and more simple than you think!