It's hard to give up bread, so I'm going to show you how to make this traditional keto focaccia bread with olives and rosemary. Stuffed with feta and sundried tomatoes for an authentic Mediterranean taste.
At only 4.2g NET carbs per slice, it's the perfect traditional bread for your next BBQ, summer party or winter dinner.
If you're bored with everyday low-carb bread and keto bread recipes, this incredibly tasty delicious homemade gluten free stuffed bread will become a new favourite for dinner time.
This was inspired by my buttery garlic bread recipe, and pairs well with my keto 3-ingredient pasta or low-carb skillet lasagna for an authentic Italian dinner.
Are you ready to create the ultimate 12-month blueprint for reaching your health & weight loss goals this coming year?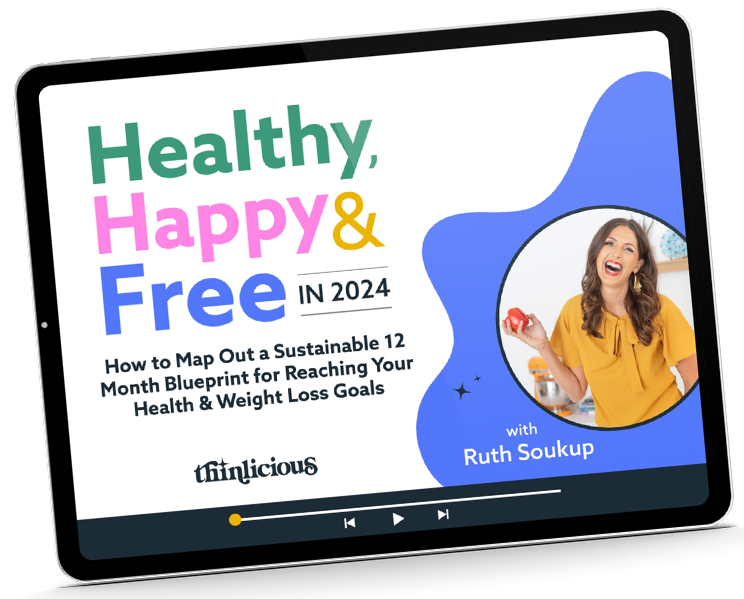 Our free on-demand video training will walk you through how to make 2024 THE year you set health goals…and keep them.
Ingredients & substitutions
When making gluten-free bread, you will be avoiding all wheat flour, all-purpose flour, or any other flour that contains gluten protein.
For best results, I make my own homemade gluten-free flour blend by making my own mix of almond flour and coconut flour with some added psyllium husk. Why do I make my own gluten-free flour? Because almost all store-bought flours that are free from gluten are high in starch and heavily processed.
By making your own homemade flour you know exactly what goes into it AND you save money AND you save carbs. So this soft and fluffy focaccia bread is low-carb friendly and keto-friendly too.
Dry ingredients
Coconut flour – do not get confused with dessicated coconut. You must use coconut flour.
Almond flour – almond flour and almond meal are interchangeable and both may be used for this bread recipe
Psyllium husk – this is required to help hold the bread together (which is usually the task of gluten) and to give the bread a true bread-like "crumb". Adding psyllium husk ensures your bread doesn/t fall apart when slicing.
Wet ingredients
Cream cheese – use the full fat block NOT the low fat, lite or spreadable cream cheese.
Eggs – medium
Herbs and stuffing
These are all optional and can be omitted or substituted.
Garlic – use fresh garlic, or crushed garlic in a jar
Rosemary – you may use fresh rosemary (pulled from the woody stem) or dried rosemary
Feta – cut into smal cubes give a beautiful flavor to the centre of the bread dough
Sundried tomatoes – even though sundried tomatoes are higher in carbs than most low-carb ingredients, they pack a powerful punch of flavor and add beautiful color. So a small amount goes a long way.
Toppings
Black olives – you can use whole, sliced or halved olives. You can even use stuffed or green olives too.
Butter – melted and brushed on the top of the dough before and after baking for that beautiful lucious looking (and tasting) authentic Mediterannean bread. You can use your favorite olive oil
Rosemary – you can use fresh rosemary or dried rosemary, sprinkled onto the melted butter that has been brushed onto the bread dough.
See the recipe card for ingredient quantities.
Instructions
The traditional method for making yeast bread usually requires mixing active yeast with warm water then leaving it at a warm temperature until it becomes thick and foamy. It is poured into some type of all-purpose flour blend, mixed, kneaded (to make the gluten protein in the bread stretchy and elastic) then you need to wait for the dough to rise again.
No one has time for this. My version is an easy one-bowl recipe with minimal washing up. The gluten-free focaccia dough is fast, quick, and easy to make.
Wet ingredients – In one large mixing bowl, you soften the cream cheese then add the eggs using a hand whisk, electric whisk or rubber spatula.
Dry ingredients – Add all the dry ingredients and gently fold them into the wet ingredients until your soft bread dough.
Stuffing – fold through the fresh herbs and feta cheese.
Topping – brush with melted butter (or extra virgin olive oil) and sprinkle with fresh herbs and press olives into the top of the bread.
How to shape your focaccia bread
There are two ways you can shape your bread, and I show both in this post.
The top focaccia bread has been placed onto a prepared baking sheet lined with parchment paper then shaped into the authentic oval focaccia shape. You may at this point decide to cut slices halfway into the top of the bread. Not only does this look beautiful but it also helps bread cooking in the centre. In addition, the slices begin to toast on each edge as the bread bakes.
In the image above, I have poured the bread dough into a baking dish brushed with olive oil. This creates a rectangle-shaped loaf. It may not be the classic focaccia shape, but it's a bit easier to do. Either way – it tastes amazing!
Equipment
It doesn't get much easier than this. You don't need a bread maker, a food processor, a blender, a variety of small mixing bowls, or even plastic wrap.
All you need is measuring cups, a large bowl, and a baking dish or baking parchment.
This truly is a quick and easy recipe that you can make before any family gathering or large shared lunch. It's also perfect for BBQ season and seasonal parties.
Choose the Right Baking Dish
Your baking dish and can have a big impact on how your bread turns out. Stone bakeware (for example) takes longer to heat up than metal sheet pan or glass. Stoneware also retains heat for longer, which could make your bread burnt on the bottom if left in the hot dish for too long after removing from the oven.
So if you bake using stoneware, always remove your bread and place it on a were cooling rack.
Bake your bread at the required oven temperature until golden brown but also test the centre to ensure the dough is completely cooked.
TOP TIP: You can even use this versatile bread dough for a quick and easy pizza crust for a gluten-free pizza, low-carb pizza and keto pizza. This will soon become one of your favorite breads to make each week. It's the perfect texture and the end result will always turn out perfectly.
Storage
Storage depends on the season and temperature. In the warm summer months, I would store the bread in an airtight container. Place it in the fridge and eat within 3 days. Alternatively, it can be kept covered with a clean cloth towel on the kitchen bench and eaten within 24 hours.
In the winter months, I would also keep it on the kitchen counter covered with a clean cloth towel. However, I would make sure it's consumed within 48 hours. I wouldn't want the fresh feta cheese stuffing to be left at room temperature for any longer.
In reality, I make a loaf and it is eaten fresh, and entirely, at one meal. There is never anything left to store!
What to serve with focaccia bread
The classic way to serve focaccia bread is sliced into thin strips. Serve with a small bowl of extra virgin olive oil and a little dish of coarse rock salt or sea salt (sometimes mixed with dried or fresh rosemary).
You dip the soft bread into the olive oil then into the herbed salt. Delizioso!
It can be served as a side dish for chicken, beef, keto pasta dishes, and of course, at BBQs.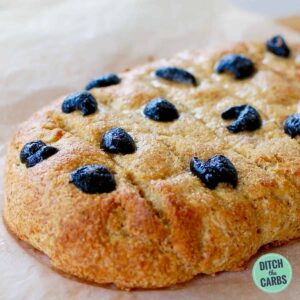 Keto Focaccia Bread Recipe (Gluten-Free)
A traditional keto focaccia bread with olives and rosemary. Stuffed with feta and sundried tomatoes for an authentic Meditteranean taste.
Print
Pin
Rate
Want to lose weight and get healthy for life—without dieting, drugs, or making yourself miserable?
We can help! Tell me how!
Equipment
Silicone baking sheets

Baking sheets – non stick

Measuring cups and spoons

Mixing bowls
Ingredients
Keto Focaccia Bread
200

g

cream cheese

full fat

1

tbsp

garlic minced

crushed

1

tsp

dried rosemary

6

eggs – medium

medium

140

g

almond meal/flour

3

tbsp

coconut flour

3

tbsp

psyllium husk

1

tsp

salt

50

g

feta cheese

cubed

1

tbsp

sundried tomatoes

finely chopped
Focaccia Topping
25

g

butter

melted

1

tsp

dried rosemary

or fresh if available

12

black olives
Instructions
Keto Focaccia Bread
Soften the cream cheese by bringing to room temperature (or popping in the microwave for 15 seconds). Using an electric whisk/beater, add the eggs one by one to the soft cream cheese. Blend until smooth and lump free.

Add the garlic cloves, dried rosemary, coconut flour, almond flour and psyllium husk to the creaam cheese/egg mixture and fold gently until you get a smooth dough.

Fold in the cubed feta and chopped sundried tomato pieces.

Line a baking sheet/tray with baking parchment. Form the dough into an oval focaccia shape on the baking parchment and cut slices halfway through the dough as shown. This makes the dough cook evenly and forms the traditional focaccia bread shape.
Focaccia Topping
Press the olives evenly into the dough.

Mix the melted butter and rosemary together. Brush over the top of the unbaked dough and olives before baking.

Bake at 180C/350F for 20 minutes, or until golden on top and cooked in the centre.
Nutrition
Serving:
1
slice (makes 14)
Calories:
246.5
kcal
Carbohydrates:
8.9
g
Protein:
8.7
g
Fat:
20.4
g
Sodium:
491.8
mg
Potassium:
90.6
mg
Fiber:
4.7
g
Sugar:
1.8
g
Vitamin A:
518.7
IU
Vitamin C:
0.5
mg
Calcium:
103.1
mg
Iron:
1.3
mg
OTHER KETO BREAD RECIPES
Get our FREE guide to finally fix your metabolism!
Losing weight & getting healthy is never easy, but lately you might feel like it's suddenly become impossible.
Our Flip the Switch guide will help you clearly understand what's been going on, as well as exactly what you can do to get your metabolism working again so that you can look and feel your best—it's easier and more simple than you think!