These doughy pockets are stuffed with cheese and pepperoni (or ham and cheese) and will satisfy your pizza cravings. The secret? It's all about the dough!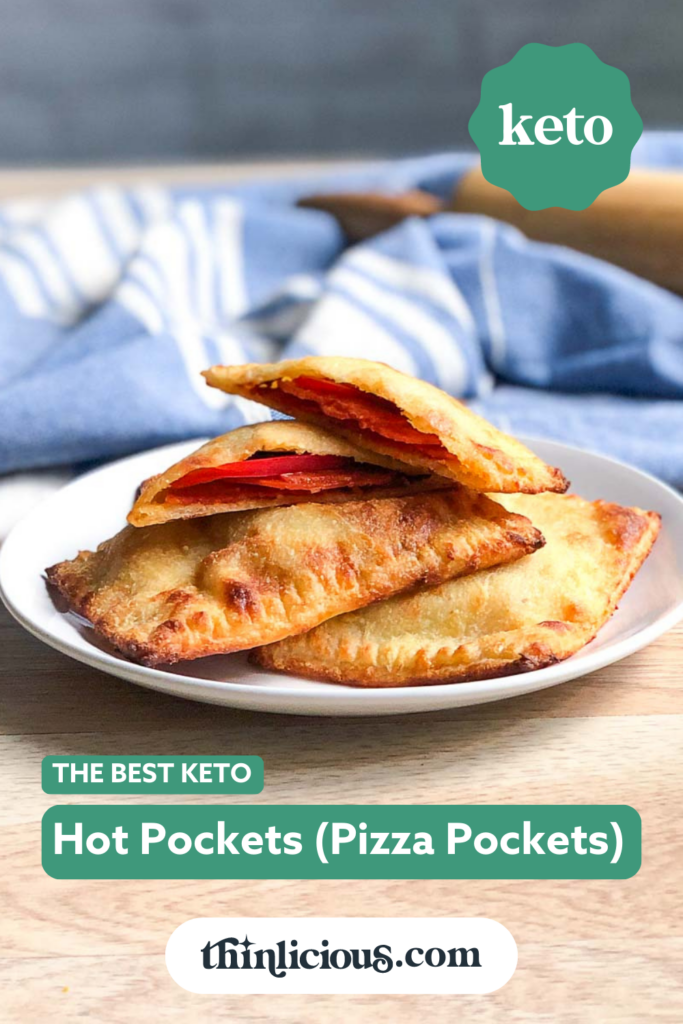 If you know how to make mozzarella cheese dough, then you will already be familiar with the pizza dough base for this keto hot pocket. There are so many recipes you can make using keto dough, from garlic cheese bread to pizza to even keto crackers.
Mozzarella dough (also known as fat head dough) is the Holy Grail of keto dough. If you are new here, you only need 4 simple ingredients for this dough recipe so you can make it tonight. Then, turn that cheese dough into these keto hot pockets the whole family will love.
What are hot pockets?
Hot pockets are an American brand of meat and cheese wrapped in pastry that is microwavable. As you can imagine, these do not fit into your low-carb or keto diet.
Ready to lose weight and get healthy for life without dieting, drugs or making yourself miserable?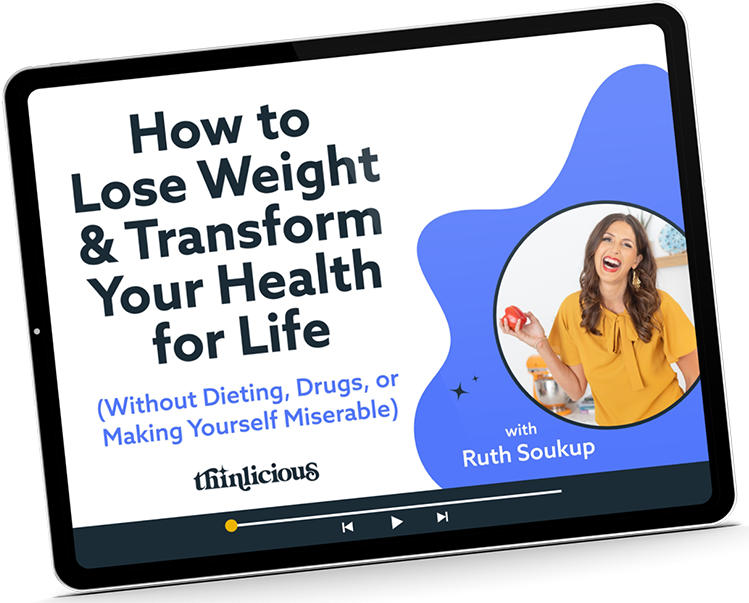 Our free on demand video training will help you understand why it's been so hard and what do to about it.
You might also call these keto pizza pockets, keto toasted sandwiches, hand pie, or almond flour calzones.
You can cook them in the oven on a baking tray, in a panini press, or a toasted sandwich maker.
Here in NZ and Australia, we love our toasted sandwiches. You throw two pieces of bread into a toasted sandwich maker, add some filling, and toast for 3-5 minutes. Toasted sandwich makers are an absolute staple in most houses and every student dorm in the country.
So no matter what you want to call these pizza snacks, they are a delicious crunchy way to eat pizza fillings wrapped in keto dough.
Fathead dough
But what if you want a toasted sandwich that doesn't leave you feeling bloated? Perhaps a gluten free toasted sandwich? A keto toasted pocket? Luckily, this mozzarella dough recipe comes to the rescue.
There are infinite possibilities for using almond flour mozzarella dough (a.k.a Fathead dough). Fat head cracker, fat head nachos, and fat head bagels.
There are even options in the recipe below to make the keto dough with coconut flour for those who are allergic, intolerant or attend schools with nut free policies and want to pack these keto pizza pockets in lunch boxes.
Ingredients you need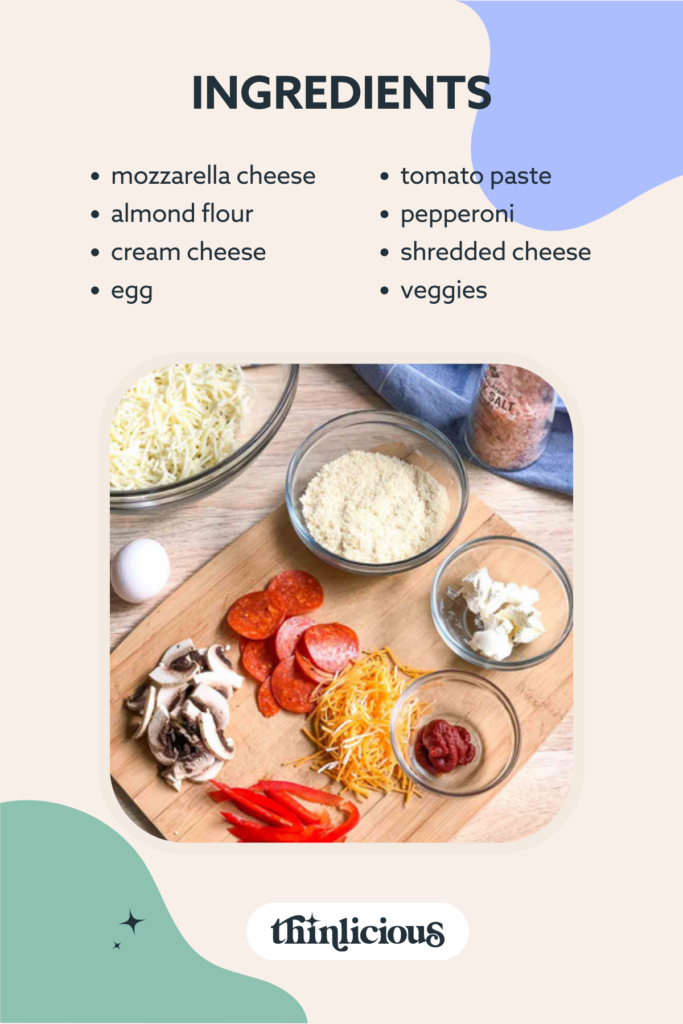 To make these keto hot pockets, you need a few basic ingredients.
Mozzarella cheese dough
mozzarella cheese – make sure you get a mozzarella cheese that is labeled low moisture and has no added starches or flours
almond flour – almond flour will give you a smoother texture than almond meal
cream cheese – plain, full fat cream cheese is best
egg – may be omitted if you have an egg allergy
Optional flavours – you might want to add some herbs and spices to your dough, depending on what you are making. Onion powder, garlic powder, Italian herbs, or use a pastry brush to brush egg wash and sprinkle on bagel seasoning.
Pizza pocket filings
shredded cheese – for within the keto hot pockets
tomato paste – look for a variety with no added sugar for the lowest net carbs possible, keto pizza sauce, or sugar-free keto BBQ sauce.
pepperoni – I prefer full-fat sliced pepperoni, but turkey pepperoni works fine too
veggies – optional but I love adding some vegetables to my pizza pockets. Mushrooms and bell peppers are my typical go-to, but you could alos add sliced green onions, spring onions, or black olives.
Variations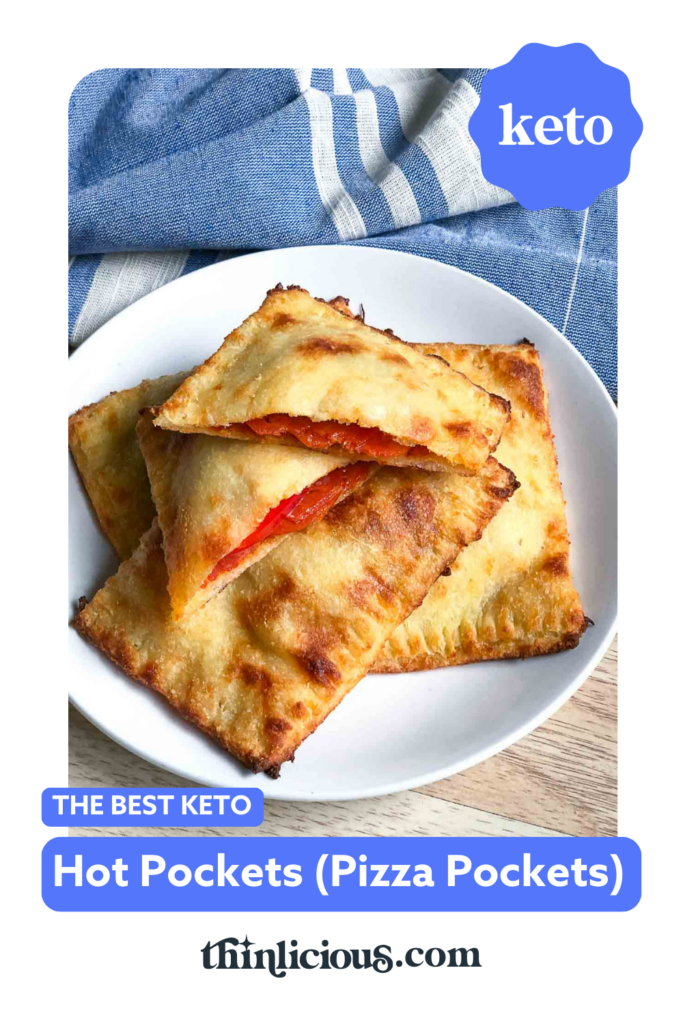 The fun thing about pizza pockets is that you can enjoy them in so many different ways! Just like pizza, the topping options are endless. Here are a few ways to fill your keto hot pocket.
4 cheese hot pockets: add some Italian seasoning into the dough, then fill the inside with four of your favorite cheeses (classic 4 cheese pizza has gorgonzola, Parmigiano Reggiano, goat cheese, and shredded mozzarella cheese)
meat lovers: ramp up the protein by adding sausage and ground beef along with pepperoni and pizza sauce into your keto pizza pockets.
ham and cheese: turn this into a yummy gluten free toasted sandwhich and fill the pizza dough with leftover ham and cheddar cheese.
Equipment you need
This recipe is easy to make in a sandwich toaster or panini press. However, if you don't have one, you can still make these low-carb hot pockets in the oven.
To make the fathead dough, simply mix the mozzarella mixture in a microwave-safe medium mixing bowl and microwave to melt the cheeses together.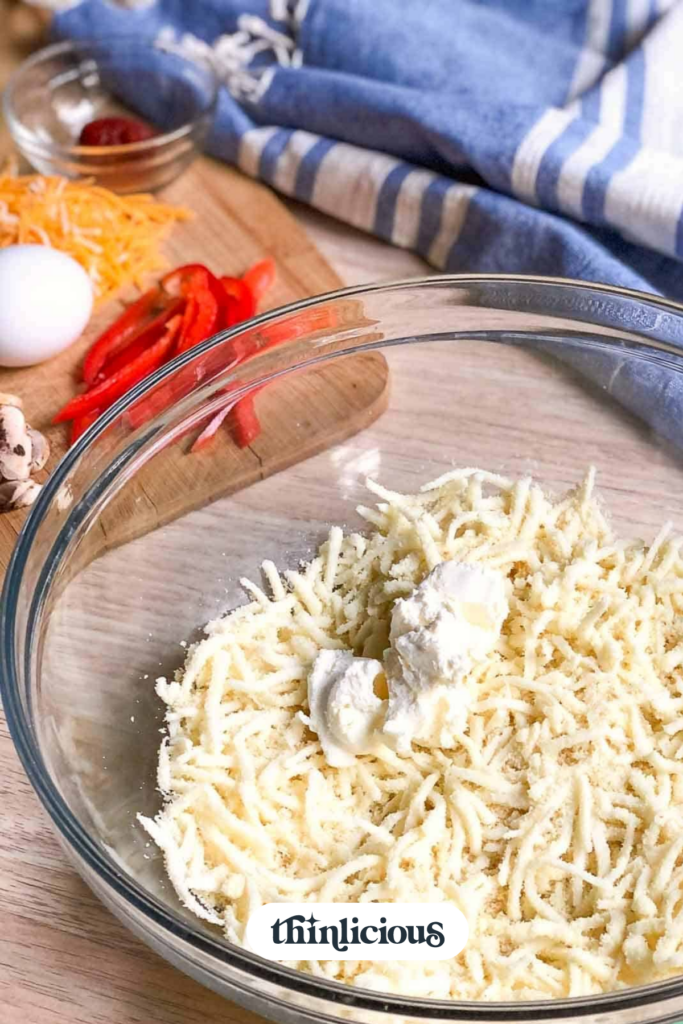 Add the egg and mix well until you have a lovely smooth dough ball ready to roll out. You can use a rolling pin, a wine bottle, or the bottom of a measuring cup to smooth out the dough.
How to make hot pockets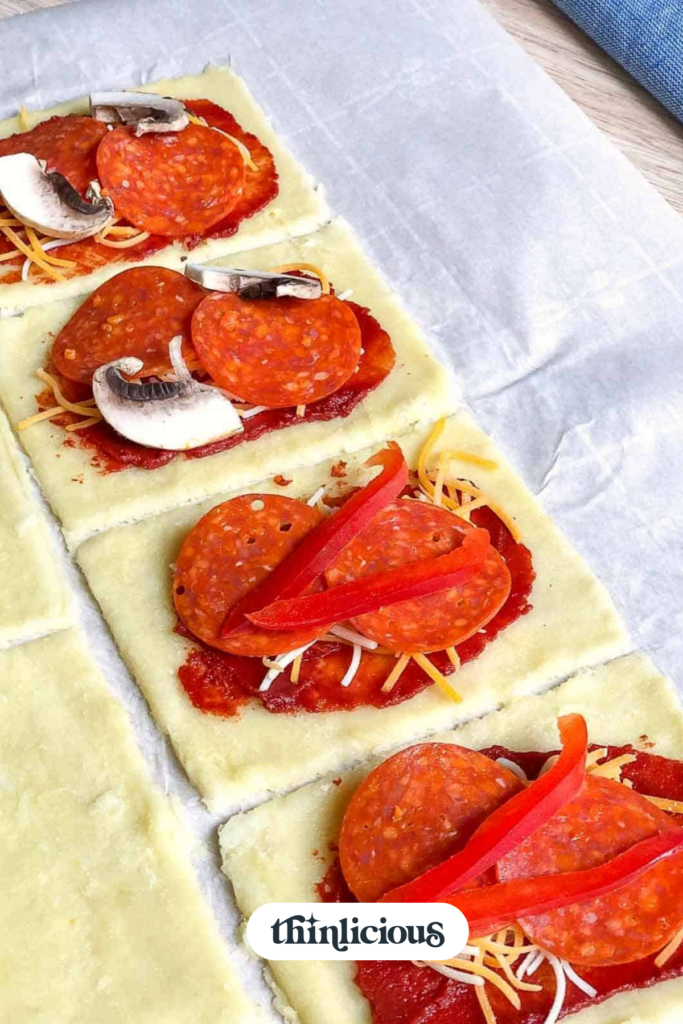 All you need to do is roll out the fathead dough recipe between 2 pieces of baking parchment paper and cut 8 large squares. Lay 4 of the hot pocket dough squares out on parchment paper on top of a baking sheet.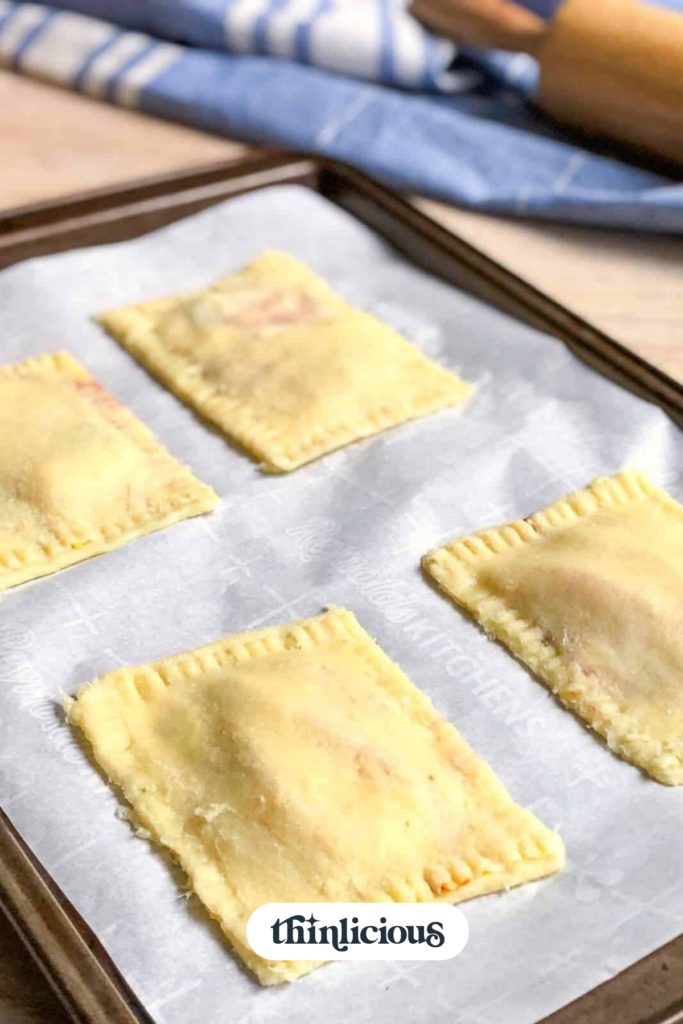 Then, add your filling to the center of those squares. Place the remaining 4 squares on top, then pinch the edges together. Finally, preheat the oven to 220c (425F) and bake for 12-15 minutes until the hot pocket is golden brown.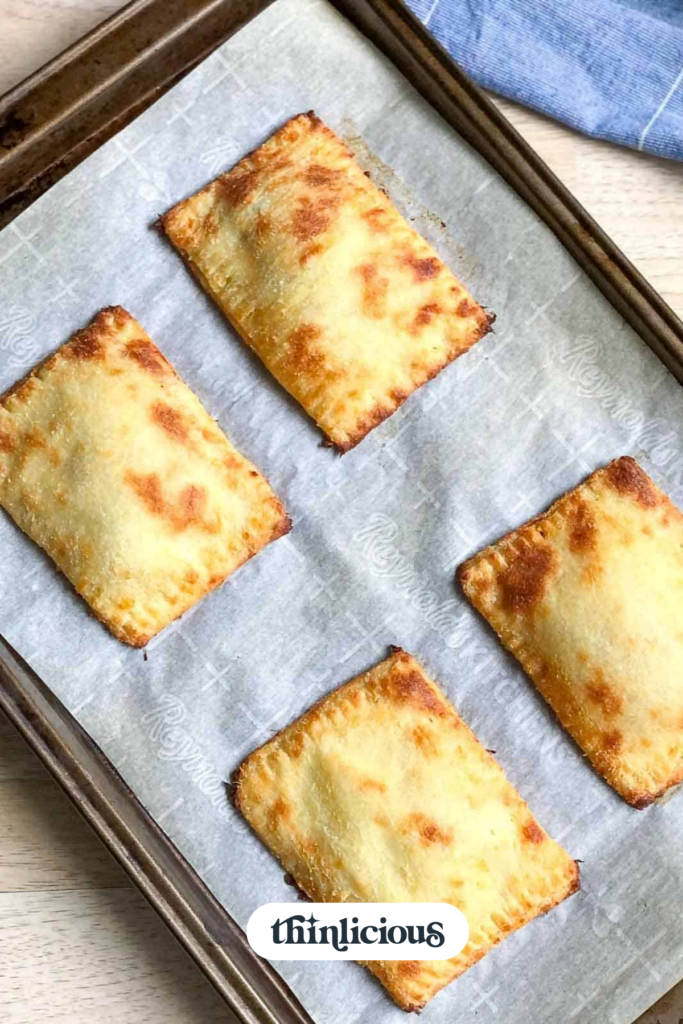 Storage
Before storing the pizza pocket, leave them on a wire cooling rack to cool completely. You want them to stay crispy so avoid any unwanted moisture or condensation.
To store cooked keto pizza pockets, place them in an airtight container or a zip topped bag and place in the fridge. They'll last for about 3 days.
If you are meal prepping, you can also make these ahead of time. To store, wrap the hot pockets in parchment paper, then place them in a freezer bag. They will last in the freezer for 6 months.
To reheat low-carb hot pockets, place them in a warm oven at low heat, or your air fryer will reheat and keep them crispy.
Enjoy!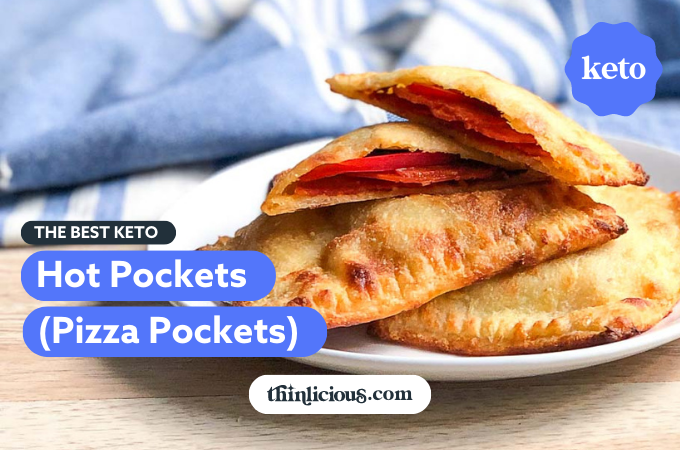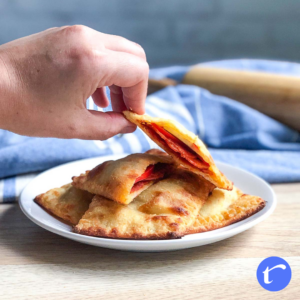 Keto Hot Pockets Recipe (Keto Pizza Pockets)
Crunchy keto hot pockets made with mozzarella dough. Filled with cheese and pepperoni will satisfy your pizza cravings even if you're on a keto diet.See the conversion below to see how to make these using almond flour or coconut flour.
Print
Pin
Rate
Servings:
4
pizza pockets
Want to lose weight and get healthy for life—without dieting, drugs, or making yourself miserable?
We can help! Tell me how!
Equipment
Toasted sandwich maker

Measuring cups and spoons

Mixing Bowls
Ingredients
Mozzarella Dough
170

g

shredded/grated cheese

mozzarella

85

g

almond meal/flour

2

tbsp

cream cheese

full fat

1

egg

medium

pinch

salt

to taste
Pizza Hot Pocket Filling Ideas
shredded/grated cheese

tomato paste

pepperoni

slices

peppers

sliced

mushrooms

sliced
Instructions
Mozzarella Dough
Mix the shredded/grated cheese and almond flour/meal in a microwaveable bowl. Add the cream cheese. Microwave on HIGH for 1 minute.

Stir then microwave on HIGH for another 30 seconds.

Add the egg, salt and mix gently.

Roll the keto cheese dough between 2 pieces of baking parchment/paper. Do not roll as thin as a thin pizza crust. It needs to be a little thicker so it is sturdy and will hold the pizza filings. See photos in this post.

Remove the top baking paper/parchment. Cut the dough into squares that will fit onto your prepared baking sheet, or the same size as your toasted sandwich maker.
Pizza Hot Pocket Filling Ideas
Oven: Place 4 squares of dough onto the lined baking tray. Place your selected pizza pocket fillings on top. Cover with another square of mozzarella dough and crimp the edges shut. Bake at 220c (425F) for 15 minutes, or until golden brown.Sandwich maker: Place one square on the bottom of the sandwich maker, add your choice of fillings, place another square of dough on the top, press the lid of the sandwich maker down and cook for 3-5 minutes until golden.
Notes
Nutrition panel only shows the mozzarella dough for 1 pizza pocket. This recipe makes 4 pizza pockets.
Fillings are varied and additional. You may choose as much or as little pizza filling as you like.
Mozzarella dough can also be made by replacing the almond meal/flour with 1/4 cup (4 tbsp) coconut flour.
No sandwich toaster? No problem. Simply cut 8 large squares of keto cheese dough, add your chosen fillings in the centre or 4 of the squares. Place the remaining 4 keto dough squares on top, pinch the edges together and place on a lined baking tray and cook at 220C/425F for 12-15 minutes, or until golden.
Nutrition
Serving:
1
pizza pocket
Calories:
288.4
kcal
Carbohydrates:
5.8
g
Protein:
15.7
g
Fat:
23.6
g
Sodium:
305.7
mg
Potassium:
57.6
mg
Fiber:
1.9
g
Sugar:
1.5
g
Vitamin A:
445.5
IU
Calcium:
272.6
mg
Iron:
1.2
mg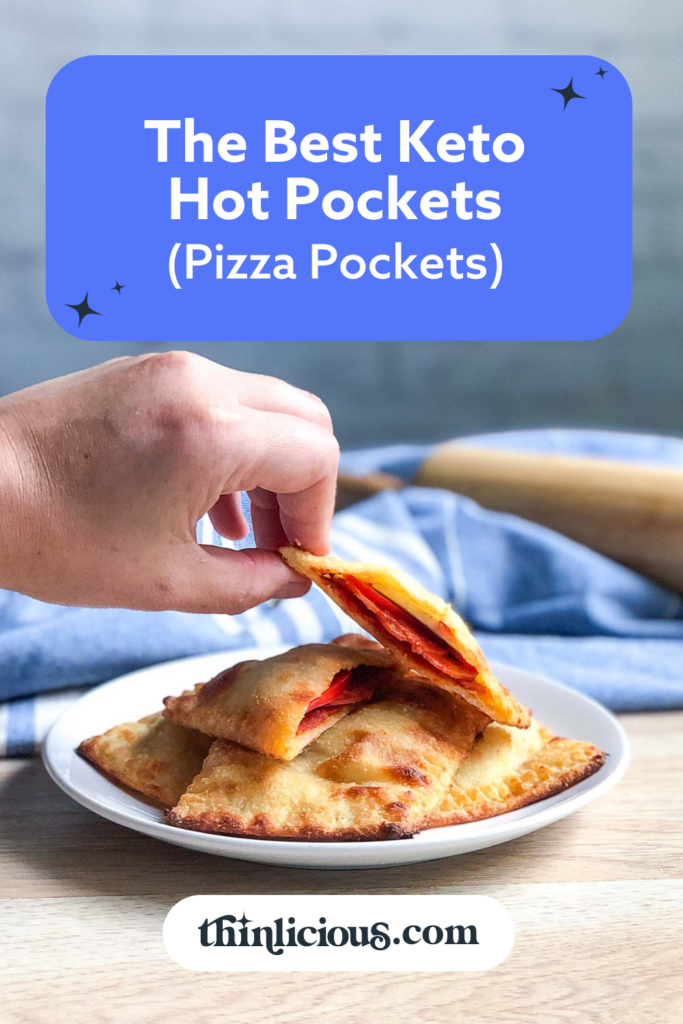 More pizza keto recipes
Get our FREE guide to finally fix your metabolism!
Losing weight & getting healthy is never easy, but lately you might feel like it's suddenly become impossible.
Our Flip the Switch guide will help you clearly understand what's been going on, as well as exactly what you can do to get your metabolism working again so that you can look and feel your best—it's easier and more simple than you think!