Keto meatballs are the perfect quick and easy keto dinner. Why not freeze the meatballs ahead of time then mix up dinner time with one of these three tasty sauce-covered meatballs your family will love!
Keep ready to learn how to easily make a creamy goat cheese sauce, sweet and sour sauce, and a spicy garlic sauce for your meatballs.
Are meatballs keto?
Homemade meatballs are low carb and high protein so are perfect for the keto diet.
Store-bought meatballs generally contain fillers and stuffers such as potato starch, wheat flour, tapioca starch, and breadcrumbs. Even gluten-free meatballs can be high carb because gluten-free flour is not a low-carb flour.
Ready to lose weight and get healthy for life without dieting, drugs or making yourself miserable?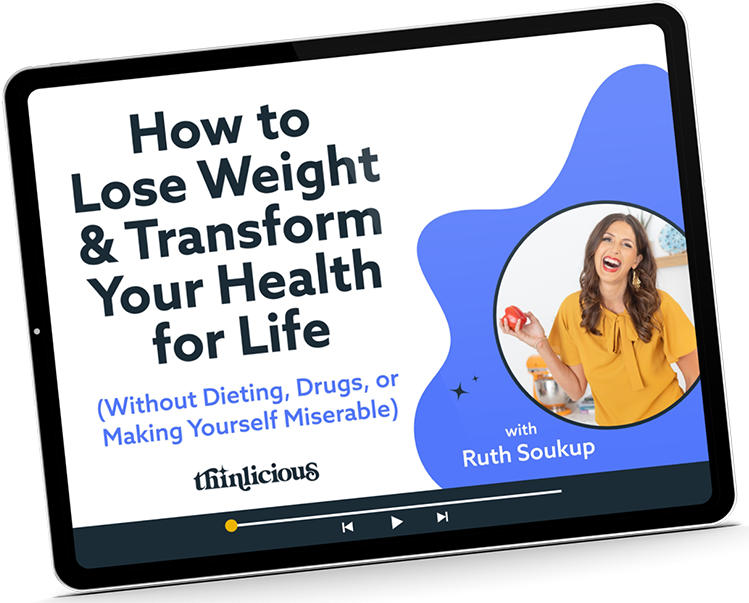 Our free on demand video training will help you understand why it's been so hard and what do to about it.
Meatballs are one of the more versatile low-carb high protein meals you can make. We have used them in many ways in the past.
A few of my favorite ways to use them are for healthy lunchbox prepping for the whole family or served as an hors d'oeuvre with toothpicks. They are perfect for a simple dinner with cauliflower rice or zoodles as well.
More Low-Carb Dinner Recipes …
Are meatballs high protein?
Yes, meatballs are high protein, especially if you do not add any wheat flour, gluten-free flour or breadcrumbs.
The nutrition values (per 100g) to show you how many carbs and protein are in meatballs:
Meatballs, pork, no sauce: 10.2 g net carbs, 19.4 g protein, 16.7 g fat, 277 calories (store-bought with flour and breadcrumbs).
Cream cheese stuffed meatballs, no sauce: 1.9 g net carbs, 23.6 g protein, 21.4 g fat, 290 calories (homemade, recipe card below).
Nutritional values from cronometer.com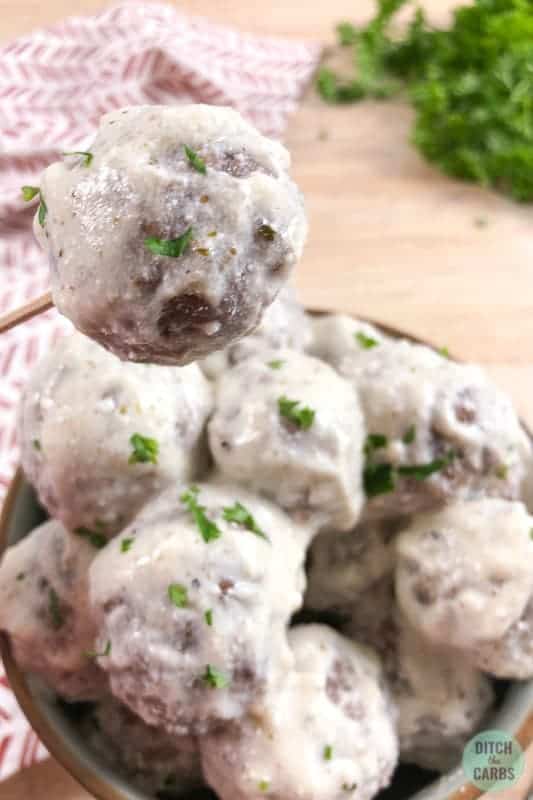 Which meat is best for meatballs?
Meatballs can be made with a variety of ground meat. Traditionally, meatballs are made with ground pork but other common meatballs are ground beef, ground chicken, and ground turkey. In this recipe, I use a combination of ground pork AND ground beef.
Ground chicken or turkey meatballs tend to be a little drier because poultry is a low fat meat. They are however delicious if you serve them with some creamy low-carb sauce or tangy sugar-free BBQ sauce.
Ingredients
I have many meatball recipes on Ditch The Carbs, but I choose to go with this tried and true basic keto meatball recipe for these sauces. This meatball recipe is an all-time favorite of readers and has received rave reviews.
1: Mix the ingredients
All the ingredients for the meatballs can be mixed together in a large mixing bowl before rolling them into meatballs.
You can use your hands, a wooden spoon, or a silicone spatula to really work the herbs, spices, and seasonings into the meatball mix.
2: Roll your meatballs
You can use a spoon, your hands, or a cookie scoop.
The number of meatballs you get from this recipe will depend on the size of your meatballs.
I used a cookie dough scooper to help form my meatballs and was able to get 30 meatballs.
However, when I use my hand to form golf ball-sized meatballs I usually get about 24 meatballs.
2: Cook your meatballs
You can cook these keto meatballs three ways.
1) Fry gently in oil on all sides until cooked into the center.
2) Bake in the oven at 180C/350F for 15 minutes (turning once so they brown all over) for 15 minutes, or until cooked into the center.
3) Air fry in your air fryer (instructions below).
Storage
Raw, prepared meatballs can be stored in the freezer until you are ready to cook them for up to 2 months.
If you are freezing the prepared meatballs you will want to line them spaced out individually on a baking tray that has been lined with baking parchment. Place the baking tray (sheet pan) in the freezer for a few hours until they are completely frozen.
Once meatballs are frozen they can be stored in an airtight container or a zipper freezer bag.
Meatballs can be cooked frozen or defrosted. You can find different cooking methods in the original keto meatballs recipe.
When the meatballs are almost done baking you will need to make my sauce so that it is ready when the meatballs are done.
3 Meatball sauces
1: Creamy Goat Cheese Sauce
Keto Creamy Meatballs With Creamy Goat Cheese Sauce
Delicious creamy keto meatballs in a creamy goat sauce are the perfect high-protein low-carb recipe for lunch, dinner, snacks, or parties.
Check out this recipe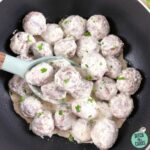 The first sauce up is a creamy goat cheese sauce.
To make the goat cheese sauce you will first want to heat a little oil in a skillet on medium-high heat. When the oil is hot melt the goat cheese in the pan stirring constantly to ensure it doesn't burn.
Once the goat cheese is melted mix in your broth and seasoning.
There are two ways to thicken each of the sauces.
1: You can either reduce the heat the low and let the sauce simmer for several minutes, stirring occasionally.
2: You can whisk in a thickening agent (such as xanthan gum) to thicken the sauce.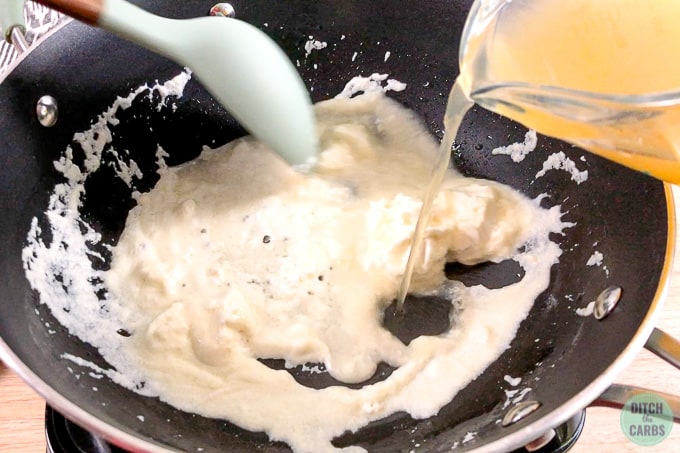 If using a thickening agent to thicken the sauce feel free to use your preferred thickener. For this recipe, I chose to use Xanthan Gum since it is flavorless, nets 0g carbs, and dissolves really well without clumping.
When the sauce is done toss your meatballs in the sauce so that they are completely coated.
2: Sweet and Sour Keto Meatballs
Easy keto sweet and sour meatballs recipe
EASY keto sweet and sour meatballs are the perfect healthy family dinner. Enjoy this high protein low-carb meal in under 30 minutes. Another yummy way to cook ground beef and ground pork.
Check out this recipe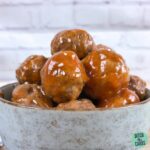 The sweet and sour sauce is typically made with pineapple juice, but since pineapple juice is full of sugar and high in carbs we made a few substitutions to make the sauce keto-friendly but keeping the sweet tangy flavour.
To make the sweet and sour sauce you will need to heat the oil on high heat in a skillet. When the oil is hot add a few slices of fresh ginger to the oil and sauté for several seconds.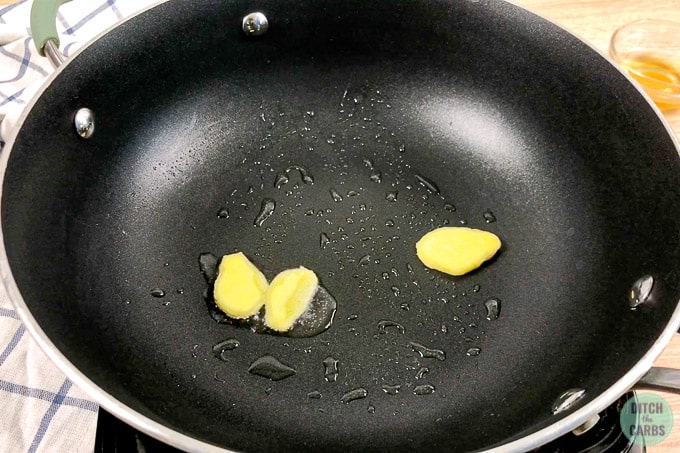 Next mix in your no sugar added tomato sauce, garlic powder, coconut aminos, granulated sweetener of choice, apple cider vinegar, and water.
Let the sauce come to a boil then reduce the heat and let the sauce simmer for a few minutes.
Finally, remove the ginger from the sauce and thicken your sauce by whisking in your thickener or through reduction by allowing the sauce to continue to simmer until it thickens.
Toss your meatballs in the sauce and enjoy!
3: Spicy Garlic Keto Meatballs
Easy Keto Spicy Garlic Meatballs Recipe
Easy spicy garlic meatball recipe that can be made with fresh meatballs or frozen meatballs. The spicy garlic sauce can be served on many easy keto dinner recipes too.
Check out this recipe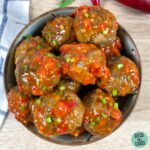 If you like spice, you will love these spicy garlic keto meatballs.
The sauce is so tasty and easy to make and can be used in so many ways.
The first step in making this spicy garlic sauce is to ensure that your red Fresno chilies, ginger, and garlic are finely chopped. I like to toss them in a food processor to quickly chop them but also blend the flavors together.
Next, melt the butter in a skillet. When the butter is melted add the chopped chilies, garlic, and ginger to the skillet and sauté them until they are fragrant. Then add the broth, coconut aminos, allspice, and white vinegar.
Let the sauce simmer for 3-5 minutes to allow the flavours to blend then whisk in your xanthan gum or another thickener of choice into the sauce.
When your sauce has thickened toss the meatball in the sauce until they are coated and serve.
Serving
Each of these meatballs is great when served over zoodles or cauliflower rice.
They also make an excellent appetizer or meal prep options for lunches throughout the week.
Since the sauces are made separately from the meatballs, you also have the option to serve the sauce as a dipping sauce instead of tossing all the meatballs in the sauce. This makes the meal extra easy for families with picky eaters.
Salt and pepper should be used to taste.
Keep in mind that using different thickeners other than xanthan gum can change the carb total for each recipe. Enjoy!
[convertkit form=2151210]
How to cook meatballs in an air fryer
Using an air fryer to cook keto meatballs is quick and easy. But you need to cook the meatballs first WITHOUT any sauce. If you add the sauce, it will just dribble out the bottom of the air fryer wire rack and burn.
Once your meatballs are cooked in the air fryer, transfer them to a saucepan or skillet with your chosen favorite low-carb sauce and heat through.
Preheat to 180C/350F.
Spray the wire basket with cooking oil.
Gently place each meatball into the oiled basket. Ensure there is plenty of space between them.
Cook for 10 minutes, open the drawer and turn each meatball.
Cook for a further 5-10 minutes, depending on the size of meatballs being cooked.
If you love using your air fryer, I have 101 keto air fryer recipes for you to choose from (chicken, pork, ground beef, salmon, vegetables, and even desserts). Discover how to use your air fryer plus FREE printable air fryer cooking cheat sheets.
[convertkit form=2495157]
More recipes you may like: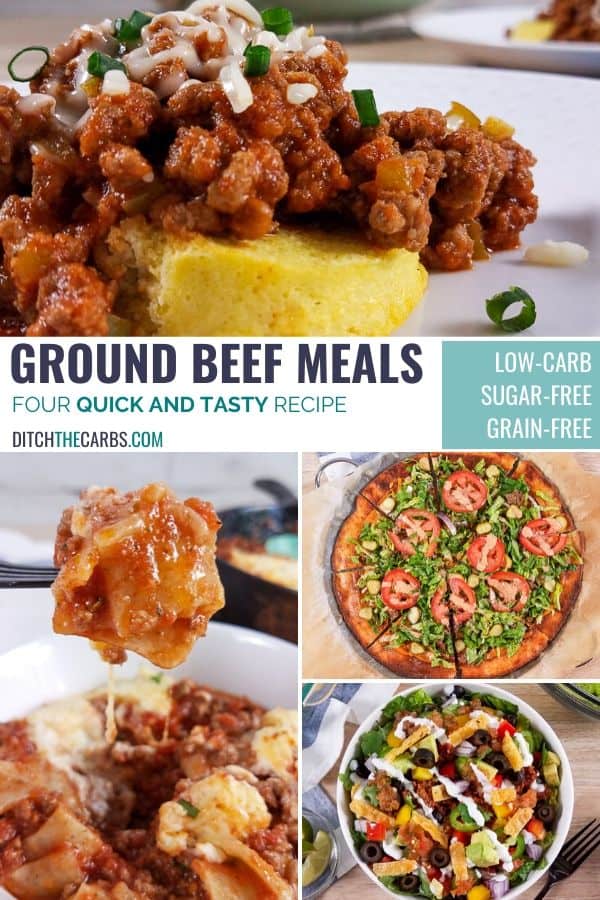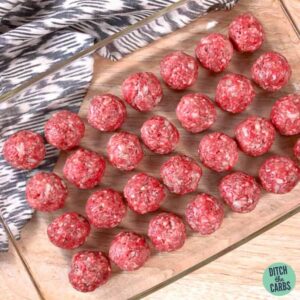 Easy low-carb keto meatballs recipe (without breadcrumbs).
Easy low-carb keto meatballs recipe (without breadcrumbs). Can be cooked in the oven, air fryer, or fried in a skillet. 3 delicious creamy meatballs and sauces to choose from.
Print
Pin
Rate
Want to lose weight and get healthy for life—without dieting, drugs, or making yourself miserable?
We can help! Tell me how!
Ingredients
Keto Meatballs
500

g

ground/minced pork

500

g

ground/minced beef

1

onion

finely diced

2

cloves

garlic minced

2

eggs – medium

medium

¼

tsp

salt

to taste

pepper

to taste
Instructions
Notes
The nutrition is for the meatballs only. Each recipe for the sauces you choose is additional.
Nutrition
Serving:
1
serve (serves 6)
Calories:
460.6
kcal
Carbohydrates:
2.1
g
Protein:
30.5
g
Fat:
35.7
g
Sodium:
222.5
mg
Potassium:
515.2
mg
Fiber:
0.3
g
Sugar:
0.8
g
Vitamin A:
85.5
IU
Vitamin C:
2.3
mg
Calcium:
41
mg
Iron:
2.7
mg
Get our FREE guide to finally fix your metabolism!
Losing weight & getting healthy is never easy, but lately you might feel like it's suddenly become impossible.
Our Flip the Switch guide will help you clearly understand what's been going on, as well as exactly what you can do to get your metabolism working again so that you can look and feel your best—it's easier and more simple than you think!