Discover the best ingredients you need to stock up your low-carb pantry. See which low-carb flours and which low-carb sweeteners you need (and which ones you don't).
Here are 20 low-carb ingredients you should have in your pantry … PLUS learn how to save money avoiding unnecessary pantry items.
Best low-carb flours to buy
1: Almond flour/meal
This is essential low-carb flour for any sort of baking. Almond flour is rich in vitamins and minerals and provides the most calcium compared to any other nut. A serving (1/4 cup or 28 grams) of almond flour has around 160 calories, 6 grams of carbs, and 3 grams of fiber.
Almond four and almond meal are interchangeable in all my recipes. Almond flour is a finer grade than almond meal, it gives a lovely fine texture, but is generally more expensive.
Are you ready to create the ultimate 12-month blueprint for reaching your health & weight loss goals this coming year?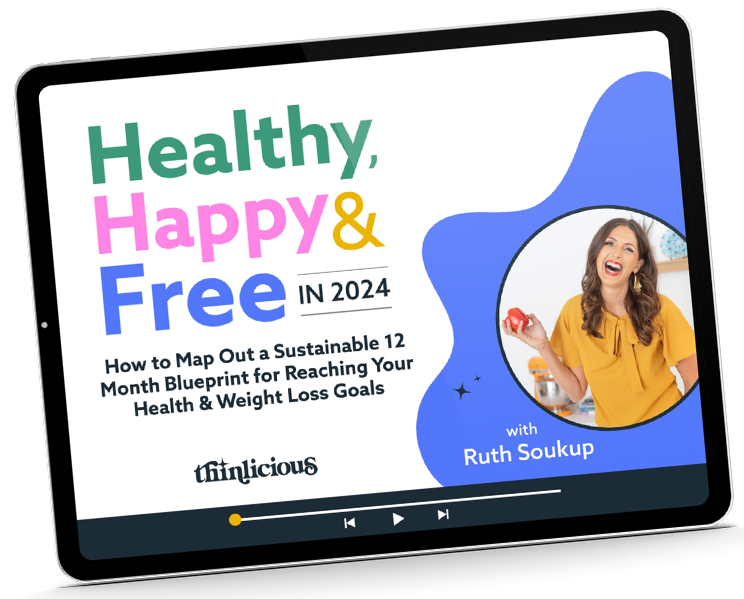 Our free on-demand video training will walk you through how to make 2024 THE year you set health goals…and keep them.
You can also make your own almond meal (sometimes called ground almonds) by placing whole almonds in your blender and pulsing them with the blade attachment until a crumb texture is achieved. Be careful not to process them for too long, you may just end up with almond butter.
Want to learn more about low-carb flours? Read my Ultimate Guide To Low-Carb Flours.
2: Low-Carb Pantry Essentials – Coconut flour
Allergic to nuts? Coconut flour is another great option. It can often be lower in price, and is also lower in carbohydrate content.
An important feature to realise when using coconut flour,is that it does tend to need a lot more moisture when baking. There is no easy conversion factor when using coconut flour instead of wheat flour or almond flour. My advice is to being cooking with recipes already developed using coconut flour so you begin to understand how it works. I personally prefer coconut flour for various reasons.
Read my article Coconut flour vs almond flour to see why.
And look at my coconut flour recipe archive. All the recipes are either made with coconut flour or have easy instructions for coconut flour substitution.
3: Low-Carb Pantry Essentials – Psyllium husks
This is a great addition to your pantry and has many health benefits. Psyllium husk is packed with fiber and is often used as a colon cleanser.
In baking, it can add volume and help batters and cakes bind together. It swells and absorbs liquids which adds volume, fibre, and a "gel-like" property.
Psyllium gives a cake a lovely crumb-like texture. Why not try my low-carb Chelsea buns ? They are a great way to use psyllium for beginners.
You may see psyllium husk whole or powder. The only difference is how fine the psyllium has been ground, or not. I use the powder but have also used the whole husks successfully too.
4: Low-Carb Pantry Essentials -Flaxseeds/linseeds
These seeds are another pantry staple that contain loads of healthy fats. They are a great bulking agent on my grain-free granola and grain-free granola bars.
Best low-carb sweeteners
5: Low-Carb Pantry Essentials -Erythritol/xylitol/stevia
There is a misconception that sugar, honey or maple syrup are better because they are natural. However, these are all forms of sugar and will raise your blood sugar.
The sweeteners I use are natural but without the negative effects of sugar. For example, stevia is the most common sweetener used in low-carb and sugar-free baking. It has been used for centuries from the leaves of the stevia plant and does not raise blood sugars. Learn more about sweeteners in my Ultimate Guide To Low-Carb Sweeteners.
I explain in the article why I use granulated and powdered forms of sweetener rather than drops and concentrated pure stevia.
You will soon become accustomed to which sweetener you prefer, and how much you like to use. In all my recipes I state "sweetener of choice" and I also add the note to use more or less sweetener, according to YOUR taste.
We are all on different parts of our sugar-free journey, so one persons sweet tooth maybe completely different to another, depending on how long you have been sugar-free.
As time goes on, you will begin to use less and less. The aim is to use the minimum to reduce our sweet cravings.
Best keto nuts & seeds
6: Low-Carb Pantry Essentials -Nuts and seeds
Looking for a quick snack? Always have some nuts and seeds readily available. They are also perfect for on-the-go.
The carbs from nuts and seeds can quickly add up. For many people excessive snacking on nuts stops their weight loss. These are also common reasons.
Read my Ultimate Guide To carbs In Nuts & Seeds.
7: Low-Carb Pantry Essentials – Macadamia nuts
A healthy snack option full of nutrition! Macadamia nuts are packed with healthy fats, which helps keep you fuller for longer.
8: Low-Carb Pantry Essentials – Nut butters
Is there any better combination than celery and peanut butter? Spread any nut butter over vegetable slices, add a sprinkling of salt, and you've got a tasty filling treat.
Best dairy and oils to buy
9: Low-Carb Pantry Essentials – Cream cheese
Make sure to choose full fat, not spreadable cream cheese. This is the full fat cream cheese I use in all my recipes.
I know it works each and every time. If this brand is not available in your country (it seems it is hard to find in the UK) then choose a brand which is 30% fat and less than 3% carbs. You can find full-fat cream cheese in this store and this store.
You must avoid the low-fat or spreadable cream cheese varieties. They will not set when making a cheesecake and they will not set when making a fat bomb.
10: Low-Carb Pantry Essentials – Coconut oil
Are you still cooking with vegetable oil? It's time to switch to coconut oil! Coconut oil has many nutritional benefits and is packed with healthy fats.
To understand what is healthy fat and what is unhealthy fat, read my ultimate guide to healthy fats. I explain the difference between omega 3 and omega 6 – and why it's important to reduce your omega 6 consumption.
11: Low-Carb Pantry Essentials – Extra Virgin Olive Oil
Extra virgin olive oil is wonderful to use almost everywhere. It has minimal processing and tastes amazing.
If you want to begin making your own homemade mayonnaise, I prefer to use the lite-tasting olive oil. Extra virgin olive oil has a really fruity taste, which can sometimes be too strong in mayonnaise. I also love to add mustard, garlic or apple cider vinegar to give it that real tangy flavour.
12: Low-Carb Pantry Essentials – Avocado oil
Avocado oil is incredible. I use it liberally over salads.
It is a perfect healthy oil to have in your low-carb pantry when avocados are not in season and suddenly the price sky-rockets
13: Low-Carb Pantry Essentials – Coconut butter
By now you know all of the benefits of coconuts! Stock your pantry up with coconut butter, oil, and cream.
Coconut butter can be a nice snack by the teaspoon, to keep you going until the next meal time.
Best baking ingredients to buy
14: Low-Carb Pantry Essentials – Vanilla
A must-have in any pantry! Vanilla is also the secret to masking the subtle flavour that coconut flour sometimes imparts.
15: Low-Carb Pantry Essentials – Cocoa powder (unsweetened)
Perfect for adding into your baking, smoothies, coffee and more! Remember to ALWAYS read the nutrition label as many cocoa powders are actually sweetened cocoa for drinking. You want to buy the unsweetened variety that is intended for baking.
Once you find good unsweetened cocoa, stick with it. It truly does make a huge difference to chocolate low-carb baking goodies.
16: Low-Carb Pantry Essentials – Coconut cream
Coconut cream is different from coconut milk in that it contains less water and more coconut oil, so it has a thicker texture It is generally under 4% carbs and over 20% fat.
Many readers ask me if they can use coconut milk in many of my recipes, generally, I would say no.
Coconut cream is a high-fat cream that helps thicken sauces and dips.
17: Low-Carb Pantry Essentials – Cacao nibs
Cacao nibs are an easy and perfect substitute for chocolate chips. Many sugar-free chocolate chips on the market now, have very questionable sweeteners in them. Go for cacao nibs instead and taste the difference. They are packed with flavour, a little bitter, but great to snack on and for baking in my chocolate chip cookies.
18: Low-Carb Pantry Essentials – Herbs and spices
Mix up the herbs and spices you use, and never have a bland dinner again. Trying new combinations can help bring any dinner dish to life.
I like to use a variety of spices in my dinners, have you tried my Malaysian beef curry in the slow cooker yet?
19: Low-Carb Pantry Essentials – Tinned/canned tuna
Canned fish is a great option for when you are on-the-go. It is full of healthy fats and packed with protein. Make sure to choose ones packed in olive oil or water to avoid seed oils such as canola oil, sunflower oil or rice bran oil.
Why not try my low-carb salmon patties? They are a great last minute addition for lunch if you always carry canned/tinned salmon in your low-carb pantry.
20: Low-Carb Pantry Essentials – Tomato paste
Tomato paste is concentrated, so you are able to use a small amount. This is a much better option over using a sugar laden sauce.
When I make my Fat Head pizza, I always use tomato paste on the base before adding any toppings. It gives a nice tomato punch of flavour, but without the high carb count.
So there you have it! 20 low-carb pantry essentials. All of these are nutrition packed and perfect for starting your low-carb life. Have fun cooking and baking up a storm!
Tell me in the comments below, what is your number one item from my 20 low-carb pantry essentials?
Get our FREE guide to finally fix your metabolism!
Losing weight & getting healthy is never easy, but lately you might feel like it's suddenly become impossible.
Our Flip the Switch guide will help you clearly understand what's been going on, as well as exactly what you can do to get your metabolism working again so that you can look and feel your best—it's easier and more simple than you think!