Today I'm going to show you how to make cauliflower rice … with my simple no-mess method. The easiest and tastiest recipe is an absolute low carb, keto, Whole30, and Paleo staple recipe.
In fact, you can adapt and flavor cauliflower rice any which way you like.
So if you want an easily adaptable family-friendly side dish for curry, chicken, beef, pork, salmon, or lamb, this is it.
If you have ever made cauliflower rice with a hand grater/shredder and found cauliflower covering your entire kitchen, then watch the quick cooking video, and watch how I end up with ZERO mess using my method.
Are you ready to create the ultimate 12-month blueprint for reaching your health & weight loss goals this coming year?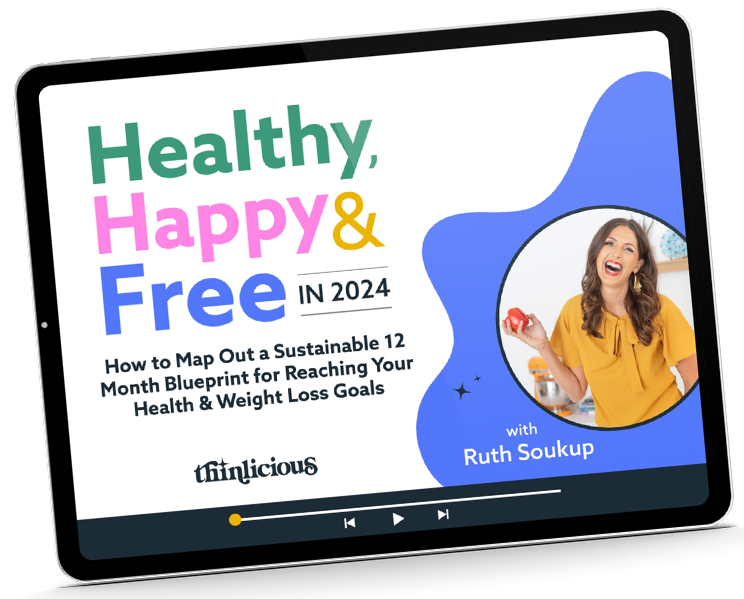 Our free on-demand video training will walk you through how to make 2024 THE year you set health goals…and keep them.
Is cauliflower keto?
Yes, cauliflower is a low-carb nonstarchy vegetable. Cauliflower is incredibly low in net grams of carbs, high in fiber, and incredibly versatile.
Cauliflower is used in many low-carb recipes and keto recipes. It is the most common vegetable used for those following a low-carb diet or keto diet.
Is riced cauliflower healthier than rice? Yes, it is. Just look at the nutrition values per serving to compare cauliflower rice with long-grain white rice and brown rice. You'll see it is extremely low net carbs and has extremely reduced calories.
Cauliflower rice vs white rice nutrition
And remember with traditional white rice, is that many people either overeat (who eats just 1 cup?) so you could easily consume a few days' worth of carbs in just one sitting.
Cauliflower 1 cup serving: 5.3g carbs, 2.5g fibre, 2.4g sugar, Vit A 0.3%, Vit B6 10%, Vit c 77%, calcium 2.2%, iron 2.4%, magnesium 4%
White rice 1 cup cooked: 53.2g carbs, 0.6g fibre, 0.7g sugar, Vit A 0%, Vit B6 15%, Vit C 0%, calcium 0.6%, iron 15%, magnesium 21%
Brown rice 1 cup cooked: 44.8g carbs, 3.5g fibre, 0.7g sugar, Vit A 0%, Vit B6 15%, Vit C 0%, calcium 2%, iron 4.5%, magnesium 21% (% of your daily requirement)
Nutritional values from cronometer.com
With cauliflower rice, the sky is the limit. You can eat and eat as much as you like without feeling guilty or feeling bloated and stodgy for hours. I have never eaten so many vegetables since I switched to a low-carb and keto diet.
In fact, I eat more vegetables than many vegetarians I know. My children have never eaten so many vegetables and in such a wide variety of ways. Yes, it takes a while to get used to doing things a bit differently, but it soon becomes the "new normal".
Benefits of cauliflower
Cauliflower is incredibly low carb, high in fiber, Vit A, Vit B6, and Vit C. It is a wonderful high-fiber vegetable.
It is a versatile vegetable that can be used in a number of healthy recipes. Cauliflower can be served mashed, fried, roasted, and even raw or blanched in a broccoli and cauliflower salad. Cauliflower is a staple for vegetarians, vegans, and those who simply live on a whole food diet, and nutrient-rich diet.
It's also a brilliant low-carb vegetable for those who are restricting their carbs to help their blood sugar levels. It's keto, vegan, Whole30, Paleo, dairy-free and super easy.
How to stop soggy cauliflower
If your cauliflower rice often ends up soggy and watery. There are two quick and easy ways to prevent this:
Do not add too much liquid to the cauliflower rice. I never add water to my cauliflower rice, I only add coconut cream and seasonings.
Allow the cauliflower rice to release all of its steam before sevring. So if you are cooking your rice in a sauecpan, always remove the lid to allow all of the steam to escape.
How to stop "that" taste?
Some people are sensitive to the subtle flavor and smell of cauliflower, it may not taste the same as regular white rice but these 3 tips will completely change how your regular riced cauliflower turns out.
Flavors and seasoning– the top tip I can give you today is to add plenty of salt and pepper to the shredded cauliflower during cooking. Adjust to your preferences. Salt really does make an enormous difference.
Add herbs and spices – you can easily make a Mediterannean couscous, or curry cauliflower rice by adding curry powder, spices, cumin, coriander, cilantro and fresh herbs such as chopped parsley. In the case of this curry cauliflower rice recipe, add plenty of curry powder or curry paste.
Add coconut cream – this makes the rice taste less of cauliflower and more of coconut, btu without being overpowering.
Frozen cauliflower rice
I often have a few bags of frozen cauliflower rice sitting in my freezer. Frozen cauliflower is often cheaper than fresh cauliflower when it is out of season.
Utilizing your freezer can really be a lifesaver when in need of a quick and healthy low-carb side dish. I also like to keep a variety of low-carb freezer meals in there too. This means we never need to get fast food or takeout.
You can either cook the rice from frozen or allow it to defrost first. Pour the frozen (or defrosted) vegetable rice into a saucepan or frying pan and heat until hot and steaming.
"No-mess method"
I try and make all my recipes as easy as possible. I don't use a hand shredder/grater, I don't pre-soak, I don't pre-season… I shred/grate it all using the blender, then cook in coconut cream and seasoning.
All in all, it is actually quicker than cooking regular white rice! I like to flavor mine so it is not so 'cauliflowery', but plain rice needs flavoring too. Cauliflower rice can really add to the meal, rather than being the vehicle for the meat to go on.
How to use your food processor to make riced cauliflower
1: PREPARE – To make the riced cauliflower, cut your cauliflower into chunks (or florets) and place these into your food processor and pulse with the blade until "rice" pieces are formed.
Just make certain that you pulse for just a few short moments and keep a close eye on it while you're doing so.
If you over pulse, you'll actually end up making curried cauliflower "mashed potatoes". And in all honesty, that will still be really good but you'll have a much creamier texture that won't resemble rice.
2: COOK – Add your rice to your frying pan/skillet or large saucepan. Add coconut cream and seasonings then cook/fry for up to 5 minutes. Just long enough for the rice to be steaming hot, but not mushy.
More low-carb curries
Cauliflower rice can be served with these dishes. It can also be served as a quick and tasty vegetable side dish with chicken dishes, pork, and beef.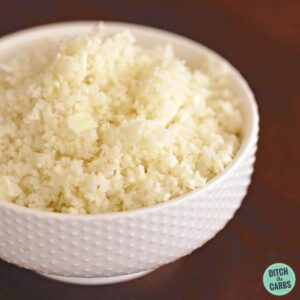 How To Make Cauliflower Rice
Once you discover how to make cauliflower rice, you can flavour it any which way you prefer to match the dinner it will be served with. Coconut cream for a curry meal or garlic or ginger for a Chinese meal.
Print
Pin
Rate
Want to lose weight and get healthy for life—without dieting, drugs, or making yourself miserable?
We can help! Tell me how!
Ingredients
½

cauliflower cut into pieces, small enough to fit into your blender

250

ml

coconut cream

full fat

25

g

desiccated/shredded coconut

unsweetened

1

tsp

ground coriander/cilantro

dried or fresh

salt

to taste
Instructions
Grate/shred all the cauliflower using the blender.

Place in a large saucepan and add the coconut cream, coconut, coriander and salt.

Cook on a medium/high heat until softened, stirring occasionally to stop the coconut cream from burning.

Garnish with more coriander and desiccated coconut.
Notes
Remember to season well and allow all the steam to escape to avoid soggy rice.
Nutrition
Serving:
1
serve ( serves 6)
Calories:
177
kcal
Carbohydrates:
5.8
g
Protein:
2.7
g
Fat:
17.3
g
Sodium:
17.6
mg
Potassium:
301.4
mg
Fiber:
2.7
g
Sugar:
1.2
g
Vitamin A:
1.1
IU
Vitamin C:
24.3
mg
Calcium:
16.2
mg
Iron:
1.3
mg
Get our FREE guide to finally fix your metabolism!
Losing weight & getting healthy is never easy, but lately you might feel like it's suddenly become impossible.
Our Flip the Switch guide will help you clearly understand what's been going on, as well as exactly what you can do to get your metabolism working again so that you can look and feel your best—it's easier and more simple than you think!