These 5 easy healthy lunchbox kebabs and dips are an easy way to keep lunchtime interesting.
Learn the secret to making quick and easy healthy lunchboxes – once and for all.
What is it about a skewer or toothpick that makes everything taste so much better?
If you are new here, you may wish to read this post on Low-Carb Kids – it has everything you need to learn how to start, what are the top 10 myths, and even how to help picky eaters.
Are you ready to create the ultimate 12-month blueprint for reaching your health & weight loss goals this coming year?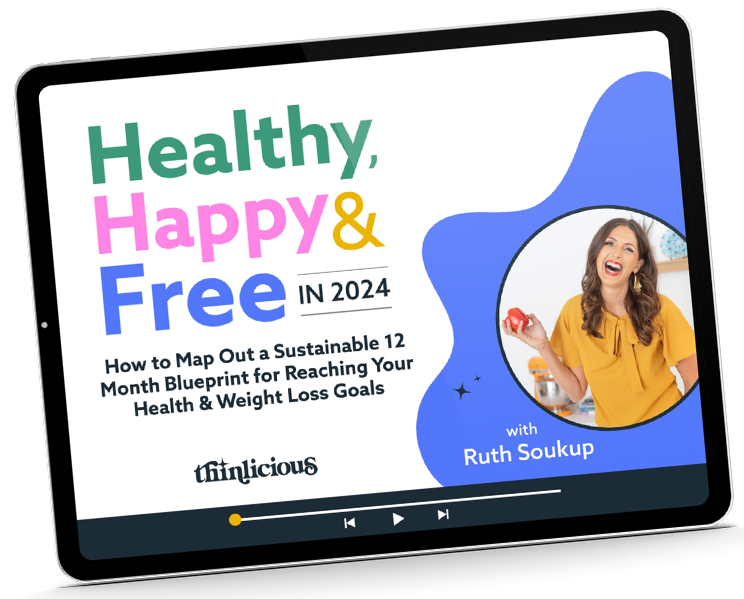 Our free on-demand video training will walk you through how to make 2024 THE year you set health goals…and keep them.
[convertkit form=2151265]
Why are kebabs so much fun?
I love sending my kids to school with kebabs in their lunch because they are just so easy to make. I can cut up a bunch of fresh veggies, cheese, meats, and fruit and shove them on a stick in different combinations so that they can eat a fun new meal every day.
When I make the kebabs I like to make a handful of each kind, and store them in a zip bagging in the fridge. The addition of a delicious, but simple, dip stored in a little leak proof pot makes their lunch even more delicious.
My kids or I can grab a bag from the fridge and just place it in their lunch box each day as we head out the door.
1: B.L.A.T kebabs
Bacon, lettuce, avocado, and tomato is quick healthy kebab you can throw together. Cook 2-3 strips of bacon and then chop them into fourths.
Tear a leaf of lettuce into large pieces, and then chop avocado into large chunks.
To keep the avocado from going brown I like to toss the avocado pieces in a little lemon juice.
Simply alternate the bacon, lettuce, avocado, and tomatoes on a small skewer until it is full. Salsa is a great dip to serve with a BLAT kebab.
If you meal prep this kebab for lunch in advance be sure to store the kebabs in a small zip bag instead of one large zip bag. This will keep the avocado fresh a little longer, but I would still eat this one first.
2: Cheese and vegetable kebabs
You can use any cheese cubes or vegetables to make this kebab, you just need to cut them into pieces that will easily fit on your skewer. I like to use cucumbers and cherry tomatoes for the cheese and veggies kebabs. Sometimes I like to add a piece of broccoli, lettuce, or bell pepper to the kebab as well.
Cheese and vegetable kebabs are wonderful with a yoghurt and mint dip. To make it finely chop a few mint leaves and mix it in with a little plain yoghurt.
Spoon the dip in the leak-proof pots and store in the refrigerator. The mint and yoghurt dips give the cheese and vegetable kebabs a Greek twist.
3: Pepperoni and cheese kebabs
Pepperoni and cheese kebabs are one of my kids favourite because of how I put pepperoni and cheese on the skewer. I like to place the skewer into the edge of a round pepperoni, then add the cheese cube and fold the other half of the pepperoni around the cheese cube.
The pepperoni will form a C-shape with the cheese in the middle. I can usually fit 3-4 pieces on one kebab.
For the dip, I mix some mashed avocado in with some softened cream cheese. I haven't had an issue with the avocado going brown when mixed with the cream cheese, so I don't bother adding any lemon juice to the dip.
4: Ham and cheese pinwheel kebabs
To make the ham and cheese pinwheels place a slice of cheese on top of a slice of ham. I like to use provolone cheese, but any cheese will work.
Roll the ham and cheese up, then cut it into thirds. Press the skewer through the side of each pinwheel to keep it from unrolling.
For the dip, mix a little mayonnaise and mustard together in a bowl and spoon into a little leak-proof container.
5: Fresh fruit kebabs
You can use any fruit you have to make a fresh fruit kebab. However, I like to use blueberries and cut strawberries since they are high in antioxidants and low in carbs.
I serve the fruit kebabs with a side of almond butter to add a little extra protein and healthy fats to the meal. If your child isn't allowed to bring nut butter to school, you can always use an alternative butter like sunflower butter.
Healthy lunchbox snacks
Your kids will absolutely love the addition of kebabs and dips to their lunch. Be sure to pack additional healthy snacks to go along with the kebabs.
Some of my favourite lunch additions are:
unsweetened yoghurt with frozen berries or fresh berreis
sliced vegetbales and a small pot of cream cheese
mixed nuts, seeds, and coconut flakes
hard boiled eggs
small mandarin oranges
All of these healthy snacks can be packed in bulk and stored in the refrigerator for easy grab-and-go lunchboxes.
If your children are at the age where they pack their own lunch you can even enlist them in helping to make the kebabs in advance. Your child will learn about meal planning hand on while spending quality time together. Enjoy!
Healthy school lunchbox gadgets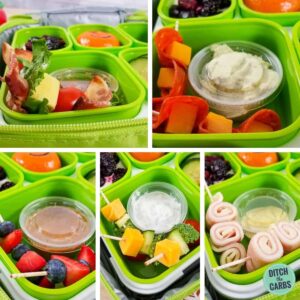 5 Easy Healthy Lunchbox Kebabs and Dips
Give your lunchbox an upgrade with these easy and fun kebabs and dips.
Print
Pin
Rate
Want to lose weight and get healthy for life—without dieting, drugs, or making yourself miserable?
We can help! Tell me how!
Ingredients
Bacon Lettuce Avocado and Tomato Kebabs (B.L.A.T)
1-2

slices

bacon

avocado cut into chunks

lettuce ripped into bite sized pieces

cherry tomatoes
Ham and Cheese Pinwheels
2

slices

ham

2

slices

cheese

any kind
Cheese and Vegetables Kebabs
cubes of cheese

chopped cucumber

cherry tomatoes

chunks of broccoli, lettuce, or bell peppers

optional
Pepperoni and Cheese Kebabs
3-12

pieces

round pepperoni

3-12

cubes of cheese
Fresh Berries Kebab
2-4

strawberries cut into pieces

blueberries fresh or frozen
Dips
salsa

mint and yoghurt

almond meal/flour

avocado and cream cheese

mayo and mustard
Instructions
Bacon Avocado Lettuce and Tomato Kebab
Cut the bacon, avocado, and lettuce into large bite-sized pieces. Sprinkle the avocado with lemon juice (optional) so that they last longer.

Layer the ingredients one at a time on a small skewer or toothpick, ending with tomato to keep everything in place. Serve or store in small zip bags for use throughout the week. Serve with salsa.
Hame and Cheese Pinwheels
Place a slice of cheese on top of a slice of ham. Roll it up tightly and then cut it into thirds.

Push a small skewer or toothpick through the side of all three pieces to keep them from unravelling. Serve or store in small zip bags for use throughout the week. Serve with mayo and mustard dip.
Cheese and Vegetables Kebab
Cut the cheese and vegetables into bite-sized pieces. Place a piece of cheese and each vegetable on the skewer or toothpick. End with a cherry tomato.

Serve or store in small zip bags for use throughout the week. Serve with mint yoghurt dip.
Pepperoni and Cheese Kebabs
Place one side of a round pepperoni on the skewer or toothpick. Then add a cube of cheese. Fold the other side of the pepperoni over and through the skewer. The pepperoni should be c-shaped with a cube of cheese in the middle. Repeat 3-4 times until the skewer or toothpick is full.

Serve or store in small zip bags for use throughout the week. Serve with avocado cream cheese dip.
Fresh Berries/Fruit Kebab
Cut the strawberries into bite-sized pieces. Place the strawberries and blueberries on the skewer, alternating fruit to make a pattern. You can add any fruit you like to the skewer. Continue until the skewer is full.

Serve or store in small zip bags for use throughout the week. Serve with almond butter.
Dips
The dips are easy to make. Just mix together the two ingredients listed in each dip(mayo/mustard, mind/yoghurt, avocado/cream cheese). Taste it to see if you like it and adjust the amount to fit your taste. You may decide to add more mustard or avocado depending on what you like.
Notes
I do not count carbs for my children, but as an example, the nutrition facts shown are for 2 ham and cheese roll-ups. Total nutrition values are dependent on how much of each lunchbox option you make.
Nutrition
Serving:
2
ham and cheese roll ups
Calories:
364.6
kcal
Carbohydrates:
1.4
g
Protein:
25.1
g
Fat:
28.4
g
Sodium:
1031
mg
Potassium:
203.3
mg
Sugar:
0.2
g
Vitamin A:
561.1
IU
Calcium:
399.8
mg
Iron:
0.6
mg
Additional healthy lunch box recipes you may like:
Get our FREE guide to finally fix your metabolism!
Losing weight & getting healthy is never easy, but lately you might feel like it's suddenly become impossible.
Our Flip the Switch guide will help you clearly understand what's been going on, as well as exactly what you can do to get your metabolism working again so that you can look and feel your best—it's easier and more simple than you think!