Low-carb mug cakes are the perfect way to satisfy your cravings for something sweet without throwing the towel in on all the progress you've made so far.
If you love the idea of a personal cake all to yourself then these low-carb mug cakes are for you!
These mug cakes can now be made in the microwave, oven, and even your air fryer.
What Are Mug Cakes?
Making mug cakes is super easy. I am going to teach you how to make a basic mug cake batter, and then how to add different ingredients to make 4 completely different flavors!
Are you ready to create the ultimate 12-month blueprint for reaching your health & weight loss goals this coming year?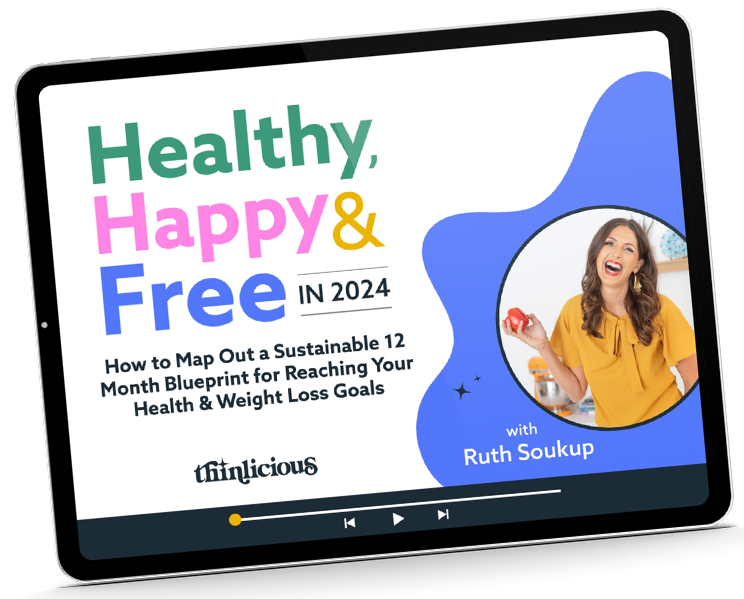 Our free on-demand video training will walk you through how to make 2024 THE year you set health goals…and keep them.
To make your basic mug cake recipe you will want to place some butter and cream cheese in a microwave-safe mug or ramekin, then microwave it for 20 seconds to soften the butter and cream cheese.
Next, mix in some coconut flour, baking powder, vanilla, an egg, and your favorite natural granular sugar-free sweetener.
Mix it together really well scraping the sides and bottoms. You now have a basic vanilla mug cake that you can pop into the microwave to cook or add extra ingredients to spice it up!
1: Keto Vanilla Berry Mug Cake
First up on the list of mug cakes is my vanilla berry mug cake. This is one of the most popular recipes at Ditch The Carbs because it has a lovely moist texture and is absolutely idiot-proof (yay for late-night cravings).
To make this mug cake you simply need to add six frozen raspberries to your basic mug cake batter.
You will want to use a knife or the back of a fork to push the frozen berries into the batter then cook the cake in the microwave for 1 minute to 1 minute 20 seconds.
Serving Suggestions & How To Reduce Carbs: Vanilla Berry Mug Cake
You can then dig in and eat your cake directly out of the mug or pop it out of the mug and place it on a plate.
The vanilla berry mug cake has 4.5g net carbs, but if you want to lower the carb count even further you can use 3 berries instead of 6.
2: Keto Double Chocolate Mug Cake
Double Chocolate Keto Mug Cake (1-Minute Recipe)
How to make a quick and tasty double chocolate mug cake in the microwave, oven, or air fryer. Delicious gooey moist chocolate mug cake made with cream cheese and sugar-free chocolate chips.
Check out this recipe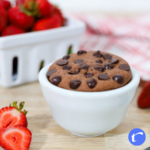 The double chocolate mug cake is up next.
You simply make the regular keto mug cake batter, then add the additional cocoa powder and chocolate chips.
If you can't find good quality sugar-free chocolate chips, you may use cacao nibs or chopped dark 90% chocolate instead.
If you leave the chocolate chips out you'll have a regular chocolate cake, but regular chocolate cake is delicious too!
Serving Suggestions & How To Reduce Carbs: Double Chocolate Chip Mug Cake
This mug cake nets 5.5g carbs. To make this cake you simply need to mix in a scoop of cocoa powder and sugar-free chocolate chips into the batter before cooking.
If the net carbs is a little high for your carb count that day you can lower the carb count even more by either using fewer chocolate chips or leaving them out altogether.
3: Low-Carb Lemon Curd Mug Cake
1-Minute Lemon Curd Low-Carb Mug Cake Recipe
How to make a quick and tasty lemon curd mug cake in the microwave
Check out this recipe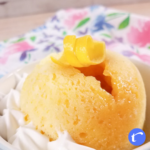 A lemon curd mug cake recipe is incredibly tasty and perfect for when you are craving something sweet and tart.
Before you make this mug cake you will need to whip up a batch of homemade low-carb lemon curd.
The lemon curd in this recipe can be made in advance and either stored in the refrigerator or in spoonful sized portions in the freezer.
I do not recommend using store-bought lemon curd as they are usually full of sugar and other highly processed ingredients.
When I make a lemon mug cake I like to mix some lemon zest into the batter and drop 1-2 spoonfuls of lemon curd in the middle of the mug cake batter before cooking.
Push the lemon curd into the batter with the back of your fork before cooking in the microwave.
When the cake is done cooking the center will gooey and tangy from the lemon curd.
Who's drooling already?
Serving Suggestions & How To Reduce Carbs
If you use two spoonfuls of lemon curd to the centre of your low-carb mug cake, it will net 5.9g carbs.
To lower the carb amount, even more, use only 1 spoonful of low-carb lemon curd instead of two and leave out the optional lemon zest.
To serve, simply add a few slices or sprinkling of lemon zest to the top and perhaps some whipped cream.
4: Low-Carb Cinnamon Roll Mug Cake (Cream Cheese Icing)
Low-Carb Cinnamon Roll Mug Cake Recipe (Cream Cheese Frosting)
How to make a quick and tasty cinnamon roll mug cake in the microwave plus icing/frosting.
Check out this recipe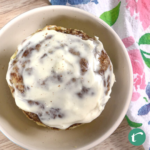 If you have been missing cinnamon rolls you are going to love this cinnamon roll mug cake!
Of all the mug cakes this one does have the highest net carbs (6.3g), but like all the other mug cakes there are ways to lower it even more if you need to make it fit into your day.
To make this cinnamon roll mug cake you will want to mix together some cinnamon and a little of your favorite brown sweetener in a separate dish.
Sprinkle the cinnamon mix over the top of your basic mug cake batter, then use the back of a fork to swirl the cinnamon mix into the batter.
Serving Suggestions & How To Reduce Carbs
While the mug cake is cooking whip together your frosting/icing in a small bowl, then spread it over your mug cake while it is still warm.
If you want to lower the carbs for this cake I'd recommend either leaving off/reducing the frosting/icing.
More Low-Carb Dessert Recipes & Low-Carb Cake Recipes …
Serving sizes
Once you get the hang of making low-carb and gluten-free mug cakes, the options are endless.
Each quick and easy healthy mug cake is intended to make 1 serving, but it can easily be split into two servings for another person or stored in an airtight container in the refrigerator for the next day.
I can't wait to hear which low-carb mug cake recipes are your favorite.
Leave a comment to let us know which one you try. Enjoy!
If you are new here, I suggest downloading your FREE diet sheet with easy meals and snacks for beginners.
Oven directions
No microwave? No problem.
You can make exactly the same mug cake batter, place the mixture in an oven-proof ramekin instead of a mug, then bake at 180C/350F for 10 minutes.
Voila!
Yes, cooking in the oven will take longer, but for those of you who don't have a microwave, these will bake beautifully.
Air fryer
To cook mug cakes in the air fryer you need to find a small baking dish or ramekin to fit inside your air fryer. There must be at least 1 inch on all sides to allow the heat to circulate evenly.
Preheat your air fryer to 180C/350F.
Place the butter in your small baking dish and heat for 30 seconds to 1 minute, or until completely melted.
Make the mug cake following the recipe card below.
Gently lower your baking dish onto the air fryer wire rack. Ensure there is plenty of space between the ramekin dish and the side of the basket.
Cook for 10 minutes, depending on the size of your air fryer and the size of your ramekin or small baking dish.
Egg-free mug cakes
If you're looking for a mug cake without eggs, you'll love my keto cheesecake mug cakes without eggs. They only take 1-minute to cook and you can choose strawberry, Nutella, pumpkin pie spice, or blueberry vanilla.
Each one is a single-serve healthy dessert so you will have instant portion control.
More recipes you may like
Get our FREE guide to finally fix your metabolism!
Losing weight & getting healthy is never easy, but lately you might feel like it's suddenly become impossible.
Our Flip the Switch guide will help you clearly understand what's been going on, as well as exactly what you can do to get your metabolism working again so that you can look and feel your best—it's easier and more simple than you think!