Coconut flour is a fantastic alternative to wheat or corn flour because it's high in fibre and low in carbs!
It also has a light flavor that pairs well with both sweet and savory fillings like eggs and cheese, Mexican dishes, grilled chicken or even sugar-free chocolate spread.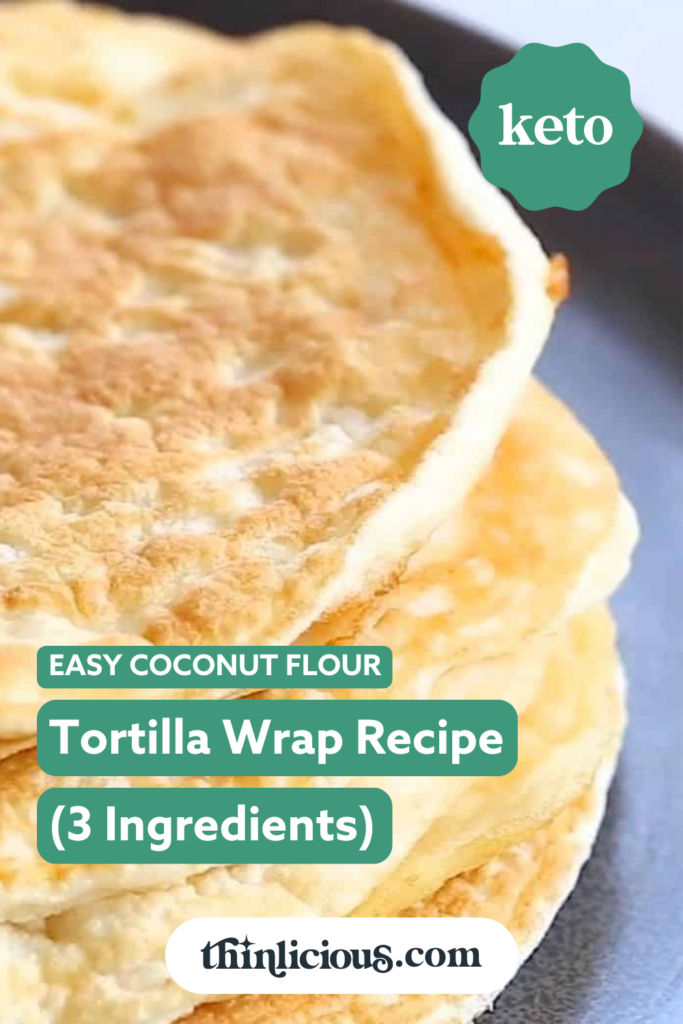 It's no secret that a lot of people are looking for low carb tortilla wraps as the keto diet continues to grow in popularity. A few years ago, coconut flour was just starting to become popular and now it is everywhere!
Simple 5-minute coconut flour tortillas
These tasty tortillas are not only absolutely delicious…but the best part? They are oh-so-easy to put together too. It'll take you about 5 minutes to whip these up.
Are you ready to create the ultimate 12-month blueprint for reaching your health & weight loss goals this coming year?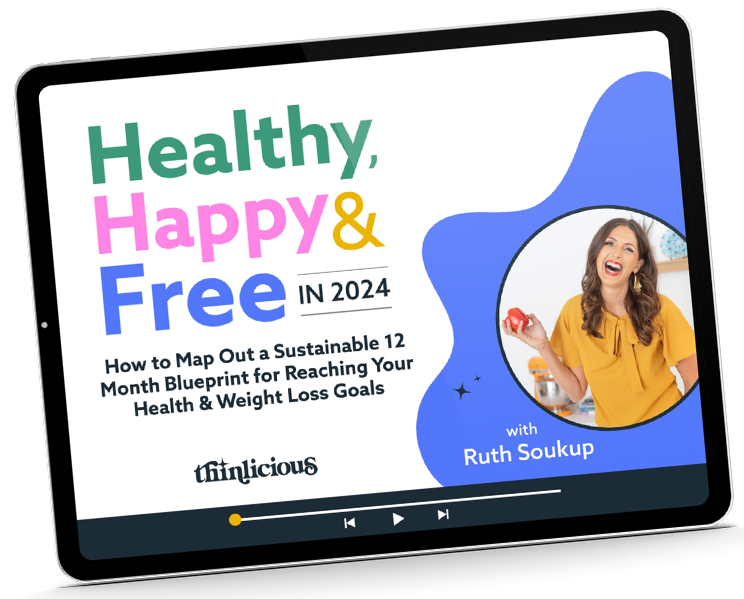 Our free on-demand video training will walk you through how to make 2024 THE year you set health goals…and keep them.
Plus, there are only three basic ingredients for this recipe. You probably have them all at home already!
All you need is coconut flour, baking powder, and 8 egg whites. By the way, don't toss the yolks! You need exactly 8 egg yolks to make these fantastic dairy-free low carb chocolate chip ice cream bars!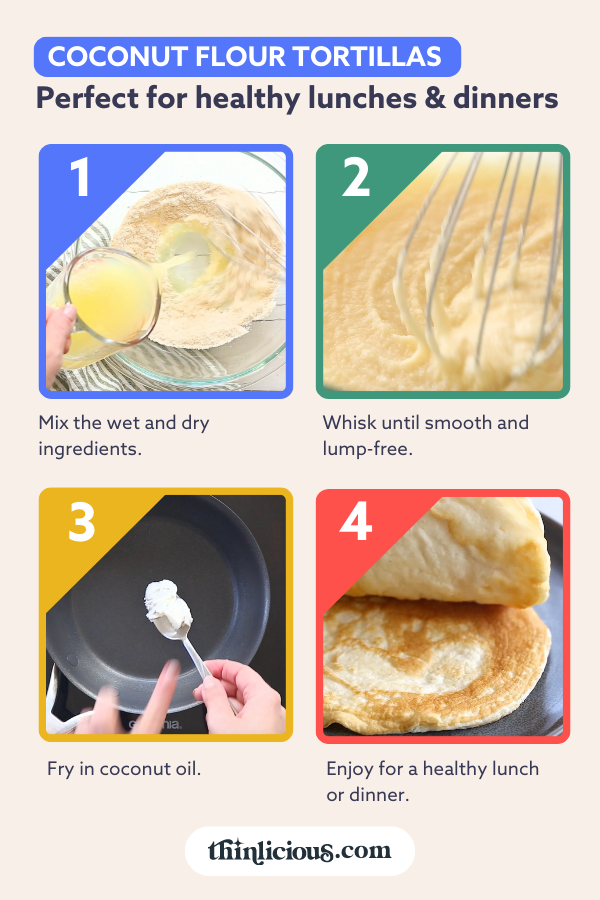 Why coconut flour?
There are other versions of low-carb and keto tortillas out there that require whole psyllium husk or almond flour combined with tapioca flour. But this easy version is simply coconut flour tortillas. No fuss, just yum!
So, why coconut flour?
Coconut flour has a lot of benefits, but one is that it is very low in inflammatory omega 6. In our modern diet, we have an imbalance of omega 3 (anti-inflammatory) to omega 6 (inflammatory) ratio.
Coconut flour is also incredibly economical. You can make an entire batch of keto tortillas with just 1/3 cup of coconut flour.
How many carbs are in coconut flour tortillas?
These tortillas are naturally gluten-free, grain-free and low carb. They contain approximately 12 grams of net carbs for the entire batch!
You can divide them into 6 small tortillas (2g net carbs per tortilla) or make 3 large coconut flour tortilla wraps (4g net carbs per tortilla wrap).
Nutritional values from cronometer.com
A healthy bread alternative
Keep in mind, you don't have to be low carb to enjoy this recipe. These tortillas are perfect for anyone who is gluten-free, paleo, or just wants a change of pace.
But, if you have been advised to go low-carb, gluten-free, or wheat-free, many people panic at the loss of their bread and grain products.
What will you eat for lunch? What will you serve in the daily lunch box?
Well, I have made it my personal mission to solve that question one recipe at a time. In fact, I have a large number of healthy low-carb and grain-free recipes on this site, both for adults and for children.
However, today's recipe is one that is near and dear to my heart! I absolutely LOVE this tortillas recipe. It's simple and delicious, and the options for filling it are endless.
But if you would like a traditional bread for lunch, why not try my almond flour bread, coconut flour bread or cheesy garlic bread.
Serving suggestions: 8 options
Let's talk about some ideas for using these tortillas made with coconut flour.
This recipe is incredibly economical. With coconut flour, a little goes a long way. It is naturally gluten-free, and naturally extremely low in net carbs.
Plus, these versatile low-carb tortillas can be used in both sweet and savoury recipes. They can also be used any time of the day for breakfast, lunch, dinner, or a snack! You can use these just like you'd use any flour tortillas or corn tortillas. Here are a few ideas to get you started:
1. Make a breakfast burrito
This one is easy – for a breakfast burrito just add bacon, eggs, and cheese or whatever other low carb ingredients you like. Sausage and avocados work well too!
2. Create lunch wraps
Make lunch wraps and fill these keto tortillas with turkey and veggies for an easy low-carb meal. I also like to stuff mine with my favourite salads to add a nice crunch. Spread some pesto or cream cheese all over before adding the filling. It makes sure lunch is never dry and adds extra flavour.
3. Try Mexican food like fajitas or tacos
Here's a favourite way to use this tortilla recipe! Simply add some taco seasoning, cumin, paprika, onion powder and garlic powder to the coconut flour tortillas before frying them.
Then, stuff them with grilled chicken, taco salad or steak fajitas and your favorite low carb veggies.
Don't forget your favorite taco fillings like cheese, sour cream and plenty of hot sauce drizzled over this tortillas recipe!
4. Strengthen your lettuce wrap
Add these low carb tortillas as a shell around your favourite lettuce wraps (like this buffalo chicken version!) to make them more sturdy so they don't fall apart.
5. Use tortillas as a side dish
A simple use is to add them as a side dish to your main meal. Why not serve with my low carb/keto beef chili, sour cream, shredded/grated cheese, and some guacamole?
Yes they will probably fall apart and kids will end up eating with their hands, but heck, who doesn't do that when they go and grab a takeout?
6. Pair with a curry
I am curry obsessed, so it's no surprise that I love pairing coconut flour tortillas with my favourite curries.
Add the coconut flour tortilla to your favorite chicken curry dish or with this Maylasian beef for an extra special dinner!
7. Layer with jam
Turn these coconut flour tortillas into a dessert by adding some sugar-free jam with chia seeds.
You could even add peanut butter or almond butter!
8. Make a tortillas dessert wrap
Another dessert idea for these low-carb tortillas is to turn them into a sweet dessert wrap. Simply add some keto sweetener to taste and some vanilla. This would make a yummy after-school snack with cream cheese, sugar-free chocolate spread, and berries inside, alongside a large glass of unsweetened almond milk. Yum!
Tips for making coconut flour tortilla recipe
Instructions
Now that you know all the yummy things you can do with these gluten free paleo tortillas, let's chat about how to make them perfectly every single time.
You'll find the full recipe in the card below, but here are my top tips to make perfect tortillas!
Use a large mixing bowl to mix up this dough. You'll have to do a good amount of whipping to get the lumps out, so give yourself plenty of room.
The tortilla dough is much thinner than a traditional wheat tortilla. No rolling pin or tortilla press is needed for this recipe! All you need to do is mix up the batter and pour it carefully into the preheated pan.
Heat a small skillet over high heat, and add coconut oil to it. Once the oil is shimmering, you can turn the burner down to medium-low heat and add the dough to the hot skillet.
The tortilla will cook for about one minute on each side. You'll know it's done when it starts to get a golden brown tint and bubbles slightly.
If you have a hard time flipping them, I recommend using a large spatula.
I personally enjoy warm tortillas, but you can also serve them at room temperature or chilled.
Can I freeze coconut flour tortillas?
If you want to make a second batch or even a third to freeze, you absolutely can! Just double or triple the recipe to make a big batch of tortillas, and cook as directed above.
To freeze, I recommend layering the tortillas recipe between parchment paper sheets. This will keep them from sticking together
To use, thaw them for an hour or so in the fridge. Or, peel off the parchment paper and wrap them in a paper towel. Give them a quick blast in the microwave and enjoy!
Can I use almond flour for coconut flour?
No, you can't. These low-carb flours have totally different properties and are not interchangeable. However, you can easily make almond flour tortillas instead of coconut tortillas if that's what you prefer.
Give these almond flour keto tortilla recipes a try. They are only 2g net carbs per tortilla and very soft and pliable.
If you are new to low-carb baking, then you may not be accustomed to using coconut flour and all its foibles.
You may find almond flour a little bit more forgiving. Will you prefer the taste? You'll have to make both of these tortillas and see!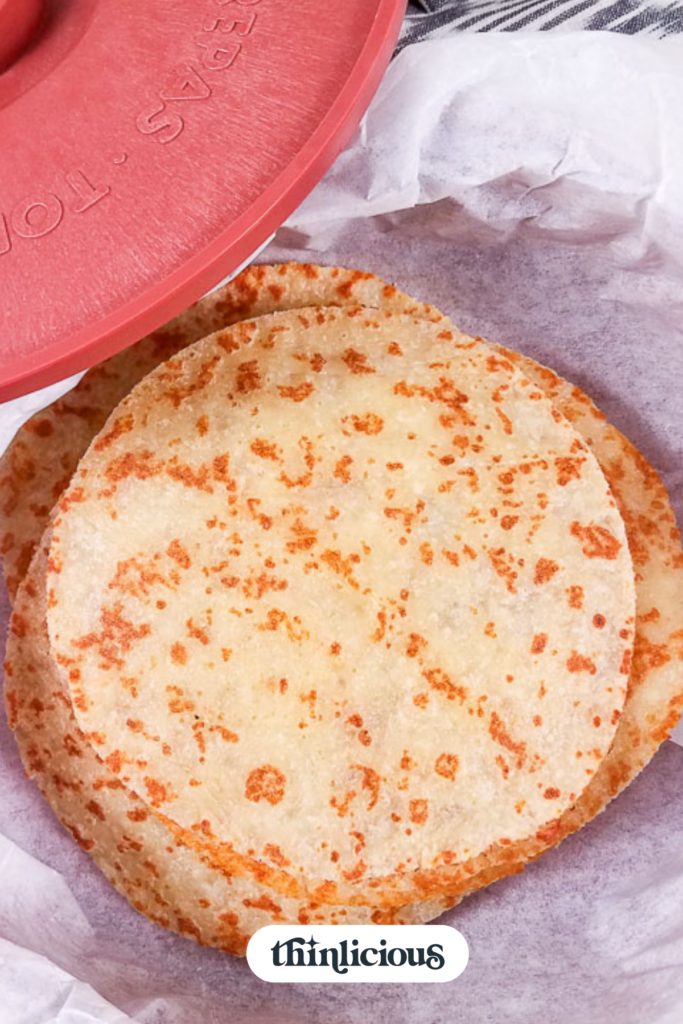 Low-carb coconut flour tortilla wrap recipe
Watch the video to see how easy these coconut wraps are.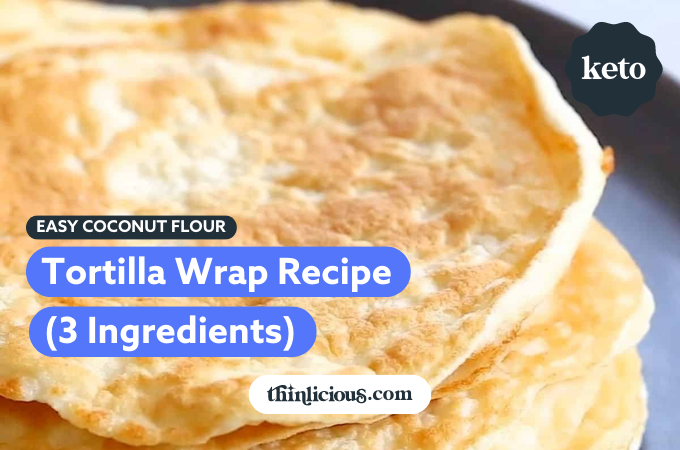 More keto bread recipes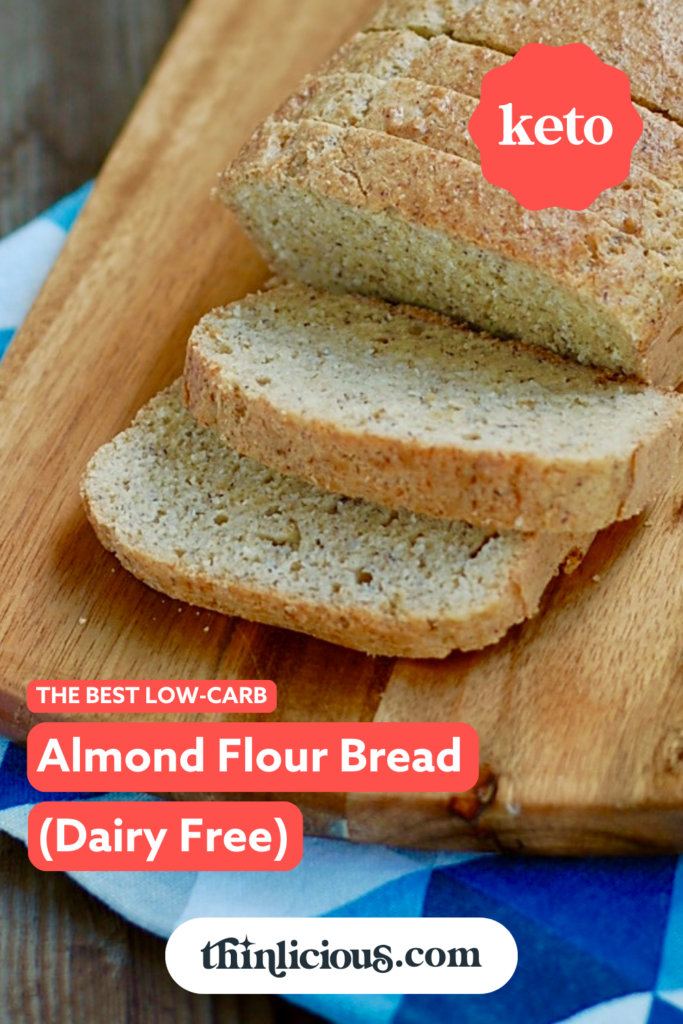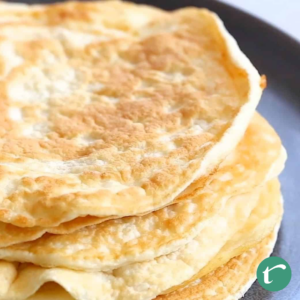 Low-Carb Coconut Flour Tortilla Wraps Recipe
Watch how to make coconut flour tortilla wraps – even if you're not low-carb. They are the perfect easy low-carb gluten-free wrap for a healthy lunch/dinner.
Print
Pin
Rate
Servings:
6
tortilla wraps
Want to lose weight and get healthy for life—without dieting, drugs, or making yourself miserable?
We can help! Tell me how!
Ingredients
1/4

tsp

baking powder

30

g

coconut flour

8

egg whites

(from medium eggs)

coconut oil

for frying
Instructions
In a large mixing bowl, add the baking powder and coconut flour. Add the egg whites and mix with a whisk until lump free (it ends up being quite a thin mixture).

Melt coconut oil in the frying pan, then fry a small amount for each tortilla wrap, one at a time.

Flip each tortilla wrap when it starts to bubble and goes brown on the underside.

Serve with your choice of filling for breakfast, lunch or dinner.
Notes
Nutrition panel shows values when the mixture makes 6 tortilla wraps. You may decide to make smaller or larger tortilla wraps, and so you will need to calculate the nutrition accordingly.
The entire mixture is 24g total carbs, 12g fibre = 12g net carbs in the entire recipe. So for example, if you make:
6 wraps = 2g net carbs each
4 wraps = 4g net carbs each
Nutrition
Serving:
1
tortila wrap (serves 6)
Calories:
49
kcal
Carbohydrates:
4
g
Protein:
5
g
Fat:
1
g
Sodium:
8
mg
Potassium:
8
mg
Fiber:
2
g
Get our FREE guide to finally fix your metabolism!
Losing weight & getting healthy is never easy, but lately you might feel like it's suddenly become impossible.
Our Flip the Switch guide will help you clearly understand what's been going on, as well as exactly what you can do to get your metabolism working again so that you can look and feel your best—it's easier and more simple than you think!