</p>
A delicious recipe for keto spinach pie (with a gluten-free crust). The perfect high-protein vegetarian dinner with spinach, cream cheese, and feta.
It can be baked with a gluten-free pie crust, or as a crustless spinach pie in a baking dish.
This spinach pie recipe is simple, quick, and delicious. At only 2 net carbs per serving, this spinach pie should definitely be on your must-make list.
Are you ready to create the ultimate 12-month blueprint for reaching your health & weight loss goals this coming year?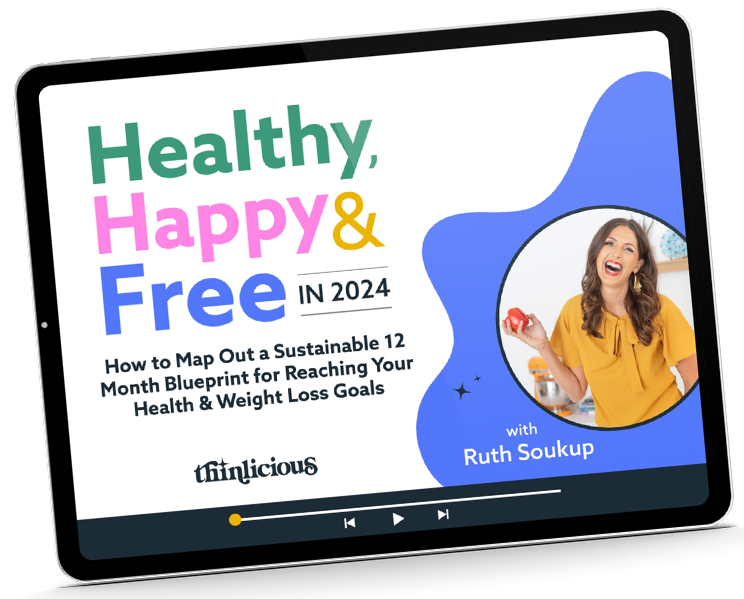 Our free on-demand video training will walk you through how to make 2024 THE year you set health goals…and keep them.
This easy, baked spinach pie with cheese is high-protein low-carb, perfect for low-carb vegetarians to help hit your health goals while staying satisfied. Plus, there are many variations to this recipe, depending on how low carb you need to go.
Ingredients
Low-carb spinach and feta pie are so incredibly colorful, delicious, healthy, and nutritious. What is even better, it is super easy to make. Here's what you need to put together this yummy keto spinach pie.
All quantities, ingredients, and instructions are in the recipe card below.
Gluten-free keto pie crust
This gluten-free, grain-free crust is absolutely delicious. It's also incredibly versatile. You can use it for both sweet and savory dishes while on the keto diet.
Not in the mood for a crust? You can easily turn this into a crustless spinach pie too – just skip down to the next set of ingredients.
Keto spinach cheese pie filling
spinach – you can use either chopped fresh spinach or chopped frozen spinach for this recipe. After defrosting the frozen spinach (or cooking the fresh spinach) press out as much excess water and moisture as you can.
eggs
onion – white onion finely diced is my favorite. You can often find these prechopped in the frozen veggie section!
cream cheese – make sure to buy the full-fat cream cheese, not the lite, light, low-fat, or spreadable cream cheese. if you can't find cream cheese, you may use ricotta cheese.
feta cheese – again, full fat and plain are best. If you're not a fan of feta, you can use cottage cheese, but drain all the liquid first.
fresh mint – it might sound odd, but don't skip this one! I strongly suggest you use fresh instead of dried mint as there is a world of flavor difference for this keto spinach pie recipe.
salt and pepper to taste.
Find the exact quantities in the keto spinach pie recipe card below.
Instructions
Keto pie crust
First, grab all the crust ingredients into a medium mixing bowl and mix together with a fork.
Grease the bottom of a pie pan or pie plate. My pie pan is 9.5″ which works perfectly for this spinach pie. You might also like to cut a circle of baking parchment paper to line your pie plate making it easy to remove the cheese pie once baked and cooled.
Pour the keto pie crust mixture into the oiled and lined prepared pan (pie plate).
Add another small sheet of parchment paper to the top of the filling, and use your hand or a small drinking glass to smooth the crust out evenly. Then take off the parchment and discard it.
Make holes with your fork all over the base so the crust cooks evenly. Bake for 15 minutes at 350F/180C until it is golden brown.
Spinach mixture
While you are baking the pie crust, you can prepare the low-carb pie filling.
If you are using fresh spinach, wash it and dry it well with a cloth or towel. I find I prefer smaller bits of spinach so I will usually use baby or chopped spinach for this dish. You'll also need to wilt the spinach in a pan, then squeeze out the excess moisture before using it.
Want to use frozen spinach? No problem. Just let it dethaw (defrost)and then squeeze as much water as you can out of it. You don't want a soggy pie!
Next, place the spinach along with all the other filling ingredients in a large bowl.
Mix everything together but be gentle. You'll still want to leave those yummy chunks of feta cheese intact.
Pour the spinach mixture onto the crust in the pie dish. Then, bake until the mixture is cooked all the way through. It took me about 40 minutes at 180C/350F.
Storage
This spinach pie makes a great freezer meal. Simply bake it as instructed, then allow it to cool before wrapping it in foil. It will keep for about 2-3 months in an airtight container in the freezer.
It can also be kept in the fridge for up to 4 days. Cover with plastic wrap, baking parchment, or in an airtight container.
Baked keto spinach cheese pie keeps well and is not fragile, so it easily can be packed in school lunches (if nuts are not allowed, simply make it without the pie crust). It is also just as delicious hot or cold.
Variations
This keto spinach pie is such an adaptable recipe you can make it in many ways, depending on what you are looking for and how many carbs you require.
Spinach and feta parcels – this recipe uses rice papers when carbs aren't so critical and you need a sturdy lunch for little hands to take to school
Make it a crustless pie – if you're not a fan of a baked pie crust, then make the same mixture as the recipe on this page, but bake in a lined baking dish without the crust. This also freezes well
Spinach and feta wrapped in cabbage leaves – use the recipe on this page but instead of rice papers, for those who need to monitor their carbs even closer, use wilted cabbage leaves to wrap the filling and bake in an oiled baking dish. Turn over halfway through cooking.
Prosciutto wraps – yes, readers have told me they wrap this mixture in large prosciutto slices. This sounds amazing!
Cheese pie crust – why not sprinkle shredded cheddar cheese, fresh mozzarella, or even parmesan cheese over the top of the pie filling before baking to make a crunchy cheesy crust.
Spicy – if you like spicy meals, add some red pepper flakes into the pie filling.
As you can see, there are so many different ways to enjoy this low-carb spinach pie! Which one will you choose?
More keto quiche recipes
If you have eggs and a pie pan you can make so many delicious low-carb keto recipes. All are easy recipes the whole family will love. They are great freezer meals too.
Baked breakfast egg casserole is a must for breakfast, lunch, and dinner. Easy blender keto salmon quiche, where the crust and then the filling are all made in the same mixing bowl.
If you have any leftover chopped spinach, you can mix it into mini keto baked ham and egg cups, low-carb lamb curry with spinach (Saag Gosht), and add more spinach into spinach stuffed chicken breasts.
More keto pie recipes
Once you learn how to make easy keto family meals, you'll love these easy leto pie recipes. The whole family will love them with their gluten-free pie crusts.
Recipe FAQ
What is a crustless quiche called?
A crustless quiche is where the quiche egg filling is poured into a prepared pie tin or baking dish and baked without a crust. Some people call baked egg mixture without a crust, a frittata.
What can I use instead of spinach?
If you don't have any spinach, you can use Swiss chard, silverbeet, or kale. You could also use very small pieces of broccoli that have been steamed or blanched. Always remove any excess water.
What is the best side dish?
If it is summer, you might want to serve your spinach cheese pie with a large side salad or Caesar salad. If you want a warm winter meal, serve with steamed vegetables or baked cheesy cauliflower and broccoli with bacon.
How can I make creamed spinach?
Keto creamed spinach is an easy recipe that only needs a few ingredients and takes less than 10 minutes.
Do fruits and vegetables have protein?
If you are following a high-protein diet, it will be difficult to find only high-protein vegetables that have a protein content to meet your goals. However, the best fruits and vegetables with protein can be seen in these vegetable and fruit protein charts.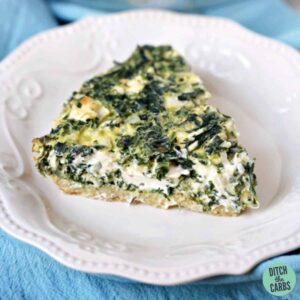 Keto Spinach Pie Recipe (Gluten-Free Pie Crust)
A delicious recipe for keto spinach pie (with a gluten-free crust). The perfect high-protein vegetarian dinner with frozen spinach, cream cheese, and feta.
Print
Pin
Rate
Want to lose weight and get healthy for life—without dieting, drugs, or making yourself miserable?
We can help! Tell me how!
Equipment
Mixing bowls

Pie dish

Parchment Paper
Ingredients
Grain Free Pie Crust
150

g

almond meal/flour

1

eggs – medium

1

tbsp

coconut flour

salt and pepper

to taste
Spinach and Feta Pie Filling
500

g

spinach

fresh or frozen (see notes below)

6

eggs – medium

beaten

½

onion

finely diced

250

g

cream cheese

full fat

250

g

feta

crumbled

huge handful

fresh mint

chopped

salt and pepper

to taste
Instructions
Gluten-Free Pie Crust
Mix all the ingredients together with a fork.

Grease and line a 24cm/ 9.5 inch pie/flan dish. I used a loose bottom tin, but this is not essential. If you do use a loose bottom dish, place it in the oven on a baking tray, just in case any liquid spills out.

Place the pie crust mixture onto the lined dish. Place a piece of baking paper on top and smooth out the pie crust with the back of your hand or a glass tumbler to fill the pie dish. Remove the top baking paper. Doing it this way saves you from rolling out the pastry and cutting any excess off.

Make holes all over the base with a fork. This will help the pie crust bake evenly and crispen.

Bake at 180C/350F for 15 minutes. Remove from oven.
Keto Spinach Pie Filling
Defrost the spinach and squeeze as much of the water out as you can. This is an important step, otherwise, you will end up with a soggy pie.

Place the spinach and all other ingredients in a large mixing bowl.

Mix gently, but do leave some cream cheese and feta lumps.

Pour onto the cooked pie crust.

Bake at 180C/350F for 40 minutes or until the centre is cooked.
Notes
Fresh Spinach – if using fresh spinach, remember to chop and wilt the spinach first before adding to the pie filling. You can either wilt the spinach in a frying pan for a few minutes whilst stirring, or in a microwaveable dish. Drain off any excess liquid.
Nutrition
Serving:
1
slice
Calories:
249.4
kcal
Carbohydrates:
5.2
g
Protein:
11.4
g
Fat:
20.5
g
Sodium:
373.7
mg
Potassium:
315
mg
Fiber:
2.5
g
Sugar:
1.7
g
Vitamin A:
4413.5
IU
Vitamin C:
12
mg
Calcium:
205.8
mg
Iron:
2.2
mg
Get our FREE guide to finally fix your metabolism!
Losing weight & getting healthy is never easy, but lately you might feel like it's suddenly become impossible.
Our Flip the Switch guide will help you clearly understand what's been going on, as well as exactly what you can do to get your metabolism working again so that you can look and feel your best—it's easier and more simple than you think!