Healthy low-carb meal prep for a family … for a week … in under 2 hours!!! This meal prep plan was specifically designed to be quick and easy and healthy so that you can be done meal prepping breakfast, lunch, and dinner in under two hours.
There's even a FREE 5-day low-carb meal prep planner & shopping list PDF for you.
How to Meal Prep for a Family – For 1 Week – in Under Two Hours
The most common meal prep struggles I read is that meal prepping is too complicated, takes too much time, and is too expensive. So, I decided to design a meal plan that addressed all these issues.
When selecting recipes for this meal plan I searched for recipes that are fast and required little preparation, offered variety with a few ingredients, and would hold well in the refrigerator/freezer.
Are you ready to create the ultimate 12-month blueprint for reaching your health & weight loss goals this coming year?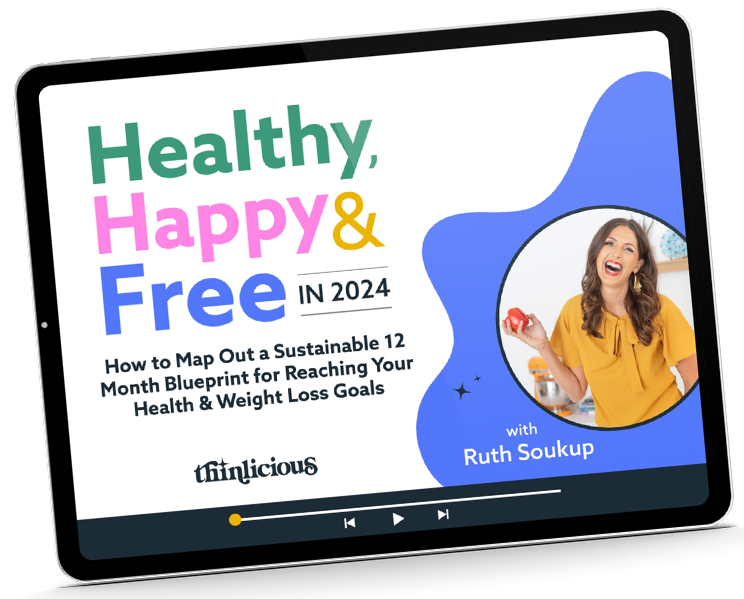 Our free on-demand video training will walk you through how to make 2024 THE year you set health goals…and keep them.
At the end of this 2-hour meal prep, you will have enough meals and servings prepared to feed your whole family breakfast and dinner for 1 week PLUS a packed lunch each day for yourself and your significant other.
How do you meal prep for a busy family?
Many meal prep plans I see make the process entirely too complicated. Often by the time you are ready to start assembling meals your entire kitchen is covered in ingredients with no more counter space to actually prepare the meals.
This image is overwhelming and often makes the process unenjoyable. We don't want that, instead, we are going to take it course by course so that you can see your progress and remain motivated.
My number one tip for meal prepping is to be prepared with all your ingredients on the countertop before you begin. Group your ingredients for each recipe that requires it.
Turn on some good music, invite your family into the kitchen to help, and genuinely try to enjoy yourself. The time will fly by.
What tools do you need for meal prep?
I use quite a few airtight food storage containers when meal prepping. The containers I use are inexpensive and can usually be picked up at the store. If you do not have food storage containers on hand, or if purchasing them is out of your budget, you can easily use different-sized zipped top bags to store your food.
You will also need a blender, cutting boards, aluminium foil, a cupcake pan, silicone muffin liners(optional), and two baking/casserole pans. I use large canning jars to store smoothie ingredients, but you can use sandwich-sized zipped bags instead of canning jars if you would like.
Eco-friendly meal prep boxes (reusable)
I try to avoid as much single-use plastic as I can. So all the plastic items I use, I wash and reuse a number of times. This is far more eco-friendly meal prep than using single-use throwaway boxes. PLUS you are avoiding all the unnecessary throw-away items from taking out lunches that cafes provide.
Top tip: If you come across any packaging from items bought at the supermarket and cafe, bring them home, wash them thoroughly and re-use them. I have a large collection of used yoghurt pots and lids, salad boxes, and even plastic and bamboo cutlery. Reduce – re-use – recycle.
Family meal prep – your healthy meal plan
Following the healthy meal prep guidelines below, you may wish to follow this meal plan to ensure everything is kept fresh in your refrigerator or freezer.
The adults may want the keto green smoothies and the chia puddings, whilst the children may prefer the ham and egg cups. Just keep an eye on storage guidelines.
1: Sugar-free breakfast meal prep
Breakfast is the easiest course to start meal prepping with. I have selected three recipes for breakfast to give you some variety throughout the week. They are also family-friendly recipes that your children will love.
These three meals are enough food to feed 4 people breakfast five days a week. If you are cooking for only 2-3 people you may only need to prep 1-2 of these breakfast recipes. If you are cooking or more than 4 people, you may need to double 1-2 of the recipes.
4 people x 5 breakfasts = 20 servings
[ 12 ham and egg cups + 4 keto green smoothies + 4 chia breakfast puddings = 20 servings ]
Preparing breakfast should only take you about 30 minutes, that is why we are starting with it first. It's all about being able to see your progress and keeping you motivated.
Ham and Egg Cups – Make 12 servings
The first recipe you will want to make is the bacon and veggie egg cups. I like to use silicone muffin liners when making the egg cups so that they are easy to remove.
Whilst the bacon and egg cups are cooking, use this time to prep your smoothies and chia seed pudding for the rest of the week.
This recipe will make 12 egg cups that can be stored in an airtight container in the refrigerator (for up to 3 days) or freezer (for up to 1 month). Refrigerated egg cups can be reheated in the microwave for 30 seconds. Frozen egg cups may take 1-2 to reheat in the microwave.
Healthy Keto Green Smoothies – Make 4 servings
The sugar-free keto green smoothie is full of healthy fats that will help keep you full longer. This is a great breakfast option when you want something light. It can also be used as a midday snack between meals.
To prep the smoothies you will want to add all the ingredients except the ice and almond milk to a mason jar or plastic zip bag. This recipe will make two smoothies. I doubled the recipe to get make four smoothies.
Keep these glass mason jars in the fridge for up to 3 days. If you are worried that the avocado may be slightly brown, try to enjoy these smoothies on day 1.
Alternatively, you can place the ingredients into ziplock bags and freeze them until you want them.
The prepped smoothies should be stored in the fridge until you are ready to blend them.
To make the smoothie, use a stick blender directly into the mason jar OR dump the contents of the jar into your blender, add some ice and almond milk, and then blend for 20-30 seconds.
Cinnamon and Coconut Chia Seed Pudding – make 4 servings
The chia seed breakfast pudding can be made in two ways. The first way is to mix all the ingredients into one large bowl with a lid and store it in the refrigerator. When you are ready to eat some of the breakfast pudding, scoop some into a serving bowl and eat.
The second way to make the pudding is to prep the pudding into small individual containers with lids. Evenly divide the ingredients across four small containers, add the lid, mix, and place them into the refrigerator.
Store in the refrigerator for up to 3 days.
Alternatively, you can place the ingredients into ziplock bags and freeze them until you want them.
That is all for the first part of meal prepping. You now have breakfast prepared and it only took you about 30 minutes!
2: How to meal prep healthy family dinners
Now it is time to move on to prepping dinners for the week. You will be prepping four dinners to eat Monday-Thursday. I like to reserve Friday for leftovers day so that we do not waste any food.
You will be prepping these dinners so when dinner time comes around you just need to pull the meal out of the refrigerator and bake it. The easy meals will take less than 25 minutes to cook when you are ready.
4 people x 4 dinners = 16 servings
[ 4 tandoori chicken + 4 pesto stuffed chicken + 4 cheeseburger casserole + 4 beanless chili casserole = 20 servings ]
Tandoori Chicken with Coconut Cauli-Rice – make 8 Servings
When making the tandoori chicken you will need 8 servings in total. 4 servings will be used for dinner meal prep and 4 servings for lunch box prep.
The chicken will take a little bit of time to marinate so that is why it is the first dinner you want to prepare.
Once the chicken is mixed together and marinated in the refrigerator you can move on to making a side of coconut cauliflower rice. I like to use a food processor or blender to quickly chop the cauliflower florets into small pieces. Then dump all the ingredients for the cauliflower rice into a storage container or bag.
The chicken will be cooked last in this healthy low-carb 2-hour meal prep for a family of four – so it has time to marinate fully.
You do not need to mix up the cauli-rice. Simply put it in the refrigerator and pull it out to cook when you are ready. The cauliflower rice only takes a few minutes to sauté on the stovetop before it is ready to serve, and the tandoori chicken can be baked, grilled, or fried.
Pesto Stuffed Chicken – make 4 servings
You will use an easy homemade nut-free pesto recipe to stuff your chicken. Toss your pesto ingredients into the blender and let it run for about 30 seconds. You can then mix the cream cheese in with the pesto while it is in the blender or in a separate bowl.
To stuff the chicken you will want to cut the chicken breast halfway through with a knife. Then stuff the chicken with the pesto mixture and a slice of hard-aged cheese.
Place the stuffed chicken into a food storage container with a lid or a zip bag. The pesto stuffed chicken can be stored flat in the refrigerator or freezer until it is ready to bake.
Can be stored in the fridge, sealed, for up to 3 days. Can be frozen, sealed, for up to 1 month.
Bacon Cheeseburger Casserole – make 4 servings
Next, you will make your bacon cheeseburger casserole and chilli casserole. Start by chopping up a few slices of bacon and cooking them in a large skillet. Scoop the bacon pieces out of the skillet, but leave the bacon grease in the pan.
Slice an onion and sauté it in the bacon grease. Then add the ground/minced beef for both the cheeseburger casserole and the chilli casserole to the pan to brown. When the ground beef is cooked, drain the grease and pour half the cooked beef into one of your baking pans. Set the baking pan with the remaining beef aside to be used later for the chili casserole.
The remaining ground/minced beef still in your skillet will be used for the cheeseburger casserole. Finish seasoning it, and pour the beef into a second baking pan.
Make the cheat's cheese sauce and pour over the cooked beef. Add gherkins (optional) and more grated/shredded cheese.
Once the cheeseburger casserole is fully assembled, cover the pan with foil. Store this casserole in the refrigerator unbaked. This will be the first dinner you want to cook and serve since it has raw eggs in it.
Can be kept in the refrigerator for up to 2 days.
Beanless Chili Casserole – make 4 servings
The final dinner you need to prepare is the beanless chili casserole.
To prepare it, mix the previously cooked beef with all the ingredients together in the casserole pan. Sprinkle the top with cheese. Then cover the pan with foil.
I prefer to store my chili in the freezer so that it remains fresh until I need it later in the week. All I have to do is to pop it into the refrigerator in the morning and it will be defrosted by the evening.
The chili casserole can simply be pulled from the refrigerator when you are ready to cook it, and baked until for 15-20 minutes until the cheese melts.
That is all the prepping for dinner you need to do. The process probably only takes about an hour and you now have four meal that is ready to cook. We usually eat leftovers one of the days, but if you want an additional meal you can easily make two of any of these meals.
3: How to make healthy lunch meal prep
You are not feeling accomplished with your awesome meal prep progress and are ready to tackle the final step of prepping lunch.
This lunch prep is meant for two people, you and your significant other. If you want to prepare lunch for your children, you will love this article with ideas for prepping school lunches for your children.
2 people x 5 lunches = 10 servings
Tandoori Chicken Lettuce Wraps with Chopped Veggies
The tandoori chicken for your lettuce wraps has been marinating for the past hour, so it is now ready to cook.
Pull the chicken out of the refrigerator and place HALF the chicken on a baking sheet to bake in the oven or grill. This is for your pre-packed lunches.
The other half of the tandoori chicken can be frozen so that you can cook it mid-week for dinner and add it to the remaining prepared lunch boxes.
While your chicken is cooking, chop up a few vegetables into slices that can be served with your lettuce wraps on the side or as a topping. When the chicken is done, let it cool and slice the chicken into strips.
How to Store the Lettuce Wraps
Now that your chicken is cooled and sliced it is time to assemble your lettuce wraps. I like to place two large leaves of lettuce into a lunch container and then add 3-4 slices of chicken to each lettuce leaf.
I will then place the chopped veggies in the side containers so that I can put some on my lettuce wraps, and eat some as a snack.
You can also store the lettuce wraps and veggies in sandwich bags instead of lunch containers. Use the method that works for you.
You will want to make 8-10 servings of lettuce wraps so that you have lunch every day. This will take you about 20-30 minutes to complete, wrapping up your meal prep time at just under 2 hours.
Later in the week, defrost the remaining frozen tandoori chicken, cook, and place into the prepared salad containers.
Family meal prep – healthy recipes
So there you have it, feel free to give yourself a pat on the back. You now have a week of meals ready to go.
No overwhelming steps are needed. Do your prepping one meal at a time, just try to keep the prepping in order.
Make it fun and include your family or a friend to help the time go by. Once you get started meal prepping it will get easier each time.
Ham And Egg Cups – make 12 servings
Keto Green Smoothie – make 4 servings
Low-Carb Chia Breakfast Puddings – make 4 servings
Tandoori Chicken – make 8 servings
Low-carb tandoori chicken recipe
Low-carb tandoori chicken pieces can be cooked in the frying pan, in the oven or on the bbq. Keep extras for school lunch tomorrow.
Check out this recipe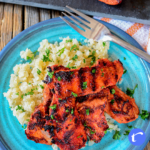 Cauliflower Rice – make 4 servings
Bacon Cheeseburger Casserole – need 4 servings (keep leftovers for Friday)
Kale Pesto
Two Cheese Pesto Chicken – make 4 servings
Two Cheese Pesto Chicken Recipe (keto friendly)
This baked two cheese pesto chicken recipe is full of flavour. The basil flavour really comes through and is not dominated by the cheese. Low-carb and keto frienldy.
Check out this recipe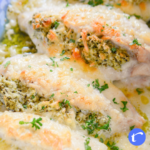 Easy Keto Chili Casserole – make 4 servings
Get our FREE guide to finally fix your metabolism!
Losing weight & getting healthy is never easy, but lately you might feel like it's suddenly become impossible.
Our Flip the Switch guide will help you clearly understand what's been going on, as well as exactly what you can do to get your metabolism working again so that you can look and feel your best—it's easier and more simple than you think!