Rich and full of flavor, these keto cheddar biscuits are perfect for breakfast, brunch, or even dinner.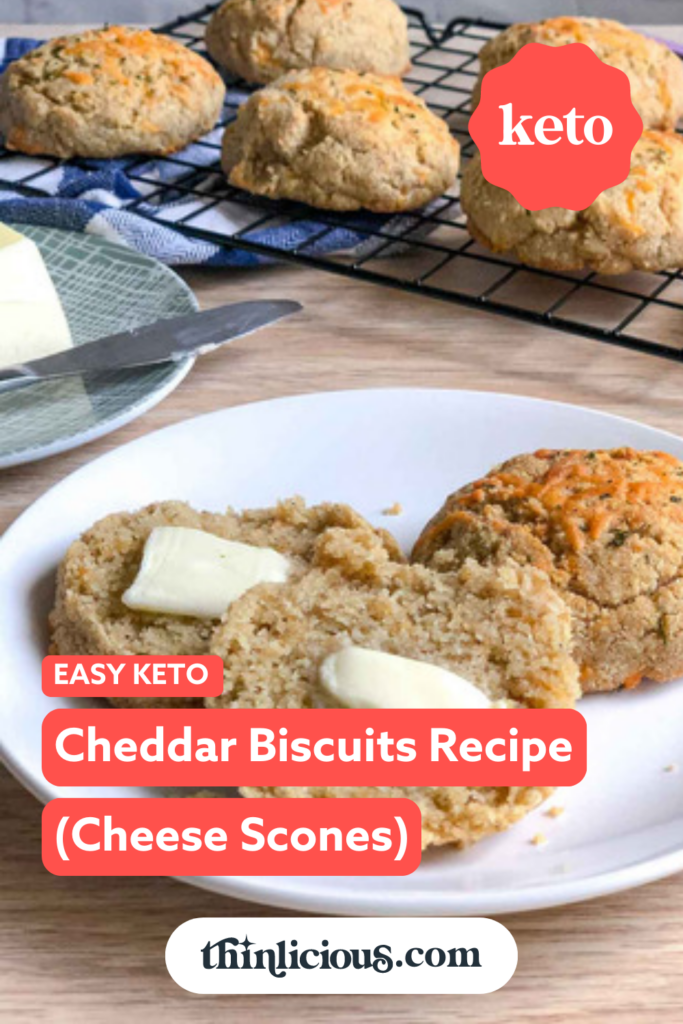 These keto cheesy scones were inspired by my easy keto dinner rolls, and pair well with this amazing keto pulled pork or a simple roast chicken.
Ready to lose weight and get healthy for life without dieting, drugs or making yourself miserable?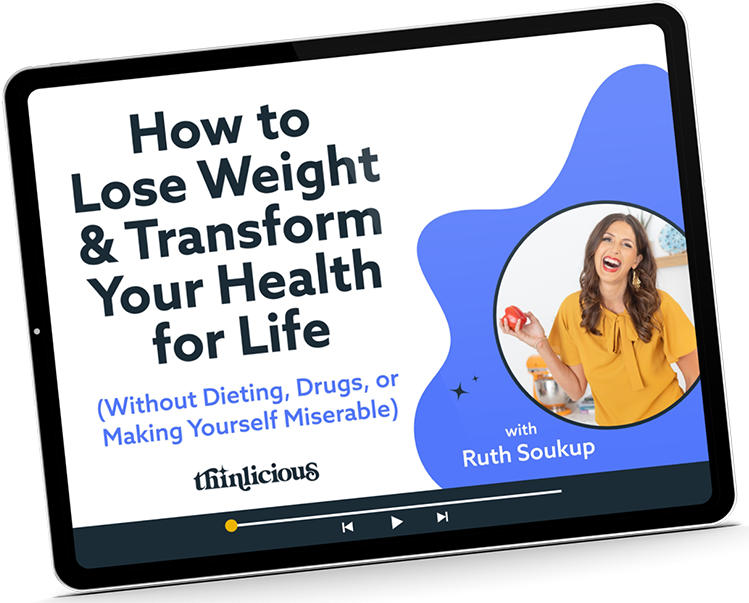 Our free on demand video training will help you understand why it's been so hard and what do to about it.
They are also the perfect afternoon savoury snack.
Keto cheddar biscuits vs scones
Depending on where you live in the world, you may call this recipe a cheese scone, keto cheddar bay biscuits, or keto cheese biscuits.
Scones are traditionally from England, Scotland, and Ireland. Some scones are soft and fluffy while others are crispy and dense. Scones can be both sweet and savory.
These are my favorite sweet keto scones made with almond flour.
Those in the US will call these keto cheddar biscuits. But, outside of the states, "biscuit" is more commonly referred to as what the Americans call a cookie.
Cheddar Bay biscuits are "freshly baked, hot cheese garlic bread,†and are served at Red Lobster restaurants.
Ingredients
Making keto cheddar biscuits is similar to making Fat Head dough, but even easier. Many ingredients you may already have on hand, if not they are easy to find in the store.
Cheesy keto biscuits only need 7 simple ingredients and take only 5 minutes to make.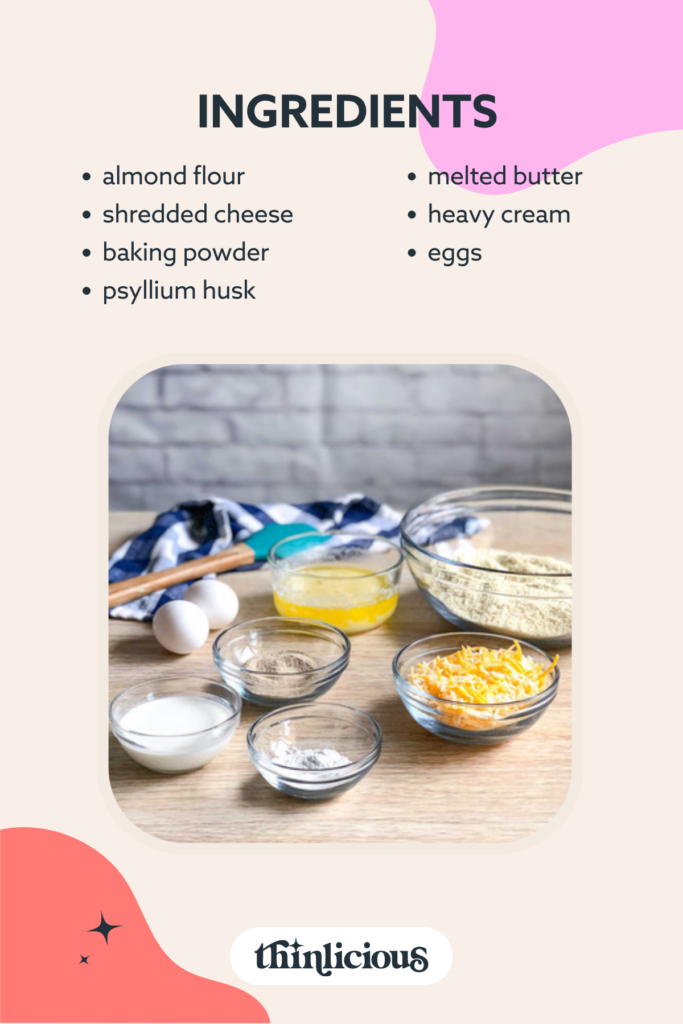 See the recipe card at the bottom of this post for quantities.
Instructions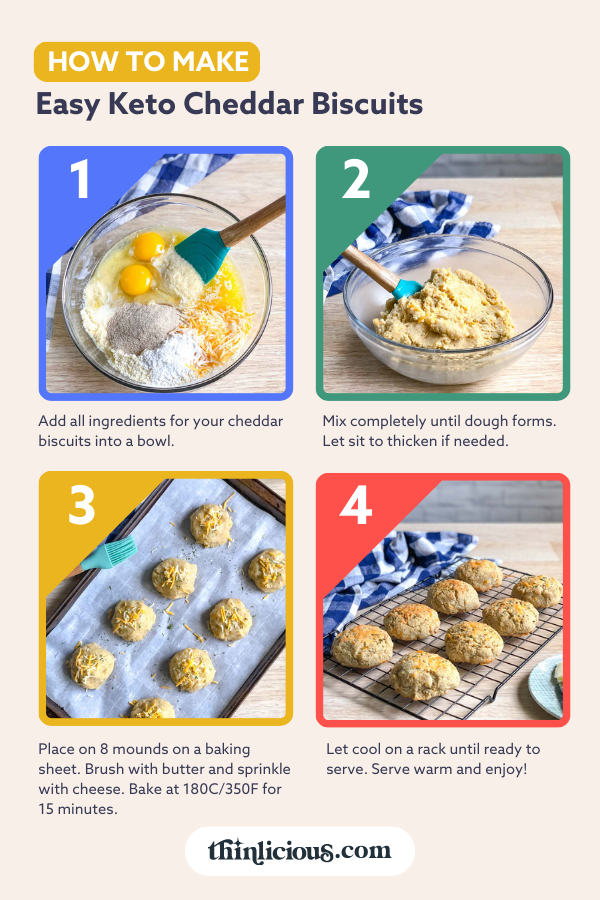 Making these keto cheddar biscuits is easy.
First, preheat your oven to 180C/350F. Then mix all your ingredients including the almond flour baking powder and cheddar cheese together in a large bowl.
Be sure to reserve just a little bit of melted butter to brush over your cheesy biscuits later. If your dough is too wet let it sit for a few minutes to thicken up.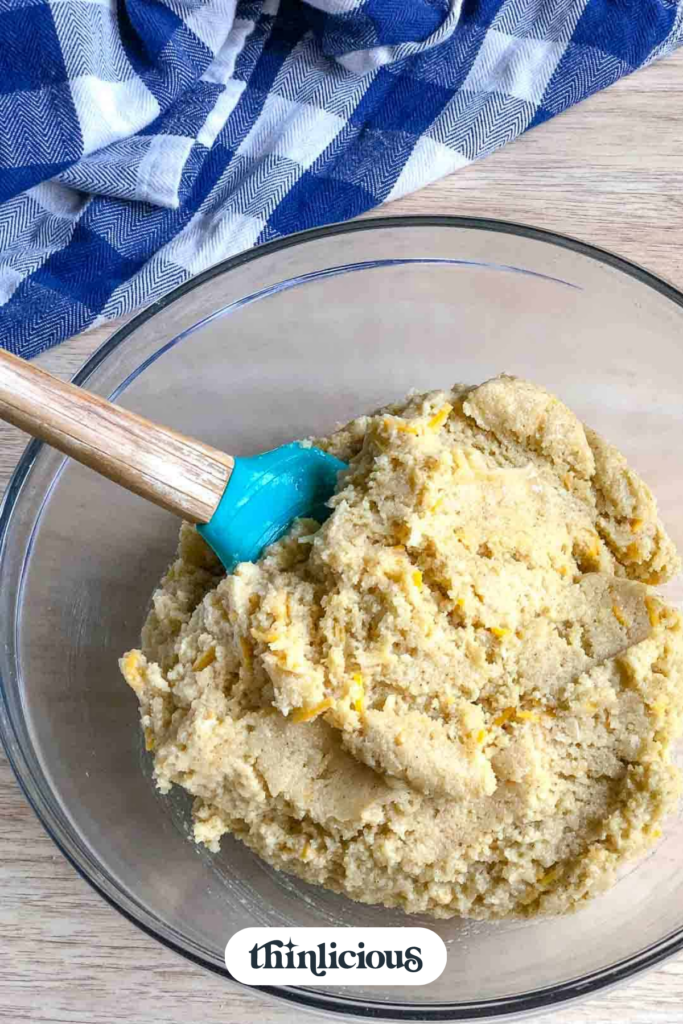 Once your ingredients are mixed, use an ice cream scoop or spoon to place the dough in eight mounds on a lined baking sheet.
It's okay if the keto biscuits look a little messy—they will shape up beautifully. If you prefer, you also shape them into triangles.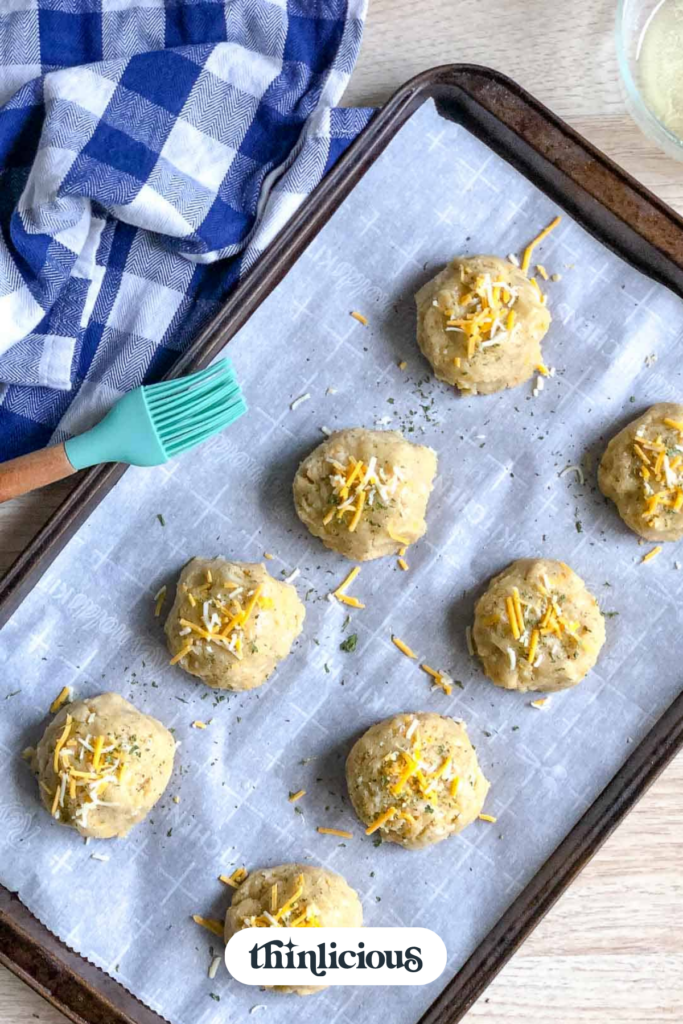 Brush your scones with melted butter and bake in the oven for 15 minutes or until done.
You'll know your scones are done when the tops are golden brown and a toothpick or fork can be placed in the center of one and comes out clean when removed.
Hint: Sprinkle a little extra shredded cheddar cheese over the top of the scones before baking for a crispy cheese top. Add bagel seasoning, Italian seasoning, chili powder, or melted garlic butter to make these absolutely delicious.
Substitutions
Below you will find a few common substitutions you can use to make these keto cheddar biscuits fit your needs. If you have questions about any other substitutions feel free to ask in the comments.
Almond flour – any nut flour can be used in place of almond flour. Coconut flour cannot be used in place of almond flour.
Butter – coconut oil or olive oil can be used in place of butter.
Psyllium husk – use ground flaxseed or chia seeds instead
Keep in mind that coconut flour has a greater absorbency than nut flours which is why it can't be substituted for almond flour. You can read about why coconut flour and almond flour aren't interchangeable here.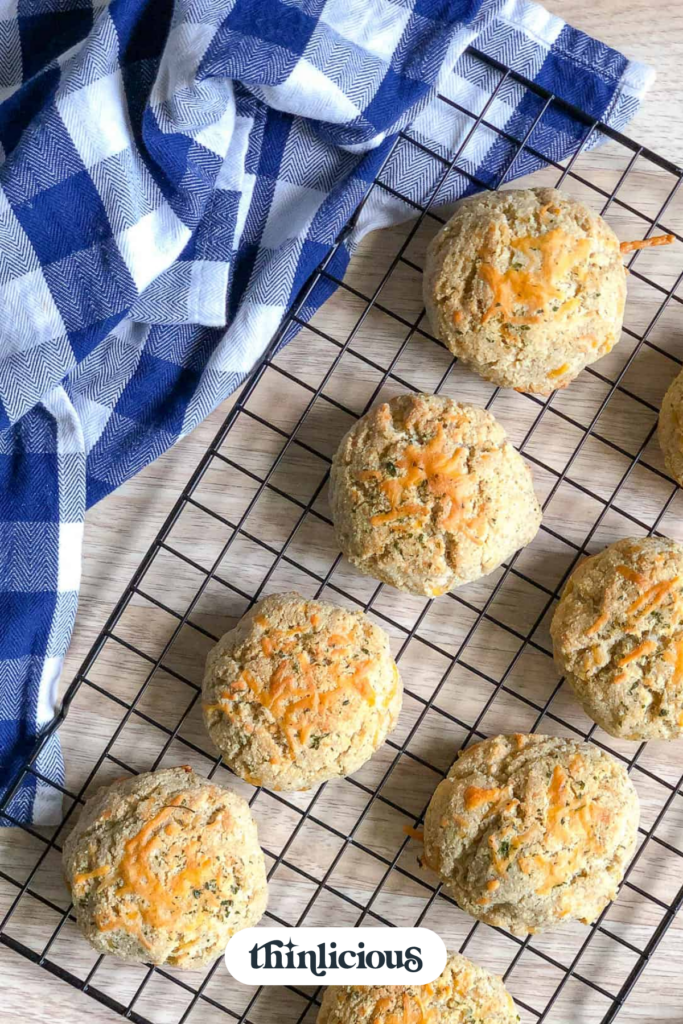 Variations
While these keto cheddar biscuits are amazing as-is, it's always fun to mix it up a bit to make them even more delicious!
Pesto – Mix in 2-3 tbsp pesto. See this nut-free pesto recipe on my website!
Parmesan – replace 1/4 cup of shredded cheddar cheese with parmesan cheese.
Spinach and Feta – add cooked, wilted, and drained spinach and some cubes of feta cheese. Top with pumpkin seeds.
Spicy – add a pinch of chili and sprinkle a little on top.
Keto Cheddar Bay Biscuits – top the bicuit with butter, garlic powder and a pinch of chopped parsley (fresh parsley works best)
Keto cheddar garlic biscuits – mix garlic powder (or fresh garlic) with melted butter and brush the butter topping all over, or even mix garlic powder into the dough.
Equipment
I used a metal cookie sheet (baking sheet) to bake my keto biscuits on the second from the top rack in my oven. This lets the top of the scones get golden without overcooking the bottoms.
You can bake your scones with a glass or stone baking pan as well.
You may need to adjust the rack in your oven to accommodate how your pan distributes heat or remove the scones from the pan right away after baking to keep them from burning.
Storage
These keto cheddar biscuits are best served fresh from the oven. However, unbaked scones can be frozen and cooked later to ensure they are fresh.
To freeze your unbaked scones freeze them on the baking sheet until they are firm. Then remove them from the tray and store them in a freezer bag for up to 3 months.
To avoid freezer burn, it's important to make sure the bags are squeezed before sealing them so you don't have trapped air.
To bake the frozen cheese scones remove them from the freeze and arrange them on your baking tray. Let them defrost at room temperature for 20-30 minutes then back according to the recipe.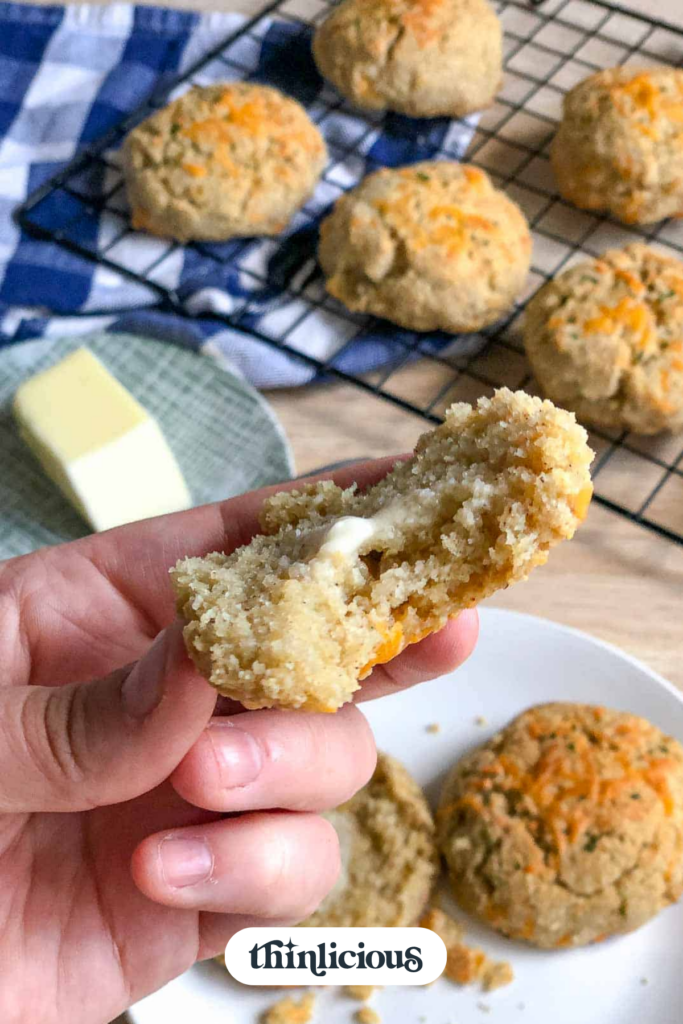 Top tip
Remember that everyone's oven cooks a little differently. I recommend checking on your keto cheddar biscuits at 12 minutes and then again every 2-3 minutes until they are done.
The position of the baking sheet on the rack in the oven can really make a big difference in baking these scones. Too close to the bottom and the bottom make burn, too close to the top and the tops may become crispy.
If your oven is extra hot on the top you may want to bake your scones on the middle rack instead of closer to the top.
Recipe FAQs
How long will the biscuits stay fresh?
These keto cheddar biscuits are best when they are freshly baked and still warm. However, if you somehow managed to end up with leftovers, store them in an airtight container in the refrigerator and eat within 2-3 days.
What can I use besides cheddar?
Not a fan of cheddar cheese? You can easily swap it out for something else. Parmesan cheese or mozzarella are two great options.
How should I eat keto biscuits?
There are so many ways you can enjoy these keto cheddar scones! Serve with melted garlic butter, sprinkle with fresh parsley, spread cream cheese onto the sliced halves, sprinkle bagel seasoning, chili powder, or Italian seasoning on top, Eat them as a side with a crispy cornish hen, crumble them up into cauliflower soup.
Are these gluten-free?
Yes, the keto cheddar bay biscuits are made with almond flour which is the most popular low-carb flour and is naturally gluten-free. Just remember to read the food labels to ensure your brands of low-carb flour baking powder garlic and other ingredients are all certified gluten-free.
I love Red Lobster cheddar bay biscuits, are these the same?
They're even better because the delicious biscuits and healthy recipe is keto and gluten-free. It's nice to find easy keto recipes that keep you on track with your keto diet and the whole family will love them.
What can I serve with cheese scones (cheddar biscuits)?
Sour cream, cream cheese, melted butter as a snack, or as a side dish for chili or soup. It's such a great recipe because it is so versatile. To make keto cheddar garlic biscuits simply add 1 teaspoon garlic powder to the dough and brush with melted butter.
How can I reduce the carbs and fat?
The easiest way to reduce the carbs and fat is to make smaller keto biscuits by dividing the low-carb dough into 10 or 12 pieces. You can also buy low-fat shredded cheddar cheese and omit the butter topping.
Can I swap baking powder for baking soda?
No, you need baking powder to help the keto cheddar bay biscuits rise just a little and to prevent them from being dense and hard.
More keto bread recipes
If you love how easy the keto cheese biscuits (keto cheese scones) are, you'll love these other easy healthy recipes and keto recipes for low-carb bread and keto bread ideas.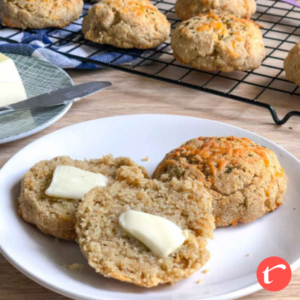 Keto Cheddar Biscuits Recipe (Keto Cheese Scones)
Amazing keto cheddar biscuits (cheese scones) that are made with 7 simple ingredients and ready in 20 minutes.
Print
Pin
Rate
Want to lose weight and get healthy for life—without dieting, drugs, or making yourself miserable?
We can help! Tell me how!
Equipment
Measuring cups and spoons

Mixing Bowls

Baking sheets – non stick

Silicone baking sheets
Ingredients
2 ½

cups

almond meal/flour

1

cup

shredded/grated cheese

2

tsp

baking powder

3

tbsp

psyllium husk

5.3

oz

butter

melted

¼

cup

heavy whipping cream

2

egg
Instructions
Preheat oven to 180°C/350°F.

Mix everything together in a large bowl. Reserve a little butter to brush onto the scones later. If your dough is too wet or loose allow it to sit for a few minutes to thicken.

Place dough into mounds on a lined baking tray.

Brush the top of each scone with melted butter and sprinkle with more cheese is desired.

Bake on the center rack of the oven for 15 minutes or until done. Let cool 5 minutes and enjoy!
Notes
Note: The name of scones differs from country to country. Most of the world would call a heavy dense mixture of flour and fat, scones, whereas in America they are known as biscuits (the rest of the world would call biscuits, cookies). American biscuits are typically served with savoury meals such as chicken, beef, and/or gravy.
Nutrition
Serving:
1
scone/biscuit
Calories:
446.3
kcal
Carbohydrates:
12.4
g
Protein:
12.8
g
Fat:
40.8
g
Sodium:
246.4
mg
Potassium:
139.3
mg
Fiber:
6.8
g
Sugar:
1.5
g
Vitamin A:
744.3
IU
Vitamin C:
0.1
mg
Calcium:
223.5
mg
Iron:
1.8
mg
Get our FREE guide to finally fix your metabolism!
Losing weight & getting healthy is never easy, but lately you might feel like it's suddenly become impossible.
Our Flip the Switch guide will help you clearly understand what's been going on, as well as exactly what you can do to get your metabolism working again so that you can look and feel your best—it's easier and more simple than you think!