This is the Ultimate Guide to Low-Carb Sweeteners. You'll learn which ones to use, and which ones to avoid.
I'll explain how to use each sugar-free sweetener and what to look for when you buy them because not all low-carb sweeteners are created equally.
It can be incredibly confusing when you are just starting to live sugar-free or keto. Not anymore with this handy guide.
If you are new here, you may want to print a copy of the cooking conversion charts. You'll discover kitchen conversions for metric/imperial, tbsp to ml, temperatures, and even international ingredient names. So no more guessing what a recipe needs.
Ready to lose weight and get healthy for life without dieting, drugs or making yourself miserable?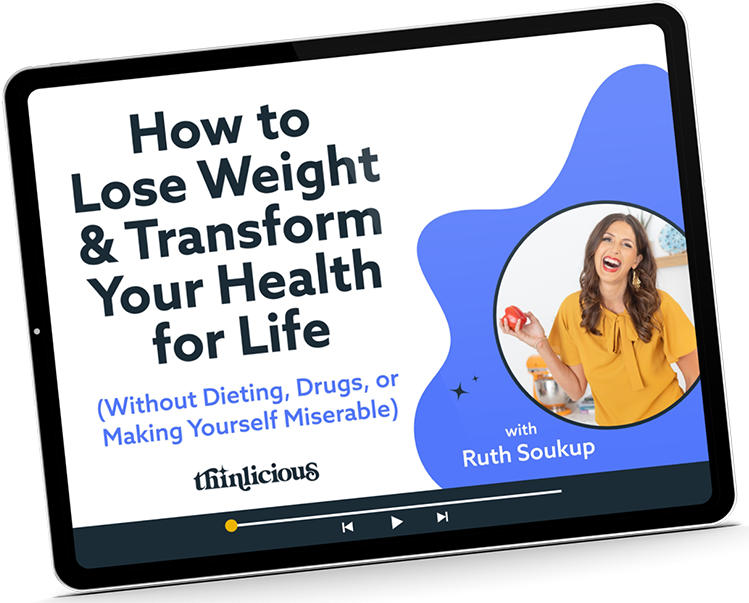 Our free on demand video training will help you understand why it's been so hard and what do to about it.
How Much Sweetener Should You Use?
Part of the ethos of living sugar-free and low-carb is to give up the sweet treats regularly and to reset our taste buds. But being able to make a sweet treat occasionally is a deal-breaker for many of you contemplating even starting.
If you do want a cake, a dessert, or a sweet treat, it is better to have a few good sugar-free recipes on hand than to reach for a high-carb snack. With so many low-carb sweeteners now on the market, which do you choose?
Baking Tip 1: Always add sweetener according to YOUR sweet tooth. You may require more at the beginning of your sugar-free journey and less the longer you live low-carb.
When I write my recipes I will always state the quantity of low-carb sweetener I have used to make the recipe but I also add "sweetener of choice, to taste". This is the biggest variable when it comes to low-carb baking.
Which sweeteners taste best?
You will discover in most low-carb and keto recipes the 2 most common sweeteners are erythritol and stevia.
I personally prefer erythritol because it has the closest flavor to sugar. It generally measures spoon for spoon in place of table sugar and it does not raise blood sugars because it is not absorbed and excreted unchanged.
Some people may experience a cooling effect in their mouth because it is a sugar alcohol.
Stevia is incredibly sweet (300 x sweeter than sugar) and can leave a bitter and metallic aftertaste if a recipe has been over-sweetened.
We are all on different parts of our sugar-free journey, so what might taste sweet and sugary to me, might not be nearly sweet enough for you. Always add low-carb sweeteners in the minimum amount that suits your sweet tooth.
Baking Tip #2: If you ever bake a recipe and it doesn't taste sweet enough, don't throw it away, it can be salvaged by serving with sweetened whipped cream.
Eventually, you want to cut back as far as you can, so taste each time before the addition of more sweetener. You can always add more, but you can't take it out.
Don't worry if at the beginning you may require a lot more sweetener than I have used, eventually, you will use less and less. It just takes time to rest your taste buds.
Why Is It Hard To Give Up Sugar?
It may take some time to readjust your taste buds to living sugar-free, and is it any wonder? Sugar is now found in 80% of products on our supermarket shelves.
What is astounding is the type of foods that have added sugar. You might expect it to be in desserts, granola, and cereals but tuna? Soup? Bacon? There are also several different names of sugar which just makes it even more confusing when you're trying to understand reading food labels.
But the real problem is how sugar affects the brain and how it lights up our reward center. As we eat more, we become accustomed to the reward and so seek more.
But by replacing sugar with delicious low-carb sweet treats, you can help reduce your cravings.
Which Low-Carb Sweeteners Do I Use?
There are two main sweeteners I prefer to use – stevia and/or erythritol. I avoid stevia for various reasons (see below) but it is nice when in combination with erythritol.
I interchange between Natvia (stevia/erythritol blend mainly found in AUS, NZ, UK), Swerve (plain erythritol mainly found in the USA and can be bought online worldwide), and very occasionally, xylitol.
I tend to buy the granulated forms of these because they all measure spoon for spoon in place of sugar.
Try them for yourself to see which one suits you best. Much of the choice, like anything, comes down to personal taste.
Baking Tip #3: Always read each label carefully, because even sugar-free sweeteners within the same brand can contain different ingredients or different bulking agents such as dextrose.
Is sugar or honey better, because they're natural?
There is a misconception that sugar, agave, maple syrup, or honey are better because they are natural.
My response is that these natural forms of sugar and the low-carb sweeteners I recommend are both natural and both processed, yet sugar, honey, and all the other natural forms of sugar will ALL raise your blood sugar.
There are so many natural forms of sugar that are marketed with a natural health claim such as "contains trace minerals" which is misleading.
Many recipes are titled "refined sugar-free", yet they contain various natural unrefined sugars, all of which will raise your blood sugar accordingly.
And no trace mineral or trace element that may/may not be in one of these natural sugars undoes the damage caused by chronic high blood sugars. The sweeteners I use are natural but without the negative effects of sugar.
Baking Tip #4: Natural forms of sugar such as honey, maple syrup, coconut sugar, or raw sugar all raise blood glucose.
Low-Carb Sweeteners, I Use
Stevia
Stevia is one of the most common sweeteners used in low-carb, keto, and sugar-free baking. It is been used for centuries and is derived from the leaves of the stevia plant and does not raise blood sugars.
PROS: Many consider stevia to be the most natural form of sugar-free sweetener. It is available as drops, powder, or granulated. It is 300 times sweeter than sugar so only a small amount is needed and is generally blended with something else to ensure you can measure it accurately.
CONS: Because stevia is so strong it is very easy to over-sweeten a recipe which can result in a bitter and metallic after-taste.
Natvia Baking Pack
Sugar-Free Icing Mix
Natvia Sugar-Free Sweetener
Sweetleaf drops
Stevia pure powder
Related recipes: Almond and Orange Flourless Cake, Best keto waffles, Sugar-Free Nutella, Sugar-Free No-Bake Lemon Cheesecake, peanut butter fudge.
Erythritol
I buy the granulated and powdered erythritol which measures spoon for spoon in place of regular sugar, so is an excellent product to use in baking. I find Swerve has the most wonderful ability to dissolve and blend into recipes.
PROS: Erythritol comes in powdered and granulated forms. They measure spoon for spoon in place of sugar so are easy to use in low-carb and keto baking recipes.
CONS: Erythritol is a sugar alcohol and some experience a cooling effect in the mouth when they eat baking made with erythritol.
Erythritol is a low carb, non-glycemic, sugar-free sweetener that does not raise blood sugars or insulin. It is made from glucose that has been fermented with a microorganism found in the honeycomb. Erythritol is absorbed then excreted unchanged via the urine. It does not cause the gastrointestinal problems or affect the gut flora that other sweeteners can often cause.
Erythritol helps to inhibit bacteria in the mouth.
Swerve's main ingredient is erythritol and a blend of "oligosaccharides and natural flavours." It tastes just like sugar and measures just like sugar.
Erythritol granulated mix
Swerve Granular Sweetener
Swerve Confectioner's Sweetener
Related recipes: Chocolate Cream Cheese Frosting, Chocolate Avocado Mousse, Chocolate Heaven Cake
Xylitol
Xylitol is a sugar alcohol that has a minimal effect on blood sugars. It is actively beneficial for dental health because it actively inhibits the bacteria in the mouth and it may help with the remineralization of the tooth enamel.
Xylitol may cause stomach upsets if eaten in large quantities. When you consume xylitol, you may experience a cooling effect in the mouth.
It is often found in chewing gums to help fight cavities.
CAUTION: Xylitol is toxic to dogs so keep ALL baking and food that contains xylitol away from your pets. Never feed dogs any baked goods made with xylitol.
Pure xylitol powder
Xylitol gum
Monk Fruit
Monk fruit may also be known as Luo Han Guo, and like stevia, is naturally occurring and 200 times sweeter than table sugar. The monk fruit sweetener is made using the pulp of the fermented fruit, which removes the sugars but leaves the sweet taste.
There is no bitter aftertaste with monk fruit and will not raise blood sugars. I have tried monk fruit and am including it because there was no bitter taste that sometimes results with stevia, however, be careful with which brand you buy.
PROS: Like stevia, it is a natural sweetener from plants and is 200-300 x stronger than sugar.
CONS: Like stevia, it has to be diluted so check YOUR brand to see how much to use in place of sugar and what it has been diluted/blended with.
Pure monk fruit has nothing added so is extremely strong and potent.
Norbu has been blended with erythritol so it measures spoon for spoon in place of table sugar.
Swanson PureLo monk fruit is not pure as the name may suggest. It has been blended with inulin and silica.
Sweeteners I Don't Use
Coconut Sugar, Maple Syrup, Rice Malt Syrup, Dried Fruit, Honey, Blackstrap molasses
Sorry but these are all forms of sugar. They are not low-carb sweeteners and they aren't even sugar-free!
When a recipe states it is "refined sugar-free" you can generally read between the lines and know this is code for "we use sugar, just not table sugar". All of these will raise your blood sugar.
There are numerous claims that they may have a lower GI. Some have higher protein. Some have added minerals and are natural, but any small micronutrient available does not undo the damage sugar does. Some may be free of fructose but are still high in glucose.
Rice malt syrup, for example, has a high GI of 98 which is even higher than table sugar.
Dates are 75% carbs so think twice next time you reach for a bliss ball thinking you're having a healthy treat. Sure it's better than a bag of crisps, just add them to your daily sugar count and don't overdo them.
Commercial honey is completely different from raw honey. Some honey even has added sugar. Raw honey does have some health benefits but should not be used in large quantities for baking in the misbelief that honey makes the recipe sugar-free.
All the above are often sold with 'natural' labels but sugar and stevia are both natural, both are highly processed but stevia does not raise blood sugar. If stable blood sugar is your goal, then I would avoid all the sugars here.
If you choose to use them because you aren't comfortable using sweeteners such as stevia or erythritol, just be aware they will raise your blood sugar, weight loss may stall and they may trigger your sweet cravings again.
Maltitol
Unfortunately, maltitol has a high GI, which will spike blood sugars and may cause stomach upsets. It is commonly used in many low-carb and keto processed snacks, especially low carbs bars.
Maltitol is yet another reason to avoid "fake foods".
Read the ingredient panel of any low carb bar or sugar-free bar incredibly carefully because maltitol will be in there amongst many other horrid ingredients in small print.
If you have to search through a list of ingredients to find it, that's another clue to leave it on the supermarket shelf. I cannot begin to tell you how many undesirables are lurking in these low-carb bars.
Agave syrup
Unfortunately, agave syrup is 70-90% fructose which is similar to high fructose corn syrup. Fructose is to be avoided because it is metabolized in the liver and causes non-alcoholic fatty liver disease.
Agave is basically HFCS in disguise. So many recipes and health gurus still use agave in the misbelief it is healthy food.
High quantities of fructose are dangerous because it causes raised triglycerides (the best predictor of heart disease), abdominal fat (the most dangerous type of fat), drives weight gain, and is a contributor to metabolic syndrome. Avoid agave syrup and if you have some in your pantry, go and throw it away.
Sucralose, Aspartame, Saccharin, Acesulfame K
These are all artificial sweeteners that I personally avoid. There are too many conflicting studies to delve into here, both for and against each of them.
Some studies will have been paid for by the food and beverage industry so who are we to believe and trust? Personally, I choose not to use any of these because I believe there are far better alternatives.
Numerous reports are linking these to raised blood sugars, weight gain, depression, abnormal gut bacteria, seizures, blurred vision, and migraines. Aspartame is incredibly controversial with reports claiming it causes cancer and others stating it is completely safe.
It should be avoided by those who have the genetic disorder PKU (phenylketonuria).
Low-Carb Sweeteners Conclusion
It must be an informed choice when selecting which low-carb sweeteners to purchase and enjoy. Many recipes try to trick and fool us into thinking recipes are sugar-free when in fact they use different types of sugar.
Which low-carb sweeteners you choose is completely up to you, I just want you to be aware of what you are choosing and how it may affect you. I completely understand that some of you may wish to continue using sweeteners such as honey, raw sugar, coconut sugar, and dried dates but you must not regard them as sugar-free.
Ultimately the choice is up to you.
Please leave a comment telling us which low-carb sweeteners you use, and why.
The entire series of Ultimate Guides
Get our FREE guide to finally fix your metabolism!
Losing weight & getting healthy is never easy, but lately you might feel like it's suddenly become impossible.
Our Flip the Switch guide will help you clearly understand what's been going on, as well as exactly what you can do to get your metabolism working again so that you can look and feel your best—it's easier and more simple than you think!