Zoodles AKA zucchini noodles can be used in place of regular pasta. Zucchini noodles are low calorie, low carb, and high in fiber, which means they'll leave you feeling full without all the calories.
Plus, zoodles also have a subtle taste that makes them easy to mix with just about anything-including meatballs!
Making zoodles can help you stay on track and conquer those carb cravings when you are doing low carb or keto. You'll be able to enjoy al dente noodles without any guilt!
These are incredibly delicious and work in recipes or just tossed in olive oil, parmesan cheese, garlic, and salt and pepper as comfort food.
Ready to lose weight and get healthy for life without dieting, drugs or making yourself miserable?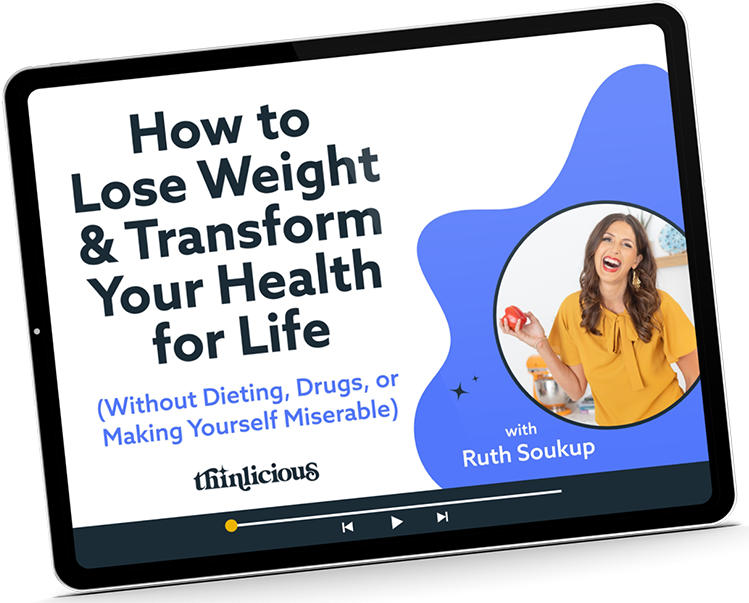 Our free on demand video training will help you understand why it's been so hard and what do to about it.
Plus, I'll even give you one of my favorite recipes to make with them so you can get started ASAP! Watch the quick cooking video how to make the perfect, healthy, quick, family meal.
If you have ever wondered what are zoodles, and why zoodles are so incredibly versatile. They are the perfect side dish for chicken, beef, pork and can be served hot, warm, or cold.
So, What Are Zoodles?
Zoodles = zucchini noodles. Depending on where you live in the world, they may also be known as Courgetti = courgette spaghetti.
Zoodles are zucchini that have been spiralized, and can therefore be used in the same way as pasta. The possibilities are endless with zucchini noodles, as you'll quickly find out in this post!
Zoodles are an incredibly fresh and healthy alternative to pasta. Plus, zucchini noodles are a fun way to increase the number of vegetables we eat, especially for children.
Children just love the spiral shapes (and they love using the spiraliser to help make zucchini noodles too!).
The Benefits of Zoodles
Zoodles are incredibly nutritious and a healthy alternative to highly processed wheat pasta or gluten free pasta. In fact, the only processing is when you crank the handle. 😉 Here are just a few of the benefits of zoodles:
a great way to increase vegetables in your diet
a great alternative to pasta
gluten-free
grain-free
wheat-free
low-carb
healthy and nutritious
cheap and easy
unprocessed
DELICIOUS!
How many Carbs are in Zoodles?
One cup of zucchini noodles contains 3.5 grams of carbs – 1.1 grams of fiber = 2.4 grams of net carbs.
Pasta vs Zoodles
Pasta 1 cup cooked = 221 calories and 43g carbs
Zucchini 1 cup = 25 calories and just 2.4 grams of net carbs. Plus, there are so many additional vitamins, nutrients, and antioxidants not found in processed pasta.
How to Make Zucchini Noodles
There are generally two ways to make zoodles.
1. Make Spiralized Zucchini
Making zucchini noodles is easy with a spiraliser machine. There are many different options on the market, but I highly recommend the one below. It has a handle that you turn to create the ribbons of zoodles, and also has suction cups that allow it to stick to the kitchen counter.
This spiralizer also comes with various blades so you can make thin strips or a larger zucchini noodle.
2. Use a Vegetable Peeler
Alternatively, there is a smaller and cheaper alternative – a handheld spiraliser(vegetable peeler). This peeler is the one I take away on vacation with us.
While I do let my children use the spiralizer (with observation, of course), I don't allow my children to use this one. The blades are incredibly sharp and I wouldn't want their fingers to get shredded in the process.
To make zucchini noodles this way, I hold the zucchini/courgette with a fork at one end, then run the julienne cutter down the length of the zucchini/courgette.
How To Prepare Zucchini?
To make zoodles, just wash and trim the ends of your zucchini. Place the zucchini between the spiked handle end and the blade, then turn the handle and wonderful ribbons of zoodles will appear.
You can change the size of the zoodles with the 4 blade attachments. Zoodles can be eaten raw, or lightly steamed.
They can be used as a replacement for pasta or in salads. I love anything that makes vegetables more fun for children to eat. Watch this video to see how easy it is to use the spiraliser.
How to Cook Zoodles
Now that you know how to make zucchini noodles, let's talk about how to cook zucchini noodles! While the exact method may differ depending on what recipe you are using and how you want them to cook, this is a general idea:
Bring a pot of water to a boil and season with salt.
Carefully add in the zucchini noodles.
Cook over medium heat for about 1 minute.
Drain the hot water from the zoodles.

HOT ZOODLES – allow as much of the steam to escape as possible,. This prevents soggy pasta as well as soggy zoodles. Serve with your meal or stir through a hot sauce.
WARM ZOODLES – you may not even need to cook using the instructions above. You cna simpey heat your sauce and stir the raw zucchini strips through. he heat from the sauc ewill be enough to soften and warm your vegetable pasta.
COLD ZOODLES – once cooked, remove the zoodles and place in a bowl of ice water to help them cool down quickly. Toss and serve with your favorite sauce!
RAW ZOODLES – many people love the crunch of raw zucchini inside a deliciosu healthy summer salad. No cooking required.
Recipes to Try with Zoodles
My favourite meal by far to use zoodles is low-carb spaghetti Bolognese with zoodles, watch the quick cooking video above to learn how to make the perfect healthy quick family meal. Low-carb spaghetti Bolognese is magic because it turns a 56g carb meal into a 13g one packed with nutrition and vegetables.
This keto alfredo sauce would be amazing with chopped broccoli for a low-carb meal. It's quick and easy to make, and tastes so creamy and delicious – everyone in the family loves it! Plus, you can add extra ingredients like chicken or shrimp if you want to bulk it up. I'm definitely making this one again soon!
Cool low-carb magic trick huh?
Why are my zucchini noodles soggy?
Zucchini pasta is definitely not delicious if it's mushy and soggy. Thankfully, it's easy to prevent!
The most common cause of soggy zucchini noodles is cooking zoodles for too long. 1-2 mins cook time is the very max total time you should be cooking your zucchini noodles for.
Make sure to remove them from the pan and from heat. Also, try the ice water trick I mentioned below to quickly cool the noodles down. Otherwise, they will continue to cook! Some people have also said that salt helps as well, so make sure you salt the water as you boil it.
Which vegetables are great for vegetable pasta?
Which vegetable you use, will depend on how strictly you need to monitor your carb intake and how much some foods will affect your blood sugars. I generally make the zoodles with zucchini, and my kids love to use carrots, depending on which is in season.
If you need to be stricter with your level of carb restriction, use low carb vegetables such as zucchini and avoid carrots which are a sweeter root vegetable.
The following are just a few ideas for vegetables that may be used to make zoodles, and how to serve them. Some can be eaten raw in salads or cooked/steamed for a warm meal.
zucchini/courgettes, cooked or raw
cucumbers, raw in salads
beetroot, raw in salads (note: this is high in carbs but nutrient dense)
carrots, cooked or raw
pumpkin, cooked
broccoli stems, cooked or raw
One last alternative you may wish to try is spaghetti squash. Watch the video which shows you how to cook spaghetti squash.
It is a creamy delicious plant alternative to wheat pasta.
I show you all the other methods such as cooking spaghetti squash in the slow cooker or the microwave. This may just become your favorite pasta!
Get our FREE guide to finally fix your metabolism!
Losing weight & getting healthy is never easy, but lately you might feel like it's suddenly become impossible.
Our Flip the Switch guide will help you clearly understand what's been going on, as well as exactly what you can do to get your metabolism working again so that you can look and feel your best—it's easier and more simple than you think!