Searching for an easy sugar-free chia seed jam recipe? What would you say if I told you this special chia jam recipe only takes 5 minutes?
This sugar-free chia jam requires just 4 ingredients and has only 1.2g net carbs per tablespoon. It's packed with fiber, protein, plant omega-3 fatty acids, and tasty colorful berries. Homemade jam is always more delicious than regular jam.
Is strawberry jam keto?
Traditional jam is not keto. Homemade jam is also not sugar-free. Most jams and preserves are made with so much sugar which thickens the jam/jelly and acts as a natural preservative.
And if you are following a keto diet or low-carb diet, you will be avoiding all sugars so this homemade berry jam will be perfect for your next peanut butter and jelly sandwich. And don't worry. I have low-carb and easy keto recipes to substitute for all these. No more rocketing blood sugar here thank you.
Ready to lose weight and get healthy for life without dieting, drugs or making yourself miserable?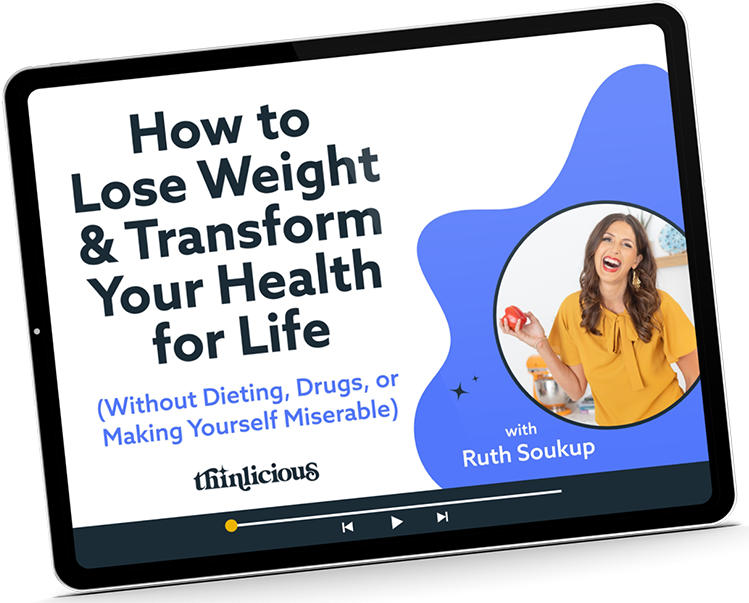 Our free on demand video training will help you understand why it's been so hard and what do to about it.
Is chia keto?
Yes, chia is extremely low in carbs higher in protein than most seeds, and is a great way to make easy homemade chia seed jam. Chia seeds are very small (only 2 millimeters in diameter). Chia seeds are sold as white chia or black chia.
What I love about chia seeds is their neutral flavor and their ability to absorb 12 times their weight in water. This means you can make low-carb and keto recipes pretty easily without adding flour to thicken them.
Chia seeds have the most amazing ability to absorb water, thicken and swell creating a yummy thick jam. You don't even need to cook them. This really is the easiest jam and a wonderful recipe.
No more standing over the oven cooking berries on medium heat for hours until the traditional homemade jam sets. This is an easy no-bake recipe.
What ingredients do you need?
To make this great recipe, you only need 5 simple ingredients. Fresh fruit (your favorite berries), some fresh lemon juice, chia seeds, and your favorite sugar-free sweetener.
fresh berries or frozen berries
sweetener (sugar replacement) of choice
lemon juice
water
Typically, making jam is an all-day process. I don't know about you, but I don't have time for boiling, sterilizing, preserving jars, and not to mention all that sugar!
I made my own jam because I refuse to buy sugar-free jam from the supermarket. Too many companies use artificial sweeteners such as Sucralose, aspartame, or saccharin.
Or they use maltitol which raises blood sugars (try some, test your blood sugars, watch them rise and rise and rise). I prefer to use stevia, xylitol, or erythritol.
Yes, there will be a little sugar in the chia jam from the berries, but look at the comparisons below. This really is the perfect way to still eat jam and stay on your keto diet.
This sugar free jam only takes 5 minutes to make and can set in 20 minutes. It is packed with delicious high fibre chia seeds with all their plant omega-3 fatty acids.
How many carbs are there in chia seed jam?
You can make the chia jam with any berry. The sugar and carb count will vary depending on which berry you choose to use. You can see the carbs in fruits to compare which is the most keto-friendly berry.
Regular berry jam – per 20g tbsp = 13g carbohydrates, 13g sugars
Homemade chia berry jam – per 20g tbsp = 3.5g carbohydrates, 0.8g sugar
So why are chia seeds so brilliant? Chia seeds have the most amazing ability to absorb many times their size in liquid and swell and thicken. It is this property that we can harness to make a super easy chia jam and jellies.
You can vary how thick or spreadable you would like your chia jam to be. Simply add more chia seeds and watch it quickly thicken. Alternatively, add more water or berries and it will become a little more liquid in its texture.
Top tips for making chia seed jam
As you make this recipe, here are some of the most common questions people often ask about chia seed jam. Browse the list and see if your question is listed here too.
How do you make it smooth without seeds and bits?
Personally, I like to seed the little seeds from the berries I used to make the jam, but if you have picky children, why not puree it with a stick blender? You can even use a potato masher to mix the berries, seeds, lemon juice, and sweetener.
As time goes on, puree the jam less and less, because children must get used to lumpy 'bits' in their food.
For many children, the food they like or dislike comes down to texture. This is a tricky aspect to deal with overnight, but it can be done. For some, this may take months. So be patient and encouraging!
Some children will eat mince/ground beef, but not a steak. Then, other children will eat fruit puree, but not a piece of fruit. Some will eat tomato paste on a pizza, but not a whole tomato. If we can help encourage children even a tiny way towards accepting different textures, their food repertoire will begin to grow.
What kind of fruit can I add to the chia seed jam?
The fun thing about this jam is that you can use any type of fruit that you want. The only thing that will change is the number of natural sugars from the fruit. If you are trying to count your carbs, you'll want to look at how much natural sugar is in the fruit before you use it.
Some of the best fruits to use in chia seed jam are:
Blueberry
Strawberry
Raspberry
Blackcurrant
Do chia seeds thicken jam?
Yes, when chia seeds mix with water, they create a natural thickener. The chia seeds also add fiber and protein to the jam too.
Is chia seed jam safe for canning?
No, chia seed jam is not safe for canning. The only safe way to use chia seeds in jam in by following my recipe, which doesn't use any type of canning method at all.
Are fresh or frozen berries better for this recipe?
The fantastic thing about this sugar-free jam recipe is that you can use either frozen berries or fresh ones. If you are using frozen berries, let them defrost before you mash them into a puree.
Low-carb ways to use sugar-free jam
This can be used just like you would use other flavors of jelly. Here are a few ideas to get you started!
By the way, once you buy a bag of chia seeds, you may want to try these other recipes.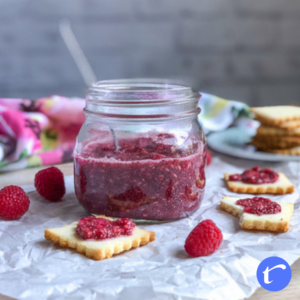 Sugar Free Chia Jam Recipe
An easy recipe for sugar free chia jam that can be ready in under 20 minutes with no boiling or sterilising. Spread on low-carb 3 seed bread, keto waffles or low-carb pancakes.
Print
Pin
Rate
Want to lose weight and get healthy for life—without dieting, drugs, or making yourself miserable?
We can help! Tell me how!
Ingredients
125

g

berries

fresh or frozen

3

tbsp

chia seeds

1

tsp

lemon juice

1

tbsp

granulated sweetener of choice

or more to your taste

80

ml

water
Instructions
If using frozen berries, allow them to defrost. Mash the berries with a fork until a lumpy puree is created.

Add the chia seeds, lemon juice, sweetener and water. Mix.

Pour into a little jam jar or storage container and place in the fridge to set.

Once the chia jam has set, mix again to ensure all the berries and chia seeds are evenly distributed. Enjoy.
Notes
Serving size shown is 20g / 1 tbsp
Nutrition
Serving:
20
g
Calories:
25
kcal
Carbohydrates:
3.5
g
Protein:
0.8
g
Fat:
1.3
g
Fiber:
2.3
g
Sugar:
0.8
g
More keto chia and seed recipes
Get our FREE guide to finally fix your metabolism!
Losing weight & getting healthy is never easy, but lately you might feel like it's suddenly become impossible.
Our Flip the Switch guide will help you clearly understand what's been going on, as well as exactly what you can do to get your metabolism working again so that you can look and feel your best—it's easier and more simple than you think!