You only need 3 simple ingredients and they are ZERO net carbs.
Discover two methods to make keto gummies (for absolute beginners) with gelatin or Jello boxes.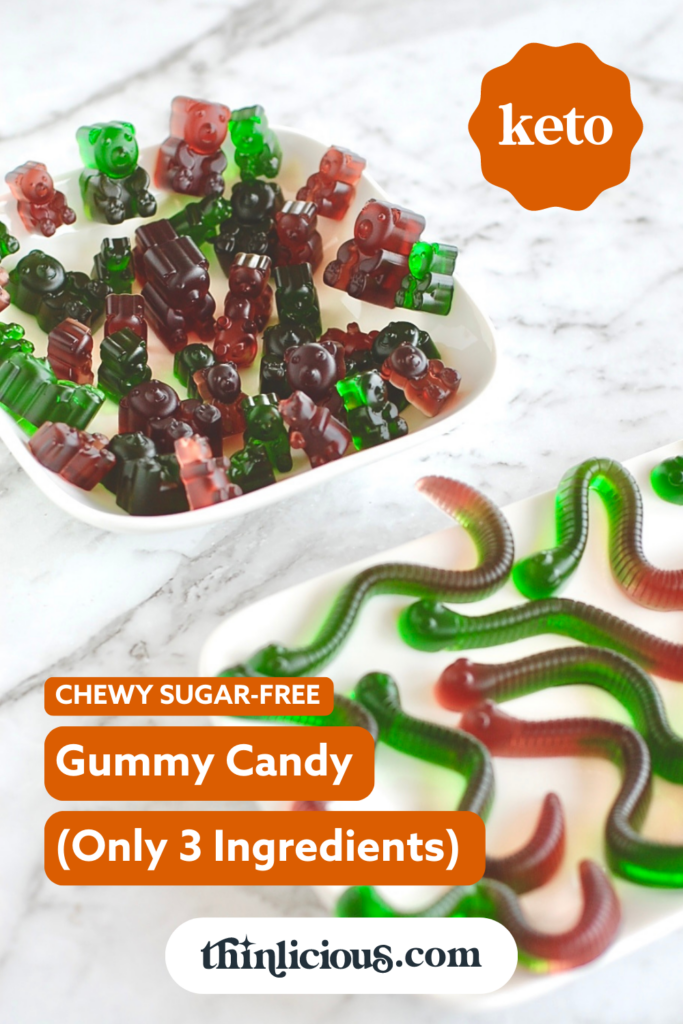 This quick and easy recipe uses real fruit tea to create healthy sugar-free gummies that the whole family can snack on…guilt-free.
Ready to lose weight and get healthy for life without dieting, drugs or making yourself miserable?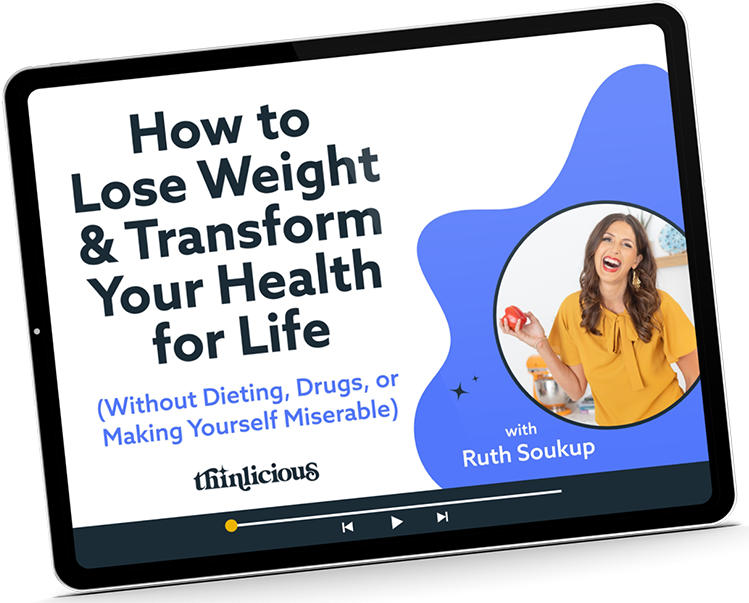 Our free on demand video training will help you understand why it's been so hard and what do to about it.
What do they put in gummy bears?
A bag of the classic Haribo gummy bears contains five different sugars, gelatin, colors, and preservatives.
Glucose syrup; sugar; gelatine; dextrose; fruit juice from fruit juice concentrate: apple, strawberry, raspberry, orange, lemon, pineapple; acidifier: citric acid; fruit and plant concentrates: safflower, spirulina, elderberry, orange, black currant, kiwi, lemon, chokeberry, mango, passion fruit, grape; flavoring; elderberry extract; coating agent: beeswax white and yellow, carnauba wax. Source: Haribo.
Nutritional values (per 100g): 77g carbs (46g sugar), 0.5g fat, 6.9g protein, and 343 calories.
Ingredients you need
With a few simple ingredients (from your local grocery store), you can make your own sugar-free gummy candy by using real fruit tea OR a box of no-sugar Jello.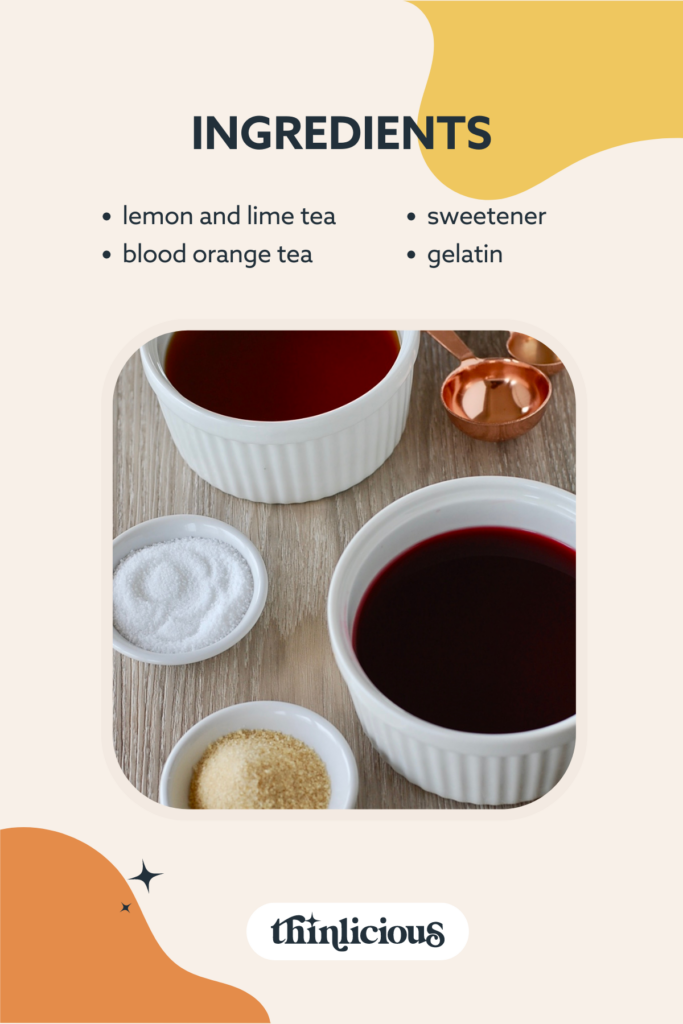 See the recipe card below for exact quantities and recipe instructions with nutrition facts.
Method 1: Using fruit tea and gelatin
Real fruit tea – brew a very strong real fruit tea in any flavor that you want to make your homemade candy.
Sugar-free sweetener – use your favorite keto sweeteners such as erythritol, xylitol, allulose, stevia drops, or monk fruit sweetener.
Gelatine – unflavored gelatin powder is the easiest to dissolve for candy molds.
Optional: You may wish to add some extra (natural) food coloring so the gummies look exactly like the gummy bears and worms available in the store.
Method 2: Using Jello packets
If you want an easier recipe, you can use a package of no sugar Jell-O and additional gelatin.
Equipment you need
To make your sugar-free gummy candy you only need a heatproof large mixing bowl (or large heatproof jug) and some candy molds.
Your gummy mold will come with droppers and there are so many different shapes to choose from. You can make gummy bears, gummy worms, and even gummy dinosaurs!
How to make sugar-free gummy candy (2 methods)
You can either make your own sweet gummy candy mix of 1: gelatin, fruit tea, and sweetener or use 2: Jell-O with extra gelatin.
1: Fruit tea, gelatin, and sweetener method
First, you'll need to brew the real fruit tea extra STRONG!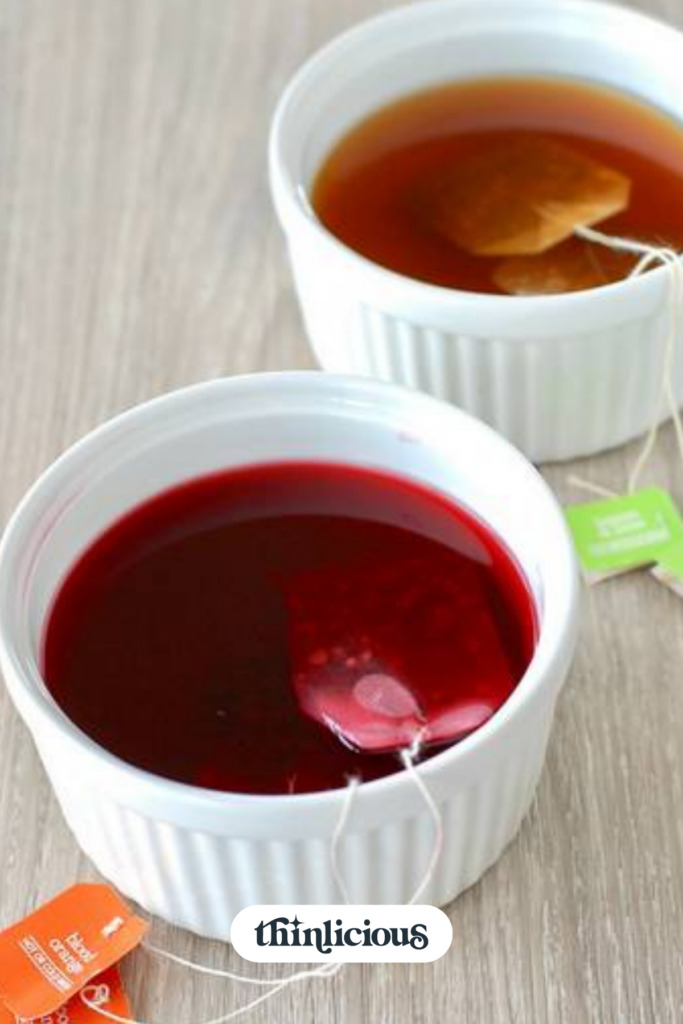 In a heatproof dish or mug, add the fruit tea bags and 2 cups hot water. Leave to brew until a very strong flavor develops.
Remove the fruit tea bags, and whilst still hot, add the unflavored gelatin powder and sweetener. Stir with a fork to completely dissolve.
Add coloring (optional). Repeat the recipe for the next flavor of fruit tea.
EXPERT TIPS: Gummies require a lot of gelatin so they are chewy, strong, and sturdy. No one wants a floppy gummy bear or a worm that snaps in half when you take it out of the gummy bear mold.
Add a little extra sweetener than you think you may need and ALWAYS taste before pouring into the candy molds.
Do not add any cold water, the jelly will begin to set.
2: Jell-O and gelatin method
For every box of flavored Jell-O, use only 1/2 cup of boiling water plus 1 tablespoon of unflavored gelatin powder to give them a really chewy texture.
Stir with a fork until all the gelatin has dissolved before pouring it into the candy molds.
How to make 2 colored gummy worms
Before filing your candy molds, spray with a neutral-tasting cooking spray to make it easier to pop each worm or bear out of its tray.
To make 2 colored gummy worms, simply hold two droppers filled with different colors and gently squeeze the droppers at the same time into each end of the worm mold.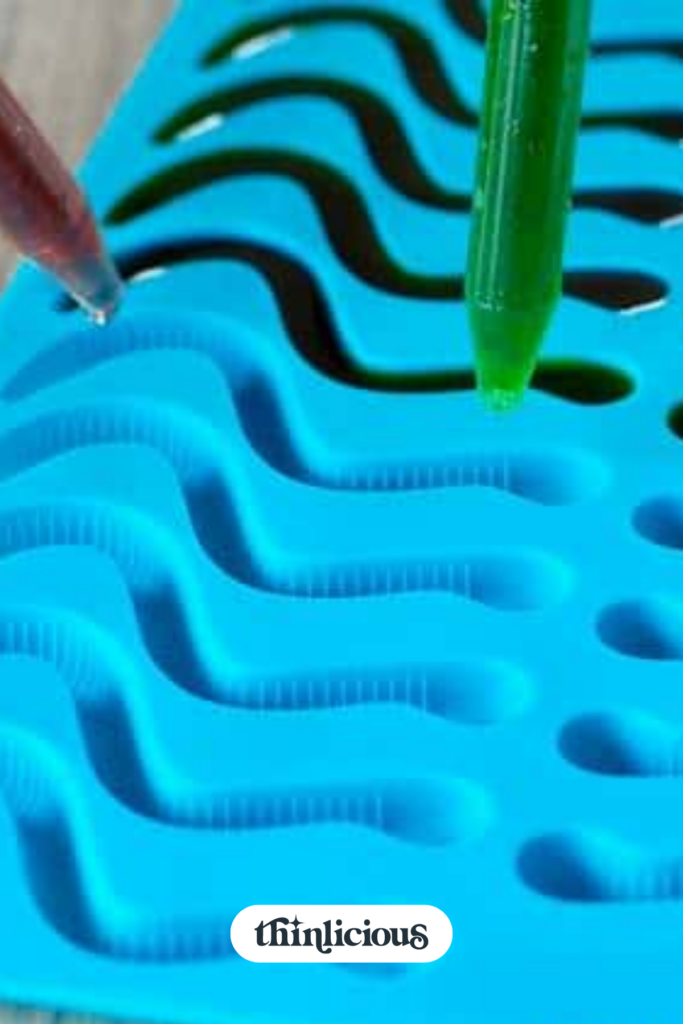 To make 2 colored gummy bears, put a few drops of one color in the bottom of the molds then fill them with a second color.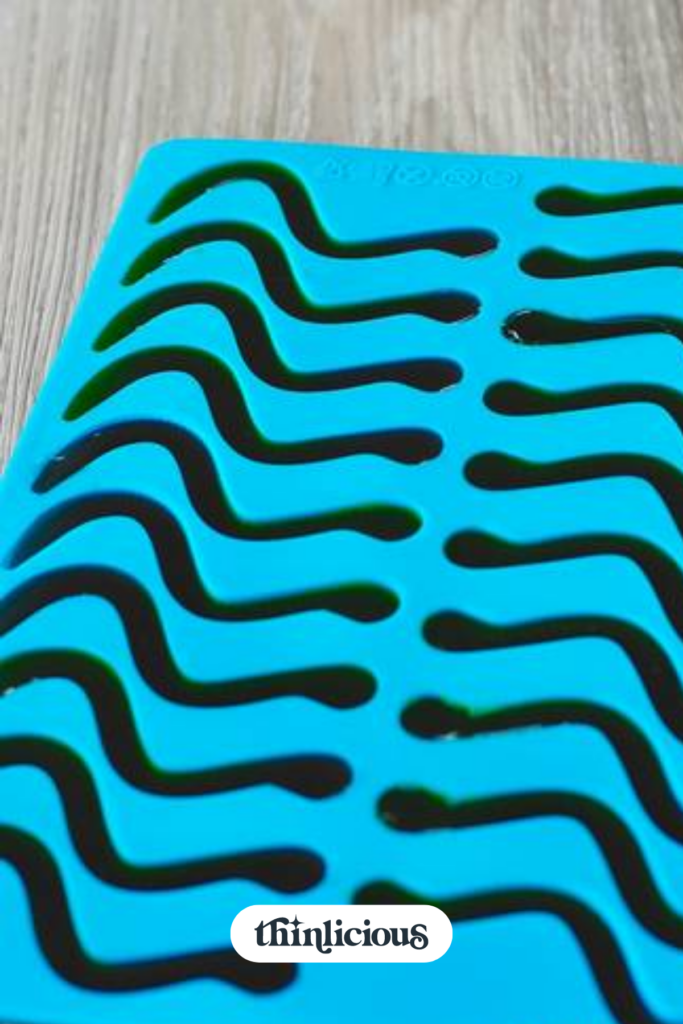 How to stop air bubbles in gummy candy
When you fill your droppers, avoid getting any bubbles at the top of the dropper. If you do have bubbles, you will end up with soft bubbly gummy bears.
After much trial and error, I discovered how to fill the dropper without getting any air bubbles inside.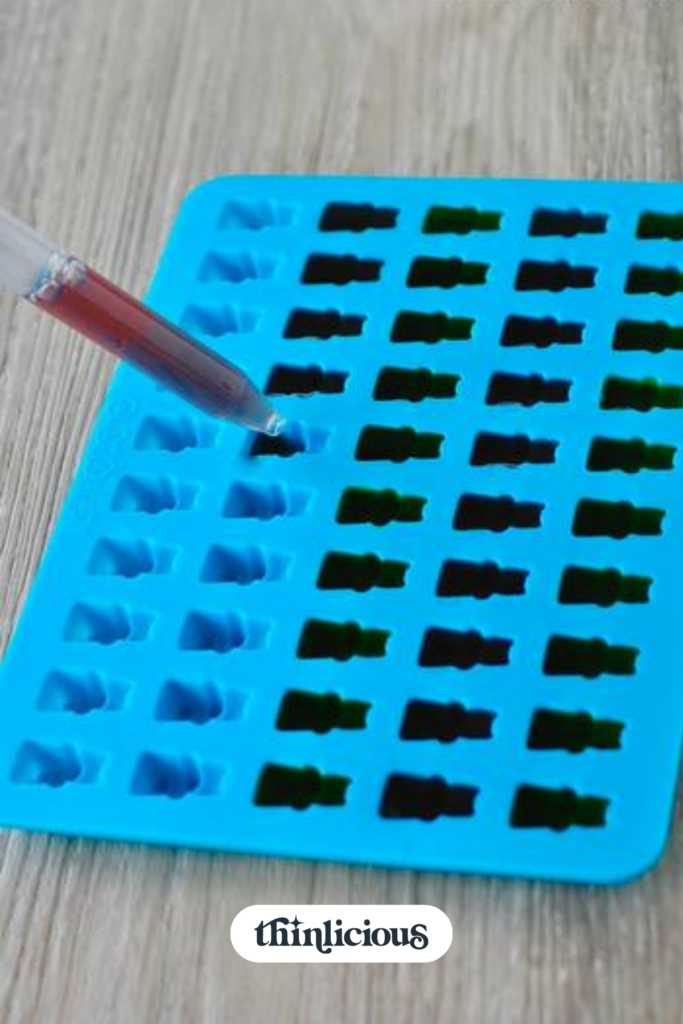 Expert tip: Every time the dropper is empty of the gummy mixture, keep the bulb squeezed and place it straight back into the bowl and release it under the surface of the sugar-free gummies mixture again to fill the dropper again.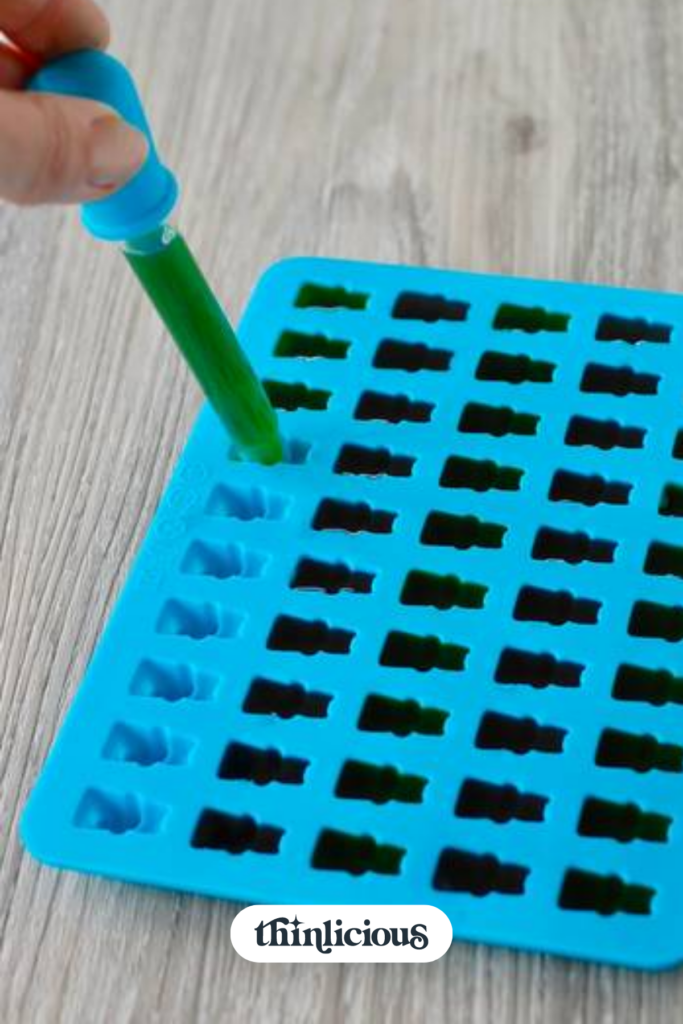 How to make sour gummies
The sour coating is easy to make and can be used to cover gummy candy, sugar-free marshmallows, and even dipped in with a wet spoon to lick.
It's the incredible combination of SWEET confectioners sugar (icing sugar) with SOUR citric acid that makes your taste buds tingle.
Create your sugar-free gummies in exactly the same way, but as soon as they are set, remove them from the candy molds and dip them in a mixture of 1 cup of sugar-free confectioners sugar (sugar-free powdered sugar) and 2 teaspoons of citric acid.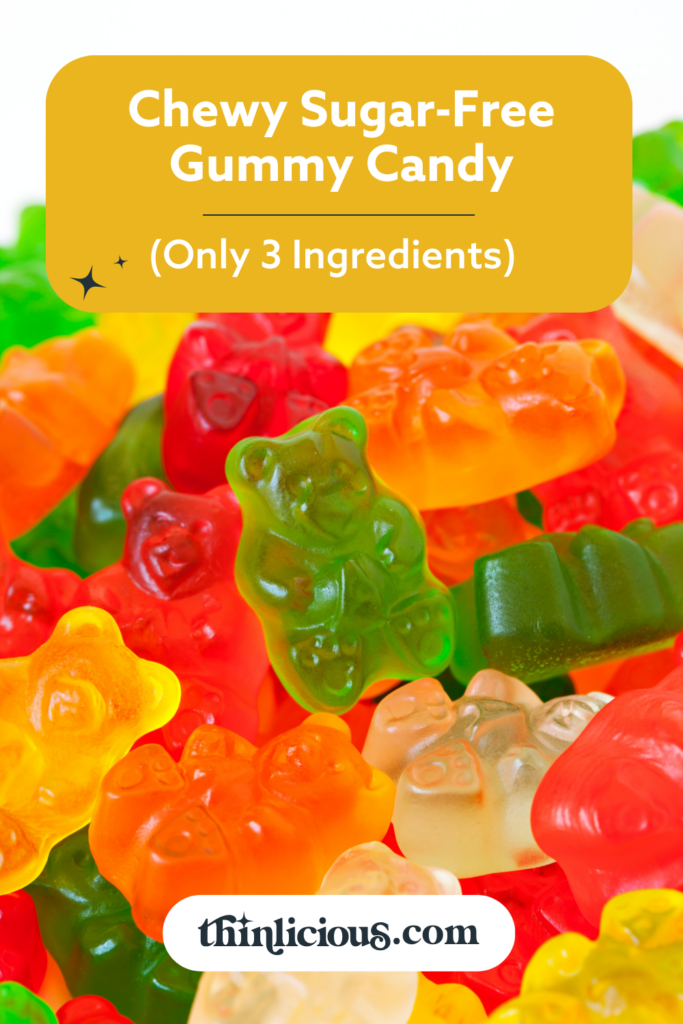 Flavor variations
You can make so many different gummy bears and gummy candy flavors by using different flavored fruit tea or fruit Jello that your children will love.
Imagine all the color/flavorful combinations you and your children could make. Here are a few flavors to get you started:
Orange and strawberry
Blood orange and lime
Lime and raspberry
Passionfruit and fruits of the forest
4 fruits and lime
Cherry and lime
Apple and cherry
Each of the fruit tea flavors might vary in their calories, net carbs, and hidden fruit sugar. So read the nutrition labels on each package carefully.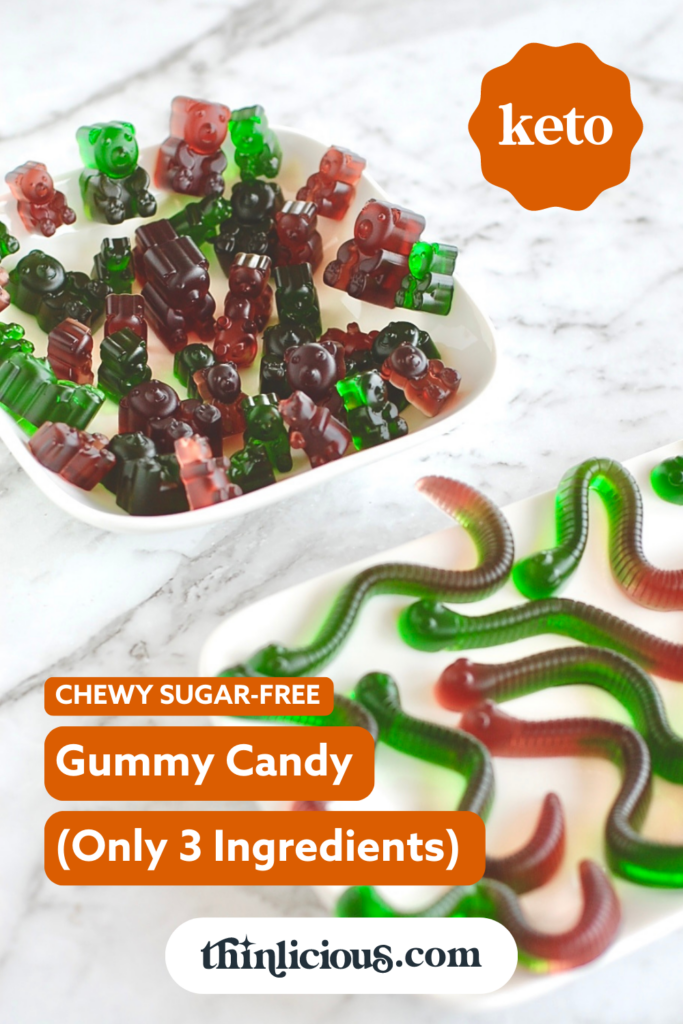 How to store gummies
Place the filled candy molds in the fridge for a minimum of 3 hours. The longer you set them, the sturdier and chewy they will become.
Pop each gummy from the molds and keep your gummies in an airtight container in the fridge for up to 2 weeks.
Gummy candy FAQ
How can I stop my gummies from sticking to their molds?
Spray with neutral cooking oil before pouring in the gelatin mixture.
What's the difference between powdered gelatin and gelatin sheets?
Both work well but the gelatin sheets do take some extra time to dissolve. My preference is always to use unflavored gelatin powder. It dissolves fast and you can always add a little bit more if you think your jelly mixture isn't thick enough.
Why won't my gelatin dissolve?
To make sure you can dissolve Jello (or gelatin) you can make the gummy candy in a small saucepan on medium heat.
Do gummies need to be refrigerated?
They need to be in the fridge to set the gelatin or Jello. They can be left at room temperature for a short time but should be stored in the fridge so they don't melt and go soft.
Can I freeze gummy candy?
Homemade gummy candy can be kept in the freezer but it may not be as chewy when they defrost.
Do I need to add any cold water?
If you add cold water the gummy mixture will start to set and you won't be able to pour it into the candy molds. You only need to add cold water when making a regular Jello dessert, this makes it set faster.
What is the sour coating on gummies?
It is a mixture of confectioners sugar (icing sugar) and citric acid.
How long should gummies dry?
The longer you leave them in the fridge uncovered, the better. As they dry out they become chewy and will take longer to eat.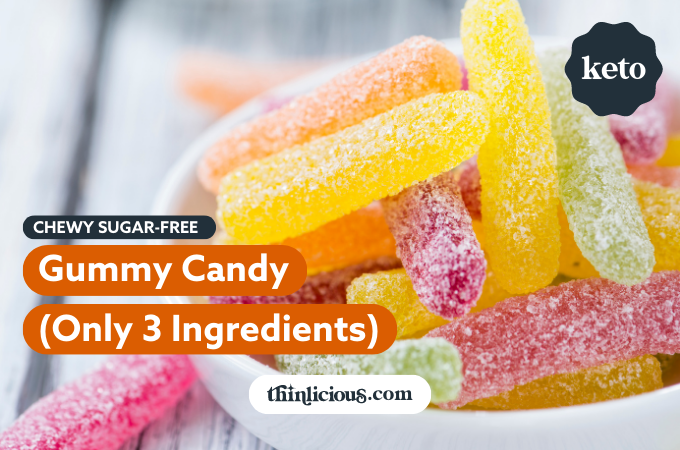 More keto candy recipes
If you love these low-carb gummy candies, you'll love these sweet candy keto recipes. They're tasty and delicious and perfect for your low-carb diet, keto diet, sugar-free diet, or diabetic diet.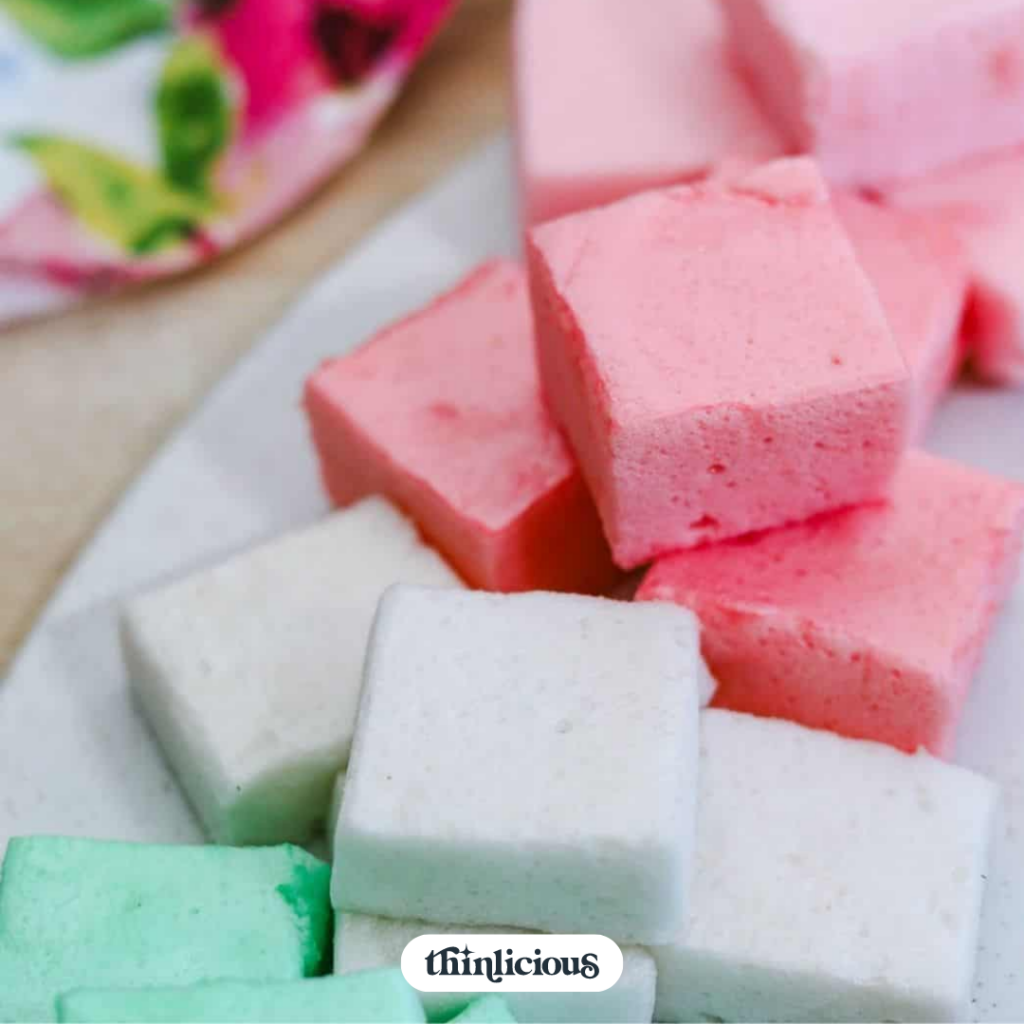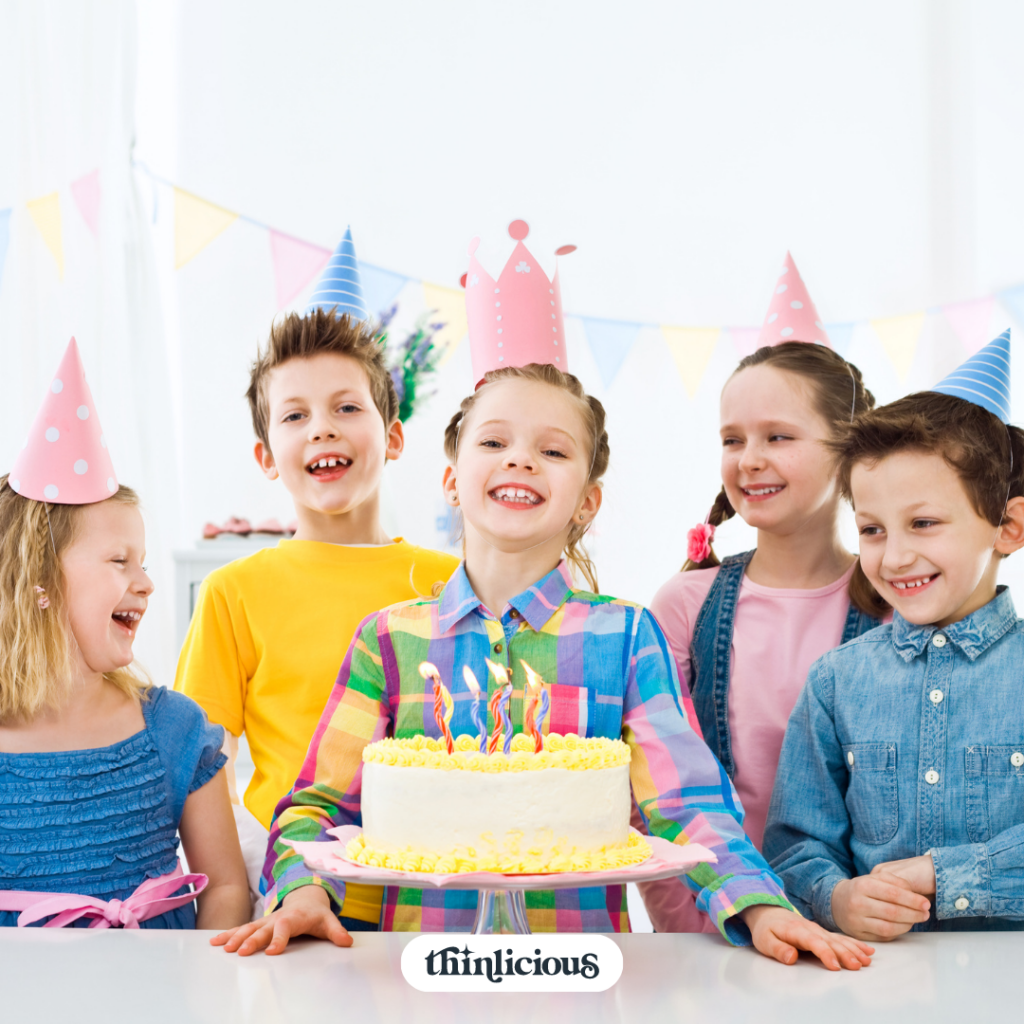 And if you want to know what to serve at a sugar-free birthday party, I've got delicious sugar-free birthday party recipes and even a sugar-free vanilla birthday cake covered in keto buttercream frosting.
And if you're reading this around the Halloween season, you'll love the cute 34 healthy Halloween ideas that are all candy free. Each cute Halloween recipe makes this special time of year yummy, healthy, and fun for your kids.
Sugar-Free Keto-Friendly Gummy Candy Recipe (3 Ingredients)
Healthy sugar-free gummy candy that needs only 3 ingredients. You can make it with real fruit tea or Jello boxes. Both recipes are perfect for beginners. Serve at birthday parties, Halloween, or to stop sugar cravings.
Print
Pin
Rate
Want to lose weight and get healthy for life—without dieting, drugs, or making yourself miserable?
We can help! Tell me how!
Ingredients
1: Fruit tea and gelatin method
12

fruit tea bags

strongly brewed

2

cup

hot water

5

tbsp

powdered gelatin

2

tbsp

granulated sweetener, of choice

or more, to taste
2: Jello box method
4

box

sugar-free Jello

4

tbsp

unflavored gelatin powder

2

cup

hot water
Instructions
1: Fruit tea and gelatin method
In a heatproof dish or mug, add the fruit tea bags and hot water. Leave to brew until a very strong flavor develops.

Remove the fruit tea bags, and whilst still hot, add the gelatine and sweetener. Stir to dissolve.

Add food colouring (optional).
2: Jello box method
Dissolve the sugar-free Jello in a heatproof jug with hot water and add the unflavoured gelatin. Mix with a fork until completely dissolved.
Filling your candy molds
Gently fill the droppers (as instructed above) and begin to fill the gummy bear and gummy worm molds.

Place the filled candy molds in the fridge until set. This takes 1-3 hours, but the longer you leave them, the chewier they will become.
Notes
NOTE:
Servings have been calculated so the batch will be divided by 4 people. How many gummies you actually make will depend on the size of your candy molds.
Nutrition
Serving:
1
serve ( serves 4)
Calories:
29.7
kcal
Carbohydrates:
0.003
g
Protein:
7.6
g
Fat:
0.01
g
Saturated Fat:
1
g
Sodium:
20.5
mg
Potassium:
1.6
mg
Calcium:
6.8
mg
Iron:
0.1
mg
Get our FREE guide to finally fix your metabolism!
Losing weight & getting healthy is never easy, but lately you might feel like it's suddenly become impossible.
Our Flip the Switch guide will help you clearly understand what's been going on, as well as exactly what you can do to get your metabolism working again so that you can look and feel your best—it's easier and more simple than you think!