What Is Dirty Keto? And should you try it?
Whether you are new to the ketogenic diet or have been following it for a while, I'm sure you'll have heard about "dirty keto" or "lazy keto" and maybe wondering if they would work for you?
Do I encourage dirty keto? No. Is there a place for it? Yes. Well … maybe.
What is dirty keto or lazy keto?
Whether you choose to call it dirty or lazy keto doesn't matter much as they are terms used interchangeably.
Ready to lose weight and get healthy for life without dieting, drugs or making yourself miserable?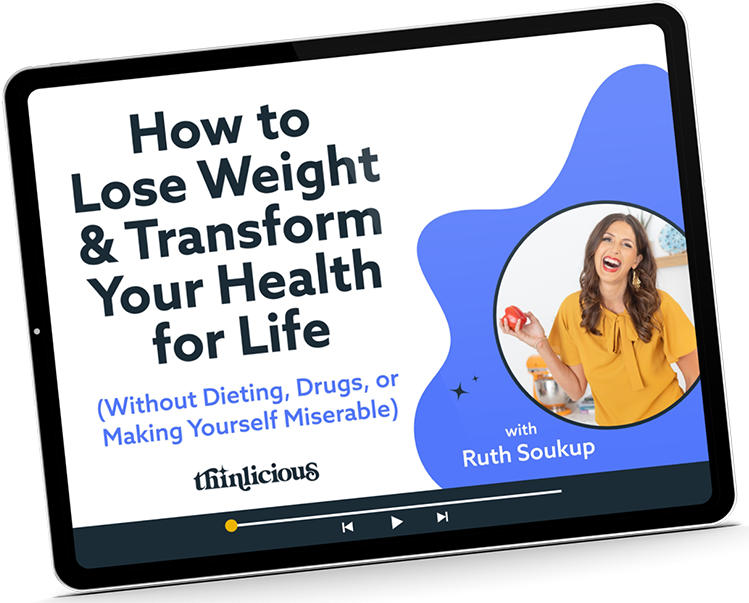 Our free on demand video training will help you understand why it's been so hard and what do to about it.
They are essentially a "cheats version" of keto.
While some keto purists will strongly advise against the dirty keto or lazy keto approach, there may, in fact, be a place for it.
Let's explain why/how/when lazy keto may be suitable (or not).
What Is Dirty Keto?
The dirty keto diet approach focuses primarily on eating the right quantities of macronutrients from fats, protein, and carbs in order to attain and maintain a state of nutritional ketosis.
Dirty keto and lazy keto does not focus on the quality of the food eaten to meet those macronutrients.
In other words, a dirty keto follower can meet their daily macros by indulging in a fast-food meal minus the bread buns or sugary condiments.
With this approach, it is quite possible for you to have met your macro needs without having eaten a single vegetable, never enjoyed a fresh steak, you probably are still indulging in toxic unhealthy oils and never cooked a home-made meal yourself!
But wait .. is this as bad as it seems?
Why would you want to try lazy keto?
For many dirty keto dieters, convenience and cost are the main key concerns driving food purchasing decisions.
For so many, especially those who only rely on microwave meals and have no time to cook, dirty keto and lazy keto are their first introduction to assessing what they eat.
For many, lazy and dirty keto is a stepping stone to discovering the amazing health benefits of a low-carb lifestyle but without the hassle of home-cooked meals.
And most importantly, once they discover the health benefits, once they feel what it's like to step off the sugar roller coaster, they begin to address other aspects of their diet – the quality of food.
It sounds seductively simple, cost-effective, and convenient and while it will still help you to lose weight and improve overall health initially, the long-term downsides associated with this approach are why so many are against it.
As much as dirty keto and lazy keto is frowned upon (and for good reason), it has offered hope and a stepping stone for thousands who wouldn't dream of changing their lifestyle and diet otherwise.
What Is Clean Keto?
With the clean keto approach, priority is given to high-quality keto-friendly foods to meet daily required macronutrient needs.
Clean keto focuses on low-carb foods that are minimally processed and are nutrient-dense.
Whole food is their focus.
They focus just as much on the quality AND quantity of their macronutrients.
For example, instead of purchasing any type of beef from your local takeout, the clean keto dieter will take extra measures to ensure that they are only purchasing unprocessed, grass-fed, and grass-finished beef that is raised sustainably.
Or at the very least, they eat meat that has the least processing, as close as nature intended it, and meat that has the least human intervention possible. ie: a simple steak, a simple chicken breast, or a salmon steak.
On this note, the clean keto dieter may also consider the health of the animals and plants being consumed as well as the environmental impact of food production.
Most meals eaten by clean keto dieters will be fresh homemade low-carb dinners consisting of fresh meats and low-carb non-starchy vegetables and an abundant supply of healthy natural fats.
You will not see clean keto dieters eating or advocating anything fast-food or processed. And clean keto dieters definitely avoid anything that contains toxic ultra-processed seed oils.
Where you may find yourself in this dirty versus clean keto diet debate will most likely depend on things such as how your clean/dirty diet affects your health, as well as the affordability and sustainability of each approach.
In order to better gauge where you fall on the spectrum, consideration should be given to what you can eat with dirty versus clean keto diets.
Read more: TOP 10 Keto Mistakes And How To Avoid Them
What to eat and avoid on a dirty keto diet
Let's go through each food type, then you can head to the Quick & Easy Guide: Dirty Keto vs Clean Keto table below.
The most convenient, lazy keto foods to enjoy on a dirty keto diet:
DAIRY – Full-fat conventional dairy which includes cheese, heavy cream, cream cheese, and butter. But you can also include cheese in a tube, spray cheese, cheese sticks, and other highly processed forms of cheese.
MEAT – Any processed or packaged meat and seafood. Pepperoni, salami and meat sticks. Low-carb ready meals and frozen keto ready meals. There is still a place for bacon, jerky, smoked fish and other canned seafood but dirty keto dieters only read labels carefully to ensure that there are no hidden carbs.
SNACKS – Packaged keto-friendly snacks such as keto bars, low-carb bars, keto shakes, low-carb chips, low-carb and keto breads, low-carb and keto cookies, but also pork rinds, nuts, and seeds. Keto snacks are quite costly so it's to your advantage to make snacks at home.
VEGETABLES – Sugar-free pickles in a jar, bagged salad greens with dressings, takeout stir-fries without the sauce, frozen ready-made cauliflower rice.
SAUCES – mayonnaise, sugar-free sauce mixes, sugar-free chocolate and Maple syrups for desserts and waffles.
SWEET TREATS – sugar-free jello, sugar-free chocolate bars, keto bars.
DRINKS – pretty much anything sugar-free and keto goes. Diet drinks, diet energy drinks, low-carb beer, keto shakes, processed protein powders and meal replacement drinks.
SWEETENERS – as long as the sweetener contains no calories or carbs, dirty keto dieters will enjoy foods/snacks made using any sweetener.
Dirty keto foods that should be limited or avoided completely include:
Whether you are dirty keto, lazy keto or clean keto, beware of packaging that states it is keto-friendly, always check the label for hidden carb sources.
Always check low-carb, keto and sugar-free chocolate for Maltitol. Even though it is sugar-free, Maltitol will still raise blood sugars and halt your progress.
Try to limit low-carb fast food. There are some low-carb fast food options out there but you are likely to find more convenient, healthier, and cheaper on-the-go options in stores.
Margarine, trans fats, and ultra-processed industrial seed oils can significantly increase your chances of inflammation and heart disease.
Refined seed oils. These oils, when cooked, convert to toxic compounds that provoke inflammation.
What to eat and avoid on a clean keto diet?
Foods to enjoy on a clean keto diet:
Minimally-processed nuts and seeds. Some of the lowest-carb nuts and seeds are macadamias, walnuts, sunflower seeds, chia seeds, and almonds.
Pasture-raised, sustainable meats, eggs, and dairy.
Wild-caught fish such as wild-caught salmon, mackerel, and sardines, are all packed with omega-3s, minerals, vitamins, and antioxidants.
High-quality cooking oils such as extra virgin olive oil and coconut oil are least vulnerable to oxidation at high temperatures.
Foods avoided entirely on a clean keto diet:
All sugars, starches, grains.
Ultra-processed meat and produce.
Preferably avoid food that is not raised or grown in a sustainable manner and is ultimately detrimental to the environment long-term.
Fast foods (even low-carb fast foods).
Anything containing trans fats.
Ultra-processed food that is long life and full of artificial preservatives additives and flavors.
Quick and easy guide (charts)
| FOOD | DIRTY KETO | CLEAN KETO |
| --- | --- | --- |
| CHEESE | Any cheese as long as the carb count is almost zero. | Only simple traditional cheeses are encouraged. |
| MEAT | Any meat, seafood, takeout, fried meat, Bunless burgers, fried chicken, and long-life processed meat. | Quality meat with little human intervention as possible. Simple steak, fish, chicken, pork etc. |
| FATS & OILS | Anything goes, it's more about the macros. Takeouts, mayonnaise and snacks are still eaten even if made/fried in seed oils. | Avoid ALL ultra-processed seed oils. Enjoy butter, lard, avocado oil, macadamia oil … |
| SNACKS | Keto bars, keto shakes, sugar-free jello and canned whipped cream. | Nuts, cheese, meat, eggs, avocados, seeds, berries. |
| COFFEE | Sugar-free coffee creamers, sugar-free flavoured syrups. | Quality coffee +/- heavy cream. |
| DRINKS | Diet drinks, keto drinks, anything sugar-free. | Tea, coffee, water, wine, bone broth. |
| SWEETENERS | Anything as long as it's calorie-free. | Stevia, erythritol, xylitol. |
Easy lazy keto recipes
There are so many delicious and easy lazy keto diet recipes and lazy keto meals that you can make quickly with a few simple ingredients.
Meals don't have to be difficult and don't have to take a lot of time.
Is It Possible To Lose Weight As A Lazy Keto Dieter?
Although it receives a lot of criticism, the dirty keto approach still has some benefits for those who are starting out on the keto diet.
By not being so rigid at the beginning of your new diet, you are likely as a keto beginner to still see improvements in your health and weight loss as you start to clean up your prior eating patterns.
After all, any positive change, no matter how small, will have an over impact when you have come from prior unhealthy eating patterns.
In addition to this, since the keto diet requires a very low carb intake, it is almost impossible to include bread, pasta, sugar, flour, and the like into your meals.
This simple shift alone has resulted in weight loss, reduced risk of inflammation, and heart disease with lowered blood sugar levels for those starting on the keto diet.
In other words, even if you are following a dirty keto approach as a beginner, you will see positive results.
The same cannot be said for those whose diet was already relatively clean prior to following the keto diet. In this instance, the benefits will be much more limited.
Is Dirty Keto Unhealthy?
Dirty keto dieting is not recommended long-term. Your health is determined not just by your macros but by the quality of those macros.
Long-term you will want to transition to clean keto and stop the fast foods, takeouts and quick and easy processed keto foods.
"Keto junk is still junk."
With this said, eating low-quality foods, although usually less expensive, comes with certain risks, some of which are listed below:
Greater risk of nutrition-related diseases due to the lack of many micronutrients lacking in convenience foods. (1)
Increased exposure to artificial sweeteners from conventional low-carb foods that are cheaper. Current findings suggest that some may be toxic to healthy gut bacteria and may also increase your sugar cravings. (2) (3)
Increased risk for getting keto flu and for the symptoms being prolonged. This is due to a lack of minerals and nutrient-dense ingredients not found in conventional low-carb foods, making your body more susceptible to keto flu.
Is Dirty Keto Safe Long Term?
There's no doubt that following a dirty keto approach can be useful and effective when:
You are an absolute keto-beginner still trying to figure out the ways of the keto diet
You are short on time
You know that you will head straight back to junk food if you had to follow a clean keto diet
There is nothing else as an option at that moment.
However, this approach should not be adopted long term.
Rather, set your goal for continual health improvements and better eating habits by incorporating whole unprocessed food into your meals that are nutrient-dense, low-carb with quality protein and healthy fats!
Get our FREE guide to finally fix your metabolism!
Losing weight & getting healthy is never easy, but lately you might feel like it's suddenly become impossible.
Our Flip the Switch guide will help you clearly understand what's been going on, as well as exactly what you can do to get your metabolism working again so that you can look and feel your best—it's easier and more simple than you think!