Discover how to freeze avocados with 3 simple methods – and my top 5 low-carb and keto avocado recipes.
Because if you have ever bought reduced price avocados in bulk, or like me, have an avocado tree that is laden with avocados, you need to learn how to freeze avocados or find a variety of avocado recipes. And fast!
How To Freeze Avocados & Why?
When avocados come into season, great sales entice the frugalholics and before you know it, you're sitting with a kitchen full of avocados!
In my case, I had an oversupply of them from my tree and I knew that I wouldn't be able to eat them all before they spoiled.
Are you ready to create the ultimate 12-month blueprint for reaching your health & weight loss goals this coming year?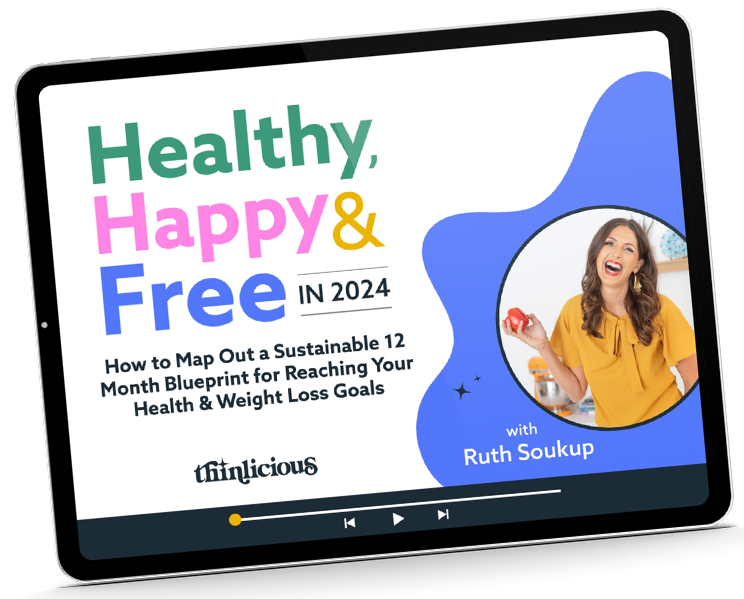 Our free on-demand video training will walk you through how to make 2024 THE year you set health goals…and keep them.
Rather than them going to the birds, I decided to experiment freezing them.
I developed three simple ways to freeze them successfully which I'm excited to share with you today.
Buying fresh produce when it's in season is generally cheaper, easier to find and tends to taste better.
And if you're lucky enough to find avocados on sale, snap them up, buy in bulk. Next, you'll want to be able to freeze avocados for when a recipe calls for them.
Now you don't have to worry about those excess avocados spoiling in your kitchen with my top 3 ways to freeze avocados:
Pro tip: You will discover frozen avocados texture is better suited for dressings, dips or as part of an overall recipe. See my top 5 recipes using frozen avocados at the end of the post.
3 Simple Methods to Freeze Avocados
1: Halved, brushed with lemon
2: Cut into chunks and dipped in lemon juice
3: Pureed and frozen in either ziplock bags or ice cube trays.
3 Ways to Freeze Avocados
1. How to Freeze Avocados – In Halves
Freezing avocados in their halves are by far the easiest way to preserve them.
Time needed: 10 minutes
How To Freeze Avocados – 3 easy methods
Cut avocados

Simply cut your avocados in halves (lengthwise) and place them face-up on a baking tray lined with baking parchment.

Brush with lemon juice

As you probably know, brushing avocados with lemon or lime juice, prevents the avocados from oxidizing and turning brown and ensures they retain their beautiful vibrant avocado green.

While you won't need to douse the avocados, you do want to ensure that they have a good coating of the lemon or lime juice. Freshly squeezed lemon juice is fine for the job otherwise 2 tsp lemon or lime juice per large avocado or 1 tsp for a small fruit is ideal.

Freeze

Place the lined baking tray in the freezer until the avocado halves are completely frozen. Place the frozen avocado halves in a zipper bag, remove as much air as possible, place the frozen avocados back into the freezer for long-term storage.
2. How To Freeze Avocados – Diced
If you don't mind the extra step of peeling and dicing your avocados, it is a wonderfully easy way to use avocado in recipes.
The avocado is already prepared and ready to be added to smoothies, or a chocolate mouse (recipes below).
Frozen avocado pieces defrost super quick too!
To protect your avocados from browning, dipping the diced avocado pieces into lemon juice is an effective method.
Once diced and dipped, place them on a lined baking tray (just as you did with the avocado halves above) then once frozen, place the frozen avocado pieces into a Ziploc bag and remove as much air as possible.
Pro Tip: Add a label to the Ziploc bag, noting how many avocados are in the bag. This will make your life so much easier when it comes to using the diced avocado in recipes!
3. How To Freeze Avocados – Puree
Another great way to freeze avocados is to mash them up as puree and then store them in Ziploc bags or in ice trays.
A puree works well for making dressings, sauces, guacamole or placing into health smoothies. And like the frozen pieces, defrost rapidly.
Simply blend your avocados in a food processor or stick blender, add some lemon or lime juice and process further to the desired texture.
You can now store the frozen avocado puree two ways.
1: Scoop you puree into the plastic Ziploc bag and remove as much air as possible.
2: Place your avocado puree into ice trays and freeze.
Once your avocado cubes are completely frozen, pop them out of their trays and place into a Ziploc bag.
How Long Can You Store Frozen Avocados?
Avocados should keep well for 3-6 months in the freezer.
They will also still be safe to eat after that recommended time although you can expect their flavour to have diminished if you freeze for longer periods.
Freezer shelf life is also affected by the method you choose to freeze as well as external factors such as the quality and reliability of your freezer.
How To Defrost Frozen Avocados
When you need to thaw your frozen avocados, simply place the bags with the halves, diced chunks, cubes or puree in a bowl of cold water or in the fridge until adequately thawed.
Forget wasting avocados ever again with these helpful methods of freezing your avocados until your next recipe calls for them!
With these 3 simple methods, I get to enjoy the fruits of my avocado tree without the guilt of wastage!
How To Utilise Frozen Avocados
As I mentioned above, freezing avocados changes their texture so defrosted avocados are not suitable for slicing or serving on their own as you would a fresh avocado.
For this reason, I use frozen avocados instead for recipes below where the texture is less important.
5 Top Recipes Using Frozen Avocados
Get our FREE guide to finally fix your metabolism!
Losing weight & getting healthy is never easy, but lately you might feel like it's suddenly become impossible.
Our Flip the Switch guide will help you clearly understand what's been going on, as well as exactly what you can do to get your metabolism working again so that you can look and feel your best—it's easier and more simple than you think!