</p>
The FAMOUS quick and easy 2-minute keto breakfast burrito recipe.
Load em'up with your favourite breakfast fillings. Bacon, avocado, cheese, and some leafy greens.
Breakfast burritos are high protein, naturally low in carbs, and delicious.
Are you ready to create the ultimate 12-month blueprint for reaching your health & weight loss goals this coming year?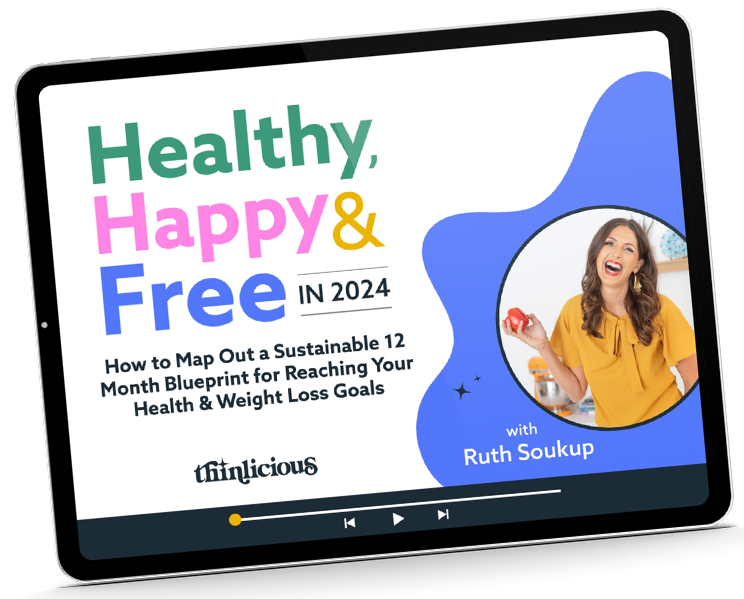 Our free on-demand video training will walk you through how to make 2024 THE year you set health goals…and keep them.
There's even a handy tip at the end, so you can pack these for a healthy school lunchbox.
What can I eat for breakfast on keto?
Breakfast needs to be nutritious, filling, and tasty. And in busy mornings, breakfast needs to be fast.
It can be difficult to find a quick and easy keto breakfast recipe that the whole family will love. The easiest breakfast ideas that are family-friendly are low-carb sugar-free granola, fried eggs, scrambled eggs, and of course leftovers.
What is inside a breakfast burrito?
The genius part of 2-minute low-carb breakfast wrap is that you can make the basic burrito, then the whole family can add their favourite fillings.
You can guarantee this way they will actually be eaten.
Breakfast burrito fillings
Once you choose your base flavour, now add a variety of these fillings.
Classic low carb breakfast burrito: bacon, avocado, cheese, sour cream
Ham and cheese burrito: cheddar cheese, cooked ham, chipotle sauce
Green low carb burrito: wilted spinach, cream cheese
Salmon breakfast burritos: smoked salmon, dill, cream cheese
Beef breakfast burrito recipe: sliced cooked roast beef, horseradish sauce
Instructions
All quantities and full instructions are in the recipe card below.
To make the breakfast burritos recipe: You simply need 2 eggs and a dash of full-fat heavy cream to make your breakfast burrito.
1: Whisk the burrito ingredients together in a small mixing bowl.
2: Melt butter in a skillet or frying pan and pour in the egg mixture. Cook covered on medium-high heat for 2 minutes.
3: Add your favourite breakfast fillings and shredded cheese.
4: Roll up and enjoy.
Variations
I know a burrito is traditionally a Mexican dish, but breakfast burritos are a clever twist. The low carb burritos are so adaptable for any breakfast filling. I like to use chives or rosemary. My children, however, like to use onion flakes and cheese!
Add these variations to your basic low carb burrito, and add salt and pepper to season to your liking.
1 tbsp chopped chives
1 tbsp dried or fresh chopped rosemary
1 tsp onion flakes
pinch chilli powder, 1/4 tsp dried coriander (cilantro), 1/4 tsp dried cumin
1/4 cup grated/shredded mozzarella cheese or cheddar cheese
1 tbsp bagel seasoning
leftover cooked ham
leftover pork sausage
mushrooms
peppers
If you vary the flavour of the basic keto breakfast burrito, then you can also vary the fillings to give it a real kick! Take a look at the options below.
School lunchboxes
Burritos are also a great idea for a healthy lunchbox. Always allow the burrito to cool first, then add the fillings and roll up. Secure and wrap using baking parchment paper, wax paper, aluminum foil, or a freezer bag.
And if you're after more delicious healthy lunchbox ideas, come and join my Lunchbox Hacks Group.
Burrito maker
To make life even easier, why not grab a breakfast burrito maker? It makes the burrito and it can scramble eggs at the same time! Now that will get breakfast for the household made quicker than anything.
More keto breakfast recipes
Breakfast needs to be fun, tasty, and fast. These are some of the most popular family-friendly recipes that still keep you on track with your keto diet. Keto waffles and keto sheet pan pancakes can be made ahead of time and are perfect for the freezer for easy meal prep for the week ahead.
If you're wanting a more traditional burrito (but without the unnecessary carbs) you can make a low carb tortilla then fill it with breakfast fillings such as scrambled eggs and bacon. Or my favourite breakfast has to be the reverse omelette. Crispy on the outside and soft and fluffy on the inside.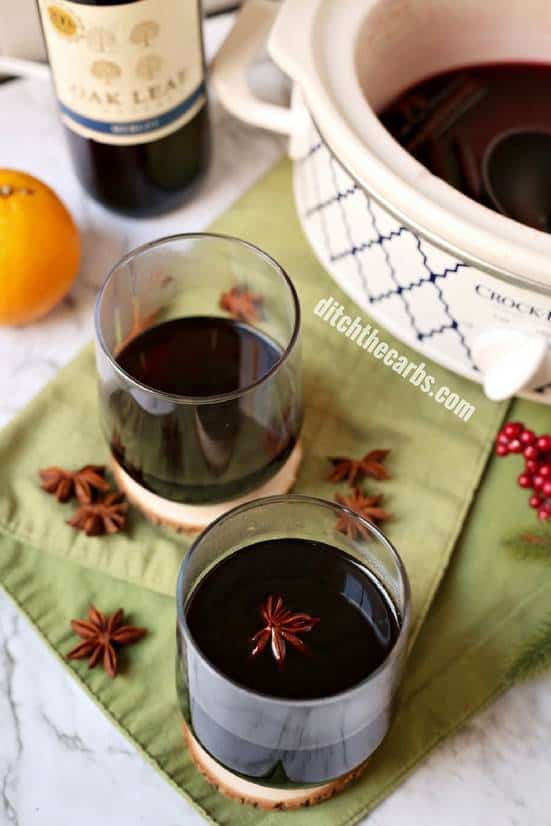 Recipe FAQ
Can you make breakfast burritos ahead?
They are best cooked and eaten fresh, especially because they only take 2-minutes to make. However, you can make the egg burrito ahead of time and they can be stored in the refrigerator overnight in an airtight container and reheated before adding your fillings. They should not be frozen.
How many carbs are there in a breakfast burrito?
One burrito provides 1.5 g net carbs from the eggs and the double/heavy cream. Fillings are additional so please calculate your own nutritional information and net carbs for accuracy. The carb value of your fillings can soon add up so make sure they fit within the carb limits for your low-carb diet or keto diet.
How do I stop the burrito from sticking to the frying pan?
Melt butter in the frying pan, or use a cooking spray before you add the egg mixture. Use a silicone spatula (with no rough edges) and carefully lift the edge of the burrito or slide onto a serving plate.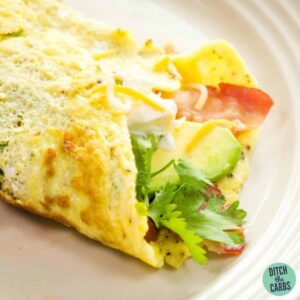 Keto Breakfast Burrito Recipe
Keto Breakfast Burrito is a quick and easy healthy breakfast option the whole family will love. There are so many variations of the base and the fillings you can make.
Print
Pin
Rate
Want to lose weight and get healthy for life—without dieting, drugs, or making yourself miserable?
We can help! Tell me how!
Ingredients
1

tbsp

butter

2

eggs – medium

medium

2

tbsp

heavy whipping cream

full fat

choice of herbs or spices

+/- salt and pepper

to taste
Instructions
In a small bowl, whisk the eggs, cream, and chosen herbs and spices.

Melt the butter in the frying pan then pour in the burrito egg mixture.

Swirl the frying pan until the burrito mixture is evenly spread and thin as shown in the cooking video.

Place a lid over the burrito and leave to cook for 2 minutes.

Gently lift the burrito from the frying pan with a clean spatula onto a plate.

Add your favourite fillings then roll up and enjoy.
Notes
Fillings are additional to the nutrition panel below.
If you want to pack these for a healthy lunchbox, allow the burrito to cool first, then add the fillings and roll up. Secure and wrap using baking parchment.
Nutrition
Serving:
1
burrito
Calories:
332.7
kcal
Carbohydrates:
1.5
g
Protein:
11.8
g
Fat:
31.1
g
Sodium:
1400.7
mg
Potassium:
147.9
mg
Sugar:
0.4
g
Vitamin A:
1277.5
IU
Vitamin C:
0.2
mg
Calcium:
73.2
mg
Iron:
1.6
mg
Related breakfast recipes:
Get our FREE guide to finally fix your metabolism!
Losing weight & getting healthy is never easy, but lately you might feel like it's suddenly become impossible.
Our Flip the Switch guide will help you clearly understand what's been going on, as well as exactly what you can do to get your metabolism working again so that you can look and feel your best—it's easier and more simple than you think!