This 3 ingredients EGG-FREE easy keto pasta noodles recipe is about to blow your mind! It tastes even better than regular pasta and only has 1 gram of carbs per serving!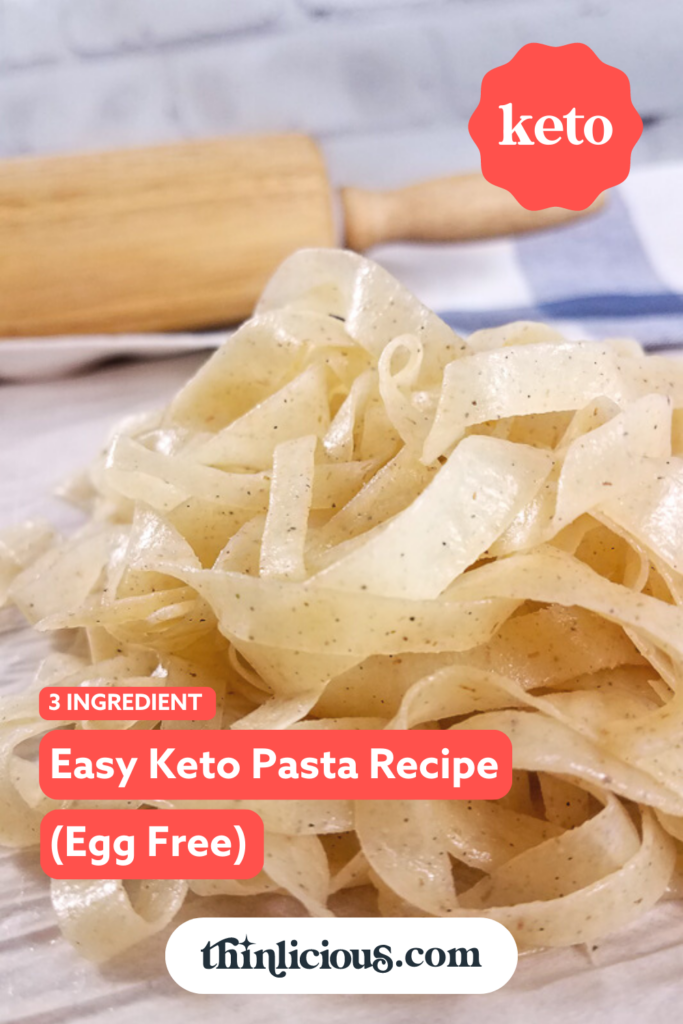 This keto pasta recipe tastes even better than traditional pasta noodles. Stir your favorite pasta sauce for a delicious dinner that the whole family will love.
You can now enjoy a pasta night that won't take you off your low-carb lifestyle or keto diet. You don't even need a pasta machine or a pasta cutter.
Are you ready to create the ultimate 12-month blueprint for reaching your health & weight loss goals this coming year?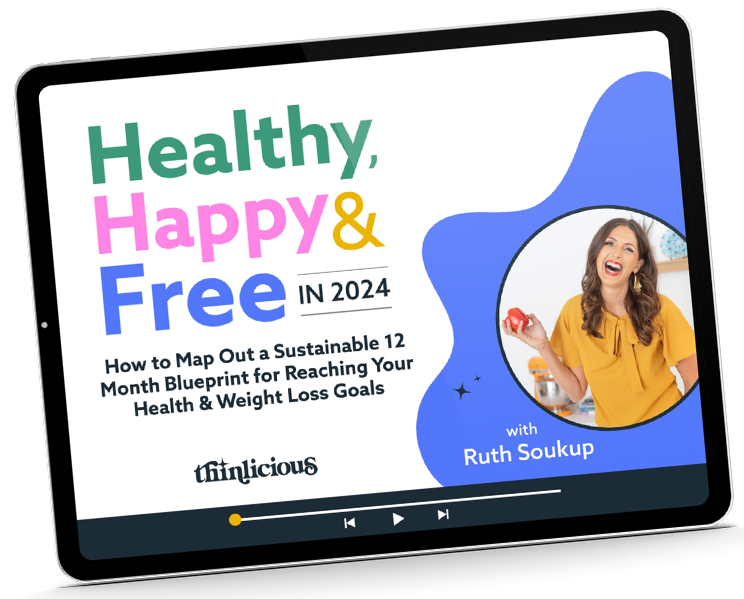 Our free on-demand video training will walk you through how to make 2024 THE year you set health goals…and keep them.
Can you eat pasta on a keto diet?
Regular pasta is made with wheat flour and so avoided on the keto diet.
You need to avoid wheat flour pasta when on a low carb or keto diet. The nutritional information for just one cup (140g) of pasta may be up to 44 grams of carbohydrates. That's more than the recommended daily carbohydrate intake for anyone on a keto diet. Weight loss will stop or you may plateau.
You can however eat keto pasta alternatives such as keto pasta or zoodles (spaghetti noodles). Or use thin strips of sliced vegetables as a quick and easy pasta alternative in lasagna. Vegetables make wonderful and nutritious low-carb pasta alternatives. Just use a spiraliser or a vegetable peeler.
What is keto pasta made of?
Store-bought keto pasta is often made using konjac root, xanthan gum, almond flour noodles, or hearts of palm. Shirataki noodles and miracle noodles are popular healthy noodles with low calories or zero calories.
Ready-made low-carb pasta is convenient to buy from the grocery store, but it can be expensive. Low-carb noodles (pasta) often taste a little funky or completely tasteless and odorless.
Ingredients you need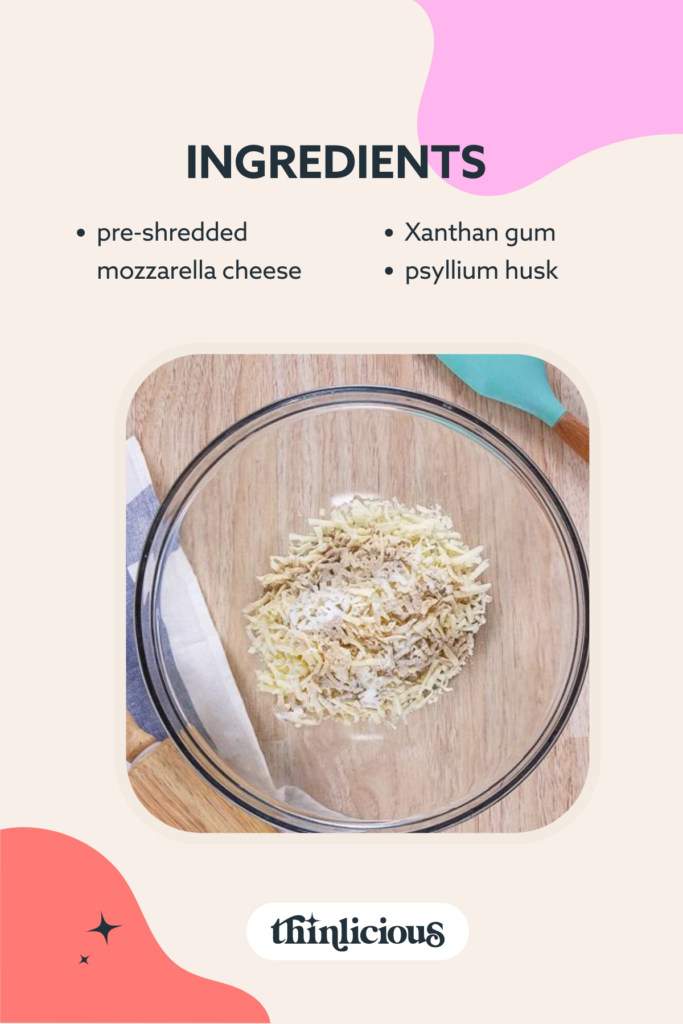 Sometimes you want that authentic traditional pasta taste. Homemade 3-ingredient keto pasta only needs 3 simple items from your pantry and fridge.
Many keto pasta recipes require almond flour or egg yolks, this is one of those keto recipes you will come back to time and time again.
Pre-grated/shredded mozzarella – always choose low-moisture mozzarella
Psyllium husks – for the best keto pasta noodles
Xanthan gum – keeps the pasta dough stretchy and bendy
See the recipe card and recipe notes below for quantities and full instructions.
The xanthan gum and the psyllium husk transform the softened and melted cheese into a wonderfully bendy, pliable, and healthy low-carb pasta. They don't even need cooking. Simply stir through your favorite low-carb sauce.
What is mozzarella dough?
Mozzarella dough (also known as Fat Head dough) is a combination of mozzarella cheese, almond flour, cream cheese, and an egg. This pasta dough is different because it does not contain:
Egg-free
Almond flour-free
Cream cheese free
But most importantly it DOES contain xanthan gum and psyllium husk. These are both vital ingredients to make the pasta alternative flexible and pliable.
The idea for this pasta recipe was inspired by all the success I've had cooking with mozzarella dough. If shredded mozzarella cheese can be used to make tasty recipes like chaffles, pizza, and bagels surely it can be used to make pasta as well.
By adapting the original fat head dough recipe, I have managed to get as close to the texture of traditional pasta as possible.
You'll still get to experience slippery noodles that are firm and not soggy, but without all the carbs. This is one of my favorite recipes to keep me satisfied on my low-carb diet.
This recipe is the perfect size to feed two people and the noodles are filling since they are made with shredded mozzarella cheese. The shape is similar to egg noodles and makes for the perfect low-carb pasta recipe. You are going to love this pasta recipe!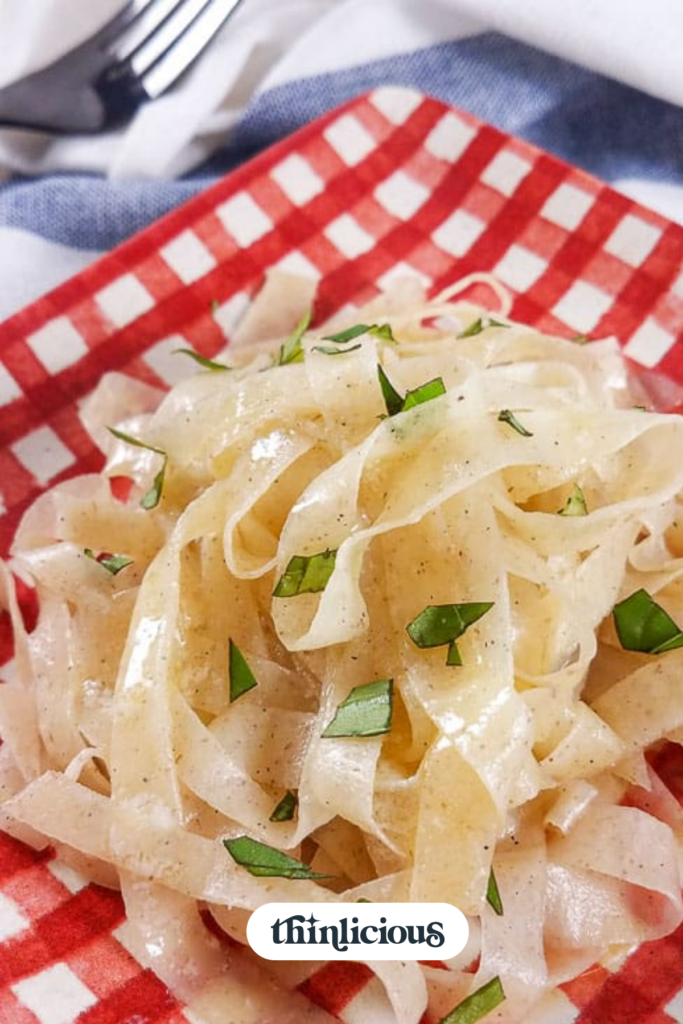 3 Ingredients
To make keto pasta you will need three simple ingredients:
Store-bought low-moisture pre-shredded mozzarella cheese – this gives the structure and the body to the pasta.
Unflavored psyllium husk – this swells and absorbs any moisture and allows the pasta to be soft and pliable. Make sure you buy the unflavoured psyllium husk. Don't make the mistake of thinking you can use a medical-grade psyllium husk that is often sold in your local pharmacy.
Xanthan gum – you must use xanthan gum to make the pasta bendy, soft, and that true pasta texture.
Where to find the ingredients
All three ingredients in this pasta are pretty common in most grocery stores these days. Xanthan gum can usually be found in the baking aisle or gluten-free section of your grocery store.
Psyllium husk can be a little harder to locate in the store if you don't know where to look. Psyllium husk is typically stored in the same area as vitamins as it is dietary fiber.
BEWARE: Do not buy the pharmacy (drug store) psyllium husk powder, it will contain flavors, additives, and sweeteners intended to make the psyllium fiber into a drink – definitely not what's wanted in this keto pasta recipe!
Both psyllium husk and xanthan gum can be bought online as well if want to save yourself a trip to the store.
Step-by-step instructions
The first step is to mix all three ingredients together in a large microwave-safe medium bowl. Then, microwave for 1 minute.
Take the dough out of the microwave, stir the dough to ensure the 3 ingredients are mixed thoroughly, then microwave the dough again for another 30 seconds.
While the dough is still hot place it in between two pieces of parchment paper. Then roll the dough into a thin sheet with a rolling pin. The dough is very easy to roll out while it is hot.
Once your pasta dough is rolled into a thin sheet, remove the top piece of parchment paper. Then, cut it into thin strips using a knife, pizza cutter, or even a pasta machine, pasta cutter, or noodle machine if you have one.
Cut the keto pasta into whatever thickness or shape you want. However, if you want the dough to stick together for bow-tie pasta or ravioli you will need to shape the pasta while it is still warm or the pasta won't stick together.
You can even use the keto pasta to make low-carb skillet lasagna.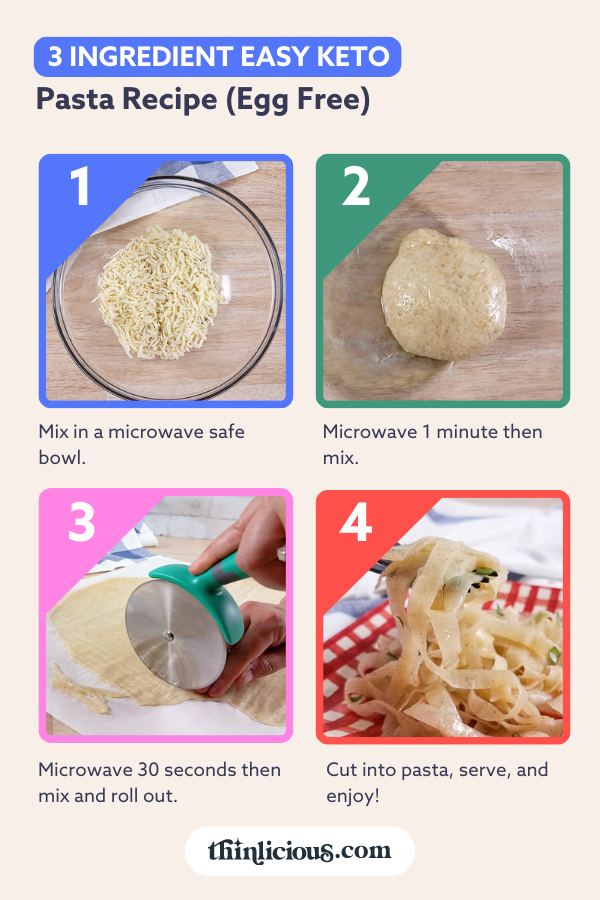 How to cook keto noodles
Cooking this keto pasta recipe is incredibly easy, but definitely different from the traditional cooking method.
All the ingredients in the pasta are already cooked so it doesn't actually need to be cooked at all – just warmed up!
To make the pasta slippery like the traditional pasta you can either –
a) blanch the pasta in boiling water for 1-3 seconds, then rinse it in cold water OR
b) toss the pasta in a warm creamy sauce just before serving. The heat from the sauce will warm up your keto pasta pronto.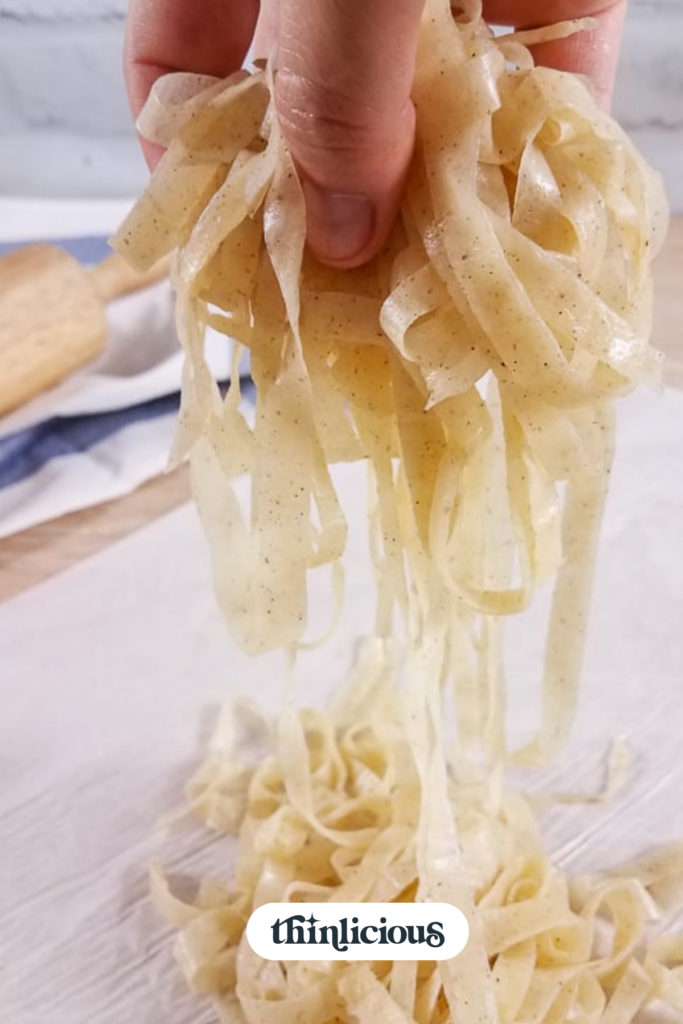 DO NOT let the keto pasta sit in boiling water! Your pasta is made of cheese so too much heat will make pasta dissolve and become completely melted.
A quick dip in boiling water or a toss in a warm sauce is the perfect amount of heat. Remember it doesn't need to be cooked at all since there are no raw ingredients. Just add pasta to warm spaghetti sauce.
How to store keto pasta
This egg noodle keto pasta recipe will hold well in the refrigerator overnight or freezer if you want to make a few batches in advance to eat in the future.
To store the egg-free pasta divide your pasta into small portions on a lined baking sheet (large baking tray) then flash freeze the pasta for about 20-30 minutes.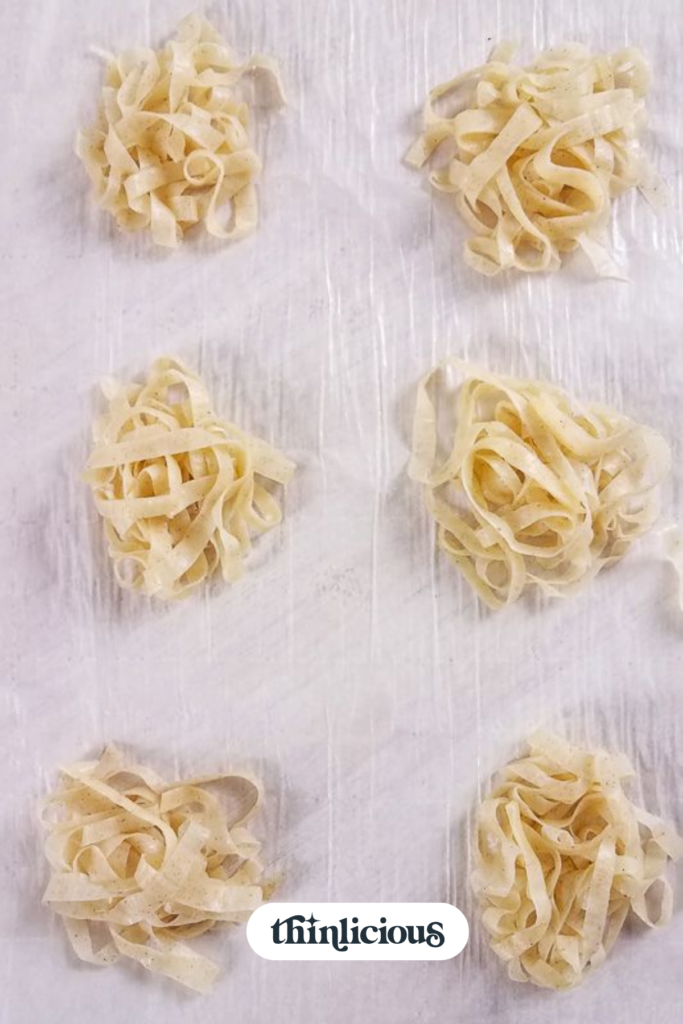 When you are done flash freezing the low-carb pasta noodles move the smaller portions into an airtight container or bag and store the pasta in the refrigerator or freezer.
The pasta will last in the refrigerator for up to a week. Pasta stored in the freezer will last for 1 to 2 months.
TOP TIP: Do not wrap in plastic wrap as it tends to stick to the pasta noodles.
How to serve pasta noodles
Once you learn how to cook these simple low carb-noodles, you'll find yourself making them constantly! They are the perfect side dish for chicken, beef, and pork recipes.
Luckily, the options are endless with this versatile dish! Here are just a few of the things to do with this keto pasta:
Pasta carbonara – make these with the classic combination of egg, egg yolk, bacon, and parmesan cheese. This is my favorite way to satisfy my pasta cravings currently!
Serve with your favorite pasta sauces – whether you prefer classic marinara, a zesty pesto sauce, or a creamy alfredo sauce, this homemade keto pasta works with them all.
Layer these into a keto lasagna – use this keto pasta to make low-carb skillet lasagna
Mix with melted cream cheese and olive oil – if you haven't tried cream cheese pasta you will LOVE this combination!
Serve alongside your favorite non-starchy vegetable noodles. If you want to incorporate more veg into your life, make this a 50-50 dish with have vegetable noodles. Some of my favorites include spaghetti squash, kelp noodles, zucchini noodles, or any other veggie. You also could make noodles from sweet potatoes or any other root vegetable, but you need to watch your carb intake carefully if you are on the ketogenic diet.
Keep it simple with a drizzle of olive oil and a sprinkle of Italian seasoning.
Any other way someone might enjoy traditional wheat pasta! These noodles are the real deal, so feel free to swap and experiment. You can also try these in traditional pasta dishes like casseroles. This is a great way to change things up!
I hope you love these low-carb keto pasta noodles and can't wait to see all the tasty dishes you make with them. Once you experience how easy it is you will be hooked. Enjoy!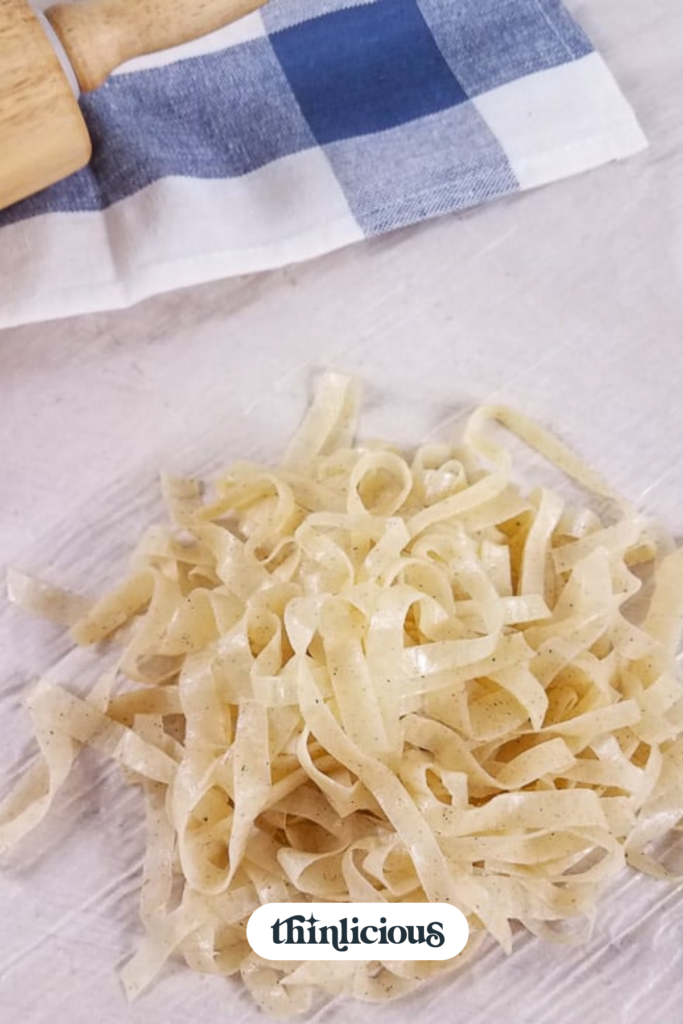 Keto pasta FAQ
How many carbs are in keto pasta noodles?
There is 1 gram of net carbs per serving in this keto pasta recipe. See the recipe card below for the full nutritional information.
How many carbs are there in zucchini noodles?
There are 2.1 grams of net carbs per 100g of zucchini noodles.
What is the best low-carb sauce?
The easiest low-carb pasta sauce is the 3 ingredient spaghetti sauce. Simmer no sugar tomato sauce with onion powder and garlic powder until thick and reduced. If you miss pasta this is the best sauce
Do I need a pasta maker?
No, you don't need a pasta maker, pasta machine, pasta roller, or pasta cutters to make low-carb pasta. You only need a rolling pin and some baking parchment paper.
What kind of pasta is keto-friendly?
The best low-carb pasta is these keto noodles or zoodles (zucchini pasta noodles). They don't even need cooking, they just need a hot spaghetti sauce to be stirred through and then covered in shredded parmesan cheese.
Can I eat pasta on a keto diet?
Regular pasta should be avoided but these keto noodles are perfect for a keto low-carb diet with only 1g of net carbs per serving.
Are egg noodles OK on keto?
Always check the nutrition labels, but most egg noodles and cooked pasta do not fit into keto meal plans. They contain wheat flour and other high-carb ingredients.
How to make homemade keto spaghetti sauce?
For an easy low-carb pasta sauce, simply simmer canned tomatoes with onion powder and garlic powder, then sprinkle some Italian herbs over the top to serve.
Do I have to use xanthan gum?
Yes, the xanthan gum makes the pasta keto because there is no wheat flour or gluten to make the keto noodles stretchy and bendy.
Do I need a food processor?
No, this is one of those keto recipes that is made in one large microwave-safe bowl. It's a great recipe for those who hate washing up dirty dishes.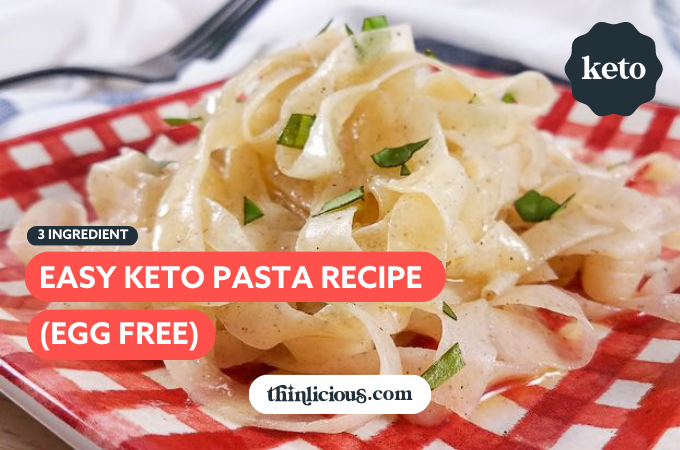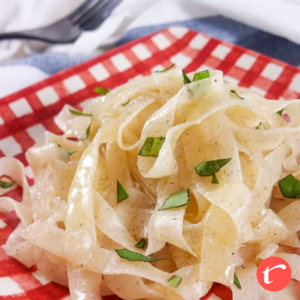 3 Ingredient Easy Keto Pasta Recipe (egg-free)
This easy keto pasta will blow your mind. It can be made from scratch in a few minutes and doesn't contain gluten, eggs, or nuts. The perfect recipe for 2 or double to feed 4.
Print
Pin
Rate
Want to lose weight and get healthy for life—without dieting, drugs, or making yourself miserable?
We can help! Tell me how!
Equipment
Rolling Pin

Parchment Paper

Pizza Cutter
Ingredients
1 1/2

cup

pre-shredded/grated mozzarella

low-moisture

1/2

tbsp

psyllium husk

1/2

tsp

xanthan gum
Instructions
In a microwave safe bowl toss together all three ingredients. Make sure the cheese is coated with the psyllium husk and xanthan gum.

Microwave the cheese dough for 1 minute. Remove it from the microwave to quickly stir and then microwave again for 30 seconds. Mix the dough again to form a ball.

While the dough is still hot place it between two sheets of parchment paper. Using a rolling pin roll out the dough into a thin sheet. Remove the top layer of parchment paper and cut the dough into noodles using a knife, pizza cutter, or pasta maker if you have one.

Finally serve the pasta tossed in a warm sauce or quickly blanch the pasta in boiling water for 1-2 SECONDS before rinsing in cool water. There are no raw ingredients in the pasta so it does not need to be cooked, just warmed up. To store the pasta flash freeze it and then store it in an air tight container in the refrigerator or freezer. Enjoy!
Nutrition
Serving:
1
serve (serves 2)
Calories:
96
kcal
Carbohydrates:
3.4
g
Protein:
6.2
g
Fat:
6.3
g
Sodium:
197.2
mg
Potassium:
21.3
mg
Fiber:
2.4
g
Sugar:
0.3
g
Vitamin A:
189.3
IU
Calcium:
148.9
mg
Iron:
0.1
mg
More keto bread and pasta recipes
Get our FREE guide to finally fix your metabolism!
Losing weight & getting healthy is never easy, but lately you might feel like it's suddenly become impossible.
Our Flip the Switch guide will help you clearly understand what's been going on, as well as exactly what you can do to get your metabolism working again so that you can look and feel your best—it's easier and more simple than you think!