Now you can make your own homemade pate with just 3 simple ingredients.
This super easy low-carb pate recipe is almost zero carbs and the perfect way to eat organ meat (even if you hate liver).
Easy homemade pate
If anyone had told me a year ago I would be making my own pate, I would have said you were bonkers. But the more I read about how we should be eating more organ meat, and the only way I know how is through eating pate, then I thought I'd give it a go.
Well it turns out to be one of the easiest things I have ever made. Easy low carb pate only used 3 ingredients and takes about 20 minutes, start to finish. PLUS you know exactly what goes into it.
Are you ready to create the ultimate 12-month blueprint for reaching your health & weight loss goals this coming year?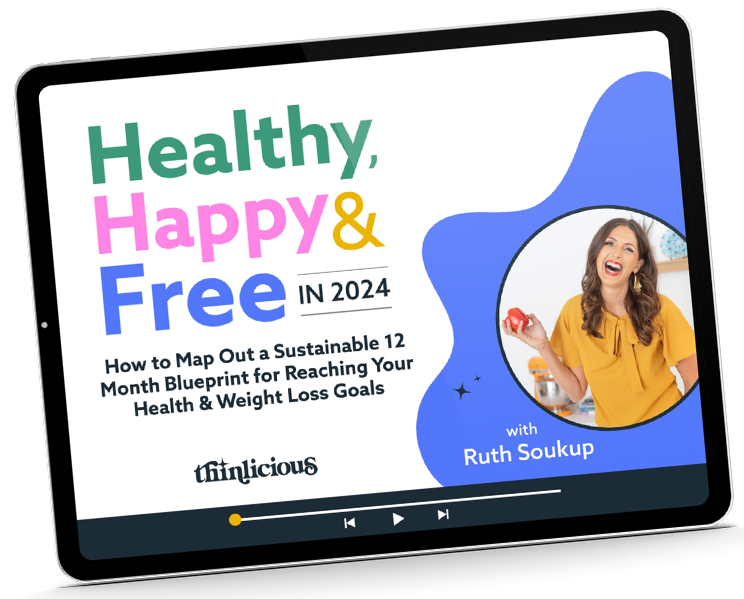 Our free on-demand video training will walk you through how to make 2024 THE year you set health goals…and keep them.
What is in pate?
Pate should only contain organ meat such as liver, butter, herbs, and seasoning.
I absolutely adore pate but finding a store-bought pate that has no added nasties, no wheat fillers or starchy packers is incredibly difficult and incredibly expensive. Take a look at a pate label next time you're at the supermarket and see how little meat is actually in there – not much huh?
Organ meat
Why should we eat more organ meats? Both from a budget and nutritional perspective. Organ meats are one of the most nutrient-dense parts of the animal, packed with Vitamin B group, fat-soluble vitamins A, D, E, and K, magnesium potassium, copper, selenium …..
Almost every culture places high regard on eating organs and all other parts of the animal, but in Western society, we have shunned it, surrounding organs with modern food snobbery.
Organs are relatively cheap compared to muscle meat, and by eating organs, we are utilizing and respecting more of the animal, putting less pressure on intense farming.
I'm just as squeamish as the next person and have been brought up with a disregard for eating organs, but I can handle them in pate or dice finely within a mince/ground beef dish where they can cheaply bulk up a meal without giving the strong flavorsome organ meat has.
Keto crackers
Want to know how to serve pate now you're not relying on high-carb crackers? The most convenient is to serve it on slices of cheese or slices of cucumber. Genius!
Alternatively, you could make some wheat-free crackers or some FatHead crackers. Both are incredibly tasty and have no grains, no gluten, no wheat, is low carb and nutritious.
If you want a traditional-style cracker, you can make wheat-free crackers, keto chilli crackers, or even toast slices of almond flour bread.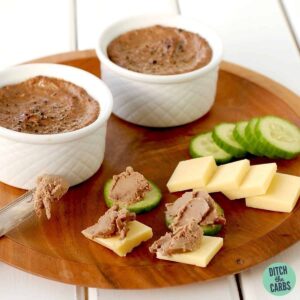 Easy Keto Garlic Pate Recipe
Easy low-carb garlic pate is an easy way to work more organ meat into your diet. Organ meat is incredibly nutritious.
Print
Rate
Want to lose weight and get healthy for life—without dieting, drugs, or making yourself miserable?
We can help! Tell me how!
Ingredients
300

g

chicken livers

110

g

butter

2

cloves

garlic minced

crushed

1

tbsp

cracked black peppercorns

salt

to taste
Instructions
Prepare the chicken livers by washing them then patting them dry in between kitchen paper.

Cut each liver in half , trim and remove the fatty or sinew pieces. I find it easier to use scissors for this, rather than a knife.

Melt the butter in a saucepan on a low heat and gently fry the garlic until cooked.

Add the chicken livers. Cook for 10 minutes, stirring occasionally.

Remove from the heat then puree with a stick blender using the blade attachment, until smooth.

Stir through the peppercorns then season with salt to taste.

Pour into ramekin dishes, and refrigerate until set.

These will keep for 5 days in the fridge.
Nutrition
Serving:
15
g
Calories:
89
kcal
Carbohydrates:
0.3
g
Protein:
5
g
Fat:
7.5
g
Get our FREE guide to finally fix your metabolism!
Losing weight & getting healthy is never easy, but lately you might feel like it's suddenly become impossible.
Our Flip the Switch guide will help you clearly understand what's been going on, as well as exactly what you can do to get your metabolism working again so that you can look and feel your best—it's easier and more simple than you think!