I found the 10 tools that will make you love your Instant Pot even more – if that's even possible!
Making low-carb meals just got much easier, thanks to the Top 10 Best Instant Pot Accessories.
The best thing about the Instant Pot is how easy it is to make low-carb meals fast.
The Top 10 Best Instant Pot Accessories
If you have an Instant Pot or want to get one soon, then you need these accessories to go with it. Everything on this list will serve a specific purpose. From steaming veggies to diverting steam and letting you have a peek into your Instant Pot, these are the things you need to help you cook even more delicious meals in your Instant Pot.
Are you ready to create the ultimate 12-month blueprint for reaching your health & weight loss goals this coming year?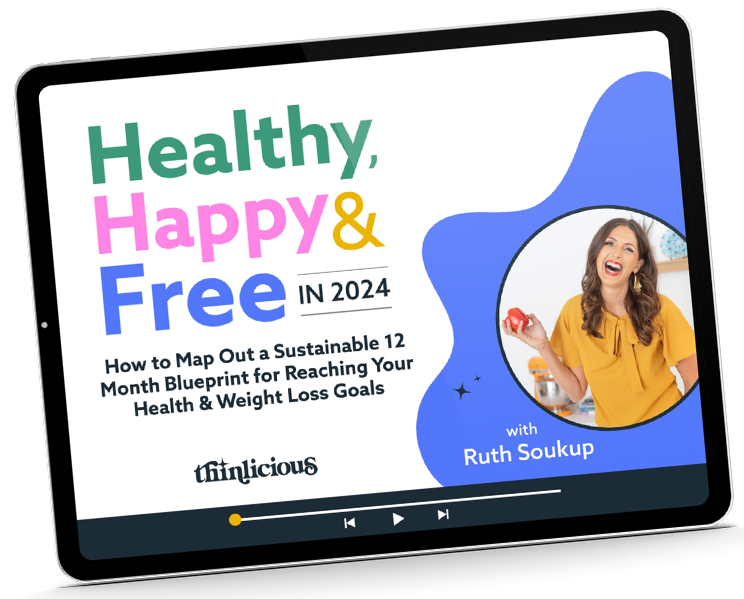 Our free on-demand video training will walk you through how to make 2024 THE year you set health goals…and keep them.
1. Instant Pot Trivet
An Instant Pot trivet looks like a wire basket. With a trivet, it's a lot easier to take food in and out of your Instant Pot. No more scraping or digging around, just lift the trivet and pull out your perfectly steamed veggies. The best ones will have handles so you don't have to reach deep into the pot to grab your veggies and meat.
Just grab the basket handles with potholders, lift out the trivet and serve your food. Easy!
2. Instant Pot Steamer Basket
Another tool to help you perfectly steam veggies is a steamer basket. It's also fantastic for steaming seafood like shrimp, crawfish, and crab.
The steamer basket also has a handle so you can easily grab it when it's finished cooking. Another bonus? It's dishwasher-safe for easy cleaning too.
These do the same kind of thing as trivets, except it's a basket so it's best for really small veggies (like finely chopped cauliflower florets). It keeps everything in the basket instead of messing up your Instant Pot.
3. Instant Pot Steam Rack
This steam rack is smaller. It keeps your veggies and food lifted off the base of the Instant Pot so it steams it perfectly the first time.
You can also use the steam rack to hold a bowl to steam food. This rack is also needed so that items like hard or soft boiled eggs cook correctly
Plus, it's dishwasher-safe, so clean up is extra easy.
4. Instant Pot Glass Lid
A glass lid can be used instead of the opaque lid that comes with the Instant Pot. This is really nice to have because you can look in and see it cooking. Make sure the one you buy is tempered glass, it will last longer.
You can only use this lid with certain functions of the machine, like the slow cooking function. For any pressure cooking, you must use the safety lid that comes with the IP.
5. Instant Pot Inserts
The next things you need are some Instant Pot inserts. You can make an entire meal in these little pans. They are super cute and so handy. You can make your meal in the inserts, let them cool, and eat your lunch directly out of them. This saves you from having to dirty more dishes.
Plus, these inserts allow you to cook two things at once, such as chicken and rice. You'll need to research the timing and this method of cooking in the Instant Pot a bit more, but it can help you save time.
6. Instant Pot Rack
Do you love making hard-boiled eggs for your salads? Then you need this rack. It will steam 18 eggs all at once. It's really nice to have on hand. I love having hard-boiled eggs to snack on, so this is a must in my kitchen!
7. Silicone Egg Bites Mold
This cute little egg bites mold lets you make perfect omelette cups in your Instant Pot. Now you can have a low-carb breakfast without any effort. No more expensive coffee shop breakfast is necessary!
8. Steam Diverter
When your Instant Pot release steam, chances are it goes straight up and hits your cabinets which can damage the wood and paint finish. Protect your cabinets (and your hands!) with this tool.
This handy little steam diverter will push the steam to the sides instead of straight up. You don't know how much you need it until you try it.
9. Springform Pan
Get this — you can make low-carb cheesecake in your Instant Pot! Yum. Get this springform pan, it'll make all the difference. Don't stop there. You can also make other meals in it like casseroles or scrambles.
10. Mini Mitts
If you don't already have some mini mitts for your Instant Pot, you need them. The inner pot gets ridiculously hot and using conventional pot holders is really awkward. Believe me, you will really appreciate having these silicone mitts when it's time to grab that pot.
Healthy Low-Carb And Keto Instant Pot Recipes
Now you have the best Instant Pot accessr=ories, and you are raring to go, you'll need some easy healthy recipes to try.
Browse the entire catalogue of slow-cooker and Instant Pot recipes.
More keto Instant pot recipes
Get our FREE guide to finally fix your metabolism!
Losing weight & getting healthy is never easy, but lately you might feel like it's suddenly become impossible.
Our Flip the Switch guide will help you clearly understand what's been going on, as well as exactly what you can do to get your metabolism working again so that you can look and feel your best—it's easier and more simple than you think!