How to Plan a Low-Carb Christmas Dinner the Whole Family Will Love
What's the first thing that comes to mind when you think of Christmas dinner? Is it the glazed ham? Mashed potatoes and gravy? Or do you think of homemade pies for dessert?
Unfortunately, none of those decadent dishes are low carb friendly. But that doesn't mean you have to miss out on the holiday fun! With a few simple swaps and some clever planning, you can still indulge in all your Christmas favorites without breaking your low-carb plan.
To help you get started, we've put together this delicious low-carb Christmas menu everyone will love. From roasted turkey with homemade gravy to creamy mashed cauliflower, these recipes provide a guilt-free way to enjoy the holidays while sticking to your healthy eating goals. So sit back, relax and let us take care of dinner!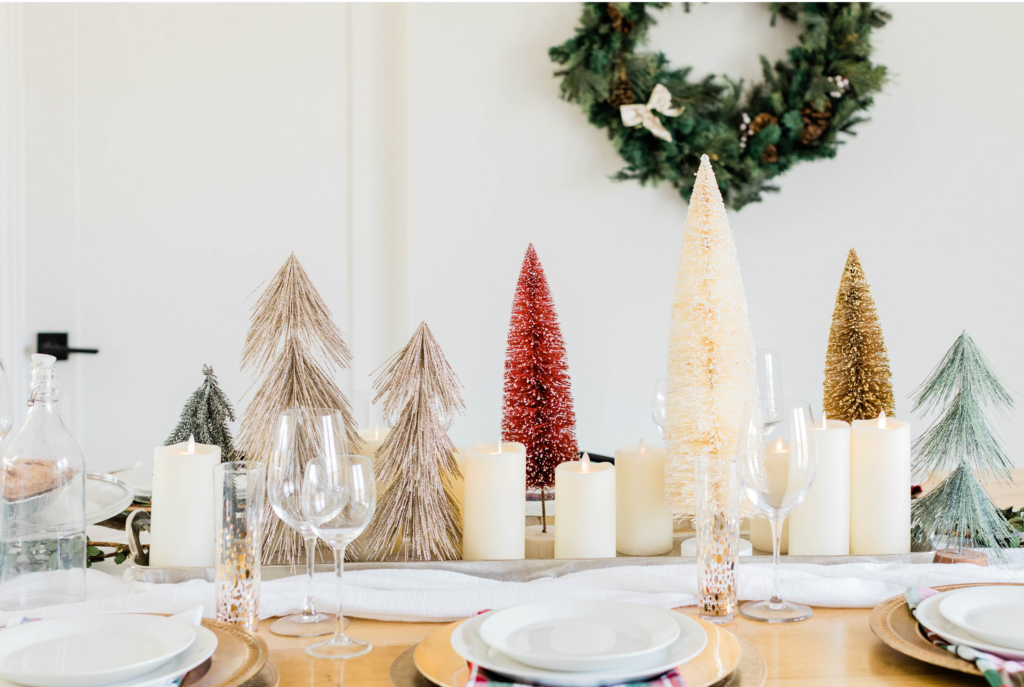 How To Create A Low-Carb Christmas Menu
Before we get to the menu and recipes, let's break down exactly how to make a Christmas dinner that everyone will love.
Start with a protein: The key to any successful meal is a quality source of protein. For Christmas dinner, we recommend a roasted turkey, beef tenderloin or pork loin.
Add flavor: Make sure your main dish has plenty of flavor and seasonings. Consider adding herbs like rosemary and thyme for an extra punch of flavor!
Choose low-carb sides: Once you have the main course sorted out, it's time to move on to the sides. Look for recipes that are low in carbs but still high in flavor, such as mashed cauliflower or roasted vegetables.
Don't forget the dessert: Just because you're eating low carb doesn't mean you can't indulge in a delicious dessert. Try baking a low-carb cake or making sugar-free keto ice cream!
You can also just leave the planning to us! Grab A Very Thinlicious Holiday, and you'll have the entire menu and shopping lists for all of the winter holidays in one place. (The shopping list is even organized by category and has blank spaces for you to add more to it.) This packet has everything you need for Christmas dinner (and New Year's brunch). It's all there. Planning is done!
While you're here, let's look at our favorite low-carb Christmas dinner recipes. We have even more recipes in the Thinlicious recipe index too.
Your Low-Carb Christmas Menu
Here it is! This is your ready-made, low-carb Christmas menu. Below you'll see options for the main course, sides and desserts. Pick and choose your favorites and get ready to make the tastiest Christmas dinner yet.
Here's a quick glance at what you'll see below. Scroll down to your favorite ideas:
Entree: Beef Tenderloin, roasted turkey or honey-glazed pork loin
Sides: Roasted cauliflower, au gratin fauxtatoes, keto cranberry sauce, low-carb cheddar biscuits or cheesy cauliflower rice
Dessert: No-bake chocolate cheesecake, pumpkin bars with cream cheese frosting or chocolate peanut butter truffles
Drinks: Wine or cran-lemon cocktail
Low-Carb Entrees
The main course is the easiest one to make low carb because it's usually roasted meat of some kind. All you have to do is avoid adding sugar, honey or syrup to the meat as a marinade or glaze. Instead, if you're going to make honey-glazed pork loin, use low-carb sugar substitutes.
Here are three super-tasty (and super-easy) Christmas entrees you can make.
Beef Tenderloin
The tastiest, juiciest, most drool-inducing entree for Christmas dinner is a succulent beef tenderloin. One 4-pound roast feeds 10 people!
The secret to this tasty beef tenderloin is a combination of fresh rosemary, dried parsley and Montreal Steak Seasoning.
In order to get the crispy seared outside and juicy middle, make this tenderloin in a cast-iron skillet. It can transfer easily from stove to oven!
Grab the entire recipe for juicy beef tenderloin in A Very Thinlicious Holiday.
Roasted Honey-Glazed Pork Loin
If you're making dinner for 8 or fewer people, a pork loin might be the way to go. This honey mustard glaze is sugar-free, thanks to the Wholesome Yum keto honey. We have the entire recipe here on Thinlicious.
It's a super-simple recipe that's ready in an hour.
Turkey
You can never go wrong with herbaceous turkey breast for Christmas dinner. It feeds everyone and is naturally low carb. When you roast it with fresh herbs, the aromas and flavors seep deep into each bite. We have the perfect turkey recipe in A Very Thinlicious Holiday.
Low-Carb Christmas Dinner Sides
These appetizing side dishes are so good! We tested them, and these are our favorites, hands down!
Cheesy Cauliflower
Even if your picky family members aren't huge fans of cauliflower, they will love this roasted cheesy cauliflower recipe!
This roasted cauliflower is crisp-tender and smothered in a rich and tangy cheese sauce that's enhanced by Dijon mustard and garlic powder. If you want it to have a bit of a bite, sprinkle some jalapeno cheese in with the cheddar cheese.
The full recipe for this cheesy cauliflower recipe is right here on Thinlicious.
Scalloped Au Gratin Fauxtatoes
Replace high-carb white potatoes with some turnips! They have the same color and texture—especially after you roast and bake them.
These au gratin fauxtatoes are covered in three different types of cheese, heavy cream and a zesty combination of spices.
The full recipe for au gratin fauxtatoes is in A Very Thinlicious Holiday. (Tip: Use a mandoline slicer. It makes the turnips the same size, and you can slice a bunch of them in no time at all.)
Keto Cranberry Sauce
It's a classic for both Christmas and Thanksgiving holidays, and homemade cranberry sauce is so easy to make that you'll wonder why you bought the canned stuff in the first place.
This tart and tangy keto cranberry sauce recipe is made with real cranberries and orange zest. It thickens perfectly, even without sugar or syrup!
Homemade keto cranberry sauce is on Thinlicious.
Low-Carb Cheddar Biscuits
Replace dinner rolls with some buttery keto cheddar biscuits. They are the perfect thing to add to your Christmas dinner menu because they are made with almond flour—which means they are also gluten-free.
They are perfect to eat on their own, topped with butter or dipped in keto gravy. Grab the recipe on Thinlicious.
Cheesy Cauliflower Rice
Cauliflower rice is an all-around perfect low-carb side dish that goes with anything you make. It's incredibly filling and satisfying while also staying low carb.
Kids and adults all love cheesy side dishes, and this will become a favorite!
This recipe is also on Thinlicious—check out how to make cheesy cauliflower rice next.
Low-Carb Desserts
Don't forget about dessert! Yes, even the sweetest and richest desserts can be low carb. Here are our three favorites. Make one (or all three!).
No-Bake Chocolate Cheesecake
You've been cooking all day, so make a no-bake chocolate cheesecake ahead of time and just keep it in the refrigerator until party time.
It has a chocolate almond crust and a thick, creamy, rich, chocolate filling. Absolutely everyone will be asking for seconds, so you might want to make two of these cheesecakes!
This easy no-bake chocolate cheesecake recipe is in A Very Thinlicious Holiday. Snag your copy and make a dessert that will disappear!
Pumpkin Bars With Cream Cheese Frosting
These low-carb pumpkin bars are one of the most popular recipes on Thinlicious. The base is cake-like, with sweet pumpkin puree. Then, they are topped with a cream cheese frosting that's thick and rich without being overly sweet.
They are low carb and high fat without any funny aftertaste or textures. You really can't tell it's a keto-friendly dessert. Grab the keto pumpkin bars recipe and make them for Christmas dinner.
Low-Carb Chocolate Peanut Butter Truffles
Bite-sized desserts are always a good idea for Christmas dinner (or any party, really). These little chocolate peanut butter truffles look and taste like rich, fudgy truffles. You can call them truffles (like I just did) or low-carb chocolate cheesecake snack bites – either way, they are super tasty!
Since they are made with cream cheese, they are extremely filling and rich. This is a fantastic dessert to munch on if you want to prevent the temptation to overindulge. The easy chocolate peanut butter cheesecake bites are here on Thinlicious.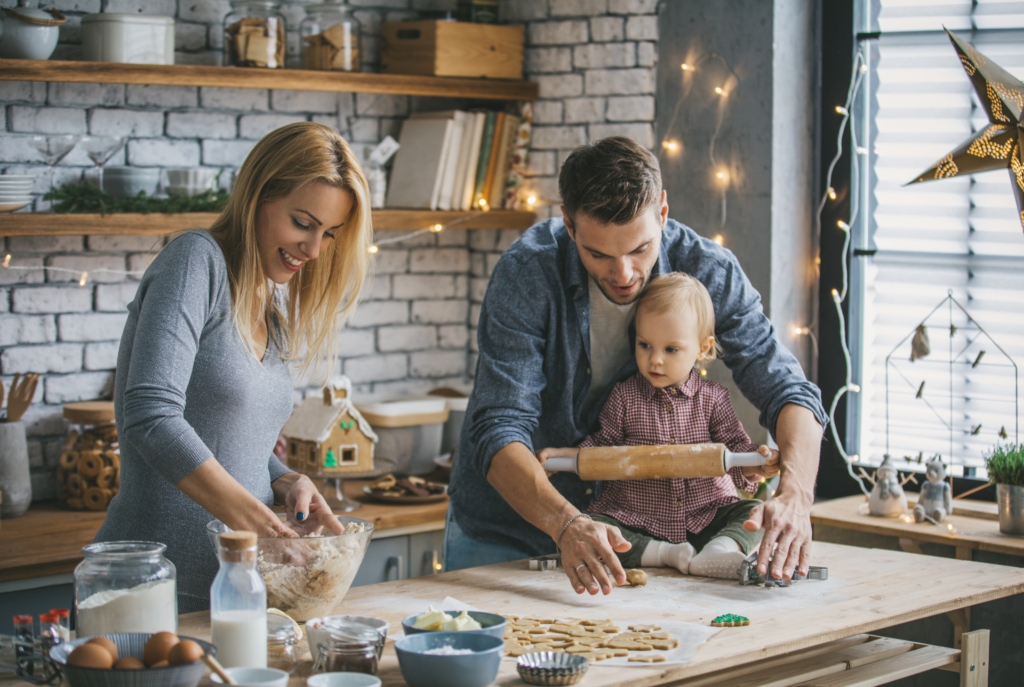 Holiday Drinks
Pour yourself a glass of something bubbly or sweet, and reward yourself for a successful Christmas dinner.
Wines
As long as you aren't just starting out on Phase 1 of the Thin Adapted System, go ahead and pour yourself a glass of wine. It's better to enjoy dryer choices vs. sweet or dessert wines. They will have fewer carbs and less sugar.
These are the best choices for low-carb wines:
Champagne
Pinot Grigio
Sauvignon Blanc
Dry Riesling
Merlot
Cran-Lemon Cocktail
If you'd rather mix a fruity drink, then make a cran-lemon cocktail with dinner.
You can make this with or without alcohol. If you spike the cocktail, use vodka. If not, just mix together some unsweetened cranberry juice, club soda, lemon and sweeteners.
The entire recipe for this festive drink—including which sweeteners we prefer to use with it—is in A Very Thinlicious Holiday.
Christmas Weight Loss
You don't have to wait until January to lose weight! You can drop pounds in December, too! A Very Thinlicious Holiday is the secret weapon you need.
It takes you through the planning (and mindset shift) and even lists out both holiday/Christmas and New Year's meals for you. With shopping lists, recipes and tips, you'll be prepared to thrive this month.
Are you new to low-carb living or ready to reset and take control?
Start with the New Year, New You Challenge. It's a four-week plan designed to introduce you to this new way of eating and help you change how your body burns fuel forever.
PIN FOR LATER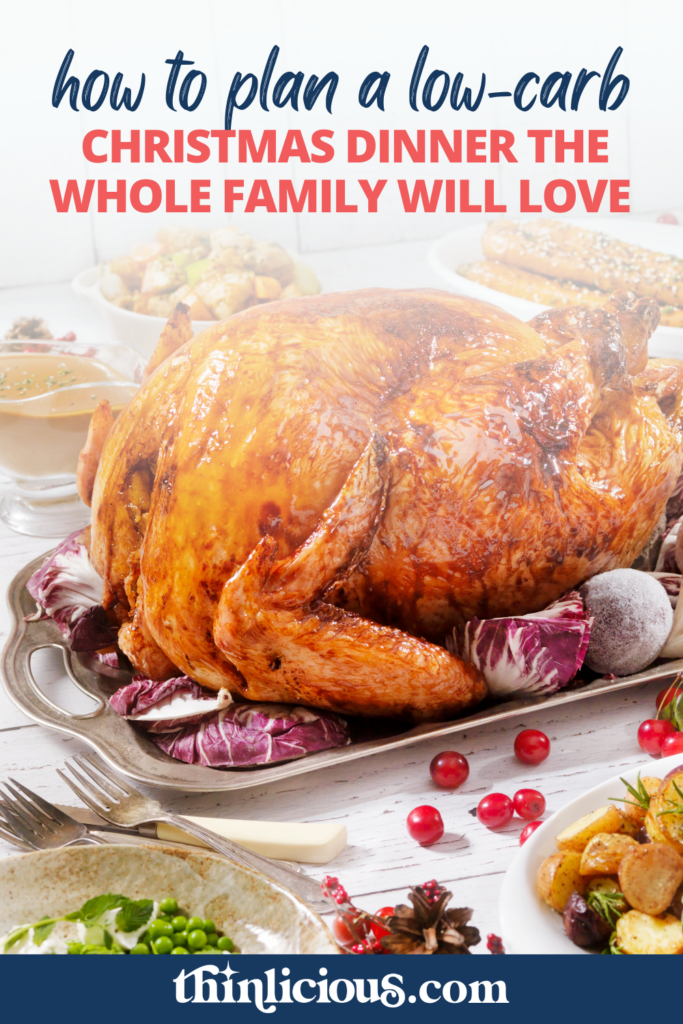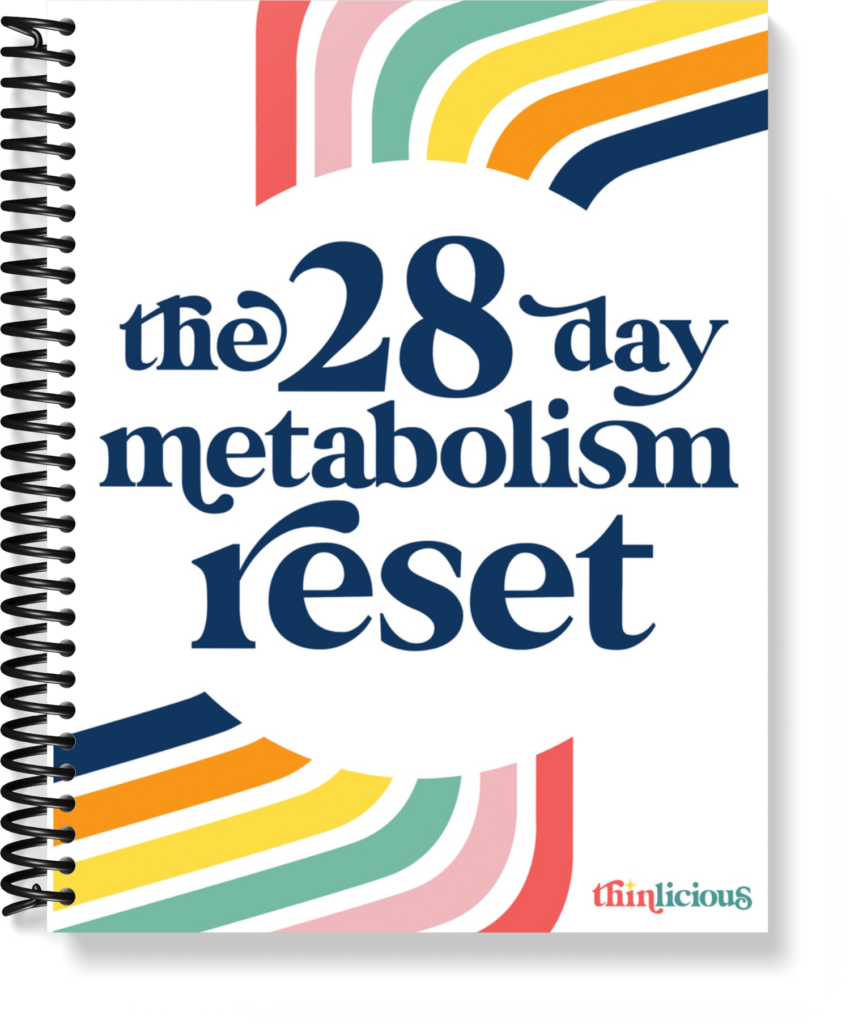 Love what you see?
Check out our 28 Day Metabolism Reset program! Our easy to follow program has helped thousands of women lose weight and feel great, without feeling hungry all the time. Now is your chance to get all the tools you need to succeed (even when your life feels crazy)!