So what's The Big Fat Surprise? – read why I have dedicated this recipe, and watch the TedX below to learn why butter, meat and cheese belong in a healthy diet. Learn how the flawed dietary guidelines are still here today and watch as each dietary myth is debunked.
Lamb and Halloumi Rolls
I promised to develop a recipe for Nina Teicholz, author of Big Fat Surprise. I wanted Nina to have a recipe which would become just as famous as Tom Naughton's FatHead pizza. – together, we chose the idea of lamb noisettes with a hidden surprise of spinach, rosemary and haloumi.
Rolled lamb noisettes are just as ideal for a family meal (my children loved this recipe and wanted more) or to serve to dinner guests. The rolled lamb noisettes can be prepared ahead of time then simply cooked just before your guests arrive. They can be cooked in the oven, in the frying pan or even on the BBQ. This is the epitome of "Real Food, Real Easy" which has become my tag line for a very good reason. Good food really shouldn't be complicated.
Are you ready to create the ultimate 12-month blueprint for reaching your health & weight loss goals this coming year?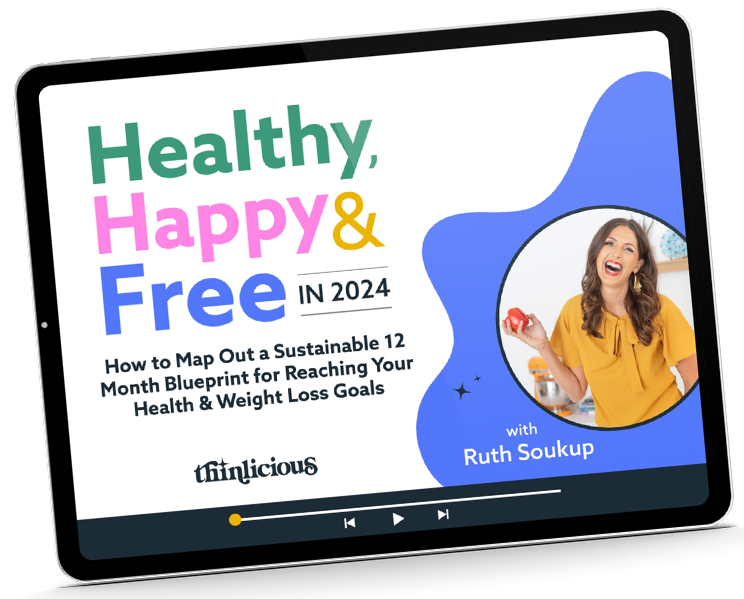 Our free on-demand video training will walk you through how to make 2024 THE year you set health goals…and keep them.
The Big Fat Surprise is the ultimate book on nutrition which took 9 years of dedicated research. It lifts the lid on the myths surrounding the science of nutrition and food politics.
Nina dedicated 9 years to The Big Fat Surprise. She read thousands of scientific papers, interviewed almost every nutrition expert in the US, countless food industry executives and learned the complex intricacies of nutrition science – "finding out the truth for me was all-consuming 9 year obsession." – " The results were startling."
Nina summarises The Big Fat Surprise – "This book lays out the scientific case for why our bodies are healthiest on a diet with ample amounts of fats and why this regime necessarily includes meat, eggs, butter, and other animal foods high in saturated fat. The Big Fat Surprise takes us through the dramatic twists and turns of fifty years of nutrition science and lays out the evidence, so that a reader can fully understand the evidence to see for themselves how we arrived at our present understanding.
The Big Fat Surprise - the perfect mediterranean meal.
At it's heart, this book is a scientific investigation, but it is also a story about the strong personalities who corralled colleagues into believing their ideas. These ambitious, crusading researchers launched the entire American population, and subsequently the rest of the world, on the low-fat, near vegetarian diet, a regime that ironically may have directly exacerbated many of the ills it was intended to cure."
If you are new here, this page may help you understand how to start and this page will show you what I keep in my pantry.
Who should I dedicate the next recipe to? The Fat Emperor would be fun.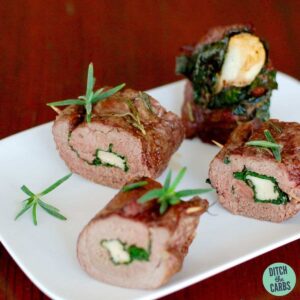 Big Fat Surprise
The healthy Mediterranean diet is summed up by my "Big Fat Surprise". Succulent lamb rolled around halloumi cheese and spinach.
Print
Rate
Want to lose weight and get healthy for life—without dieting, drugs, or making yourself miserable?
We can help! Tell me how!
Ingredients
600

g

lamb

butterflied or steak

50

g

leafy greens chopped

spinach/silverbeet/swiss chard

85

g

haloumi

fresh rosemary

salt and pepper

to taste
Instructions
If your cut of lamb is too thick (I bought a butterflied leg of lamb) then using a meat tenderizer or rolling pin, hammer it out until it is thin enough to roll up. Roughly 1.5cm / 0.6 inch.

Place a layer of spinach (or any leafy greens) on top of the lamb.

Cut the halloumi into strips and place onto the spinach.

Sprinkle fresh rosemary, salt, and pepper all over.

Roll up tightly and place toothpicks along the length of the meat to stop the lamb from opening whilst cooking.

Oil a roasting dish and roll the rolled lamb noisettes in the oil. Add more salt and pepper to your taste.

Cook at 180C/350F for 30 – 40 minutes depending on the size and thickness of the lamb. I like mine slightly undercooked in the center.

Remove from the heat and cut into 5cm/2 inch noisettes.
Nutrition
Calories:
421
kcal
Carbohydrates:
0.4
g
Protein:
44
g
Fat:
25.8
g
Fiber:
0.3
g
Sugar:
0.05
g
Get our FREE guide to finally fix your metabolism!
Losing weight & getting healthy is never easy, but lately you might feel like it's suddenly become impossible.
Our Flip the Switch guide will help you clearly understand what's been going on, as well as exactly what you can do to get your metabolism working again so that you can look and feel your best—it's easier and more simple than you think!