Prepare yourself for this easy sugar-free nutty granola – with no shredded coconut. You and your kids will love this granola as a healthy breakfast or nutrient-rich snack.
It's especially for those who hate shredded coconut in their granola, muesli or cereal. Sprinkle over yoghurt or ice cream to add some crunch.
Important Note: This recipe is not intended to be allergen-free. This recipe is free from desiccated/shredded coconut for those readers who dislike coconut flavours and those who dislike the texture of desiccated/shredded coconut. Many readers have requested grain-free granola that does not taste of coconut or contain coconut flakes or pieces that many low-carb granola recipes contain. The recipe below uses coconut oil. If you wish this to be completely free of coconut, then you may wish to use another oil that you can tolerate in its place.
Nutty granola – why no shredded coconut

?

Finding a good sugar-free, gluten-free, and coconut-free nutty granola at the store can be an expensive challenge. The good news is that granola is extremely easy to make at home and can be tailored to your taste.
Are you ready to create the ultimate 12-month blueprint for reaching your health & weight loss goals this coming year?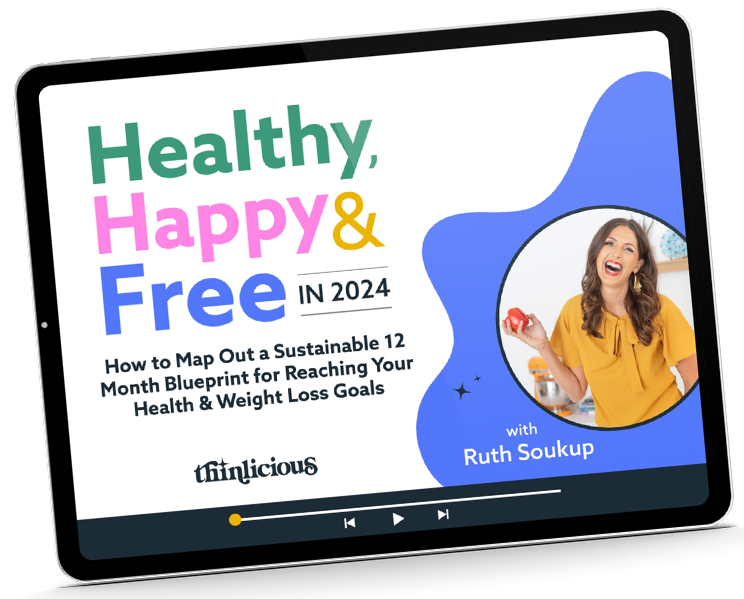 Our free on-demand video training will walk you through how to make 2024 THE year you set health goals…and keep them.
So many readers in my email community have asked me to make a granola recipe that does not contain any shredded coconut. Some people are more sensitive to the coconut taste than others. This is a quick and easy recipe to enjoy a healthy sugar-free nutty breakfast (without the coconut).
This nutty granola can be served on your morning bowl of yogurt or even sprinkled on top of ice cream to add some crunch and added flavor.
Ingredients
Nutty granola is made with a variety of nuts and seeds that will give you a nice serving of healthy fats, omegas, and protein. Since a variety of nuts and seeds can get pricy I like to get my nuts and seeds from the bulk section at the store. This allows me to purchase only what I need of a nut or seed I do not use regularly.
Coconut oil – or another favorite neutral healthy cooking oil. This helps coat each nut and seed with sweetener and cinnamon.
Ground cinnamon – or you could use ginger, vanilla, cocoa powder, fennel, or orange zest.
Granulated sweetener of choice – you can use your favourite sugar replacement or sweetener. You may wish to omit this entirely or add more to your taste. Everyone is on different paths in their sugar-free journey.
A variety of nuts and seeds – the recipe suggests pumpkin seeds, sunflower seeds, walnut pieces, sesame seeds, brazil nuts (chopped), pecans (chopped), and almonds (chopped).
How to bake nutty granola
1: To make the homemade granola recipe, mix together the melted coconut oil, your sweetener of choice, and some ground cinnamon.
2: Spread your chosen variety of nuts and seeds into a baking dish or casserole dish.
3: Pour the sweetened and flavoured coconut oil mixture over your nuts and seeds, then mix the granola recipe in the baking dish until all the seeds and nuts are coated.
4: Place the granola in your preheated oven and bake for up to 20 minutes. You will want to mix and turn the granola every five minutes when baking to keep it from burning. When the granola is done you will want to let it cool completely before storing it.
Storage
Since there is no dairy or eggs in your sugar-free granola it can be stored in an airtight container in the pantry. However, if you are in a hot climate, you may wish to store your grain-free granola in the refrigerator or even in the freezer.
The granola will last in the pantry for up to two weeks, 2-4 weeks in the refrigerator, and up to a year in the freezer.
Serving
Your entire family will love this homemade granola recipe for breakfast or a quick snack. After you try it if you decide you want to double the recipe because you know your family will eat it quickly.
This sugar-free nutty granola can be served on your morning bowl of unsweetened yogurt or even sprinkled on top of a low-carb ice cream to add some crunch and added flavor.
You can store the granola in single-serve bags or snack pots so you can carry a low-carb or keto snack with you. It's an easy way to stop temptation when a sugar craving strikes.
More sugar-free breakfast recipes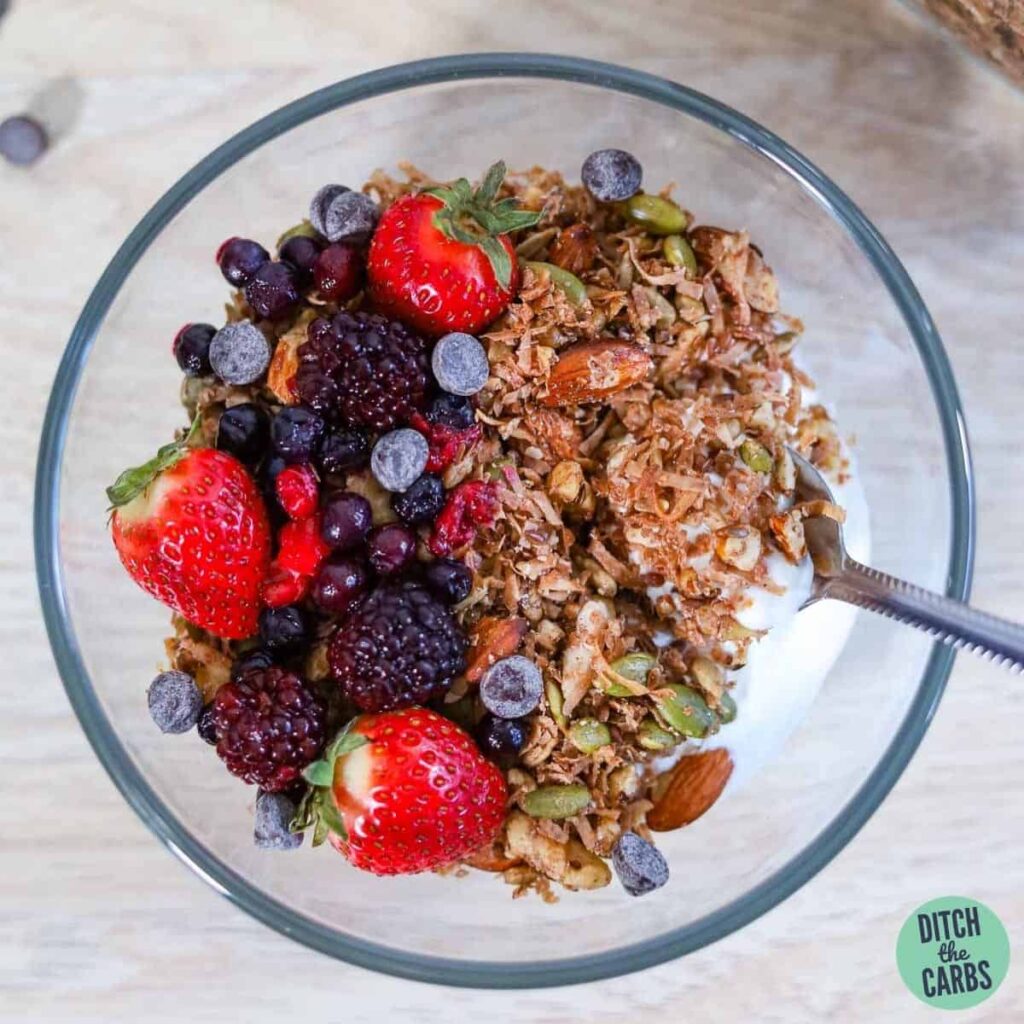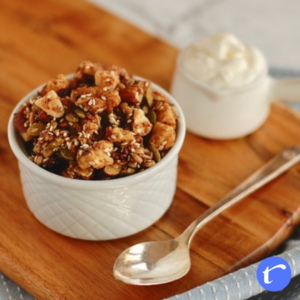 Sugar Free Nutty Granola Recipe (coconut free)
Finally … an easy healthy sugar-free nutty granola – no shredded coconut. It's also gluten-free and your kids will LOVE it. Say goodbye to sugary granola forever!
Print
Pin
Rate
Servings:
14
servings (1/4 cup)
Want to lose weight and get healthy for life—without dieting, drugs, or making yourself miserable?
We can help! Tell me how!
Equipment
Measuring cups and spoons

Casserole Dish
Ingredients
4

tbsp

coconut oil

melted

1

tbsp

ground cinnamon

2-4

tbsp

granulated sweetener of choice

or more to taste (optional)

½

cup

pumpkin seeds

½

cup

sunflower seeds

½

cup

walnut halves/pieces

½

cup

sesame seeds

½

cup

brazil nuts

chopped

½

cup

pecans

chopped

½

cup

almonds (whole)

chopped
Instructions
Mix the melted coconut oil, cinnamon and sweetener (optional).

Place all the nuts and seeds in a baking dish.

Pour the coconut and cinnamon mixture over the top and mix until all the seeds and nuts are fully coated.

Roast at 180C/350F, ensure you mix and turn the nutty granola every 5 minutes so it doesn't burn. I don't want you to have an expensive baking mistake.

Bake until golden, for up to 20 minutes depending on the size and depth of your baking dish.
Nutrition
Serving:
1
(1/4 cup serving size)
Calories:
222
kcal
Carbohydrates:
6
g
Protein:
5
g
Fat:
21
g
Sodium:
9
mg
Potassium:
168
mg
Fiber:
3
g
Sugar:
1
g
Vitamin C:
1
mg
Calcium:
84
mg
Iron:
2
mg
Get our FREE guide to finally fix your metabolism!
Losing weight & getting healthy is never easy, but lately you might feel like it's suddenly become impossible.
Our Flip the Switch guide will help you clearly understand what's been going on, as well as exactly what you can do to get your metabolism working again so that you can look and feel your best—it's easier and more simple than you think!