Discover how to make a simple fat head pizza with almond flour or coconut flour.
Fat head pizza is the most popular low-carb keto pizza recipe. It's also the best gluten-free pizza recipe, and the entire internet is going crazy over it.
The cooked keto pizza crust can even be frozen for a quick and easy frozen keto mid-week family dinner.
Ready to lose weight and get healthy for life without dieting, drugs or making yourself miserable?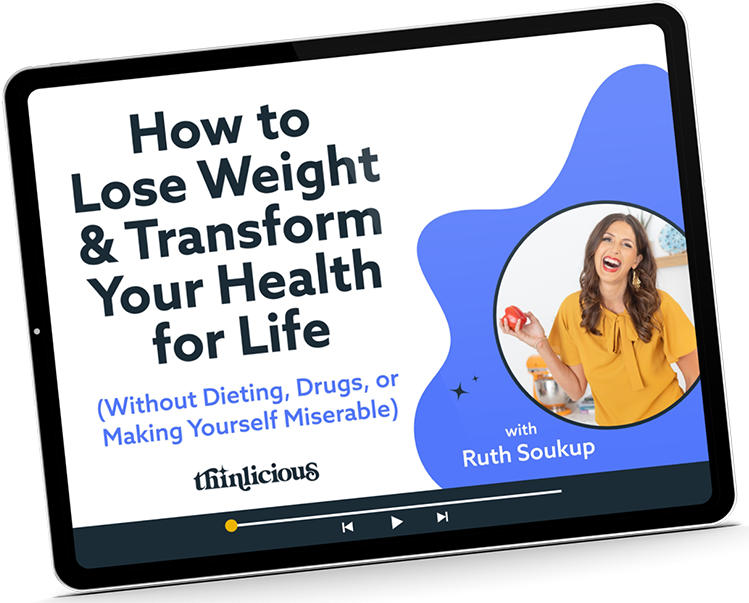 Our free on demand video training will help you understand why it's been so hard and what do to about it.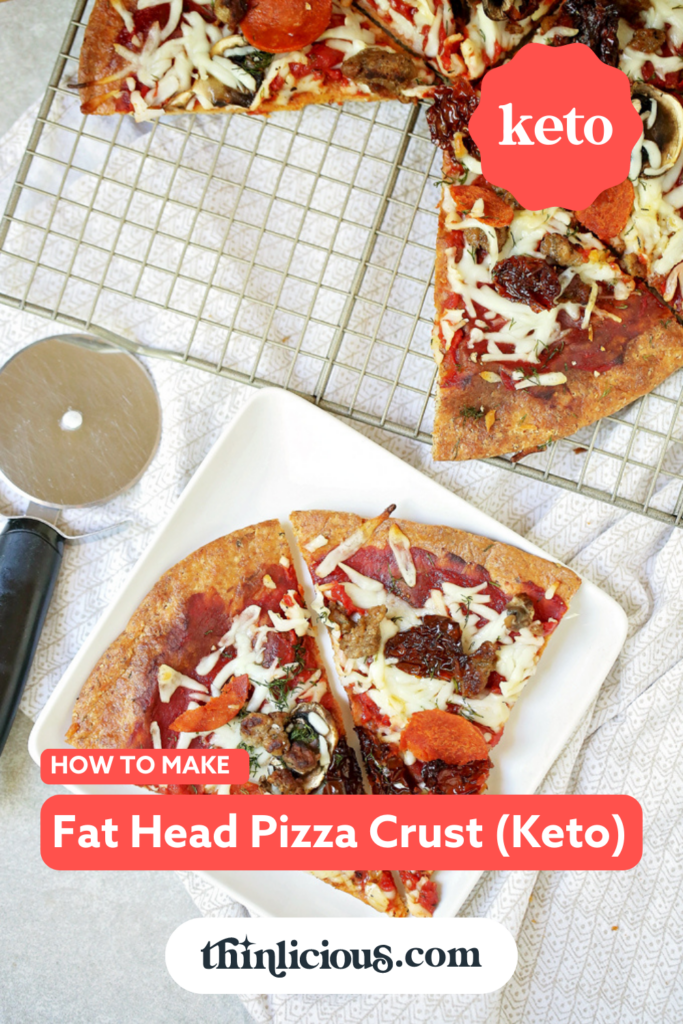 If you are an absolute beginner, you may want to see the supreme guide to making fat head dough even without a microwave. Can be made with almond flour or coconut flour EVEN WITHOUT a microwave PLUS 16 keto recipes to use it.
When you are craving a delicious slice of traditional pizza but don't want to fall off your low-carb diet, you'll love this recipe! Once you get a taste of this fathead pizza, you won't even miss the real thing because it tastes just like it.
Not only is the famous fathead pizza absolutely fabulous, delicious, and low-carb, only 2.4 g net carbs per slice PLUS it's also a:
Gluten-free pizza
Wheat-free pizza
Grain-free pizza
And, better than any regular pizza you will ever taste!
What is fat head pizza?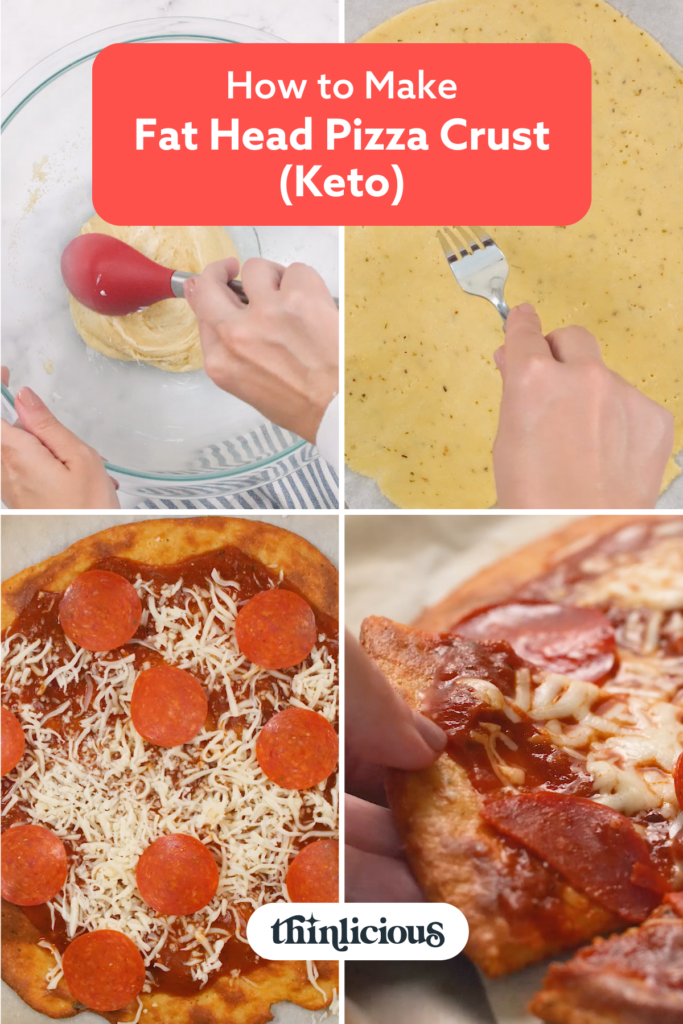 Fathead pizza crust uses an easy low carb keto dough made from mozzarella cheese, almond flour or coconut flour.
This simple pizza dough recipe is perfect if you are an absolute beginner. It's a crowd-pleaser, it's perfect for mid-week family dinners and the supreme Friday night pizza night recipe.
Once you master mozzarella dough, you will discover there are so many different ways to use it.
It's the perfect low carb pizza crust to keep you on track with your macro goals whether you follow a low-carb diet, keto diet or lazy keto diet.
Why is this the best keto pizza?
It's the most popular low-carb keto pizza crust because once you learn how to make fathead pizza crust, you can use the pizza dough recipe in so many low carb recipes. It's incredibly delicious and versatile. You can even make pizza pancakes or cheeseburger pizza too.
I like to make chili fat head crackers, keto bread sticks, and even keto pizza scrolls.
Why is it called is fathead pizza?
Fat Head is a comedy-documentary by Tom Naughton (comedian and former health writer). Well, actually, for anyone who doesn't know, fathead pizza dough was created by Tom Naughton's oldest brother's oldest son.
The documentary explains how low cholesterol is unhealthy as well as saturated fat does not cause heart disease but instead of sugars, grains, starches, and processed vegetable oils do.
Ever since it has been named in honor of his Fat Head Movie.
Nutrition
Here's how the nutrition of a traditional homemade thin crust wheat-based pizza crust recipe compares to a fat head crispy crust. Toppings are additional.
Nutrition of wheat-based pizza crust (1 slice): 18.9 g carbs, 8.8 g protein, 7.4 g fat.
Nutrition of fathead keto pizza crust (1 slice): 2.4 g net carbs, 11 g protein, 16.8 g fat.
Nutritional values from cronometer.com
In addition, the regular pizza will contain gluten, and if store-bought, it will also have preservatives, artificial flavorings, and probably some trans fats.
Also, remember- you will probably only eat 1 or 2 slices of fathead pizza compared to half to 1 regular pizza.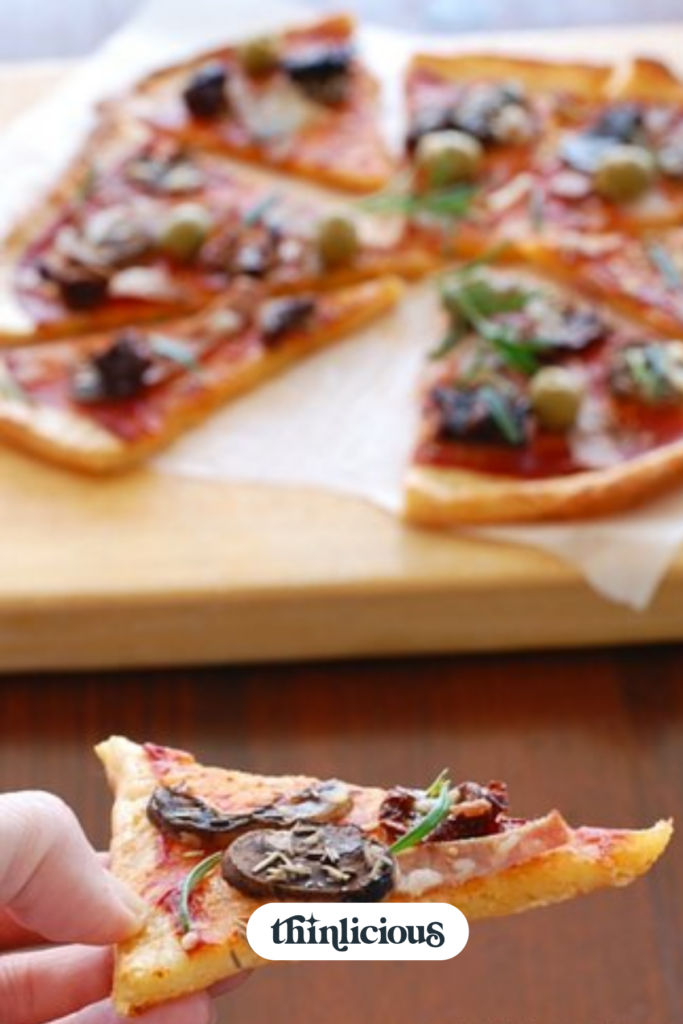 Can I overeat keto pizza?
Does an entire pizza normally disappear before your eyes?
When you eat traditional pizza with a wheat base, do you eat and eat and eat and cannot stop at just one or two slices? Yeah, I've done that too.
But, I'll admit it…there is no way you can over-eat with fathead pizza. And that's part of the way that the low-carb keto diet works. By increasing the fat content in your meals, makes you fuller faster. You eat less and so the weight loss will follow.
Fathead pizza is incredibly rich, but that's the point. You cannot overindulge. Most people can only handle one, or possibly two, slices. Add a side salad and you've got a great Friday night movie meal!
Ingredients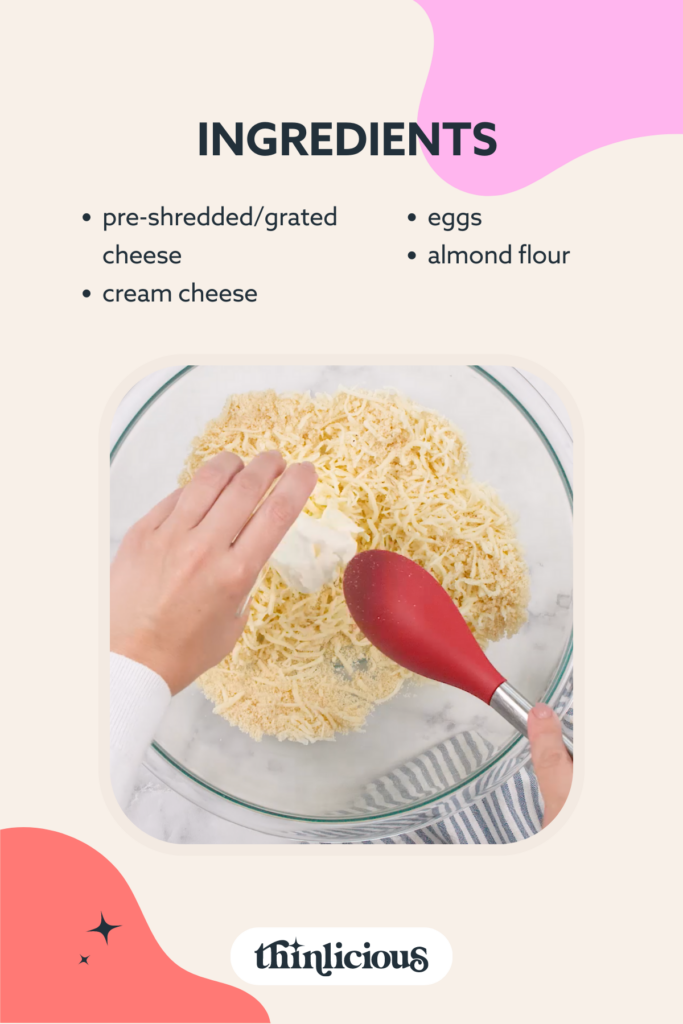 This low-carb pizza crust is grain-free, gluten-free, low-carb, and incredibly filling.
The homemade pizza crust recipe is made from the following simple low-carb ingredients:
Pre-shredded/grated cheese – pre shredded mozzarella cheese is the best, but a mild cheese will also work
Cream cheese – it makes the pizza crust a little more softer than a straight cheese crust
Egg – makes the crust light and soft, but may be omitted for those who have an egg allergy
Almond flour – you can also use coconut flour instead of almond flour
All quantities, ingredients, and instructions are in the recipe card below.
My children love this recipe and prefer a fathead pizza crust to regular pizza dough. They even make it themselves.
How to swap almond flour for coconut flour
For those who have an almond allergy, or want to lower the carb count of a slice of pizza, you can easily substitute coconut flour. Coconut flour is much lower in carbs than almond flour.
A pizza made with coconut flour is slightly sturdier than an almond flour pizza. Most readers say it doesn't taste of coconut but it depends on how sensitive you are.
Simply swap 1 ¾ cup almond flour (or almond meal) with 1/4 cup (4 tbsp) coconut flour. If it's your first time baking with coconut flour and almond flour, you may need to read my guide to low-carb flours.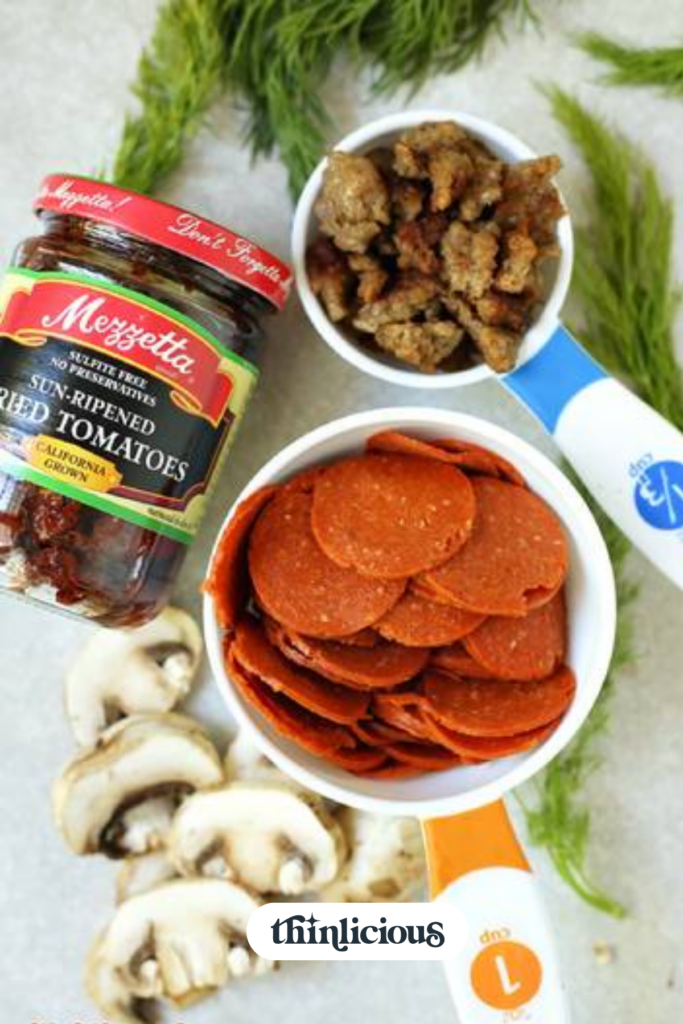 Instructions
This is one of the easiest ways to make fathead pizza! Let me show you EXACTLY how to make a simple fathead pizza dough with a step-by-step process.
The entire recipe is in a printable recipe card at the bottom of the post.
STEP 1: Make the keto pizza dough
Place the shredded mozzarella and cream cheese with your chosen low-carb flour into a microwave-safe bowl and heat on high for 1 minute.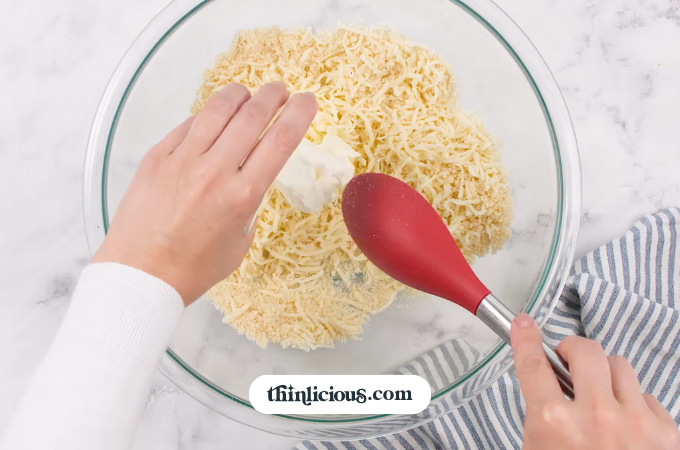 Once the cheeses are melted, mix them together.
Add the raw egg, seasoning, salt, and pepper. Mix again to form a cheesy dough.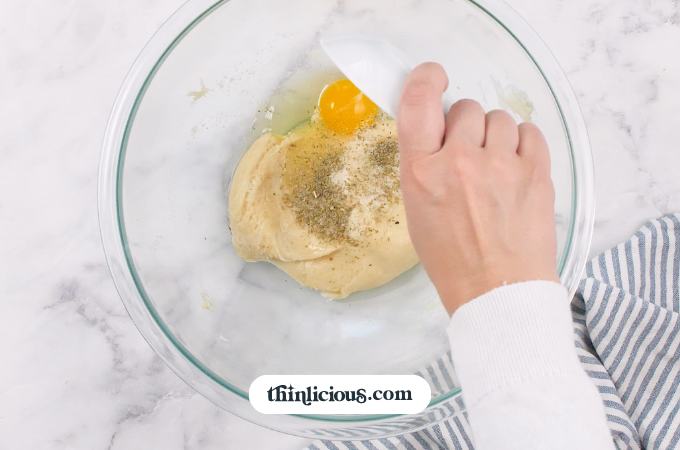 You now have the simple fathead dough, mozzarella cheese dough.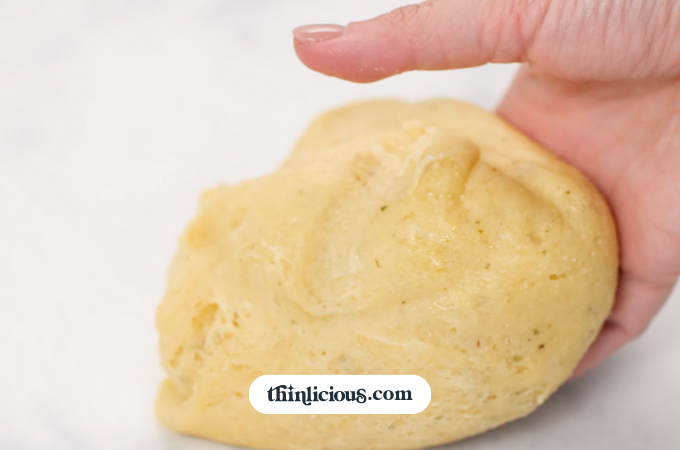 STEP 2: Make the pizza base
Roll the fathead pizza dough between two sheets of baking parchment paper, into a circular pizza shape. You can roll it thin to make a thin crispy pizza base, or a deep pan dish. You can use a rolling pin, a wine bottle, a coffee mug, or even the bottom of a measuring cup.
If your fathead dough begins to stick, use a flat knife or wet hands to scrape the dough away from the parchment paper. You must use baking parchment or another form of non-stick baking paper for this recipe.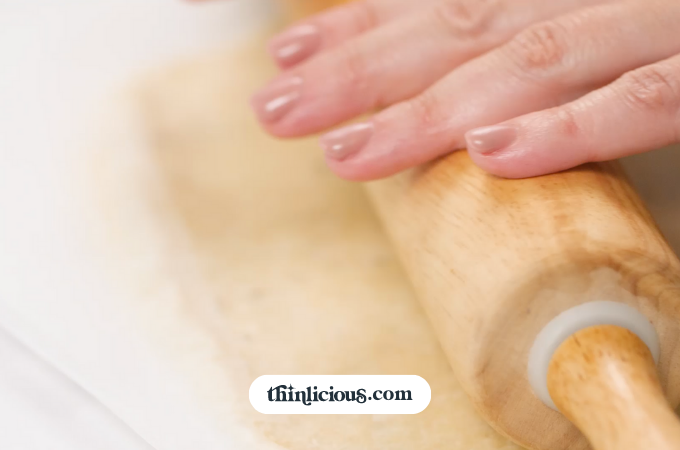 Remove the top sheet of parchment paper and place the low-carb pizza base onto a pizza stone, baking tray, baking sheet, or pizza tray.
Press all over the pizza with a fork to make small holes. This ensures your pizza base is cooked evenly and crispy.
Bake the crust in a hot oven. Using the baking paper, flip the pizza over mid-way during cooking so it goes crispy on both sides.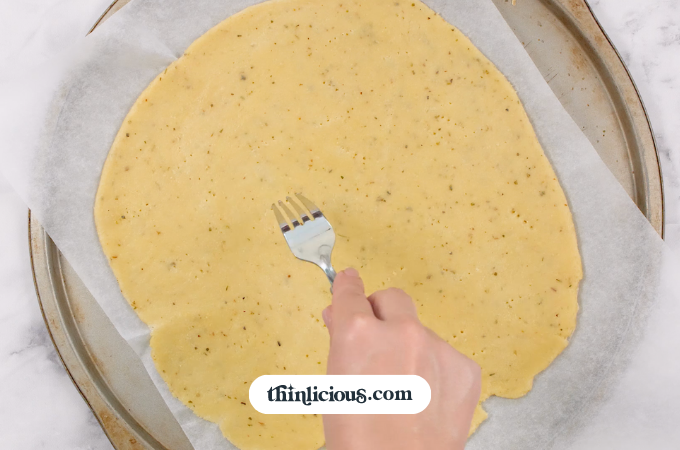 Step 3: Add your pizza toppings
Cover the cooked low-carb keto fathead pizza with a sugar-free tomato pizza sauce or low-sugar tomato paste. Add your favorite toppings. Ensure any meat you use is already cooked. The pizza will go back into the oven just to reheat the base and to melt the cheese topping.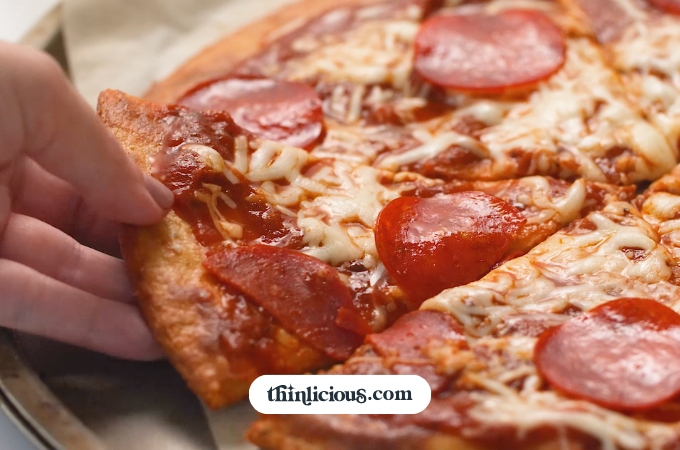 How to bake thin crispy keto pizza
The trick is to roll out the mozzarella dough super thin using 2 sheets of baking parchment as shown in the step-by-step instructions and cooking video.
TOP TIP: Press a fork over the base to make little indentations to allow the keto pizza crust to cook evenly AND turn the low carb keto pizza base over mid cooking so it cooks and bake the crust on both sides.
Always preheat the oven. This guarantees a super crispy thin pizza crust that is golden brown.
Air fryer
How to cook a pizza in the air fryer? It's quick and easy and perfect if you don't want to cook your pizza crust in the oven.
If you don't know how to use an air fryer, it's super simple and is a handy addition to your low-carb kitchen.
Heat your air fryer to 190C/375F.
Cut a circle of baking parchment paper that is large enough to line your air fryer basket or wire rack. Ensure there is a gap between the pizza base on the baking parchment and the sides of the basket. This will allow the air flow at high speed to circulate.
Roll your pizza and place onto the lined tray/basket.
It's almost impossible to prepare your pizza and to transfer it to your air fryer without all the topings falling to the floor. So add your toppings to the pizza once the rolled pizza dough is placed inside the basket.
Cook for 7-10 minutes, or until golden.
If you love using your air fryer, I have 101 keto air fryer recipes for you to choose from (chicken, pork, ground beef, salmon, vegetables, and even desserts). Discover how to use your air fryer plus FREE printable air fryer cooking cheat sheets.
Toppings
After you make the fathead pizza crust, you can add all your favorite pizza toppings.
Here are some ideas for you:
Tomato paste (unsweetened) or a sugar-free tomato sauce
Mushrooms
Cherry tomatoes
Salami/pepperoni
Cooked sausage meat
Spinach with a cracked egg on top
Sun-dried tomatoes
Rosemary, oregano, thyme, sage, garlic powder, Italian seasoning
More shredded cheese
Storage
Once the almond flour pizza base has been baked, then you can store it in the freezer for up to 2 months. Wrap in a piece of parchment and place in an airtight container or large ziplock bag to prevent "freezer burn".
You cannot store the unbaked pizza dough because the raw egg has been warmed by the melting cheese. The pizza dough MUST be cooked before storing.
Any leftover pizza (I know, that's surely impossible) can be stored in a similar way. Wrap in parchment paper and place in an airtight container or large ziplock bag in the fridge for up to 3 days.
More fathead mozzarella dough recipes
Once you master the fathead dough (which isn't difficult to do), you should try some of these other keto recipes:
So, next time you make fathead pizza dough, my top tip – double the recipe quantities, then you are ready to go and make one of these fathead recipes as well.
It's the quick and easy way to meal prep.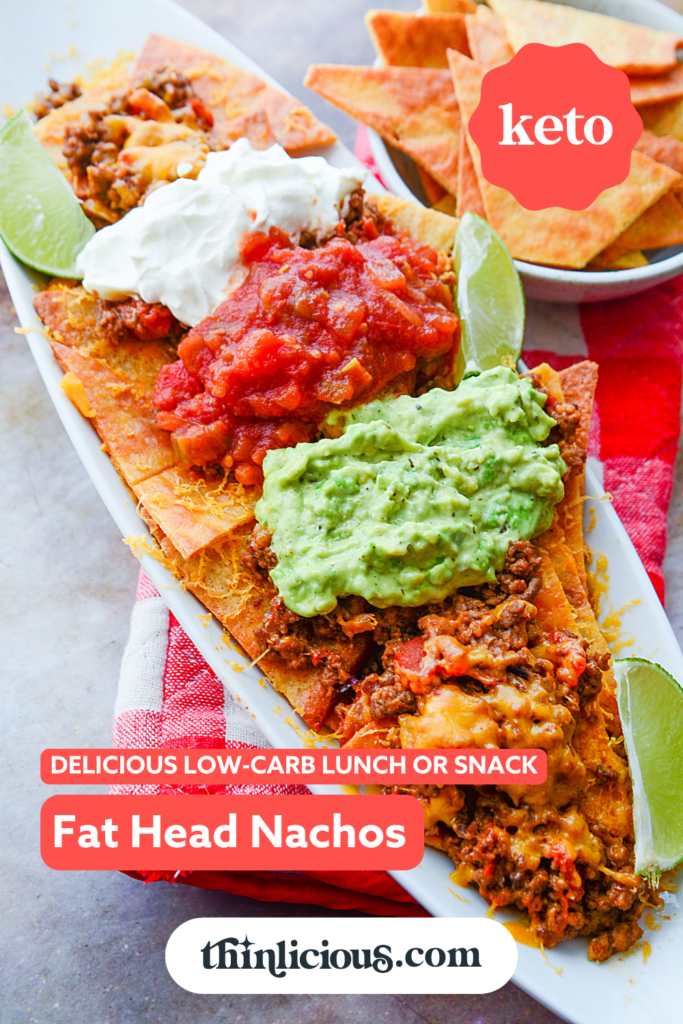 Recipe FAQ
Do I need a microwave to make fathead pizza?
A microwave makes it easy to melt the mozzarella and cream cheese but you can also melt them in a saucepan on a medium-heat. Be careful to stir so the cheese doesn't burn. Alternatively, use a double boiler to melt the cheese together.
Can I swap almond flour for coconut flour?
Yes. You can swap 1 ¾ cup almond flour (or almond meal) with 1/4 cup (4 tbsp) coconut flour. If it's your first time baking with coconut flour and almond flour, you may need to read my guide to low-carb flours.
Can I freeze fathead pizza?
Yes, the low-carb pizza crust can be frozen once it is cooked. You cannot freeze the raw pizza dough.
How many carbs per slice of keto pizza?
Serving size 1 slice (in the recipe card below) is 2.4 g net carbs. Toppings are additional. Most members in my Facebook group tell me they tend to eat 2 or 3 slices of the low-carb pizza crust.
Do I need a rolling pin?
No, I have often used a wine bottle, a coffee mug, or the back or a measuring cup.
What is fathead dough made of?
Mozzarella cheese, cream cheese, almond flour or coconut flour and egg, and some seasoning.
Does fathead dough reheat well?
The best way to reheat any pizza is to place it in a hot oven for 5 minutes. You can microwave pizza but it will end up soggy and soft.
Does fathead pizza crust taste good?
100% yes! This simple fathead pizza crust recipe is the BEST pizza you will ever taste.
How do I reduce the carbs in pizza?
You can use coconut flour instead of almond flour to make the pizza base even lower in carbs and high in fiber. Make sure you use a sugar-free tomato pizza sauce and only use low-carb vegetables. And of course, no pineapple.
What do I do if fat head pizza is too sticky?
Add 1 additional tablespoon of almond flour or coconut flour, depending on which flour you made the pizza dough with.
What do I do if fat head pizza is too dry?
You might have added too much flour, in this case, add 1 teaspoon of olive oil at a time and knead the dough until it becomes soft and pliable again.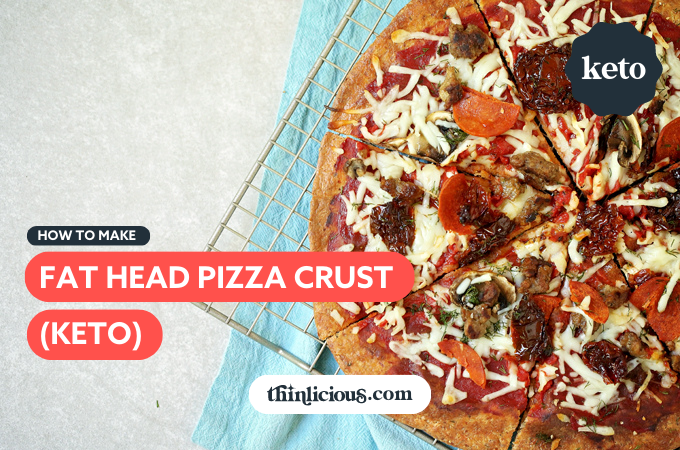 Reader's pizza
Take a look at one reader's Fat Head pizzas. I just had to include his lineup! He has lost 58kg in 38 weeks with "no medication, no gym, and no shakes†"just real food."
I hope you enjoy this delicious crispy homemade pizza recipe! It has no sugars, no grains, no unhealthy oils. You are going to love it!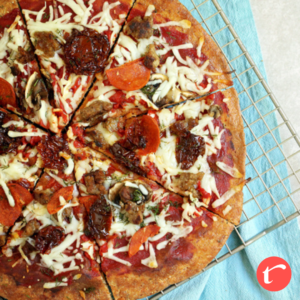 Fat Head Pizza Recipe – almond flour or coconut flour
Learn how to make simple fat head pizza (almond flour or coconut flour). The most POPULAR KETO pizza crust recipe … thin crispy crust OR keto deep pan pizza.
Print
Pin
Rate
Want to lose weight and get healthy for life—without dieting, drugs, or making yourself miserable?
We can help! Tell me how!
Equipment
Silicone baking sheets

Baking sheets – non stick

Mixing Bowls
Ingredients
170

g

shredded/grated cheese

mozzarella is the best or Edam/mild cheese

85

g

almond meal/flour

2

tbsp

cream cheese

1

eggs – medium

pinch

salt

to taste

½

tsp

dried rosemary/ garlic or other flavourings

optional

your choice of toppings such as pepperoni

peppers, cherry tomatoes, olives, ground/mince beef, mushrooms, herbs etc
Instructions
Mix the shredded/grated cheese and almond flour/meal in a microwaveable bowl. Add the cream cheese. Microwave on HIGH for 1 minute.

Stir then microwave on HIGH for another 30 seconds.

Add the egg, salt, rosemary and any other flavourings, mix gently.

Place in between 2 pieces of baking parchment/paper and roll into a circular pizza shape (see photos above). Remove the top baking paper/parchment. If the mixture hardens and becomes difficult to work with, pop it back in the microwave for 10-20 seconds to soften again but not too long or you will cook the egg.

Make fork holes all over the pizza base to ensure it cooks evenly.

Slide the baking paper/parchment with the keto pizza base, on a baking tray (cookie tray) or pizza stone, and bake at 220C/425F for 12-15 minutes, or until brown.

To make the base really crispy and sturdy, flip the pizza over (onto baking paper/parchment) once the top has browned.

Once cooked, remove from the oven and add all the toppings you like. Make sure any meat is already cooked as this time it goes back into the oven just to heat up the toppings and melt the cheese. Bake again at 220C/425F for 5 minutes.
Notes
Fat Head pastry can also be made by replacing the almond meal/flour with 1/4 cup (4 tbsp) coconut flour.
Nutrition panel is for base only as toppings will vary widely depending on what was added and how much.
Nutrition
Serving:
1
slice
Calories:
203
kcal
Carbohydrates:
4
g
Protein:
11
g
Fat:
16.8
g
Fiber:
1.6
g
Sugar:
1
g
Get our FREE guide to finally fix your metabolism!
Losing weight & getting healthy is never easy, but lately you might feel like it's suddenly become impossible.
Our Flip the Switch guide will help you clearly understand what's been going on, as well as exactly what you can do to get your metabolism working again so that you can look and feel your best—it's easier and more simple than you think!