Easy, tender, creamed Brussels sprouts with garlic and parmesan. The perfect comfort food. There's even a cheat's tip to cut back on prep time.
At just 5.2g net carbs per serving these keto Brussels sprouts are keto-friendly and a sure fire way to eat more green vegetables. 5 stars all around!
Brussel sprouts also happen to make an excellent side dish during holidays like Thanksgiving and Christmas, but that doesn't mean you can't enjoy them all year long.
This recipe was inspired by my keto cheesy baked asparagus and keto creamed spinach (with bacon) on this site, and pairs perfectly as a side dish to this amazing juicy turkey or slow cooker whole chicken.
Are you ready to create the ultimate 12-month blueprint for reaching your health & weight loss goals this coming year?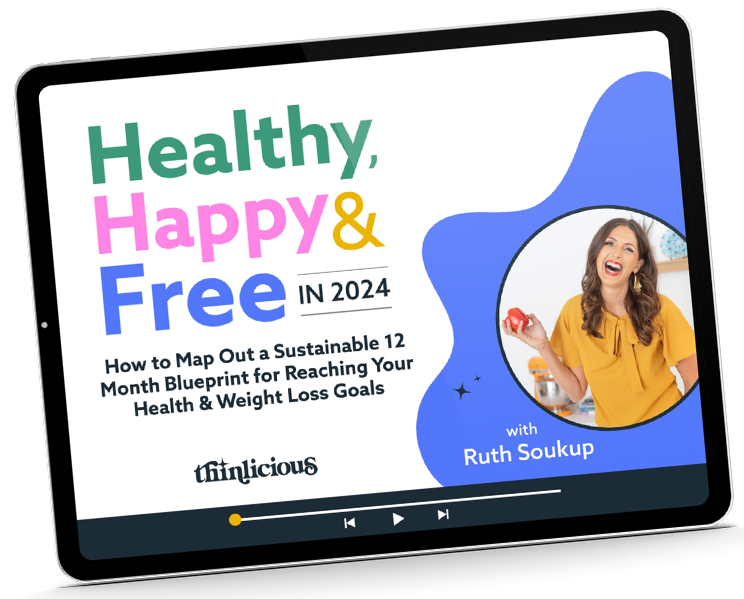 Our free on-demand video training will walk you through how to make 2024 THE year you set health goals…and keep them.
You'll find that creamy Brussels sprouts are usually served during the fall and winter months, as that's typically when Brussels are in season. It's the perfect side dish for chicken, side dish for beef, side dish for pork, salmon side dish, and other winter warmer dinners such as casseroles and turkey.
Are there carbs in Brussels sprouts?
Yes, Brussels sprouts contain carbs but they are a lower carb vegetable when compared to root vegetables such as potatoes, onions, and carrots.
Brussels sprouts nutritional information per 100g (raw): 5.1 g net carbs, 3.4 g protein, 0.3 g fat, 43 calories.
Nutritional values from cronometer.com
Brussels sprouts are often used in low-carb recipes, and keto recipes because they are so versatile, nutritious, and filling. They contain 113% of your daily suggested intake for Vitamin C and 18% of your fiber intake. They also provide antioxidants, folate, manganese, and Vitamin K.
Are Brussels sprouts high-protein?
It can be tricky to find high-protein vegetables with all the essential amino acids you need. You will need a combination of different protein sources.
Brussels sprouts have 3.4g of protein per 100g (3.5oz) and 4.5g of carbs. In comparison, green peas have 5g of protein per 100g (3.5oz) but 14g of carbs.
The best high-protein vegetables and fruits can be seen in these high-protein fruits and vegetables charts.
Ingredients
To make these creamed Brussels sprouts recipe you will need:
Brussels sprouts
cream cheese
shredded mozzarella cheese
parmesan cheese
heavy cream
butter
crushed garlic (minced)
mustard
salt and pepper to taste
For the exact quantities, see the recipe card at the bottom of this post.
I know what you are thinking…mustard? Yes, mustard. Don't skip the mustard it adds a nice zest to the heavy cream sauce you are going to love.
Instructions
To begin get your ingredients set up and ready to use. You will want to chop off the stem ends of the Brussels sprouts and remove any leaves that are wilted, brown, or falling off.
I prefer to slice my sprouts in half when making this creamed Brussels sprouts recipe because I find the cheese sauce coats the sprouts better. It also allows the cheesy garlic sauce to penetrate each leaf making them soft and tender.
Once your ingredients are prepared and ready to start, melt the butter into a cast-iron skillet or another oven-safe pan. When the butter has melted mix in the 1/3 cup heavy cream and the remaining ingredients except for the parmesan and sprouts, stirring occasionally.
Mix until you have a smooth and creamy sauce. Season with salt and pepper to taste.
Finally, add the Brussels sprouts to the pan and gently toss until the sprouts are coated with the garlic cream sauce. Sprinkle the parmesan cheese over the sprouts and place the whole skillet into the oven to bake.
If you do not have an oven-safe skillet you will want to transfer your sprouts and sauce to a casserole pan before baking the Brussels sprouts.
Let the sprouts bake uncovered on the middle rack of the oven for 15-20 minutes or until the sprouts are tender and the tops have turned golden brown. Then you can serve and enjoy!
Hint: Save yourself some time by using frozen Brussels sprouts. Cook the frozen sprouts according to the package then add to your cheesy cream sauce and bake. Your Brussels sprouts will only need only 1/2 the cook time.
Substitutions
Headed to the pantry or refrigerator and realize you are don't quite have all the ingredients? Well, you are in luck. Check out the list below for common substitutions for some of the ingredients.
Brussels sprouts – if you like the idea of creamed sprouts but dispise Brussels sprouts then never fear. You can replace the sprouts with brocolli or cauliflower.
Butter – olive oil, ghee, or coconut oil can be used in place of butter in this keto recipe.
Mozzarella – any easy to melt cheese can be used in place of mozzarella cheese. I do not reccomend using aged cheeses though as they may make the sauce gritty.
Variations
Love this creamed Brussels sprout recipe but want to make it even better? I love to add bacon pieces to everything but check out our suggestions below for more delicious variations.
Spicy Brussels sprouts – add chili pepper flakes or a pinch of cayenne pepper while mixing the cheese sauce to imbue heat into the dish.
Loaded Brussels sprouts – top with bacon pieces, feta cheese, sliced green onions, and more.
Deluxe Brussels sprouts – add a veriety of keto veggies like brocolli, squash, onions, and pepper to make a creamy medely.
See this Buttery Bacon Brussels Sprouts recipe on my website!
Equipment
For this creamy Brussels sprout recipe, you will want to use a cast-iron skillet or another oven-safe skillet to cook your sprouts in. Using a cast-iron skillet keeps your clean-up to a minimum since you only need one pan to make the cheese sauce and bake your Brussels sprouts.
If you do not have an oven-safe skillet to use you can transfer your creamy Brussels sprouts to a casserole pan or similar baking dish to bake them.
Storage
Your cooked and roasted Brussels sprouts can be stored in the refrigerator for 3-5 days in an air-tight container.
They can be reheated covered in the microwave for 1-2 minutes for individual portions. To reheat the entire dish I recommend using the oven to heat the sprouts until they are warm.
Top tip
Using medium-high heat to melt your cheese sauce is important to prevent the cheese from burning. If you notice your sauce is getting too thick mix in a spoonful of water or broth to help keep the sauce smooth.
Recipe FAQs
How do you get the bitterness out of Brussels sprouts?
If you have tried Brussels sprouts before only to be put off by a bitter flavor, you aren't alone. Brussels contains a compound called glucosinolate, which is a naturally occurring sulfur compound found within cruciferous veggies.
This compound is actually very beneficial to humans as they contain enzymes that may provide certain health benefits.
All that being said…sulfur isn't exactly the best-tasting stuff. 😉
Thankfully, there are a few easy ways to reduce the impact of this bitter flavor. A few tips for enjoyable Brussels sprouts include:
Do not overcook the sprouts. Brussels sprouts that are overcooked will release more of the bitter flavour.
Cook sprouts with ingredients that will counteract bitterness. In this particular creamed Brussels sprouts recipe, salt and heavy cream both do this.
Experiment with different methods of cooking. If you have only ever had boiled Brussels, try them fried or sauteed….or better yet make this sprouts recipe! It's cheesy, creamy, and the vegetable is cooked perfectly tender.
Do you have to cut Brussels in half before cooking?
You don't have to, but if you want an evenly roasted Brussels sprout, you should. For the best possible flavor and even cooking time, I highly recommend you trim the sprout's stem off, then chop it in half before you add the Brussels sprouts to this recipe!
I hope you enjoy the flavor of these sprouts! They taste amazing and will soon become a family favorite.
Can I use frozen Brussel sprouts?
Yes, just make sure you either defrost them first then cook as per the recipe card below OR pre-cook them first and cut the oven cook time in half.
Serving
What are the best meals and dinners to serve this sprouts recipe with? Choose a winter warmer dinner such as a roast turkey, salmon, stuffed chicken breast or one-pan pork chops with garlic gravy.
You could even serve it as a one-bowl dinner. Rich, creamy, and incredibly filling.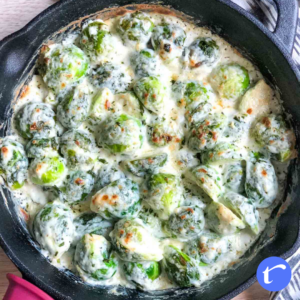 Creamed Brussels Sprouts Recipe (Garlic Parmesan)
EASY tender garlic creamed Brussels sprouts with parmesan are the perfect delicious cheesy side dish.
Print
Pin
Rate
Want to lose weight and get healthy for life—without dieting, drugs, or making yourself miserable?
We can help! Tell me how!
Equipment
Saucepan

Measuring cups and spoons
Ingredients
1

lb

Brussels sprouts

1

tbsp

butter

⅓

cup

heavy whipping cream

2

oz

cream cheese

softened

½

cup

pre-shredded/grated mozzarella

1

clove

garlic minced

1

tsp

dijon mustard

salt and pepper

to taste

2

tbsp

parmesan cheese
Instructions
Pre-heat your oven to 190°C/375°F. Remove the stems and loose leaves from your Brussels sprouts. Then cut then in half.

Next, melt the butter in a cast-iron skillet or another oven-safe skillet over medium-high heat on the stove. When the butter is melted mix in all the remaining ingredients except the parmesan cheese and Brussels sprouts.

Mix until all the cheese has melted and the sauce is smooth and creamy.

Toss the Brussels sprouts in the cheese sauce until they are completely coated. Sprinkle the parmesan cheese over the top then place the whole skillet in the oven.

Cook uncovered on the middle rack for 15-20 minutes or until the sprouts are tender and the top is a golden brown. Remove from the oven and serve.
Nutrition
Serving:
1
serve ( serves 6)
Calories:
182.3
kcal
Carbohydrates:
8.1
g
Protein:
7.6
g
Fat:
14.3
g
Sodium:
218.9
mg
Potassium:
333.7
mg
Fiber:
2.9
g
Sugar:
2.1
g
Vitamin A:
1073.8
IU
Vitamin C:
64.4
mg
Calcium:
155.9
mg
Iron:
1.2
mg
Get our FREE guide to finally fix your metabolism!
Losing weight & getting healthy is never easy, but lately you might feel like it's suddenly become impossible.
Our Flip the Switch guide will help you clearly understand what's been going on, as well as exactly what you can do to get your metabolism working again so that you can look and feel your best—it's easier and more simple than you think!