No one likes boring sprouts. These delicious buttery Brussels sprouts with garlic butter and bacon will turn anyone into a fan of sprouts!
The crispy bacon and garlic butter-covered sprouts are a tasty recipe the whole family will love!
This is one of the best side dishes for the festive season PLUS there is a FREE printable festive holiday meal plan.
This is the perfect side dish for chicken, turkey, beef, lamb, or pork. In fact, it can even be served as a main meal by itself if you are a real Brussels sprouts lover.
Are you ready to create the ultimate 12-month blueprint for reaching your health & weight loss goals this coming year?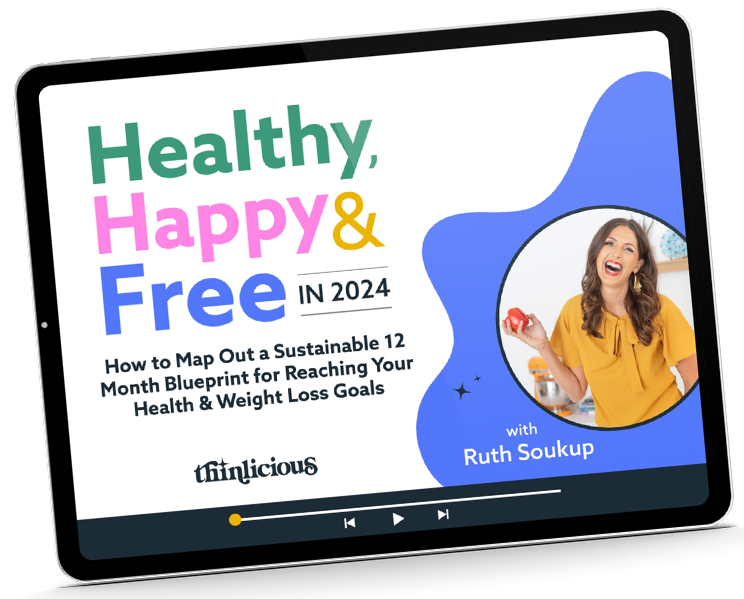 Our free on-demand video training will walk you through how to make 2024 THE year you set health goals…and keep them.
How many carbs are in Brussels sprouts?
1 cup of Brussels sprouts contains 8 grams of total carbs. For those who are on the keto diet, you may be wondering if Brussels sprouts are keto. The answer is yes.
With 3 grams of fiber, this vegetable has 5 grams of net carbs per cup, making them an easy addition to any keto or low-carb diet!
Are Brussels Sprouts healthier than broccoli?
Both are non-starchy green vegetables so both fit within the low-carb diet and keto lifestyle.
Let's take a look at their nutritional value.
| | | | | |
| --- | --- | --- | --- | --- |
| Values are per 100g/3oz cooked | Net carbs | Protein | Fat | Calories |
| Brussels Sprouts | 4.4g | 2.6g | 0.5g | 36 |
| Broccoli | 3.9g | 2.4g | 0.4g | 35 |
Source: cronometer.com
Both Brussels sprouts and broccoli have similar nutrition panels, with broccoli giving a little higher vitamin A, vitamin C, and folate.
Ingredients
Sprouts with bacon have a short (and yummy) ingredient list. To make this dish you will need:
Brussels sprouts – trimmed in half lengthwise.
salt and pepper – season to your taste (pepper is optional).
bacon – I like to use thick-cut bacon for this dish for maximum flavor.
butter – you can use salted or unsalted. Adjust your seasoning accordingly.
crushed garlic – fresh garlic minced is best, but dried garlic powder will be fine.
orange zest – this is optional but highly recommended.
walnuts – halves or chopped.
All quantities, ingredients, and instructions are in the recipe card below.
Instructions
Frying pan or skillet
When you prepare the Brussels sprouts, wash them, then remove any dirty leaves.
Slice the bottom off and place the Brussels sprouts into a small pot of water to a boil, season generously.
My top tip is to boil or simmer them until just cooked. You want to cook them until they are soft but not mushy. No one wants soggy sprouts.
After you drain the water, let the cooked Brussels sprouts sit in the pan with the lid off so all the steam escapes. You can also place them on a paper towel-lined plate to keep them from being soggy.
In a frying pan (I like to use a large cast iron skillet), heat the butter and add bacon to cook. I prefer to cook thick-cut bacon slices rather than diced bacon or bacon bits.
Once it starts to crisp, add garlic and cook over medium-high heat until fragrant.
Next, add the orange zest and the Brussels sprouts. Stir to cook the sprouts and make sure it's evenly coated in the delicious sauce!
Garnish with the walnuts and serve immediately!
Oven-roasted Brussels sprouts
Roasted Brussels sprouts are a great option when you want to cut back on prep time. No more pre-cooking. You cook the sprouts with bacon all in one pan.
If you want to roast Brussels sprouts instead, simply cut each Brussels sprout in half to speed up the cooking process. Throw everything onto an oiled baking tray, baking sheet, roasting pan, baking dish, or baking tray (sheet pan). Pour over melted butter and mix gently so all the sprouts are covered in the garlic butter.
The Brussels sprouts soak up all the delicious garlic butter, the bacon cooks to be crispy and the sprouts are tender and juicy.
You may want to stir them mid-way through cooking to prevent any burned pieces and so they continually are coated in the garlic sauce. You want to avoid them from being slightly charred, this may make them bitter.
Variations
Sprouts with bacon are absolutely delicious as they are. But, here are a few variations of this dish to try:
Cheesy sprouts with bacon. Add a healthy sprinkle of shredded parmesan cheese to this dish. Parmesan cheese has a natural saltiness to it that works really well in this dish.
Spicy sprouts with bacon. If you love Brussel sprouts but want some spice, try serving this with freshly ground black pepper, chili powder, or a sprinkle of cayenne.
Vegetarian. Omit the bacon and add extra cheese of choice. Parmesan and even blue cheese work well with garlic butter.
Main dish. If you want Brussels to become the main dish, why not bump up the recipe with quartered mushrooms, sliced red onion, and extra bacon or leftover roasted chicken? The nutrition calories and carbs will change so you will need to recalculate the macros accordingly. For more one-dish recipes, check out the recipe index.
Substitutions
Orange zest (optional): The sweet flavor in this dish helps to balance the salty bacon. If you aren't able to add orange zest, you can simply leave it out, or you can add a bit of sweetness in another way.
A small drizzle of balsamic vinegar can work, but at 2.7 grams of carbs per tablespoon, the carbs add up quickly!
Alternatively, you can try a 1/2 tablespoon or so of keto or no-sugar maple syrup. Don't get this confused with pure maple syrup as it is full of added sugar.
Butter: While I highly recommend the butter for the best flavor possible, you can substitute it for avocado oil or coconut oil. Olive oil can work too, but be aware that it has a lower smoke point than avocado.
Walnuts: The nutty flavor can be replicated with pecans, macadamias, slivered almonds, or various low-carb nuts.
Garnish: Use fresh chopped parsley, dried rosemary, fresh rosemary, cream cheese, or heavy cream over the top.
Top Tip
In this recipe, you boil the Brussels sprouts to make sure they are cooked before you get them nice and crispy in the butter and bacon. But DO NOT overcook them. This is what makes them soggy and why most of us hate them from our childhood.
Always choose Brussels sprouts that are of a similar size. This way they cook evenly and you avoid uncooked or soggy veggies.
Storage
To store these Brussels sprouts and bacon for later, make sure to drain out the bacon grease. Don't throw it away, however! Remove the Brussels sprouts and bacon with a slotted spoon.
I use my bacon grease to make roasted or other veggies. I even find frying eggs and burgers in bacon grease makes them incredibly tasty!
Once the bacon fat is stored away separately, add the Brussels to an airtight container. It will keep in the fridge for 2-3 days.
To reheat them, I recommend cooking them on a cast iron skillet. You can also try the oven. A microwave oven doesn't get it as crispy, but it will do in a pinch.
Serving
What to serve with Brussels sprouts
Roasted Brussels sprouts with crispy bacon are the perfect side for so many recipes! They are perfect for any winter meal, Thanksgiving side dish, or Christmas side dish. If you cook the recipe in a beautiful baking dish, you can bring it directly to the table.
My whole family loves Brussels sprouts with roasted chicken, roast turkey, keto glazed ham, pork and sage sausage stuffing, as well as this one-pan keto pork chop recipe.
If you love this healthy side dish, you might also like my other recipes such as creamed Brussels sprouts, or baked cheesy asparagus. it's always fun to try new recipes.
Recipe FAQ
How do I get the bitterness out of Brussels Sprouts?
Salt baby! Yes, adding salt to your Brussels sprouts will reduce the slight bitterness that some people dislike. Also, the addition of the garlic and orange zest in this recipe really masks any bitter taste too.
You can use the same technique for broccoli too.
Do I need to peel Brussels sprouts?
It's best to peel the outer leaf or two to remove any dirt or bugs. The inner leaves tend to look extra green and vibrant too.
Do I need to chop Brussels in half when cooking?
No, you don't have to but it does speed up the cooking time. If you are making my creamed Brussels sprouts, then cutting them in half helps them to soak up more of the cheesy sauce.
Why do Brussels sprouts smell so bad?

Brussels sprouts and other vegetables such as cabbage, kale, and collard greens, are all members of the cabbage family. These plants are rich in hydrogen sulfide gases which cause the smell that so many complain about while cooking.
More keto side dishes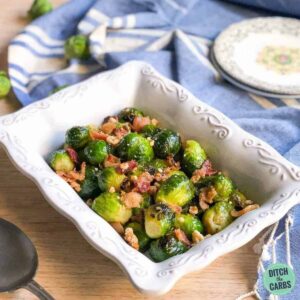 Brussels Sprouts With Bacon And Garlic Butter Recipe
Buttery Brussels Sprouts With Bacon And Garlic – the secret is garlic butter with a hint of orange, which contrasts beautifully with the salty bacon.
Print
Pin
Rate
Want to lose weight and get healthy for life—without dieting, drugs, or making yourself miserable?
We can help! Tell me how!
Equipment
Mixing bowls

Measuring cups and spoons

Frying pan
Ingredients
400

g

Brussels sprouts

¼

tsp

salt

2

slices

bacon

55

g

butter

1/2

clove

garlic minced

crushed

1

tsp

orange zest

optional

4

pieces

walnut halves/pieces

halves
Instructions
Prepare the Brussels sprouts by removing any dirty leaves, trimming the base a little, then slice the bottom. Place in a small saucepan and add salt to taste.

Boil in a small amount of water until just cooked, roughly 5-8 minutes. Drain and leave the lid off to allow the steam to escape. You don't want soggy sprouts or a watery sauce.

In a frying pan or skillet, heat the butter, then gently cook the bacon until it begins to go crispy. Now add the garlic and cook for another minute. Be careful not to burn the garlic.

Add the orange zest then gently stir in the cooked Brussels sprouts. Stir while heating the Brussels sprouts and coating them in the buttery garlic sauce.

Serve and use some walnut pieces to garnish.
Nutrition
Serving:
1
serve ( serves 5)
Calories:
156
kcal
Carbohydrates:
6.6
g
Protein:
4.1
g
Fat:
13.2
g
Sodium:
274.8
mg
Potassium:
336.9
mg
Fiber:
3.1
g
Sugar:
1.8
g
Vitamin A:
883.2
IU
Vitamin C:
68.7
mg
Calcium:
38.7
mg
Iron:
1.2
mg
Get our FREE guide to finally fix your metabolism!
Losing weight & getting healthy is never easy, but lately you might feel like it's suddenly become impossible.
Our Flip the Switch guide will help you clearly understand what's been going on, as well as exactly what you can do to get your metabolism working again so that you can look and feel your best—it's easier and more simple than you think!