This FatHead Pizza recipe is the number one low-carb pizza recipe on Google and in all the low-carb and keto communities.
FatHead dough is the famous mozzarella keto pizza dough that can now be made with coconut flour or almond flour.
In fact, this fat head keto pizza will become your go-to dough for just about everything!
If you have never made a keto pizza before you may want to see the supreme guide to making fat head dough even without a microwave. Can be made with almond flour or coconut flour EVEN WITHOUT a microwave PLUS 16 keto recipes to use it.
Ready to lose weight and get healthy for life without dieting, drugs or making yourself miserable?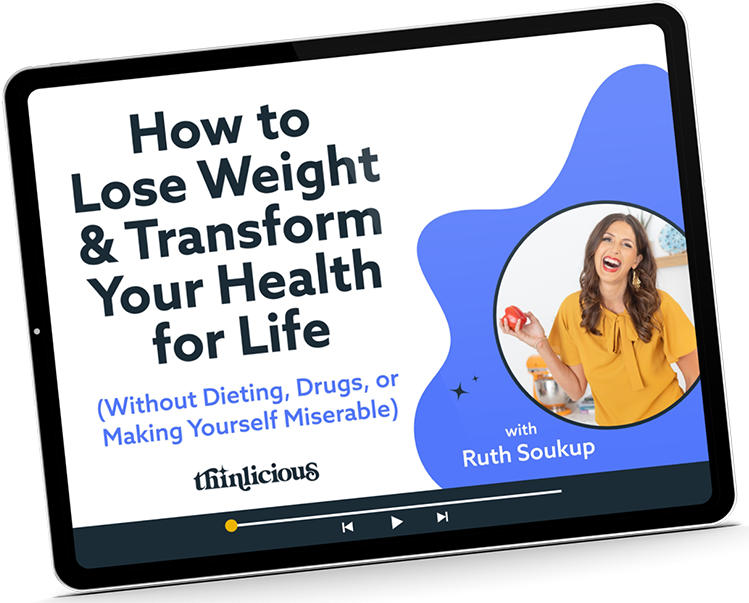 Our free on demand video training will help you understand why it's been so hard and what do to about it.
What is fat head pizza?
Fat head pizza is also known as mozzarella dough pizza. It is made with 4 simple ingredients that you can find in your local grocery store. It's the keto pizza that the low-carb and keto community has gone crazy for.
It tastes even better than regular pizza dough. It looks like regular pizza dough, it bakes like regular pizza and it slices like a traditional pizza. It is the perfect easy dinner recipe for those starting out on their low-carb diet or keto diet.
You can make fathead pizza crust recipe as a thick chewy pizza crust or a thin crispy pizza crust. You can also use it to make nachos chips, taco cups, pizza pockets, and even keto garlic bread.
It is the ultimate low-carb dough because it consists of simple ingredients that you likely always have on hand.
Is fat head dough keto?
Yes, fathead dough is extremely low in carbs and high in protein, healthy fats, and naturally gluten-free. These are the nutrition facts per slice and carbs per slice.
1 slice fat head pizza crust (recipe makes 6 slices) = 2.4 g net carbs, 11 g protein, 16.8 g fat, 203 calories
1 slice wheat pizza crust = 57.1 g net carbs, 10.6 g protein, 4.3 g fat, 326 calories
Nutritional values from cronometer.com
FatHead dough has taken the low-carb community by storm.
The pizza is incredibly filling and virtually impossible to overeat. Most people can't eat more than a few slices, and if you serve the pizza with a light side salad you have a well-rounded meal.
Can you reduce the carbs further?
Yes, you can. The keto pizza dough can be made with almond flour and coconut flour. The coconut flour recipe is lower in carbs and higher in fiber. You can also ensure you only use lower-carb vegetables as pizza toppings such as pepperoni, bacon, ham, mushrooms, herbs, and more cheese.
If strict control of your daily carb limits is important, avoid higher carb toppings such as pineapple, regular pizza sauce or tomato sauce that has added sugars, large amounts of capsicums, peppers, olives, and cherry tomatoes, and limit how much tomato paste you use.
Who invented fat head pizza?
For anyone who doesn't know, FatHead pizza recipe was created by Tom Naughton's oldest brother's eldest son. Ever since it has been named in honor of his Fat Head movie. Fat Head is a comedy documentary by Tom Naughton (comedian and former health writer).
The documentary explains how low cholesterol is unhealthy, and how saturated fat does not cause heart disease. Instead, heart disease is caused by sugars, grains, starches, and processed vegetable oils.
Ingredients
You only need 4 simple ingredients for this delicious cheesy fathead pizza crust recipe.
Pre grated/pre shredded mozzarella cheese – always read the nutrition label to ensure there are no flours or starches. These are sometimes added to prevent the shredded mozzarella cheese from clumping together.
Full fat cream cheese – do no use the lit cream cheese or low fat cream cheese. The full fat cream cheese makes a lovely smooth keto pizza dough.
Almond flour – the fat head pizza recipe is traditionally made with almond flour but instead of almond flour you may swap this for 1/4 cup (4 tbsp) coconut flour
Egg – all my recipes state to use 1 medium egg. If you have large eggs then you may need to adjust the recipe by adding an additional tablespoon or two of your low-carb flour. The egg can be successfully omitted if you cannot tolerate eggs.
Herbs and seasoning – suggestions to add to the pizza base recipe are Italian herbs, garlic powder, onion powder, salt, pepper or any other of your favorite pizza herbs.
Toppings – the nutrition panel is for base only per serving as toppings will vary widely depending on what was added and how much.
Method
To make FatHead pizza dough you can use the microwave (the easiest method) or the stovetop to melt the cheese with the other ingredients.
1: Mix cheeses and flour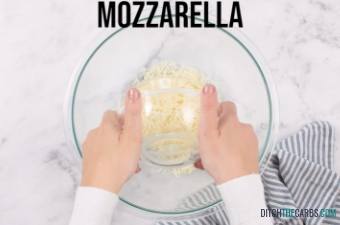 Mix the mozzarella cheese and cream cheese together with the almond flour (or coconut flour), in a large microwave-safe bowl. Microwave the dough for one minute, then mix in the egg and seasoning, with a silicone spatula or wooden spoon.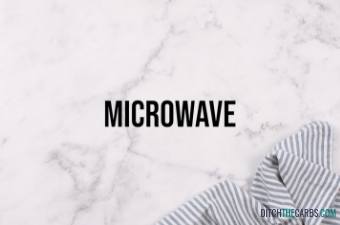 Add the egg and mix again until smooth and it begins to look like traditional all-purpose wheat pizza dough.
2: Roll out pizza dough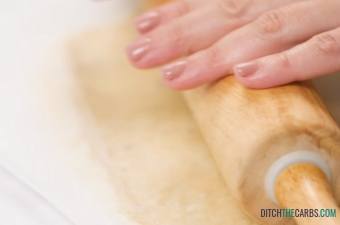 Take your dough ball while it's still warm, and place the dough between two pieces of parchment paper. Begin to roll the dough using a rolling pin into a large circle to your desired thickness using a rolling pin.
The thinner the dough the crispier your pizza will be. If your dough begins to harden and is too stiff to roll out, simply pop it in the microwave for a few more seconds.
Place the low-carb pizza crust onto a baking tray/sheet pan on the baking parchment. Press all over the base with a fork to make tiny holes. This helps the pizza base cook evenly and bake to a lovely crispy crust. It also ensures the crust cooks evenly and doesn't bubble up.
3: Bake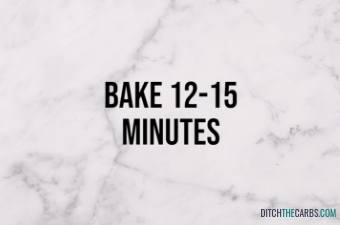 Place the dough and bottom layer of parchment paper onto a baking pan, pizza pan or pizza stone and bake the crust for 12-15 minutes.
Bake until the top has turned golden brown, using the other piece of baking paper, quickly flip the pizza base over and cook for a few more minutes on the other side. Do not overcook.
3: Add toppings and bake
While the Fathead pizza crust is cooking, prepare your toppings and cook any meat you want to add. Add your favorite toppings. All meat needs to be pre-cooked as the toppings are just warmed, not cooked.
When the crust is done add the sauce, more shredded cheese, and topping to your crust and bake it until the cheese is melted/browned.
Place back into the oven on the baking sheet and cook until all the additional cheese is melted.
Let the pizza cool for a few minutes before slicing and serving.
No microwave?
Use an oven to make fathead pizza recipe: If you don't wish to use a microwave, you can melt the cheeses together gently in a saucepan on the stovetop. Be careful to stir gently to prevent the melted cheese from sticking and burning.
Use a food processor to make fathead pizza recipe: Another way of making a Fathead pizza dough is to use your food processor. Place everything in the bowl of the food processor and pulse until a dough ball forms. You might have to scrape down the sides to ensure everything is mixed to form the pizza dough.
Serving
The fathead pizza recipe makes 6 slices. Depending on your level of carb restrictions and appetite, most people eat 1 or 2 slices. I make 2 pizza bases for my family of 5 as my teenage boys love pizza.
The keto pizza is best served hot. Any leftovers can be stored in an airtight container for up to 3 days. Cooked fathead pizza bases can be frozen with a layer of baking parchment in between each pizza base, for up to 3 months.
When it is time to cook, place your favorite toppings then heat until heated throughout and all your toppings are hot.
Can fat head dough be frozen?
Only the cooked pizza bases can be frozen. Because the mozzarella cheese has been warmed and a raw egg was added, it cannot be frozen uncooked, The raw egg needs to be cooked before freezing.
Ways to use fathead dough
Fathead dough can be used in many different ways, which is part of why it is such a popular keto recipe. Once you make this delicious cheesy pizza base you will discover there are so many ways to use mozzarella dough.
You can also make other keto recipes such as nachos, crackers for dips, calzones, breadsticks, wrapped sausage, and so with this dough. Basically, anything you would need bread, biscuits, chips, or crust for can be made with FatHead dough. Check out the list below for more FatHead recipe ideas.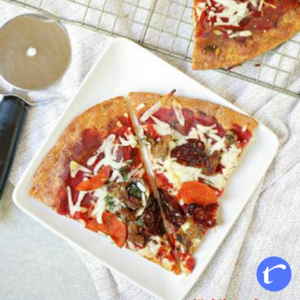 FatHead Pizza Recipe (Best Keto Pizza Crust)
FatHead pizza recipe is the NUMBER ONE recipe that every reader NEEDS to make. It has won over many traditional pizza lovers who are never going back. See the conversion below to see how to make these using almond flour or coconut flour.
Print
Pin
Rate
Want to lose weight and get healthy for life—without dieting, drugs, or making yourself miserable?
We can help! Tell me how!
Equipment
Silicone baking sheets

Baking sheets – non stick

Mixing Bowls
Ingredients
170

g

shredded/grated cheese

mozzarella is the best or Edam/mild cheese

85

g

almond meal/flour

2

tbsp

cream cheese

1

eggs – medium

pinch

salt

to taste

½

tsp

dried rosemary/ garlic or other flavourings

optional

your choice of toppings such as pepperoni

peppers, cherry tomatoes, olives, ground/mince beef, mushrooms, herbs etc
Instructions
Mix the shredded/grated cheese and almond flour/meal in a microwaveable bowl. Add the cream cheese. Microwave on HIGH for 1 minute.

Stir then microwave on HIGH for another 30 seconds.

Add the egg, salt, rosemary and any other flavourings, mix gently.

Place in between 2 pieces of baking parchment/paper and roll into a circular pizza shape (see photos above). Remove the top baking paper/parchment. If the mixture hardens and becomes difficult to work with, pop it back in the microwave for 10-20 seconds to soften again but not too long or you will cook the egg.

Make fork holes all over the pizza base to ensure it cooks evenly.

Slide the baking paper/parchment with the pizza base, on a baking tray (cookie tray) or pizza stone, and bake at 220C/425F for 12-15 minutes, or until brown.

To make the base really crispy and sturdy, flip the pizza over (onto baking paper/parchment) once the top has browned.

Once cooked, remove from the oven and add all the toppings you like. Make sure any meat is already cooked as this time it goes back into the oven just to heat up the toppings and melt the cheese. Bake again at 220C/425F for 5 minutes.
Notes
FatHead pizza recipe can also be made by replacing the almond meal/flour with 1/4 cup (4 tbsp) coconut flour.
Nutrition panel is for base only as toppings will vary widely depending on what was added and how much.
Nutrition
Serving:
1
slice
Calories:
203
kcal
Carbohydrates:
4
g
Protein:
11
g
Fat:
16.8
g
Fiber:
1.6
g
Sugar:
1
g
Get our FREE guide to finally fix your metabolism!
Losing weight & getting healthy is never easy, but lately you might feel like it's suddenly become impossible.
Our Flip the Switch guide will help you clearly understand what's been going on, as well as exactly what you can do to get your metabolism working again so that you can look and feel your best—it's easier and more simple than you think!