Dinner options don't get much more simple than this easy curry cauliflower rice. This simple one-pot dish is the perfect healthy keto family dinner.
You'll be hard-pressed to find a more tasty and simple recipe than this. It's low-carb, gluten-free, sugar-free, and packed full of flavor!
Discover how to make curry cauliflower rice with my famous "no-mess method". Because no one wants their kitchen to be messy or smelly.
It's the perfect side dish for chicken, beef, pork, salmon, and of course, low-carb and keto curries.
Are you ready to create the ultimate 12-month blueprint for reaching your health & weight loss goals this coming year?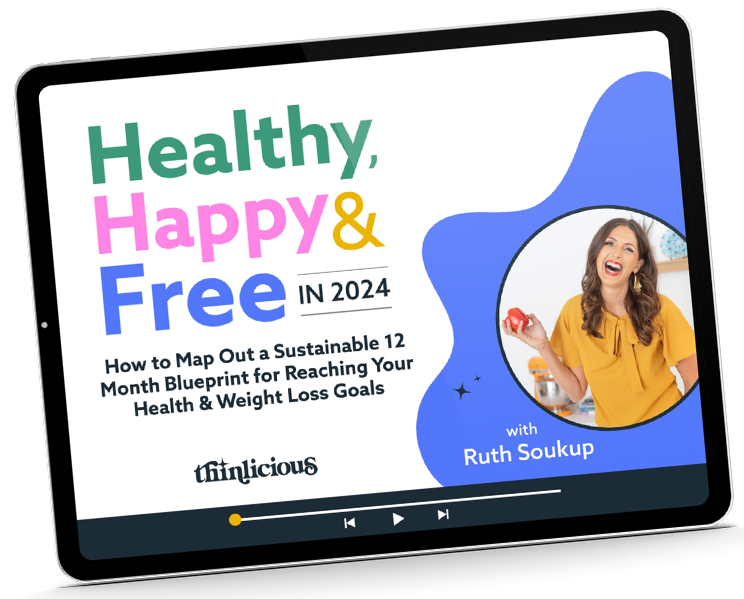 Our free on-demand video training will walk you through how to make 2024 THE year you set health goals…and keep them.
Is cauliflower keto?
Yes, cauliflower is a nonstarchy vegetable that is incredibly low in net carbs, high in fiber, and incredibly versatile.
Cauliflower is used in many low-carb recipes and keto recipes. It is the most common vegetable used for those following a low-carb diet or keto diet.
Is riced cauliflower healthier than rice?
Yes, it is. Just look at the nutrition values per serving to compare cauliflower rice with long-grain white rice and brown rice. You'll see it is extremely low in grams of net carbs and the calories are almost insignificant.
Cauliflower 1 cup serving: 5.3g carbs, 2.5g fibre, 2.4g sugar, Vit A 0.3%, Vit B6 10%, Vit c 77%, calcium 2.2%, iron 2.4%, magnesium 4%
White rice 1 cup cooked: 53.2g carbs, 0.6g fibre, 0.7g sugar, Vit A 0%, Vit B6 15%, Vit C 0%, calcium 0.6%, iron 15%, magnesium 21%
Brown rice 1 cup cooked: 44.8g carbs, 3.5g fibre, 0.7g sugar, Vit A 0%, Vit B6 15%, Vit C 0%, calcium 2%, iron 4.5%, magnesium 21% (% of your daily requirement)
Nutritional values from cronometer.com
How to make cauliflower rice
This keto recipe is the perfect rice substitution for those who are wanting to eat more vegetables, for vegans, vegetarians and for those who are restricting their carbs to help their blood sugar levels. It's keto, vegan, Whole30, Paleo, dairy free and super easy.
How to make curry cauliflower rice
This rich and tasty recipe only takes 5 minutes of prep time and 5 minutes to cook. Simply make your regular cauliflower rice recipe and add the spices while cooking over a medium heat. It really is that quick and easy.
Turmeric gives the curry cauliflower rice a distinctive yellow color and earthy taste. The coconut cream ensures the rice is creamy and delicious.
This just might be one of the most delicious cauliflower rice recipes, ever. Who doesn't love the flavors of turmeric and coconut combined together to create a truly epic curry flavor?
One bite and you'll be hooked. This is one curried cauliflower that you'll make over and over again.
How do you stop soggy cauliflower rice?
Often people will complain that cauliflower rice has ended up soggy and watery. The best way to prevent this is:
Do not add too much liquid to the cauliflower rice. I never add water to my cauliflower rice, I only add coconut cream and seasonings.
Allow the cauliflower rice to release all of its steam before sevring. So if you are cooking your rice in a sauecpan, always remove the lid to allow all of the steam to escape.
Does cauliflower rice taste bad?
For some people who are sensitive to the taste of cauliflower, it may not taste the same as regular white rice but I have some ideas for you.
Flavor and season – add plenty of salt and pepper to the shredded cauliflower during cooking. Adjust to your preferences. Salt really does make an enormous difference.
Add herbs and spices – you can easily make a Mediterannean couscous by adding cumin, coriander, cilantro and fresh herbs such as chopped parsley. In the case of this curry cauliflower rice recipe, add plenty of curry powder or curry paste.
Add coconut cream – this makes the rice taste less of cauliflower and more of coconut, btu without being overpowering.
Using frozen cauliflower rice
Frozen cauliflower rice can really be a lifesaver when in need of a quick and healthy low-carb side dish. Frozen cauliflower is often cheaper than fresh cauliflower when it is out of season.
You can either cook it from frozen or allow it to defrost first. Pour the frozen (or defrosted) vegetable rice into a saucepan or frying pan and heat until hot and steaming.
"No mess method"
Most people like to grate or shred their fresh cauliflower by hand. You will end up with your kitchen covered in cauliflower bits and pieces, your hands will be a mess and your house will be smelly!
There is an easier method to make rice using your food processor. it's quick, easy and minimizes any smell.
How to use your food processor to make cauliflower rice
1: PREPARE – To make the cauliflower rice, cut your head of cauliflower into chunks (or florets) and place these chunks of cauliflower into your food processor and pulse with the blade until "rice" pieces are formed.
Just make certain that you pulse for just a few short moments and keep a close eye on it while you're doing so.
If you over pulse, you'll actually end up making curried cauliflower "mashed potatoes". And in all honesty, that will still be really good but you'll have a much creamier texture that won't resemble rice.
2: COOK – Add your rice to your frying pan/skillet or large saucepan. Add coconut cream and seasonings then cook/fry for up to 5 minutes. Just long enough for the rice to be steaming hot, but not mushy.
To see the full instructions on how to use your food processor, CLICK HERE.
Can you use coconut milk?
Absolutely. However, in saying that, switching out ingredients will cause the carbs, sugar count (and even possibility of being gluten-free) to be in question.
Make certain that you read the nutritional information before switching out to coconut milk to ensure that it still fits within your low-carb lifestyle.
Personally, I prefer coconut cream because it is higher in healthy fats and lower in carbs. Coconut cream also tends to give a beautiful thick and creamy texture to the low-carb curry cauliflower rice recipe.
More low-carb curry recipes
Serving
What would you serve this coconut cauliflower rice with?
This is where this homemade cauliflower rice dish is so versatile. It's tasty enough to stand as a main dish on its own, and a great option for vegetarians who are always on the hunt for easy low-carb vegetarian meal ideas, BUT it can also be a supporting side dish as well.
It is tasty to be served with salmon, pork chops, and even served as a cold side salad at a summer BBQ.
If you are going to pair it up with something for a meal, consider cooking up some Lamb Curry With Spinach. It's an easy low-carb family meal PLUS it's cooked in the slow-cooker to make life super easy after a busy long day. Walk in the door and dinner is waiting for you.
If you prefer beef curry, you may want to try my slow cooker beef Rendang (Malaysian beef curry), and for chicken dinner lovers try my keto butter chicken. keto chicken curry with pumpkin, keto garlic naan bread, with a fluffy curried keto "rice".
This curry cauliflower rice recipe is perfect for summer eating. There's just something so freeing knowing that you're fueling your body with healthy ingredients and food to give you energy and power throughout the day!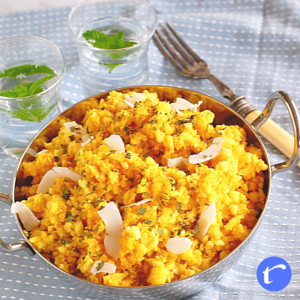 Curry Cauliflower Rice Recipe (no mess method)
The perfect addition to any low-carb and keto curry night. Easy Curry Cauliflower Rice with turmeric and coconut.
Print
Pin
Rate
Want to lose weight and get healthy for life—without dieting, drugs, or making yourself miserable?
We can help! Tell me how!
Ingredients
4

cups

cauliflower

riced

1

tsp

turmeric powder

125

ml

vegetable stock

3

tbsp

coconut chips
Instructions
To make the cauliflower rice, place chunks of cauliflower into your food processor and pulse with the blade until "rice" pieces are formed. You can see how here.

In a saucepan, place all the ingredients and mix. Cook on medium heat until the cauliflower rice has cooked and the stock has been absorbed or evaporated to ensure you don't end up with soggy "rice". Stir continuously, but gently

Stir through the coconut chips. They will soften with the heat. Serve.
Notes
Be careful to read the nutrition label on your can of coconut cream. Make sure there are no added sugars or sources of gluten.
Nutrition
Serving:
1
serve (serves 4)
Calories:
28
kcal
Carbohydrates:
5
g
Protein:
1
g
Sodium:
155
mg
Potassium:
312
mg
Fiber:
2
g
Sugar:
2
g
Vitamin A:
65
IU
Vitamin C:
48.2
mg
Calcium:
22
mg
Iron:
0.6
mg
Get our FREE guide to finally fix your metabolism!
Losing weight & getting healthy is never easy, but lately you might feel like it's suddenly become impossible.
Our Flip the Switch guide will help you clearly understand what's been going on, as well as exactly what you can do to get your metabolism working again so that you can look and feel your best—it's easier and more simple than you think!