</p>
Deliciously sweet sugar-free coconut ice with pink and white layers of vanilla and raspberry.
You only need 5 healthy ingredients, it takes less than 10 minutes to make, and it's only 1g net carbs per square.
I love using desiccated coconut in keto candy such as my popular sugar free Bounty bars. But when I want a quicker recipe, these sugar free coconut ice squares, are the perfect quick and easy healthy recipe alternative.
Are you ready to create the ultimate 12-month blueprint for reaching your health & weight loss goals this coming year?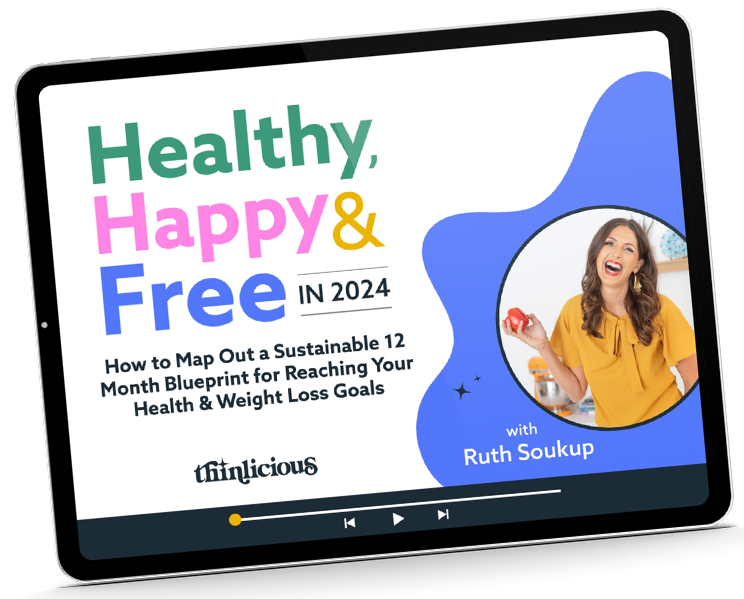 Our free on-demand video training will walk you through how to make 2024 THE year you set health goals…and keep them.
Is coconut keto or low-carb?
Coconut, the main ingredient in this deliciously sweet food, is a commonly used keto ingredient. That's because it is extremely versatile, low in carbs, high in fiber and healthy fats, and can be used in a variety of sweet or savory keto recipes.
Nutrition of coconut per cup (80g): 19 grams total carbs, 13g fiber, 6 g net carbs, 5.5 g protein, 51 g fat, 528 calories.
Nutritional values from cronometer.com
What is coconut ice?
Coconut ice is popular in Britain, Australia, New Zealand, and South Africa In America, it is called Neopoloton coconut and is often coated in chocolate.
It has a pink and white layer of sweetened desiccated coconut and cut into small squares.
What is coconut ice made of?
The traditional coconut ice recipe is made with sweetened condensed milk, icing sugar (confectioners sugar), food colouring (to make the pink coconut ice layer) and is found in almost all good sweet shops, bake stalls, Christmas fairs, and school fundraising events wrapped in cellophane.
This yummy keto candy is made with coconut, raspberry, sweeteners, and vanilla extracts for a flavourful, sweet treat that will fit your macro goals!
Easy coconut ice
The traditional method is to heat everything in a large saucepan and using a candy thermometer.
You don't need any special equipment or a candy thermometer to make my healthy version of sugar-free coconut ice. You only need 2 medium mixing bowls.
It's such a quick and easy recipe, in fact, I would say this is the best coconut ice recipe that will please even the most ardent sugar lover!
Ingredients you need
My sugar-free coconut ice only requires 5 ingredients, tastes of delicious sweet raspberry and vanilla, and your sugar-loving children, won't suspect a thing!
Since this is a sugar-free take on my childhood staple, I didn't use any icing sugar or sweetened condensed milk. Here's what I used instead:
Coconut oil – gives the coconut ice a melt-in-your-mouth texture because of its low melting point. Make sure it is at room temperature when you make this treat.
Desiccated or shredded coconut – make sure to read the label carefully and avoid any added sugar.
Sweetener of choice – the most popular sweeteners and sugar replacements are erythritol, allulose, monk fruit, xylitol, and stevia. For the best results, use powdered sweetener. You can make your own by grinding granulated sweeteners in your coffee grinder or food processor.
Raspberry extract – or raspberry essence
Vanilla extract – or vanilla essence
Red food colouring – this is an optional ingredient but just a few drops will give you that pretty pink mixture that makes this such a fun treat!
All the quantities, full instructions, and nutrition facts can be found in the simple recipe card below.
How to make easy coconut ice
First, mix the melted coconut oil, desiccated coconut, and powdered sweetener together in a large bowl until they are completely mixed.
The powdered sweetener/sugar-free icing sugar helps bind everything together.
Next, divide the mixture into two bowls. One half will become the white layer and the other half will become the pink raspberry layer.
White layer: In the first mixing bowl add the vanilla extract.
Pink layer: In the second bowl, add the raspberry flavouring and a few drops of the red food colouring. Mix until you get an even pink colour. You can make the pink mixture as pale or dark as you like.
Place the vanilla layer into a baking dish that is covered in baking parchment (or cling film). Press it down firmly and put it in the refrigerator to set.
After a few hours, press the raspberry desiccated coconut layer on top.
Place the dish back in the refrigerator until the deliciously sweet coconut ice is firm enough to cut into squares using a sharp knife.
Storage
Keto coconut ice is made with coconut oil which has a low melting point. It can be stored at room temperature in the cooler months, and must be kept in the fridge in warmer months and warmer climates.
Keep extra coconut ice in an airtight container in the refrigerator for up to a month. It can be frozen for up to 3 months.
Variations
There are a few different ways you can make this coconut ice recipe.
Chocolate drizzle – drizzle some sugar-free milk chocolate on top.
Chocolate coated – dip in melted sugar-free dark chocolate for chocolate-covered coconut ice (Neopolitan ice)
Powdered ice – dust them on the outside with a sugar-free confectioner's sugar substitute.
Christmas ice – instead of a pink and white mixture, make red and green layers instead.
This no-cook recipe is sure to become your favorite way to make easy coconut ice.
Recipe tips
Ensure the mixture has enough coconut oil to coat all the desiccated/shredded coconut, otherwise, it will not set.
Some coconut is drier than others, so may absorb more of the coconut oil. You may need to add a tablespoon or more extra coconut oil to ensure the coconut ice sets.
Add plenty of raspberry flavoring to the pink layer, and plenty of vanilla extract to the white layer, it really does taste delicious.
Pack the first layer firmly into a baking paper-lined dish with the back of a spoon, allow to set in the fridge for a few minutes, then place the pink mixture on top, and press down firmly again.
Alternatively, you can cool the mixture until it is firm enough to roll into balls. Pop them back in the fridge until set completely.
Coconut ice can be stored in the fridge or freezer for a quick and easy sugar-free snack – when you have a sweet craving. These will help stop you from reaching for a candy bar!
Recipe FAQs
If you don't see your question in this list, please leave it in the comments.
Is red food colouring keto?
Yes, food dye does not have any carbs in it, so it's a fun thing to use to add flair to your dessert recipes. That being said, it's not a necessary ingredient, so if you'd prefer not to use dye, just leave it out.
How do you make coconut ice without condensed milk?
Condensed milk is used in traditional old fashioned way to make coconut ice, but this sugar-free recipe uses coconut oil and powdered sweetener (sugar-free icing sugar).
Is grated coconut the same as desiccated coconut?
Yes, these are both the same thing, they just have different names depending on where in the world you live. Desiccated coconut is the same as unsweetened shredded coconut. Always check to make sure there are no added sugars and that it is the unsweetened coconut you are buying.
Is condensed milk keto?
Sweetened condensed milk is definitely not keto-friendly. That is why I did not use it in this recipe.
Do you bake coconut ice?
No, this is a no-bake coconut ice recipe.
Does coconut ice need to be kept in the fridge?
To prevent the coconut oil from melting, it is best stored at a cool room temperature or kept in the fridge, in an airtight container.
Why didn't my coconut ice set?
The easiest way to make sure your coconut ice sets solid is to:
– coat all the coconut with coconut oil and sugar-free icing sugar
– press down firmly into the baking pan
– store in the fridge
More keto dessert recipes
If you are trying to avoid the high sugar content of other dessert recipes, here are some sugar-free ideas you should try next!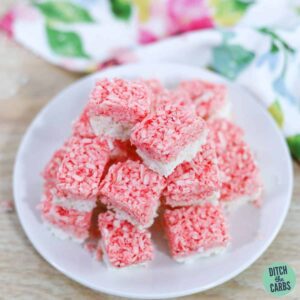 Sugar-Free Coconut Ice Recipe
Deliciously sweet sugar-free coconut ice with pink and white layers of vanilla and raspberry. 5 healthy ingredients, it takes less than 10 minutes to make, and it's only 1g net carbs per square.
Print
Pin
Rate
Want to lose weight and get healthy for life—without dieting, drugs, or making yourself miserable?
We can help! Tell me how!
Equipment
Measuring cups and spoons

Mixing bowls

Parchment Paper
Ingredients
6

tbsp

coconut oil

melted

200

g

desiccated/shredded coconut

unsweetened

4

tbsp

powdered sweetener

or more to taste

2

tsp

raspberry extract

1

tsp

vanilla extract

red colouring

optional
Instructions
Mix the melted coconut oil, coconut, and powdered sweetener together until thoroughly mixed and all the coconut is coated.

Divide the coconut mixture into 2 bowls. In the first bowl add vanilla, and into the second bowl, add the raspberry flavoring and red food coloring (optional).

Mix each bowl well, then place the vanilla white layer into a baking dish lined with baking paper. Press down firmly with the back of a spoon. Place in the fridge for a few minutes.

Press the raspberry pink layer on top. Set the dish in the refrigerator until the coconut ice is firm enough to cut into little squares.
Nutrition
Serving:
1
piece
Calories:
113.4
kcal
Carbohydrates:
2.7
g
Protein:
0.8
g
Fat:
11.9
g
Sodium:
4.1
mg
Potassium:
60.7
mg
Fiber:
1.8
g
Sugar:
0.8
g
Vitamin C:
0.2
mg
Calcium:
3
mg
Iron:
0.4
mg
More sugar-free candy recipes
Get our FREE guide to finally fix your metabolism!
Losing weight & getting healthy is never easy, but lately you might feel like it's suddenly become impossible.
Our Flip the Switch guide will help you clearly understand what's been going on, as well as exactly what you can do to get your metabolism working again so that you can look and feel your best—it's easier and more simple than you think!