Are you on the hunt for sugar-free breakfast recipes? Your entire family will love this easy cinnamon keto granola.
Plus, at under 2 grams net carbs per serving, you can enjoy this one completely guilt-free! This sugar-free granola can even be used for a quick sugar-free dessert recipe.
Served with a generous pour of unsweetened almond milk (or regular milk!), sprinkled over the top of a parfait, or just eaten by the handful…there's no wrong way to enjoy this granola!
There is minimal prep time and you can adjust the sweetness to your liking.
Ready to lose weight and get healthy for life without dieting, drugs or making yourself miserable?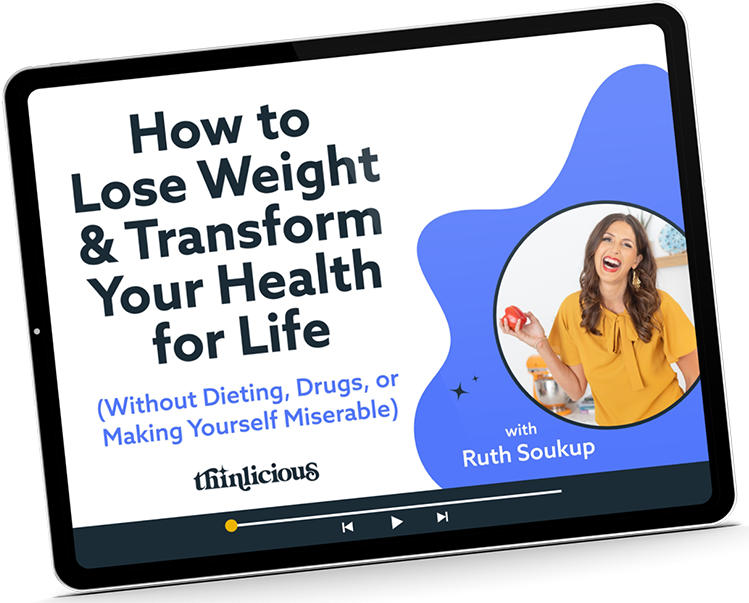 Our free on demand video training will help you understand why it's been so hard and what do to about it.
Is cinnamon granola keto?
If you are asking about the boxes of cereal filled with sugars and additives, then no. But, this recipe for keto granola can fit into the keto diet. It is high-protein and low-carb.
In fact, this grain-free cinnamon crunch with a hint of vanilla is absolutely divine.
I have to stop my children from eating it straight from the jar. For breakfast, they eat it with berries and unsweetened yogurt or sprinkled on whipped cream for a quick and healthy dessert.
We all want something quick in the morning and are so used to pouring something from a packet, this is a great healthy alternative. I make a big batch every few weeks with whatever mixture of seeds, nuts, and coconut I have in my pantry at the time.
You can enjoy a bowl of homemade keto granola, like breakfast cereal – pour some unsweetened almond milk on top. Or take this keto granola with you on a hike or to the gym.
Ingredients
This low-carb granola recipe tastes so good that even people who aren't on a low-carb diet will enjoy the crunchy and sweet granola mixture.
Keto recipes like this one are so easy to customize. From sunflower seeds to sliced almonds and chia seeds, it is really easy to make your own low-carb cinnamon granola recipe with your favorite nut mixture.
For a basic cinnamon keto granola recipe, I recommend using:
A note on eggs: The egg can be omitted if you have an egg allergy or if you do not have eggs. You can see the egg charts and best egg substitutes using the egg conversion charts.
Instructions
There are two parts to this scrumptious keto granola. All the exact steps are in the printable recipe card and recipe notes, but here are some additional tips that will help you as you make cinnamon keto granola.
1. Make the cinnamon crunch glaze
In a large mixing bowl, combine the melted coconut oil with an egg, vanilla extract, ground cinnamon, granulated sweetener, and some coconut flour. Set this aside.
2. Mix and bake
Next, combine your favorite nuts and seeds together. I used some sunflower seeds, coconut flakes, sliced almonds, and walnuts (among other seeds and nuts).
Add this nut and seed mixture to a baking dish or a baking sheet lined with parchment paper and pour the cinnamon crunch glaze on top.
Mix it all together. Make sure that all the seeds, nuts, and shredded coconut are coated in the cinnamon crunch glaze.
Stir to make sure the granola recipe is spread out to be a single layer.
Bake your low-carb granola in the preheated oven and turn the keto granola over every 4 minutes to avoid the coconut flakes from burning.
That's it! Once it is nice and toasty, let it cool completely, and you are ready to enjoy this low-carb granola with some almond milk, unsweetened yogurt, and a few fresh or frozen berries.
Substitutions
This is a very adaptable, allergen-friendly, and family-friendly recipe.
You can use any combination of seeds and nuts that you prefer and that you can tolerate.
walnuts
hemp hearts
pecans
sliced almonds
I have given a selection of nuts and seeds in the keto granola recipe below, but it is a pretty adaptable pantry recipe. If you can't find some of the ingredients, simply use whichever seeds and nuts you can find and tolerate.
When possible, try and find the shredded coconut or coconut chips as it gives a really beautiful texture and crunch.
If you don't have melted coconut oil, you can use melted butter instead.
Variations
Make it chocolatey – If you have a sweet tooth, there are a few different things you can add to this keto granola. After it bakes, mix in some keto chocolate chips.
Add a bit of fruit – This granola is delicious with a few fresh blueberries in a bowl of milk. You can even mix in some dried blueberries. Just be careful because everything you add will increase the net carbs in the granola.
Swap for egg whites – You can also use egg whites instead of an entire egg.
Top tip
I often add walnut halves, coconut chips, or chopped raw almonds AFTER it has been baked, to add variety and texture.
Storage
Store this gluten-free granola in an airtight container in the fridge for 3-4 weeks. Store in the freezer for up to 3 months.
You can take a portion-controlled serving size in a Ziplock bag for your bag or freezer. This is an easy way to stay on your keto diet when traveling for a quick delicious healthy snack or the most important meal (traditionally breakfast) before your day starts.
FAQs
What should I serve with this cereal?
Pour some unsweetened coconut milk or almond milk on top and eat it like cereal. Or eat it like other types of snack cuisine – just grab a handful and munch on it.
Is granola healthy?
Yes, this is a very nutritious recipe. Nuts and seeds are fantastic sources of healthy fats and protein. Plus, this recipe won't affect your blood sugar like other types of cereal because it doesn't have added sugar.
Is cinnamon keto-friendly?
Cinnamon is a very keto-friendly spice. It doesn't contain any carbs. I use it in lots of other keto recipes.
Is this recipe paleo?
Yes, this is one of my favorite paleo recipes actually. It's comprised of whole ingredients that taste great and are good for you too!
What is the serving size for granola?
I have calculated the nutrition values using a 1/2 cup (43g) but will depend on how much you use for breakfast (maybe more) or as a dessert on berries (maybe less).
How many net carbs are n keto granola?
Nutrition values will vary widely for this recipe depending on which seed/nuts you add and how much. Use the nutrition panel as a guide only.

Do I have to cook or bake the granola in the oven?
No, you can use your slow-cooker to bake granola too. Cook on LOW for a few hours, turning every 20 minutes.
More keto granola recipes
Here is a selection of the most popular healthy breakfast recipes.
Other keto breakfast recipes
If you're brand new here, granola may not be your thing; maybe pancakes and waffles are more appealing right now. I've got you covered too.
These keto recipes will keep the whole family happy.
Get our FREE guide to finally fix your metabolism!
Losing weight & getting healthy is never easy, but lately you might feel like it's suddenly become impossible.
Our Flip the Switch guide will help you clearly understand what's been going on, as well as exactly what you can do to get your metabolism working again so that you can look and feel your best—it's easier and more simple than you think!