Quick and easy baked ham and egg cups are a quick and easy high-protein keto breakfast. It's a simple idea to use a piece of ham instead of pastry.
Ham and egg cups are incredibly versatile, naturally gluten-free, grain-free, and wheat-free.
They're almost zero carbs, high protein, and delicious. The perfect keto snack and lunch box filler.
What are baked ham and egg cups?
Baked ham and egg cups use a thin slice of ham to line a muffin tray instead of using a pastry or an all-purpose flour muffin dough.
Are you ready to create the ultimate 12-month blueprint for reaching your health & weight loss goals this coming year?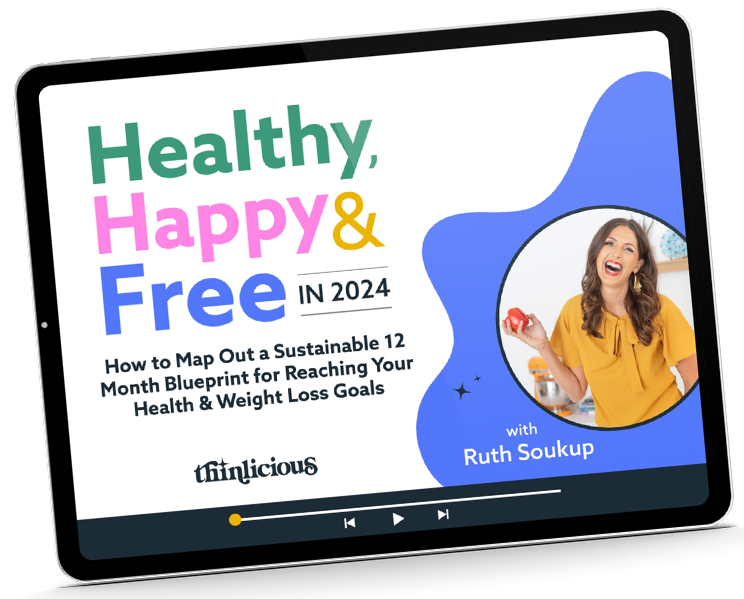 Our free on-demand video training will walk you through how to make 2024 THE year you set health goals…and keep them.
Ham and egg cups are versatile and are traditionally a mixture of eggs, cooked meat, and vegetables baked inside a ham "cup". They are crustless, naturally gluten-free, low-carb, and more often than not, keto too.
Ham and egg cups are a great way to start your day. Rather than high sugar granola and cereal that will give you a sugar crash mid-morning, start your day with a high-protein breakfast that's also nutrient rich.
Are ham and egg cups keto?
The basic low-carb ham and egg cups recipe is keto. But as you begin to add more vegetables, the carbs may slowly add up. If your children enjoy higher carb vegetables such as peas and corn in their ham cups, then they will no longer be keto.
It also depends on how many low-carb ham and egg cups you decide to eat in one sitting.
Nutrition values: 1 serving baked ham and egg cup = 0.8 g net carbs, 11.5 g protein, 10 g fat, 142 calories.
You can calculate your daily carbs, protein and fat using the FREE macro calculator.
Are ham and egg cups high protein?
Yes. Each ham and egg cup contains 11g of protein, which packs a mighty punch for such a small snack.
If you want even higher protein, you can choose to put more meat inside your keto cups, such as keto ham or bacon.
What ham should you use?
I like to use the best quality deli ham I can buy. I like to buy ham that has been cut off the bone, and I avoid the pre-formed ham in the shape of squares, circles or dinosaurs.
Try to select ham that has no sugar and the least amount of additives and preservatives as possible.
Alternatively, you can easily make your own keto glazed ham.
What vegetables can you hide in ham and egg cups?
As you know, I love adding more veggies wherever I can and these are no exception. And if you've got picky eaters, this is a great way to disguise vegetables.
My favorite vegetables are sliced spring onions, mushrooms, a cherry tomato or even leftover broccoli. I add the vegetables to the bottom of the ham cup (that is lining the muffin tin) and pour the egg mixture on top.
Alternatively, just crack a whole egg into the ham lined muffin pan. Sprinkle with grated shredded cheese or top with a cherry tomato. The possibilities of these low-carb ham and egg cups are endless.
They are also a great lunch box filler, especially for picky kids.
You can make the ham cups for each child. They get to choose their own fillings. This guarantees the ham cups will be eaten.
Ingredients
Baked ham cups are packed with protein and full of flavor. They're perfect for breakfast meal prep so you can have a grab-and-go ham and egg breakfast on busy mornings. So have a stash of these prepared in your fridge or freezer, and avoid takeouts or drive-throughs.
You only need 2 ingredients, ham and eggs, the rest are optional.
Ham – or prosciutto to line th emuffin tin instead of pastry.
Eggs – I use medium or large eggs.
Spring onion – a few small slices at the bottom of the ham casing provides a lovely gentl onion flavor without the carbs.
Cooked bacon – I like to add more protein into any low carb breakfast so choose whatever leftover meat you have.
Shredded cheese – shredded cheddar cheese or mozzarella cheese can be added to the bottom of the ham cups in the muffin tins and/or over the top to creat a crispy cheese crust.
Vegetables – any sliced vegetables or leftover vegetable work well. Avoid wattery vegetables and go for sturdy vegetables such as diced capsicum,
How to make baked egg cups
1: Ham – Use a thin large slice of ham or prosciutto to line a muffin tray that has been sprayed with cooking spray.
2: Eggs – You can either crack a whole egg into the ham cups or whisk the eggs with a few tablespoons of heavy cream then pour between the muffin cups.
3: Extras – Add vegetables such as cherry tomato, and extra leftover meat.
4: Cheese – Sprinkle over the top and season with salt and pepper and even a pinch of chili (if you like your breakfast spicy)
How to bake in the oven
Preheat the oven to 180C/350F and cook in the muffin tin for 15 minutes, or until cooked. The delicious cheese crust will be browned and crispy.
How to bake in the air fryer
The cook time will be the same in your air fryer, but it means you don't need to heat up your entire oven for your low carb breakfast.
You can either use individual silicone muffin cases or a small round muffin tray that is suitable for air fryers.
Using an air fryer to cook your ham and egg breakfast is fast and simple.
Preheat to 180C/350F.
Gently place each silicone muffin cases into the air fryer. Ensure there is plenty of space between them.
Cook for 10 minutes, open the drawer and turn the muffin cups if the cheese is not browned evenly.
Cook for a further 5 minutes.
If you love using your air fryer, I have 101 keto air fryer recipes for you to choose from (chicken, pork, ground beef, salmon, vegetables, and even desserts). Discover how to use your air fryer plus FREE printable air fryer cooking cheat sheets.
Can you freeze ham and egg cups?
Yes.
I have got into the routine of making a dozen on a Sunday night for the next week's lunch boxes and freezer. Ham and egg cups take no time at all to prepare.
I keep a few keto cups in the fridge for up to 3 days, the remainder I store in the freezer.
To store in the freezer I keep the keto cups in an airtight container, lined with baking parchment. Store in the freezer for up to 3 months. When it's time to defrost, either leave in the fridge overnight for the next day. Leave on the counter top for 1 hour or warm in the oven or microwave until piping hit.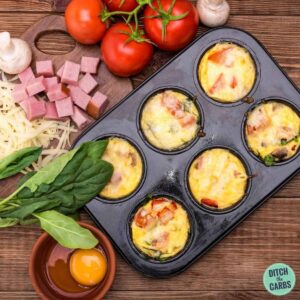 Keto Baked Ham And Egg Cups Recipe
Add anything you like into baked ham and egg cups. What about sneaking some extra veggies in there? Extra cheese?
Print
Pin
Rate
Want to lose weight and get healthy for life—without dieting, drugs, or making yourself miserable?
We can help! Tell me how!
Ingredients
12

slices

ham

10

eggs – medium

1

spring onion/scallion

optional

2

slices

bacon – diced

optional

shredded/grated cheese

various vegetables – diced

optional
Instructions
Line a cupcake or muffin tray with a thin slice of ham. You can use either an oiled muffin tray or silicone cupcake cases.

Place your choices of fillings into the bottom of the ham. I used 2 slices of spring onion, a few bacon pieces and whatever vegetables you choose.

Crack a whole egg into each ham lined cupcake/muffin tray. Alternatively whisk all the eggs with a tablespoon or two of cream and pout the egg mixture evenly between all the muffin cases.

Top with grated shredded cheese.

Bake at 180C/350F for 15 minutes or until cooked through.

Once cooled, remove and place on a wire rack until completely cold before storing in the fridge or freezer.
Nutrition
Serving:
1
(makes 12)
Calories:
142.4
kcal
Carbohydrates:
0.9
g
Protein:
11.5
g
Fat:
10
g
Sodium:
413.3
mg
Potassium:
154.5
mg
Fiber:
0.1
g
Sugar:
0.7
g
Vitamin A:
226.2
IU
Vitamin C:
0.2
mg
Calcium:
35.2
mg
Iron:
0.9
mg
For more lunch ideas, take a look at these posts:
Get our FREE guide to finally fix your metabolism!
Losing weight & getting healthy is never easy, but lately you might feel like it's suddenly become impossible.
Our Flip the Switch guide will help you clearly understand what's been going on, as well as exactly what you can do to get your metabolism working again so that you can look and feel your best—it's easier and more simple than you think!