STOP the confusion about what to eat. Use the easy CHEAT SHEETS for 31+ easy keto-friendly alternatives that show you quick low-carb substitutes.
If you're just starting your keto diet or low-carb diet, knowing what you can eat can be confusing.
Ready to lose weight and get healthy for life without dieting, drugs or making yourself miserable?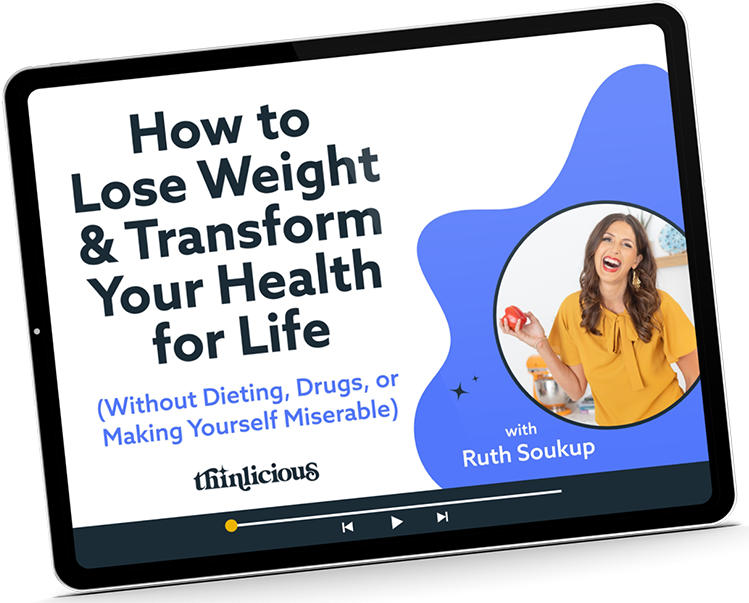 Our free on demand video training will help you understand why it's been so hard and what do to about it.
Save the lists, print them out and keep them on your pantry or fridge door. You will always know what to eat to curb your carb cravings and replace your favorite recipes.
If you are new here, you may want to look at the keto diet food chart and the keto glossary.
What are carb substitutes?
Carb substitutes are lower carb alternatives to your regular high-carb everyday foods. They are healthy swaps so you can reduce your carbs and reduce your sugar.
From breakfast to dinner to baking, here are a few simple low-carb swaps you can make.
Simply look at each cheat sheet and see the easy swap you can make with the grams of carbohydrates you will save.
Remember, when you're just starting your low-carb diet, it's easier to switch things out one at a time. One low-carb snack, one low-carb dinner and one low-carb dessert, at a time.
Progress, not perfection.
Breakfast carb alternatives
Start with breakfast since it's the easiest meal to begin your transition to eating lower carbs.
You may think that starting a ketogenic diet, breakfast will just be bacon and eggs, but let me show you how delicious and varied a sugar free breakfast can be.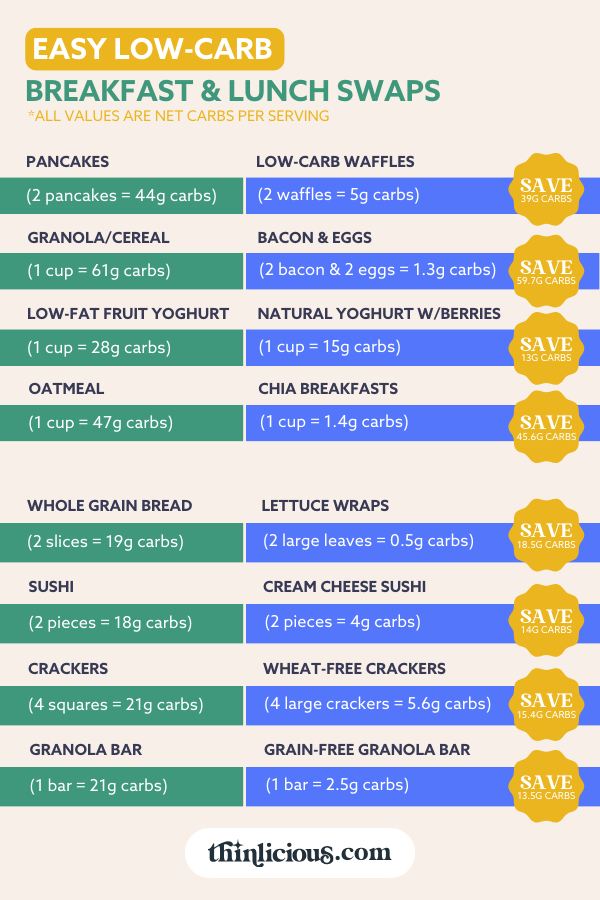 Nutritional values from cronometer.com
Pancake Substitute
Typical pancakes have about 44g net carbs in 2 pancakes. Instead, make this low-carb alternative: waffles. There are just 5g net carbs in 2 low-carb waffles.
My favorite recipe is coconut flour waffles because they have the best texture and taste. Then there are sheet pan pancakes, almond flour pancakes and even breakfast chaffles.
Low-Carb Granola/Cereal Swap
In just one cup of granola, there are 61g of carbs. That's way too much! Instead, make some bacon and eggs. There are just 1.3g net carbs total in 2 slices of bacon and 2 eggs.
Or you could make some of my favorite granola recipes such as chocolate sugar-free granola, orange and pecan granola or cinnamon crunch.
Low-Fat Fruit Yoghurt
Stay away from any yoghurt that has added syrups or sugar. Most of these will have about 28g carbs per cup.
Instead, go for natural yoghurt and sweeten it yourself with some berries or low-sugar fruit. Do it this way, and there are just 15g net carbs in each cup.
Oatmeal Substitute
One of the biggest ways to cut down on carbs at breakfast is to stop eating oatmeal. There are 47g carbs in each cup of oatmeal. Try a chia breakfast instead, with only 1.4g net carbs in each cup. That cut out 45.6g of carbs!
These 4 chia breakfast recipes will give you a fresh new taste every day.
Low-carb lunch alternatives
Lunch can get pretty boring on a low-carb diet if you only allow yourself to eat leftovers or salad all the time. Try these low-carb substitutes for some of your favorite lunches.
They are all good options and the easiest way to stay on track with your daily carb limit.
Whole Grain Bread Substitute
You don't have to give up sandwiches on a low-carb diet. Instead, use 2 large lettuce leaves. There are only 0.5g net carbs in 2 leaves – saving 18.5g carbs.
If you miss bread filled with whole grains, you can make low-carb 3-seed bread, coconut flour bread or almond flour bread.
They all have much fewer carbs than white bread with white flour. Plus you will have stable blood sugars compared to those following a traditional wheat flour sandwich.
Sushi Substitute
That rice-filled sushi you love so much has 18g carbs in just 2 pieces. Even brown rice sushi is high in grams of net carbs.
So swap that out with cream cheese sushi or cauliflower sushi. There are only 4g net carbs in 2 pieces – so you can indulge and have as much as you want.
Crackers Alternative
There are a whopping 21g carbs in just 4 cracker squares. You can easily cut that down to just 5.6g net carbs in 4 crackers if you make wheat-free crackers.
Then, enjoy them with your favorite goat or feta cheese. Or, go for classic cheddar cheese! And if you like spicy crackers, some low-carb chili crackers are quick and easy to make.
Granola Bar Substitute
A granola bar might seem like an easy grab-and-go lunch, but there are 21g in a typical bar. Muesli bars (granola bars) also have added sugar, dried fruit then dipped in chocolate.
When you need a portable lunch, make the nutritional recipe for a grain-free granola bar or seed bar. Each one only has 2.5g net carbs. That saves you 13.5g of carbs.
Low-carb meal swaps
There are lots of common easy meals that are, unfortunately, really high in carbs. Here are some simple ways to cut some out and still enjoy the meals.
It's often the high-carb side dishes that need to be removed or your favorite comfort food that need to be replaced.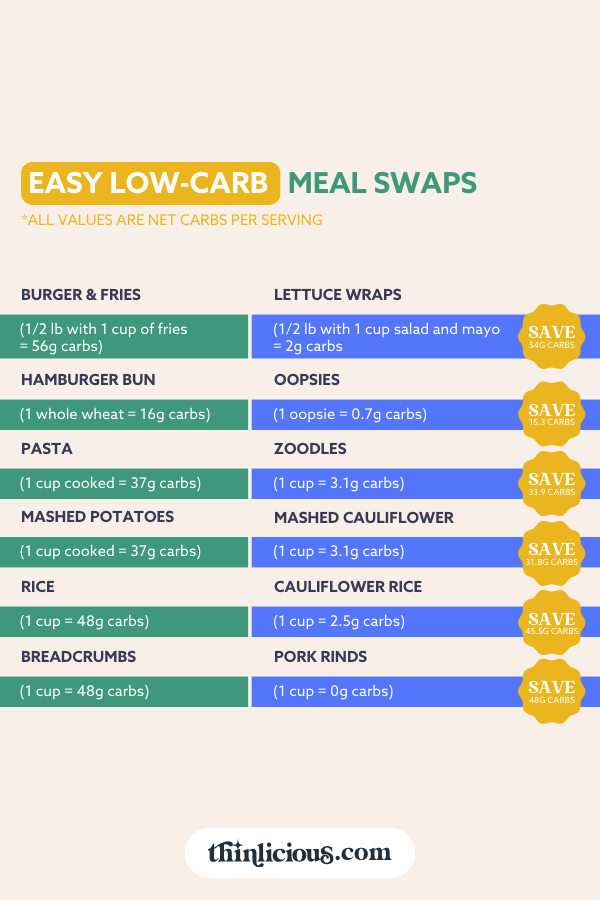 Burger And Fries Alternative
In a 1/2-pound burger with a cup of fries, there are an astounding 56g of carbs. You don't have to give up burgers and fries on a low-carb diet.
Instead, ditch the hamburger buns and make lettuce wraps. Or order a bun less burger. Enjoy a cup of salad with mayo (instead of fries). All of that only has 2g net carbs!
If you still want a bun with your burger pattie, make "oopsies bread." There is actually less than a gram of net carbs in them!
Then, instead of french fries, make some eggplant parmesan bites. There are only 3g net carbs in a cup of eggplant bites.
Low-Carb Pasta Substitute
You can save 33.9 grams of carbs just by using zoodles instead of wheat pasta. Zoodles are just spiralized zucchini. They have a very mild flavor and taste delicious with your favorite low-carb sauce.
But if you want the traditional lasagna noodles, or white pasta, this 3-ingredient keto pasta is the easiest way to reduce carbs.
Mashed Potatoes Substitute
The most popular low-carb substitute for mashed potatoes is mashed cauliflower. In one cup of mashed cauliflower, there are only 3.1g net carbs.
This is my favorite mashed cauliflower recipe. It's perfect for enjoying with steak, chicken, or pork chops.
Low Carb Rice Substitutes
As tasty as white rice is, it doesn't fit on a low-carb diet. There are 48g carbs in just one cup of rice (brown or white). Instead, make some low-carb cauliflower rice.
You can even buy frozen steamable cauliflower rice at the grocery store, saving you lots of prep time.
Low-Carb Breadcrumbs Alternative
Anytime a recipe calls for breadcrumbs, use pork rind crumbs instead. There are literally zero grams of carbs in a cup of pork rinds. They are basically a carb-free ingredient!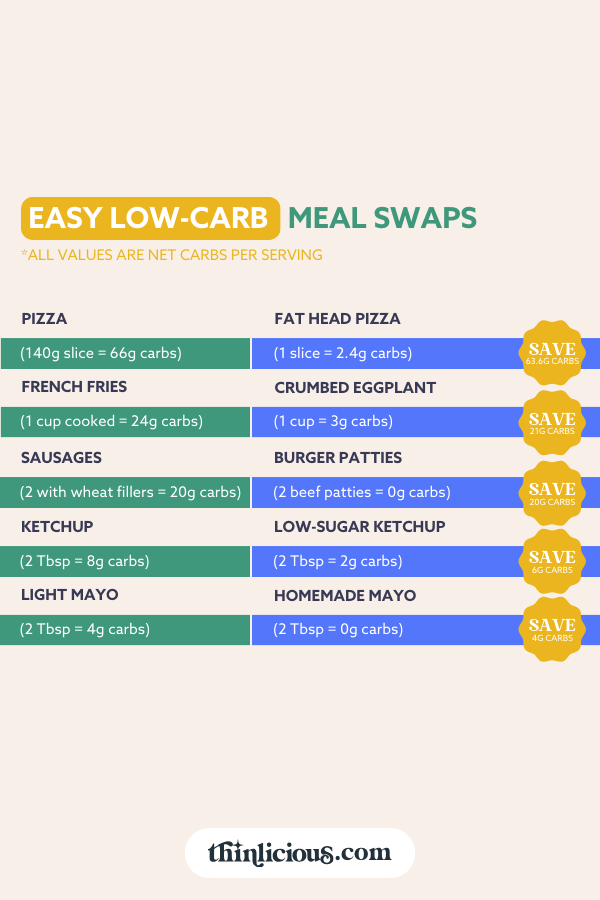 Low-Carb Pizza Substitute
The problem with typical pizza is the number of carbs in the crust and sauce. Make some fat head pizza with sugar-free sauce. It tastes the same and saves you 63g of carbs.
If pizza is the downfall of your healthy diet, you might also like to try lower carb pizza pockets, pizza pancakes or pizza chaffles.
Low-Carb Sausages Substitute
Did you know that there are wheat fillers in sausage patties? Some sausage patties have as much as 20g carbs in two of them.
Replace sausage patties with some burger patties. There aren't any carbs in burger patties.
Low-Carb Condiments
Most store-bought sauces are high in added sugars. BBQ sauce has just as much sugar as chocolate sauce and all the other chemical nasties too.
However, if you look for it, you can usually find sugar-free ketchup in the store, or you can make your own low-carb ketchup or tangy sugar-free BBQ sauce at home.
I also like to make homemade mayo. My mayo has no carbs in it at all.
Low-carb drink & snack swaps
Parties and snack time can still be fun. Just make these easy low-carb swaps for your favorite foods.
Sugary soda and sugary fizzy drinks are off the menu so drink these top 10 flavored water ideas instead without triggering your sweet tooth.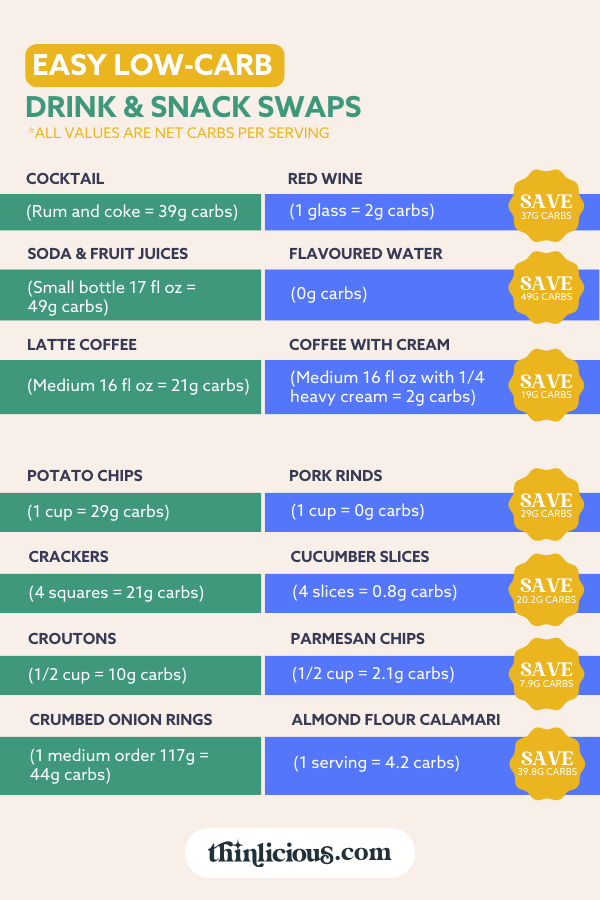 Low-Carb Cocktail Substitute
So many mixed drinks are made with syrups that have tons of sugar and carbs. In fact, a rum and Coke has 39g of carbs.
Sip on a glass of red wine instead – it only has 2g net carbs.
If red wine isn't your drink of choice, you can see all the best drinks to choose in the Ultimate Guide to carbs in alcohol.
Low-Carb Soda Substitute
When you drink soda or fruit juice, it is the equivalent of drinking water and eating sugar cubes. If you don't like to drink plain tap water, then you could jazz it up and make some flavoured water to sip on instead. It is completely carb-free.
Low-Carb Latte Alternative
Lots of popular latte drinks are incredibly high in milk plus they are loaded with high-carb syrups. If you enjoy it, plain coffee is the best choice. If you want some flavor, add some cream – that only adds 2g net carbs.
Coffee may be stopping your weight loss goal. You need to understand which is the best coffee to order (or avoid) by looking at the carbs in coffee chart.
Low-Carb Potato Chips Substitute
Munching on potato chips is a lot of fun. But also a lot of carbs. When you feel like you want something crispy and salty, grab some pork rinds. Pork crackling is crunchy salty and has no net carbs.
If you're a vegetarian, you might like zucchini chips, there are even 4 flavors to try.
Low-Carb Crackers and Croutons Alternative
Crackers, croutons, and onion rings are all really high in carbs. Munch on some cucumber slices or parmesan chips instead of crackers and croutons.
A fantastic replacement for onion rings is almond flour calamari. It tastes so good! Plus all the health benefits of eating more seafood.
Low-carb sweets & dessert swaps
You don't have to give up sweets on a low-carb lifestyle. Instead, just enjoy something that fits when you are carb counting and giving up your sugar addiction.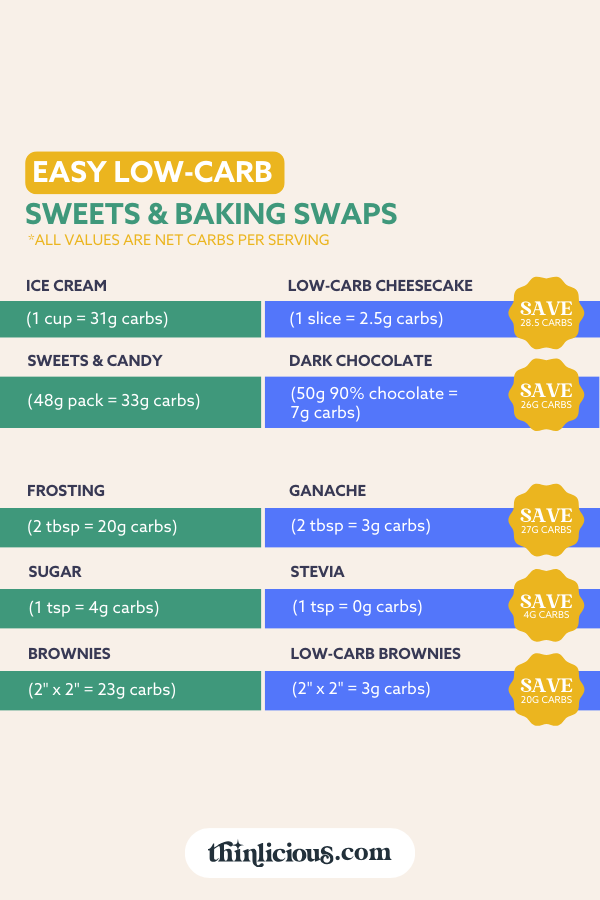 Low-Carb Ice Cream
There are lots of low-carb ice cream recipes out there. Find your favorite one and make it!
Another really easy option is to swap it with some low-carb cheesecake. There are just 2.5g net carbs in each slice.
Making sugar-free cheesecakes are real crowd-pleasers and your family won't even realise they are a healthier version.
Low-Carb Candy Substitute
It's no secret that candy has tons of sugar. When you are craving a candy bar, eat a small bit of dark chocolate. It's good for your heart and low in carbs.
Or why not try some sugar-free peanut butter cups or keto peanut butter fudge?
Low-Carb Brownies Substitute
In a 2″x2″ square piece of brownies, there are 23g net carbs. Instead, swap with some low-carb brownies. Thanks to the fiber, there are only 3g net carbs in each slice.
Low-Carb Sugar Alternatives
There are a bunch of sugar substitutes you can choose from. My favorites are erythritol, xylitol or stevia. They are easy to use and are available in drops, granulated or powdered versions.
You can see what I keep in my pantry and the sweeteners I use in my Low-carb & Keto Amazon shop.
Low-Carb Frosting Substitute
In just 2 tablespoons of frosting, there are 20 grams of carbs! Cut out at least 17 grams of carbs by using sugar-free ganache instead.
FAQ
Here are some questions people often ask about making food swaps on a low-carb diet.
When you are on a low-carb diet or making this your new lifestyle, it is important to get support. I hope these swaps make eating low-carb just a little bit easier for you!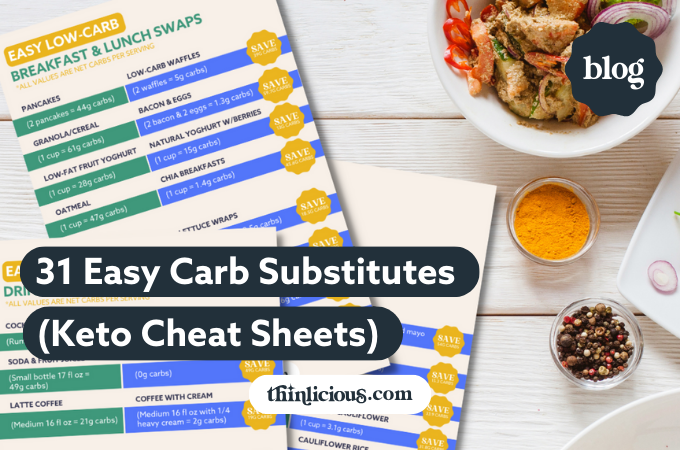 Easy low-carb swaps recipes
If you are looking for something specific, browse my recipe index. I have over 400+ recipes for breakfast, snacks, and dessert ideas that are all low-carb.
Browse them and start enjoying your new lifestyle. They are super easy and have as much flavor as their carb-filled counterparts.
Keto cheat sheets – east carb substitutes
Click on the image below to see the full version. To make it printable, right-click, save the image, and print.
All computers, laptops, and phones will vary so I cannot give advice on all devices. You'll know your device better than me.
Get our FREE guide to finally fix your metabolism!
Losing weight & getting healthy is never easy, but lately you might feel like it's suddenly become impossible.
Our Flip the Switch guide will help you clearly understand what's been going on, as well as exactly what you can do to get your metabolism working again so that you can look and feel your best—it's easier and more simple than you think!