This soft and dreamy keto cream cheese frosting is made with only 3 ingredients. But there are six different flavors so you can use this cream cheese frosting on any keto baking.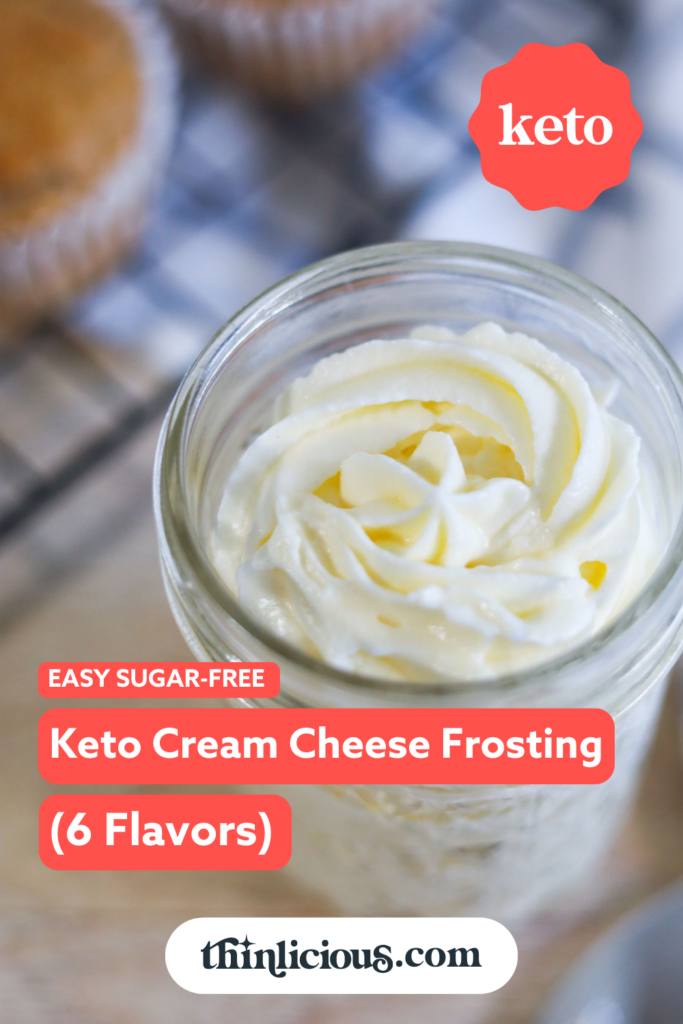 Give this low-carb keto cream cheese frosting a try on your favorite keto cupcakes. The most popular keto cupcake recipe has to be keto lemon cupcakes. It's an amazing recipe that uses a whole lemon that doesn't need peeling or boiling!
If you love delicious keto desserts these are the 34 best keto desserts made with cream cheese (you have to try).
Are you ready to create the ultimate 12-month blueprint for reaching your health & weight loss goals this coming year?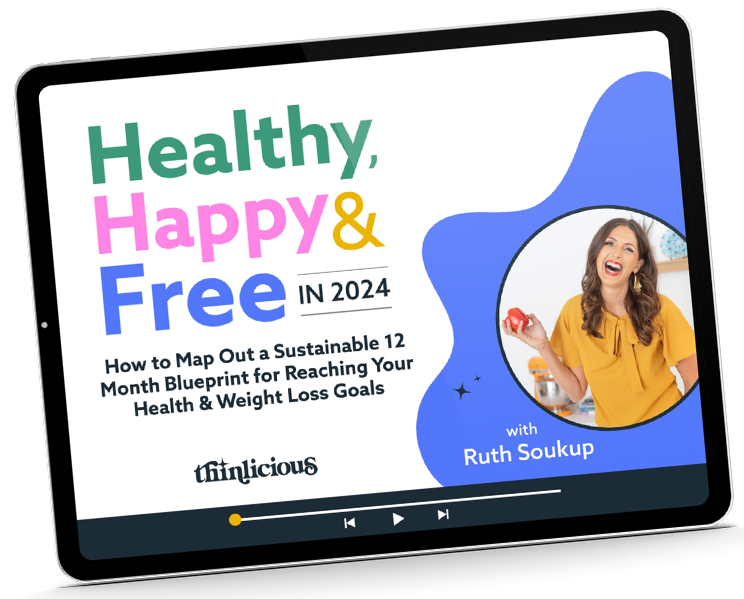 Our free on-demand video training will walk you through how to make 2024 THE year you set health goals…and keep them.
Keto cream cheese frosting
If you are missing your frosted cupcakes and frosted cakes, this sugar-free frosting recipe is adaptable for almost any keto cakes, cookies, and cupcakes.
Low-carb cream cheese frosting is the perfect topping for keto cakes, gluten-free cakes and any low-carb recipes that has a low carb count for your low-carb diet.
Nutrition facts: 1 tbsp cream cheese frosting has only 0.3g net carbs.
Navigating eating a keto diet is fairly simple when it comes to savory foods. But, sometimes you just want a bit of dessert without going off the rails!
Thankfully it's entirely possible to stay in ketosis and enjoy treats from time to time. Simply put – you can have your cake and eat it too with this keto cream cheese frosting!
Ingredients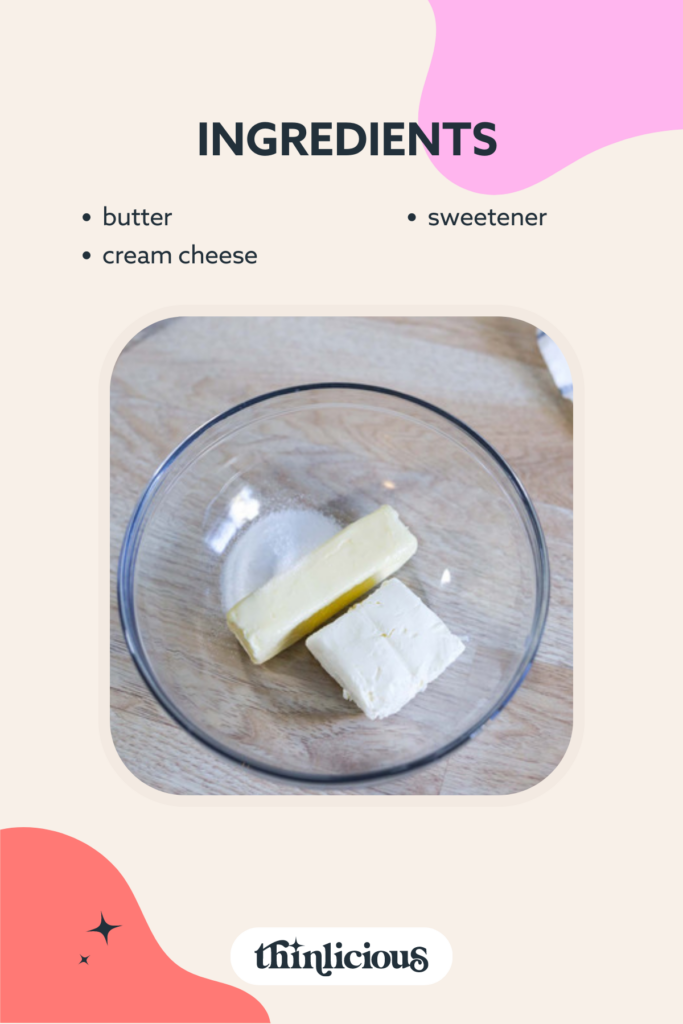 Making this keto cream cheese frosting is ridiculously simple. The base flavor only requires 3 ingredients (I'll show you how to make 6 variations below!).
Butter – look for the highest quality of butter possible. This recipe calls for softened butter, so let it sit out on your counter for a bit before making the frosting. The recipe uses salted butter but you can use unsalted butter, just season with a pinch of salt.
Cream cheese – always use full fat, softened keto cream cheese is ideal for this recipe. Skip the kind with flavors and additives, and definitely skip the low-fat cream cheese or spreadable cream cheese.
Sweetener – powdered sweetener works much better in this recipe than the granulated sweetener. It makes a creamy and smooth cream cheese frosting. You can use your favorite keto-friendly sugar substitutes such as erythritol, monk fruit, stevia, or allulose.
See the exact amount for each ingredient in the keto cream cheese frosting recipe card below.
There you have it! With butter and cream cheese and a bit of powdered sweetener, you have a lovely keto cream cheese frosting!
Instructions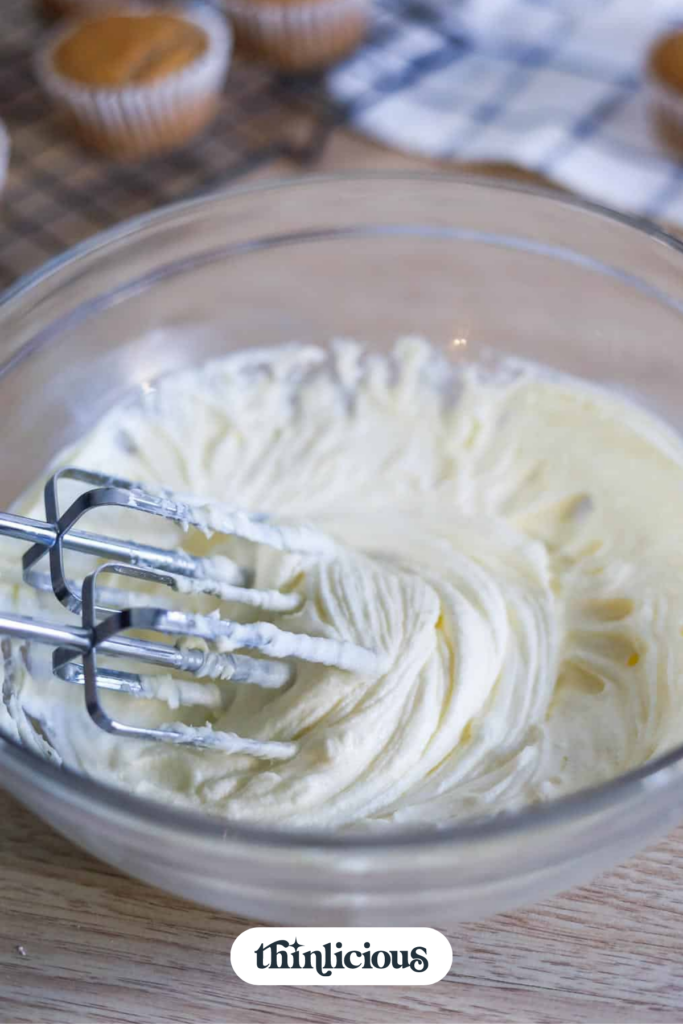 To whip up keto cream cheese icing, simply combine the 3 base ingredients (powdered sugar substitute, butter, and cream cheese) together until smooth.
Because each ingredient is already softened, you can mix this frosting up by hand, but you may find it helpful to use a hand mixer, stand mixer, food processor, or even a stick blender with the blade attachement.
TOP TIP: As with ALL recipes here, ALWAYS taste your frosting BEFORE frosting (icing) your cake to ensure you have added enough sweetener to suit YOUR tastebuds. Read the Ultimate Guide To Low-Carb Sweeteners.
If this is day 1 of sugar-free living for you, you may require twice the amount of sweetener as someone who has been living sugar-free for years. So don't be afraid to add more sweetener. The longer you live sugar-free, the less sweetener in time you will require.
How to pipe frosting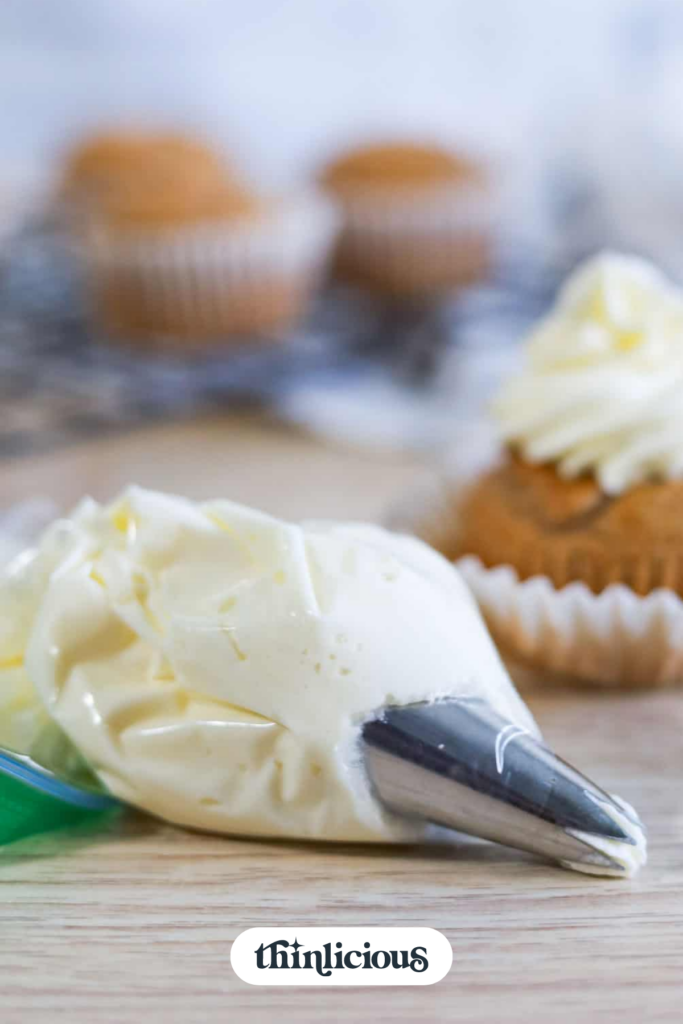 Piped frosting is the perfect topping for keto cakes and low-carb baked goods. You can use a traditional piping bag, snip the corner of a large plastic bag, or a large ziploc bag with the end snipped off.
Place your bag with the frosting nozzle attached (or snipped plastic bag), into a tall glass and fold the edge of the bag over the rim of the glass.
Using a large spoon, push the keto cream cheese icing into the icing bag then tap to remove any air bubbles.
Squeeze the end of the bag to start the sugar-free cream cheese frosting fill the nozzle.
Squeeze the bag gently to cover your cakes and cupcakes. You can add frosting in circles, zigzags or even press the nozzle into the centre of your cupcakes and pipe into the center as a quick and easy cupcake filing.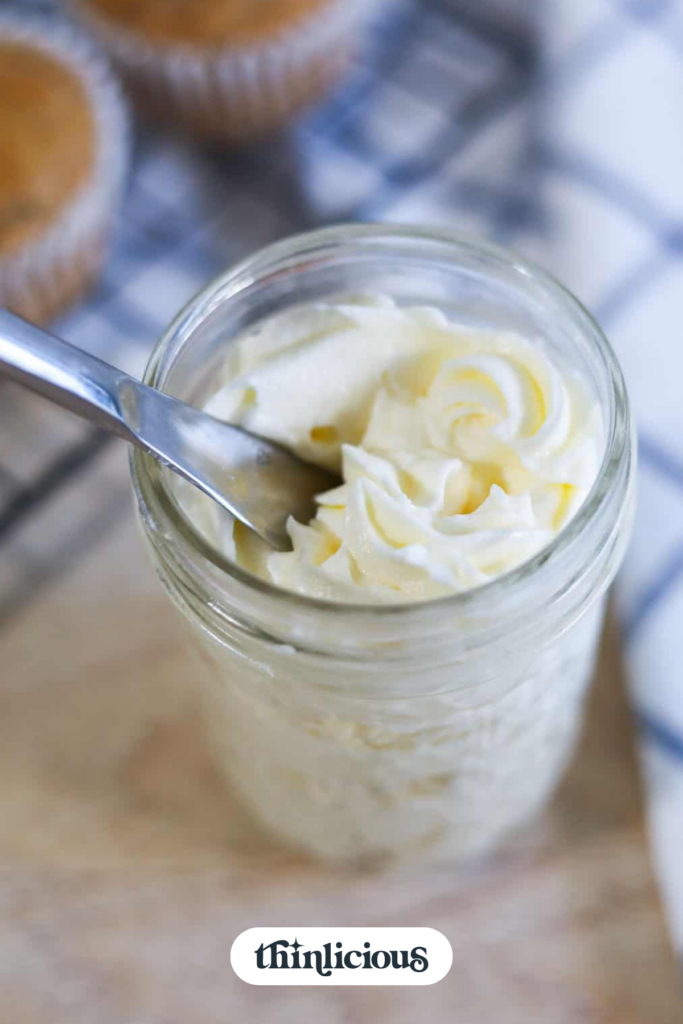 Variations: 6 delicious flavors
This incredibly simple sugar-free cream cheese frosting is so versatile. So far I have made the following flavours with great success. Let me know what flavour you would use.
1: Chocolate keto cream cheese frosting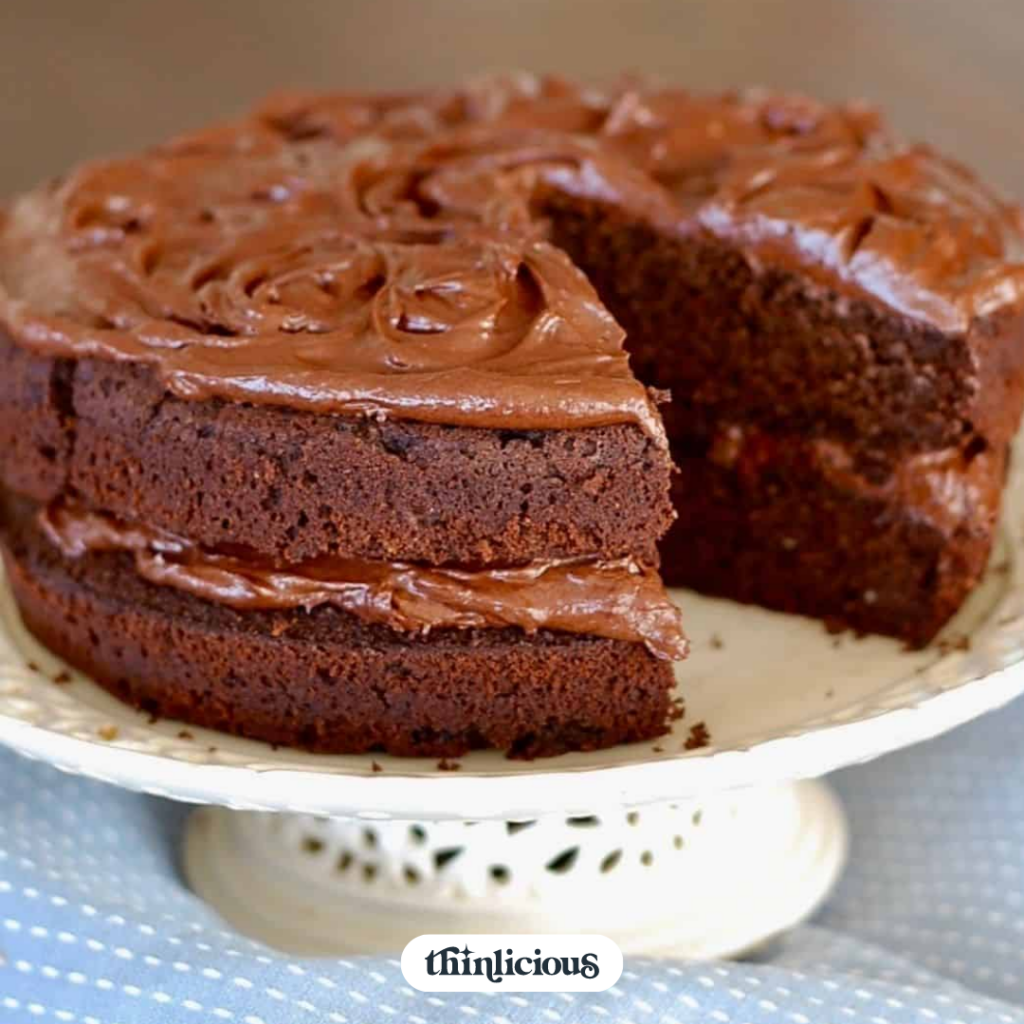 One of the most requested variations I have received on this recipe is how to turn it into a chocolate keto frosting. Thankfully I've cracked the code on cream cheese frosting keto style!
1-2 teaspoons unsweetened cocoa powder
1 teaspoon vanilla essence (vanilla extract)
1-2 teaspoons double cream (heavy cream)
The best way I've found to turn this frosting into a sugar-free chocolate frosting (keto buttercream) is to add unsweetened cocoa powder and vanilla extract. However, this will make the frosting more firm, so to balance it out I also add 1-2 teaspoons of double cream (heavy cream). It's delicious!
Alternatively, you can turn this into a lovely ganache by simply adding melted sugar-free chocolate chips.
The low-carb frosting is perfect to decorate a keto chocolate flourless fudge cake. Just make sure you make enough frosting to spread on top and inside.
2: Vanilla keto cream cheese frosting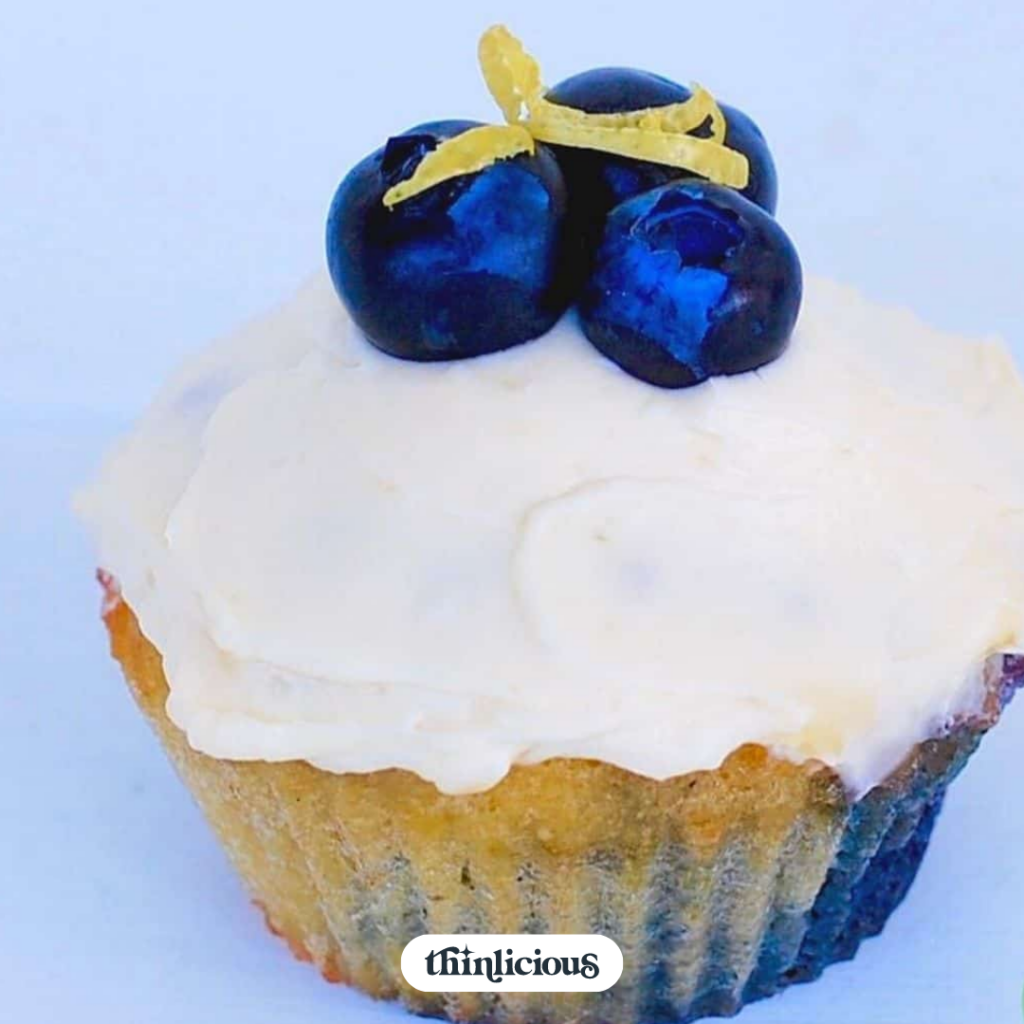 You can easily make keto cream cheese frosting into a vanilla frosting with the simple addition of vanilla extract. It tastes amazing and works with most traditional recipes such as cakes and cupcakes.
It's perfect to decorate vanilla cupcakes, lemon blueberry keto cupcakes, red velvet cake, and lemon cupcakes.
3: Brandy keto cream cheese frosting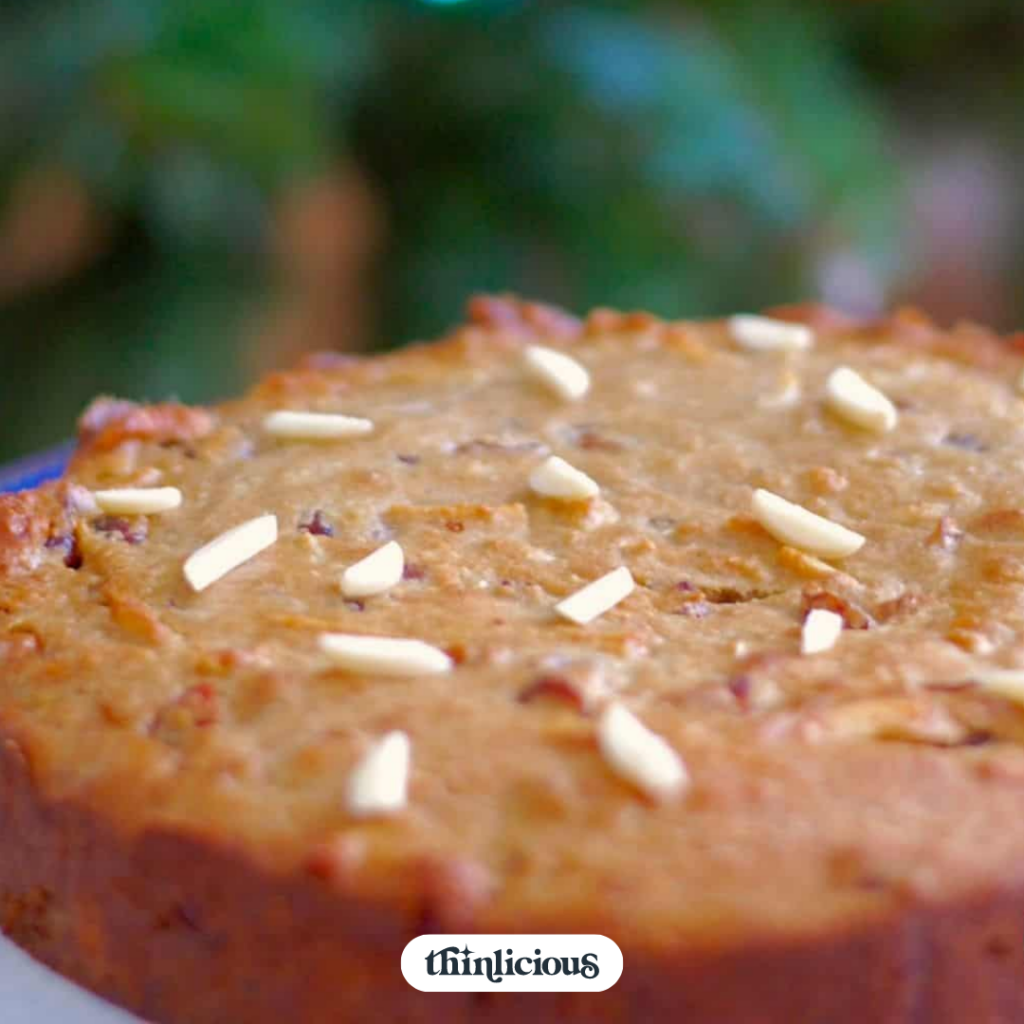 Depending on how boozy you like your special frosting, you can choose whether you want to add brandy (for an alcoholic frosting) or brandy essence (for an alcohol free frosting). This is a superb special version of keto cream cheese frosting for Christmas time and a keto Christmas cake (keto fruit cake).
1 teaspoon brandy (or brandy essence, brandy extract)
4: Cinnamon keto cream cheese frosting
Cinnamon cream cheese frosting is superb served with keto cinnamon churros or keto Bakewell tarts (keto almond cupcakes).
1 teaspoon ground cinnamon
5: Lemon keto cream cheese frosting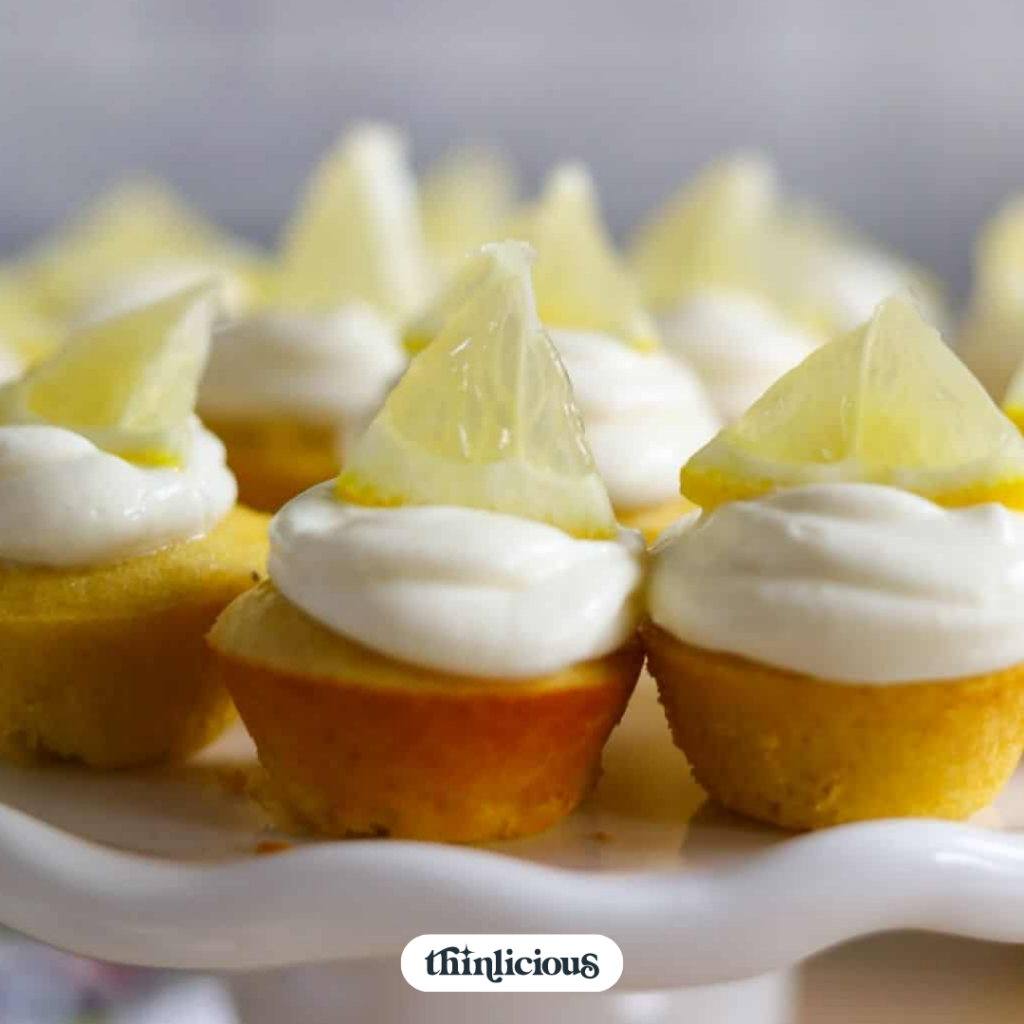 You can add lemon cream cheese icing to any of these delicious recipes. Lemon cupcakes, keto lemon bars, 1-minute keto lemon mug cake, and even lemon keto almond flour scones.
1 teaspoon lemon zest (and lemon juice)
6: Peppermint keto cream cheese frosting
If you love peppermint, you'll love a minty low-carb cream cheese frosting that pairs perfectly well with vanilla cupcakes, chocolate cupcakes, and even keto chocolate cookies.
1/2 teaspoon peppermint essence (peppermint extract)
More cream cheese frosting variations
1 teaspoon orange zest (or orange extract) – to decorate sweet treats such as keto whole orange flourless cake
1 teaspoon almond extract – to decorate a Christmas spice cake after using keto marzipan
1 teaspoon coconut extract
As you can see, the sky really is the limit with this frosting!
Storage
Just like traditional cream cheese icing, this sugar-free frosting recipe needs to be kept in the fridge. Place it in an airtight container for up to 5 days.
Want to freeze cream cheese icing? No problem. Again, just like regular cream cheese frosting all you'll need to do is use an airtight container. It will keep in the freezer for 2-3 months.
How to use cream cheese frosting
Now that you know how to make this yummy sugar-free frosting, let's talk about the important part … how to use it!
Of course, you could always dip your spoon in and have a taste, but I'm going to give you a few more refined options to keep in your back pocket.
My personal favorite recipes that use this sugar-free cream cheese frosting with keto banana bread (made without any bananas), low-carb carrot cake and this lemon coconut cake. So good!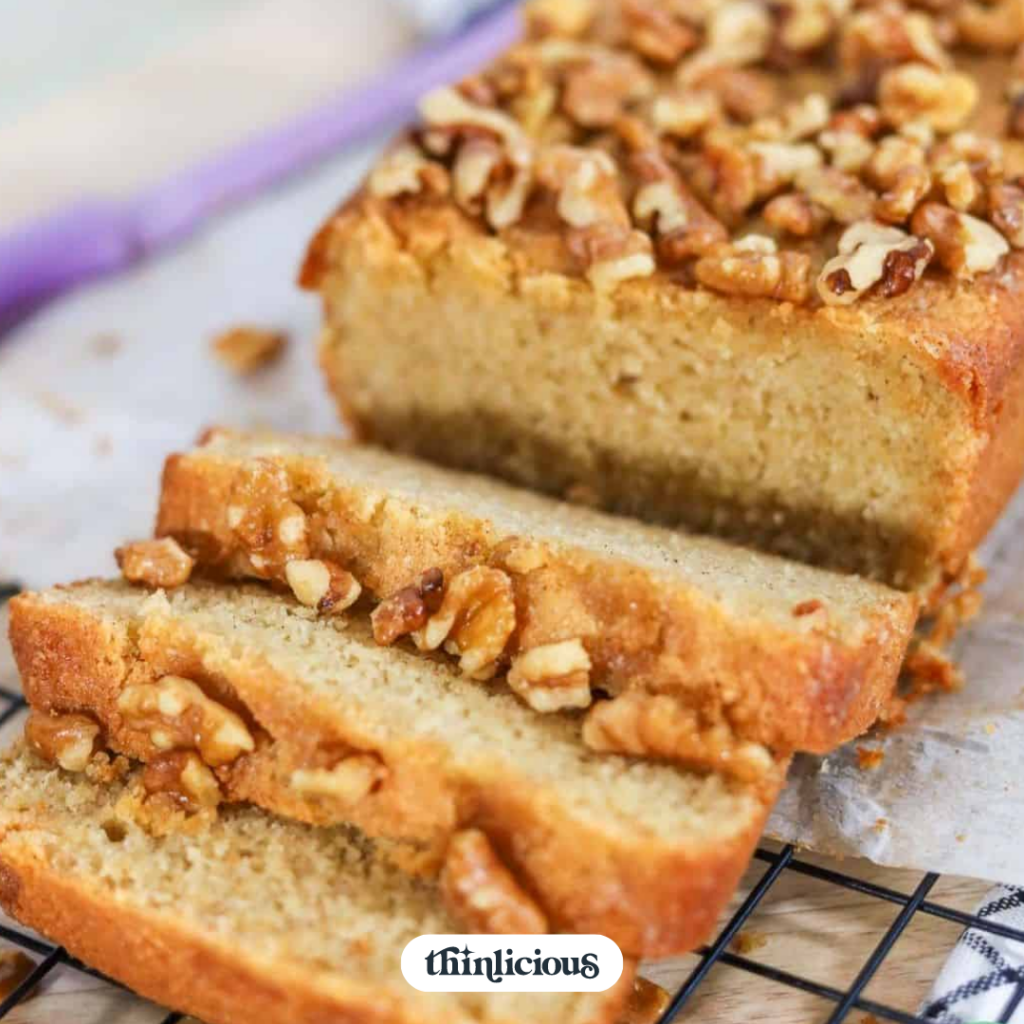 Of course, I have an entire section of the website dedicated to easy and family-friendly low carb and keto desserts! But these recipes here are my favourite. They are easy and family-friendly too.
Recipe FAQs
I've received so many questions about this healthy frosting recipe since I first published this post years ago! Here are some of the most popular. If you have more, please leave them in the comments below.
What kind of cream cheese should I use?
Throughout my entire website, this recipe included, I recommend only using full-fat cream cheese. Not only will this keep you full longer, but the spreadable and reduced-fat cream cheese versions often have higher carbs or other additives.
What kind of butter should I use?
I generally recommend using salted, high-quality butter for sweet recipes. Salt really does enhance the sweet frosting flavors.

If you have unsalted butter, that will still work well, just taste before frosting (icing) your cakes as the frosting may require some additional salt sweetener.
My frosting is too salty!
If your keto frosting comes out too salty, the culprit is probably one of the two things above – using overly salted butter PLUS adding a pinch of salt.
Or, you may have used a spreadable or light cream cheese, which can often have a higher amount of salt. Keep it simple and reach for real, full-fat cream cheese…just make sure it's the plain version, not flavored!
My frosting is too sweet!
If your frosting is u0022too sweetu0022, sweetness, is subjective in sugar-free recipes like this. What tastes sweet to one person is vastly different as someone who has eaten keto and low/no sugar for years and years versus someone who is used to eating sweets daily. That's why I recommend adding sweetener to taste. A little goes a long way here, so be light-handed!
Which sweetener is best for low-carb cream cheese frosting?
I recommend to use powdered sweetener in place of powdered sugar. it creates a creamy consistency which is perfect for frosted baked goods.

The most common powdered sweetener is powdered erythritol (one of the sugar alcohols). If you can't find powdered erythritol in your local store, you can grind regular granulated sweetener in your coffee grinder.
How much frosting should I make?
Always try to make just enough cream cheese icing (cream cheese frosting) to cover you low-carb cakes or cupcakes so that you use all the frosting.

Any leftover frosting can be stored in the fridge in a ziploc bag for up to 5 days.
Can I use liquid stevia?
You can, but be aware that liquid stevia can easily make keto recipes become bitter. Stevia has a tendancy to add a bitter and metallic after taste if you add too much.
Can I make this dairy free?
No, the keto cream cheese frosting is based on cream cheese and butter.
How to make powdered sweetener.
Instead of powdered sugar, you can make your own homemade powdered sweetener by placing your granulated sugar replcement in a coffee grinder or food processor. Pulse until smooth.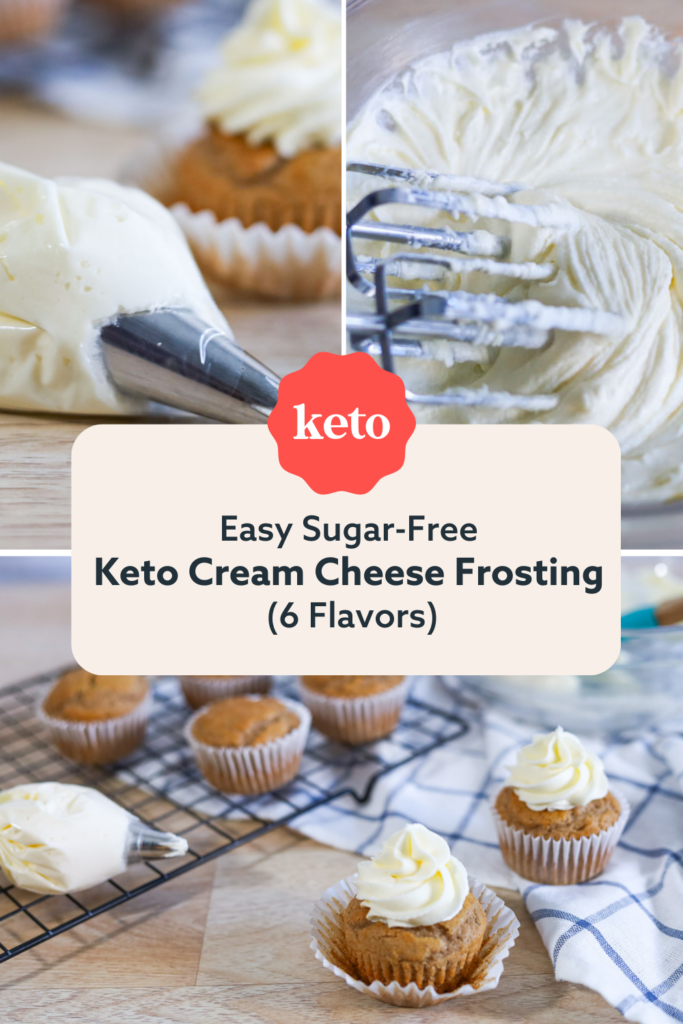 Sugar Free Keto Cream Cheese Frosting Recipe
This soft and dreamy keto cream cheese frosting is made with only 3 ingredients. With six different flavors so you can use this cream cheese frosting on any keto baking.
Print
Pin
Rate
Want to lose weight and get healthy for life—without dieting, drugs, or making yourself miserable?
We can help! Tell me how!
Equipment
Mixing Bowls

Measuring cups and spoons
Ingredients
110

g

butter

softened

110

g

cream cheese

full fat softened

2

tbsp

powdered sweetener

or more, to your taste
Instructions
Gently mix the softened butter, cream cheese, powdered sweetener and flavorings until smooth and creamy.

If you wish to add additional powders such as cocoa powder, you may need to add an additional teaspoon or tablsepoon of double cream until you create the perfect frosting consistancy.
Nutrition
Serving:
1
tbsp
Calories:
77.7
kcal
Carbohydrates:
0.3
g
Protein:
0.5
g
Fat:
8.5
g
Sodium:
75.9
mg
Potassium:
11.9
mg
Sugar:
0.2
g
Vitamin A:
281.7
IU
Calcium:
8.9
mg
Iron:
0.1
mg
Get our FREE guide to finally fix your metabolism!
Losing weight & getting healthy is never easy, but lately you might feel like it's suddenly become impossible.
Our Flip the Switch guide will help you clearly understand what's been going on, as well as exactly what you can do to get your metabolism working again so that you can look and feel your best—it's easier and more simple than you think!