This challenge is now over, but you can check out our brand-new on-demand video to learn more about our programs.
Did you know that having a healthy gut is key to reducing inflammation, losing weight, feeling better and a host of other benefits? It's true! Today we're diving into the newest Thinlicious™ challenge, The Healthy Belly Challenge, and how it can help you heal your gut and change your life—in just 28 days!
It was Hippocrates himself who wisely said, "All health begins in the gut". As the Father of Modern Medicine, he really was a man before his time (he also advised us to "let food be thy medicine", which is seriously smart!).
You may be surprised to hear it, but it's true. Gut health is an often overlooked key to overall health and well-being.
Ready to lose weight and get healthy for life without dieting, drugs or making yourself miserable?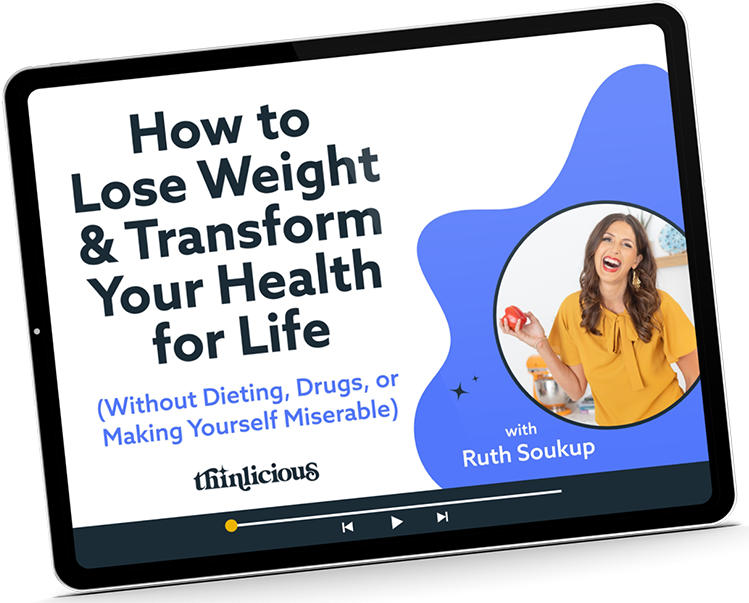 Our free on demand video training will help you understand why it's been so hard and what do to about it.
Unfortunately, our modern lifestyles have put us at a serious disadvantage when it comes to digestive wellness. Stress, processed foods, toxins, medications and other factors can cause inflammation in the gut leading to poor digestion and difficulty absorbing essential nutrients from food.
Warning Signs that You Need to Heal Your Gut
As you can imagine, that leads to a whole host of issues, including feeling really, really crummy.
Not to mention, an inflamed gut is often one of the contributing factors to that oh-so-lovely pouch of fat in your belly.
Here are some of the other key indicators that it may be time to take a good, hard look at your gut health:
Consistently feeling (and looking) bloated. Yes, it's unfortunately true that poor gut health is often the culprit behind even a mild, "normal"-looking belly pooch.
Chronic fatigue and low energy. If you're feeling exhausted all of the time, despite getting enough sleep, your gut may be to blame.
Skin issues like rashes or acne. Yup, a good healthy gut is crucial for healthy, clear skin.
Upset stomach. Going to the bathroom too much? Or not enough? Either way, a less-than-stellar digestive system can be caused by an excess of bad bacteria or an absence of the good kind.
Hormonal imbalances. Disruption of hormones can also—you guessed it!—be traced back to gut health.
Inability to lose weight. While poor gut health isn't the only reason you may be packing on the pounds, it certainly doesn't help you reach your goals.
Introducing the Healthy Belly Challenge
Does any of the above resonate? If you are like most women over 40, the answer is probably a resounding Y-E-S.
In fact, that's exactly why we created the Healthy Belly Challenge.
What is the Healthy Belly Challenge?
The Healthy Belly Challenge was created to focus specifically on improving gut health and your core strength. This science-based program is fueled by the idea that health, wellness and weight loss are all tightly linked to having a healthy gut system.
Best of all, we'll do all of the above in just 28 days! Yes, just four short weeks can change your life—and your gut!
What are the benefits of participating in the Healthy Belly Challenge?
Here are just a few benefits of the Healthy Belly Challenge:
Improved gut health—you'll learn how to improve and heal your gut through proper nutrition and lifestyle practices.
Increased core strength—a strong core is another essential element for overall health.
Boosted metabolism—this program will help you jump-start your metabolism and energy levels, leaving you feeling energized and renewed.
Decreased Inflammation—you'll reduce inflammation and improve your gut health and overall well-being simply by avoiding foods that cause inflammation and gut issues.
Understand the role of food in gut health—you'll get key pointers to learn how to nourish your body for optimal health.
Improved skin appearance—by reducing skin inflammation, you'll enjoy a clearer, glowing complexion.
Better sleep—you'll be able to reduce your stress levels for improved sleep quality.
What should I expect?
This program is totally beginner friendly, and dare we say…FUN! Even more importantly, it's effective and will leave you feeling (and looking) amazing.
We firmly believe that knowledge is power, and this challenge is no different! We'll spend four weeks digging into how to heal your gut, why gut health matters and how core strength can improve your overall well-being.
Since everything we do is rooted in science, you'll learn about why going low carb is crucial to your overall health (gut and otherwise!). But don't worry. We'll provide a simple-to-follow, absolutely delicious meal plan with 45 recipes filled with REAL foods.
You'll also receive video guides to help you understand the program as well as daily live videos that'll keep you motivated the entire time.
We believe life is better with buddies, so we'll also have a private Facebook group where participants can cheer each other on.
And so much more! Trust us, it's going to be GOOD.
Sign Up for the Healthy Belly Challenge
Ready to get started? The challenge officially kicks off on July 3rd, but enrollment opens on June 6th, and you can go ahead and sign up for the Healthy Belly Challenge here.
It's going to be so incredible to do the challenges with each other—and the live sessions and teachings are going to be SO good. We truly cannot wait to do this challenge and celebrate with each of you the amazing results we'll know you will have.
Join by June 21st and you'll get access to a LIVE Challenge Prep Workshop ($39 value) where you'll learn how the challenge works, what you'll be eating and what you need to get together ahead of time.
Don't miss your chance to heal your gut and feel incredible. You'll be amazed at what 4 short weeks can do to boost your health!
This challenge is now over, but you can check out our brand-new on-demand video to learn more about our programs.
Get our FREE guide to finally fix your metabolism!
Losing weight & getting healthy is never easy, but lately you might feel like it's suddenly become impossible.
Our Flip the Switch guide will help you clearly understand what's been going on, as well as exactly what you can do to get your metabolism working again so that you can look and feel your best—it's easier and more simple than you think!