As we celebrate the one-year anniversary of the Thinlicious brand, here's what we've been up to and where we're headed. Thanks for joining us on the ride!
It's hard to know where to even start with this blog post.
One year ago today, we launched this website and this brand with a big dream and a big vision for what it could be someday, but not much else.
Truth be told, my small-but-mighty team and I were scrambling until the very last second to put the finishing touches on not just the website but also on our first product, the 28 Day Metabolism Reset. The plan was to go live at 7 am, but at 10 pm the night before, we were still proofing the final PDF and making sure everything was all hooked up.
Ready to lose weight and get healthy for life without dieting, drugs or making yourself miserable?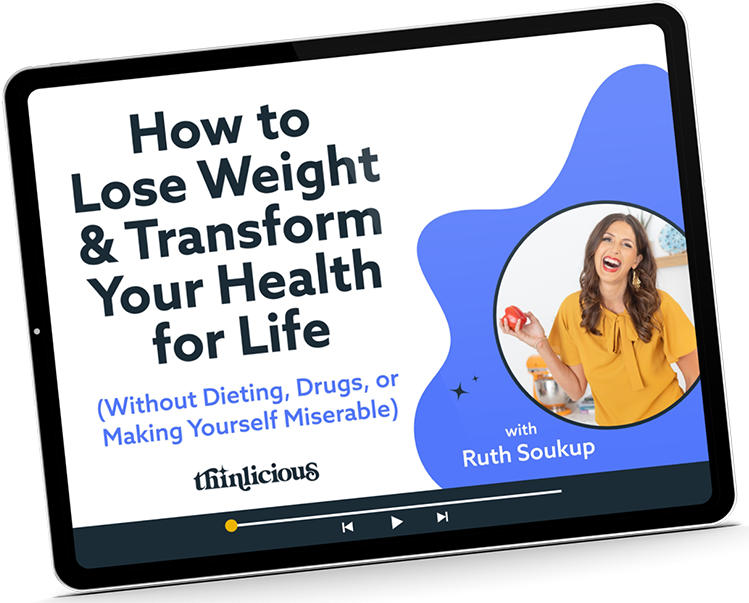 Our free on demand video training will help you understand why it's been so hard and what do to about it.
It's been a whirlwind ever since.
Launching a brand new company is no joke! Even though I've been an online business owner for a long time, this has been something totally different and new, and the learning curve has been INTENSE.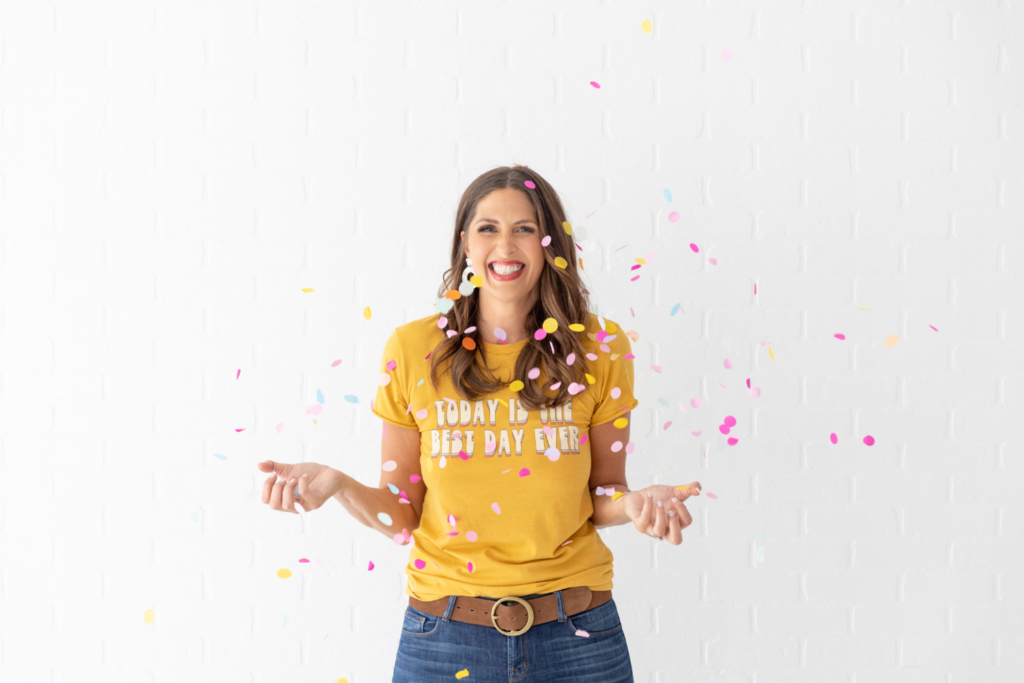 Thinlicious Anniversary Milestones
Honestly my vision for Thinlicious is so massive that sometimes I get a little overwhelmed just trying to implement it all because I'm not very patient, and I want it all to happen all right now.
And sometimes that's not very realistic.
But, in the meantime, there's lots to celebrate!
I'm especially excited about the one-year Thinlicious anniversary and how amazing the past year has been.
The 28 Day Metabolism Reset + the Thin Adapted System
We've been able to help THOUSANDS of women transform their lives and their health through our physician-guided Thin Adapted System program.
It's based on healing your body from the inside out, and fixing the root causes of weight gain at the source so that you can actually live and enjoy your life rather than thinking about food all the time.
We've also had nearly 10,000 women join the 28 Day Metabolism Reset, and over 1500 women join our full TAS program. These women are in the process of losing 20, 30, 40, 50 and even 60 or 70 pounds (and counting!) after struggling with their weight and hormones and metabolism for so long.
And what's really cool is that they're SO passionate about our program and our philosophy of healthy, sustainable weight loss with zero deprivation. It's just been so amazing to see so many women have a whole lease on life.
Maybe you're one of them.
If so, I couldn't be happier for you.
Quarterly Challenges
And that's not all we've been up to!
Over the past year, we've also begun hosting quarterly challenges that are intended to either help you get started on your health journey or to get re-energized and re-invigorated along the way.
We're finding that this rhythm is just really helpful for our customers (and us). For most of us, life is just busy and crazy sometimes, and this has been such a great way to help all of us stay on track.
If you're curious, our next challenge is the Healthy Belly challenge, where we'll be focusing on Gut Health and Core Strength, and that starts July 3rd. If you want to sign up, just go to the challenge page here to get all the information.
Healthy (and Delicious!) Recipes
And then, of course, there's our FOOD!
If you've peeked around here at Thinlicious.com, you know that we're ALL ABOUT delicious food that doesn't taste like diet food. Food that's so good, your whole family–including even the pickiest eaters–will happily eat it because they have no idea it's actually healthy.
The Magic Protein Bar Launch
And that's what our line of food products is all about as well! Convenient snack and meal options that you can take on the go, that taste absolutely delicious and yet you don't have to feel one bit of guilt about eating them.
Our Magic Protein Bars are now available for purchase on Amazon, and the reviews have been CRAZY good. People honestly can't believe how good they are, and I'm gonna be honest…I can't stop eating them! I seriously have to pace myself because they really are that good.
Our next food product, Thinlicious Snack Bites, will be launching soon as well! Stay tuned for more details because they are SO yummy too!
Acquired the Ditch the Carbs Brand
Of course, maybe the most surprising and unexpected thing that's happened this past year is that we actually ACQUIRED another brand.
In January, we hosted the Low Carb Living Summit, which introduced me to a number of awesome people in the low-carb and health space. One of those people was a wonderful woman named Libby Jenkinson, who had founded a well-known website called Ditch the Carbs.
Libby was ready to move on to other things, and because our philosophies were so well aligned, she asked if I might be interested in buying her out.
And so, because it seemed like such a good fit, with so much alignment, my answer was YES!
It's been an interesting process, but behind the scenes, my team and I have been working furiously to actually merge these two brands–Thinlicious and Ditch the Carbs–into one amazing resource for anyone who's looking to get started with a healthy low-carb lifestyle.
You can expect the new combined website to launch around September 1st of this year (how's that for a late Thinlicious anniversary gift!). Believe me when I tell you it's going to be AMAZING–a place where you'll be able to find not just amazing food, but also a whole library of incredible resources for transforming your health.
Podcast Launch
But that's not the only new thing we're excited about!
You see, today I'm also launching our brand new podcast!
It's called–not coincidentally–DItch the Carbs. It's all about health and wellness for women over 40, and taking charge of your own weight loss journey, even if you feel like you've struggled in the past.
Especially if you feel like you've struggled in the past.
Because the truth is that nothing in life impacts us more than our health and how we feel about our body. It affects our energy and impacts our confidence. It changes how we see other people, and how they see us. It's a big deal.
That's why I've realized so clearly that creating a life you love really does START with getting healthy and with making sure that your body is strong and able and capable of doing the things you want to do so that you can move forward with confidence.
I don't know about you, but to me, it seems like such a perfect way to close out our first official Thinlicous anniversary and step into year two.
So I hope you'll join me there and tune in every Monday and Thursday for new episodes! It's going to be an incredible place to get informed, get inspired, and get motivated to reach your goals and create real and lasting change in your life and in your health.
In the meantime, if you're ready to get serious about transforming your health with a low-carb lifestyle, be sure to download our free starter guide.
More Posts to Read
Get our FREE guide to finally fix your metabolism!
Losing weight & getting healthy is never easy, but lately you might feel like it's suddenly become impossible.
Our Flip the Switch guide will help you clearly understand what's been going on, as well as exactly what you can do to get your metabolism working again so that you can look and feel your best—it's easier and more simple than you think!