Air fryer bacon is easily the best bacon you'll ever have!
Discover how to cook bacon in the air fryer every time with no splatter, no mess, and easy clean up!
Learn how to cook 5 types of bacon in the air fryer in under 9 minutes!
I've done all the experimenting, troubleshooting, and testing to help you make cooking bacon in the air fryer a breeze.
Ready to lose weight and get healthy for life without dieting, drugs or making yourself miserable?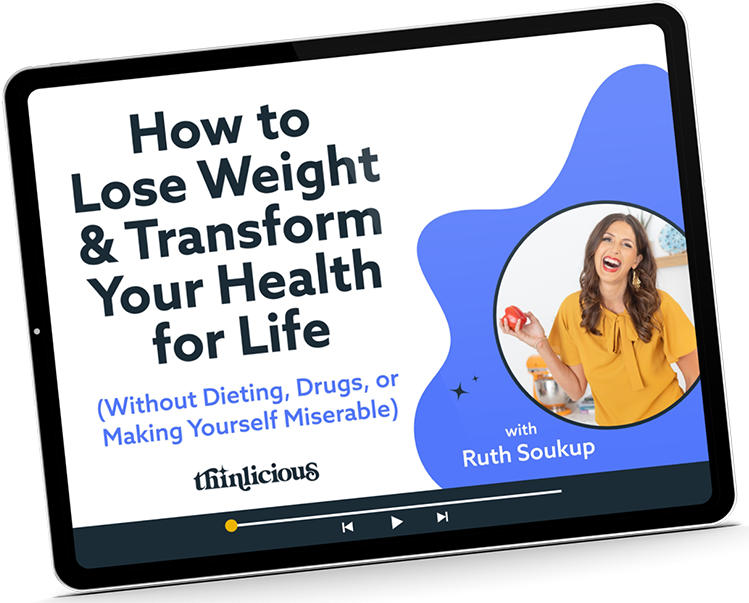 Our free on demand video training will help you understand why it's been so hard and what do to about it.
[convertkit form=2495157]
Bacon is one of the best parts of a keto diet, low-carb diet, and a high-protein low-carb diet (HPLC). You can stick bacon on the side of anything, or you can sprinkle it on top.
Now you can make the best air fryer bacon – 5 ways!
Is bacon keto?
Bacon is an incredibly versatile meat for breakfast, lunch, dinner, or snacks. But regular bacon and turkey bacon often have added sugars that are not keto and are often served with bread or toast for breakfast.
Bacon is high-protein and can be high-fat or low-fat depending on the cut you buy.
The amount of protein and fat in bacon will be dictated by which cut of bacon you buy. The higher the fat content, the lower the protein.
Bacon varies considerably between brands so always read the nutrition label.
| | | | | |
| --- | --- | --- | --- | --- |
| Per 100g (3.5oz) | Carbs | Protein | Fat | Calories |
| Bacon, streaky | 0 | 15.8g | 23.6g | 273 |
| Bacon, middle | 0 | 15.2g | 20.0g | 238 |
| Bacon, centre cut (middle) | 0 | 42.4g | 31.4g | 467 |
| Denny's, bacon, honey jalapeno | 4.9 | 36.9g | 32.0g | 468 |
| Turkey bacon | 4.2 | 29.5g | 25.9g | 368 |
| Canadian bacon | 1.8 | 28.3 | 2.8 | 146 |
| Bacon (meatless) | 2.7 | 11.7 | 29.5 | 309 |
Bacon nutrition per 100g/3.5oz serving
Nutritional values from cronometer.com
Best air fryers for bacon
Any of these 3 air fryers will cook bacon faster than if you pan fry or use the oven to cook your bacon. And if you are wanting to cut back on fat to reduce calories, the fat drips away into the air fryer tray below.
Do you need to preheat an air fryer?
The only ingredient you need for air fryer bacon is….bacon!
Pick your cut…any cut will do. Thick slices, streaky bacon, thinner slices, or even turkey bacon.
The bacon releases enough grease that you don't even need to grease the air fryer tray. Don't worry the bacon strips won't stick.
Whether or not you need to preheat the air fryer really depends on the brand you are using. My air fryer only takes 2 minutes to preheat (so much faster than my oven) and I find it cooks more evenly when I take the extra few minutes to do so.
However, if you want to skip the preheating step I recommend taking a minute off the cooking time for your bacon since your bacon will start cooking during the preheating.
See the air fryer bacon recipe card at the bottom of this post for exact quantities and instructions.
Instructions
Cooking air fryer bacon is so simple. First, turn your air fryer on. If there is more than one function on the machine, select the air fryer function.
Next, set the temperature to 350F/180C and adjust your time according to the cooking time below. Start your air fryer and let it preheat. This should only take 2 minutes.
Once the air fryer is preheated open the basket and lay 4-5 bacon strips on the venting tray in the basket. It's ok if they touch or overlap a bit, but they shouldn't be laying on top of each other.
You need a single layer of bacon and little bit of space between each slice so they allow heat to circulate and to cook faster.
Remember, no oil is needed. The bacon grease will be more than enough to cook bacon.
Close the basket and let the air fryer bacon cook. About halfway through, your air fryer might beep for you to flip your bacon. You can ignore this or flip your bacon. I don't notice a difference when do or don't have the bacon turned in my air fryer bacon.
That's all! Once it's done remove the perfect bacon, and place it on a paper towel lined plate. Then, drain the grease from under the venting tray, and quickly clean up the basket.
You are all done! This is one of the easiest air fryer recipes ever! You'll never go back to frying bacon in a pan again.
Bacon cooking times
Bacon cooking times will vary slightly depending on the cut of bacon you use. To get the best air fryer bacon, I recommend:
Regular Cut Bacon: 5-6 minutes
Thinner Bacon Slices: 4-5 minutes
Crispy Regular Cut Bacon: 7-8 minutes
Thick Cut Bacon: 5-6 minutes
Crispy Thick Cut Bacon: 8-9 minutes
Bacon Bits: 10-11 minutes
Most of the crisping happens during the last minute of cooking. Because of this, it is better to start with the lower time and if you want your bacon extra crispy add it in for another minute.
How to make air fryer bacon bits
Crispy, crunch, non-greasy bacon bits are what you get when you make bacon bits in the air fryer. They are literally the best bacon bits I have ever tried.
As you cook your bacon, the fat drips to the bottom of the air fryer basket. Then you are left is perfectly crispy bacon that crumbles like a dream.
Want to figure out how to use it in tasty recipes? Here are a few ideas:
How to store bacon bits
Store your bacon bits in a glass jar with a lid or empty spice jar in the refrigerator. Once you cook bacon bits, they will stay good for up to a week. Bacon bits can also be frozen in a zip baggie!
TOP TIP: To keep bacon bits super fresh, you can place a small pieces of scrunched paper towels at the bottom of the jar to trap any oil.
What to do with bacon grease?
The rendered fat can be discarded or it can be saved to use for cooking. If I am saving my bacon fat I will pour it into a glass jar and let it cool to room temperature.
Grease from the bacon should always be poured into a heatproof container that won't melt.
Then I will add a lid and place it in the refrigerator for up to 3 months. Always make sure you smell your cooking fat before using it to make sure it's still good.
If you want to lower your fat, you can drain each slice of bacon on kitchen paper to soak up any excess oil.
TOP TIP: Cooking oil should never be dumped down the drain. Cooking oil and grease will cool and solidify and block your drains. If you want to throw old cooking fat away, allow it to cool, then wrap in paper then throw it in the garbage/rubbish.
How to store and reheat bacon
After air frying, I usually wrap my bacon in a paper towel to absorb any grease.
Air fry cooked bacon can be stored in the refrigerator in an air-tight container or ziplock bag for 3-5 days.
To reheat your bacon:
pan-fry on the stovetop for 1 minute on each side. Thicker bacon will take longer to reheat than thinner slices so always test and adjust your cook time (reheat time).
place a few slices on a plate and microwave for 10 seconds.
place a single layer of bacon in your air fryer basket and cook at 350F/180C for 2 minutes.
I find having cooked bacon in the fridge is perfect for quick and easy breakfasts. It's an easy way to meal prep for breakfast and salads at the weekend.
How to prevent smoking when cooking bacon
You're cooking bacon in your air fryer and it starts smoking. What did you do wrong? Here are two reasons your bacon might be smoking.
Did you clean the basket between uses or batches? This is especially important when cooking in batches. Air fryers need to be cleaned or the food and grease build up will cause issues. Be sure to drain the grease and clean out the basket really quick between batches.
Is your temperature too high? It's important to know the smoke point. Bacon fat will start burning and produce smoke at 250C/400F. If you increased the temperature to cook your bacon faster that's probably why you see smoke. Clean out the basket and cook the bacon at 350F to prevent smoking.
Best keto bacon recipes
Look at all these recipes that call for bacon!
Using your air fryer, you can quickly make the bacon bits for your chicken Caesar salad, ABC keto burger (avocado, bacon, chicken burger), or keto low-carb cauliflower bacon popcorn or dozens of other recipes and the clean-up is a breeze!
And if you miss eating bread with bacon for breakfast, you can make almond flour bread, coconut flour bread, or breakfast chaffles on my website! You can even make your favourite bacon sandwiches for breakfast!
And for a quick keto pork snack is crunchy salty keto homemade pork rinds. And the perfect dinner is air fryer pork chops.
Bacon FAQ
How long to cook bacon in the air fryer?
How long you cook bacon depends on whether you are cooking thick or thinner slices and how crispy you want your delicious bacon to be.
Regular Cut Bacon: 5-6 minutes
Crispy Regular Cut Bacon: 7-8 minutes
Thick Cut Bacon: 5-6 minutes
Crispy Thick Bacon: 8-9 minutes
Bacon Bits: 10-11 minutes
How to make crispy bacon in an air fryer?
Cooking bacon in the air fryer allows you to easily cook bacon for a little longer than you regularly would and it allows all the fat to drain away. If you fry bacon on the stove, often the bacon boils in its own fat making it soft and chewy.
How to stop your air fryer from smoking?
There are two methods.
1: The smoke point for bacon is 400F so we cook our bacon at 350F.
2: Add a small amount of water in the bottom of your basket which will trap any bacon grease and prevent it from burning and smoking.
TOP TIP: Always wipe the basket and cook one batch of bacon strips at a time.
Does bacon taste better in an air fryer, oven, or frying pan?
Bacon always tastes amazing but air fryer bacon is easier than baking in the oven or skillet. It's tasty, crispy, and depending on your air fryer, will turn off after the timer has stopped, so it is possibly safer.
Can you put raw bacon into the air fryer?
Yes, place a single layer of raw bacon into the air fryer basket and cook as shown for the perfect crispy air-fried bacon.
Is bacon messy in the air fryer?
No, it's actually easier to clean the air fryer basket than a frying pan or skillet which splatters cooking oil all over your kitchen.
Is bacon healthier in the air fryer?
Yes because excess oil drips into the basket and drains away from the bacon strips.
What cannot be cooked in an air fryer?
Anything that is too liquid, won't stay in place, and will melt and drip through the cooking wire rack such as wet battered foods, eggs, soup, rice, kale, and of course, ice cream!
If you love using your air fryer, I have 101 keto air fryer recipes for you to choose from (chicken, pork, ground beef, salmon, vegetables, and even desserts). Discover how to use your air fryer plus FREE printable air fryer cooking cheat sheets.
[convertkit form=2495157]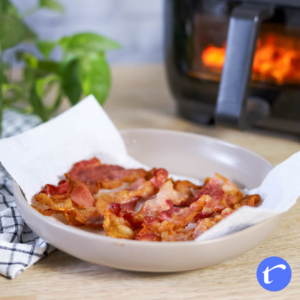 How to Cook Bacon in the Air Fryer
Perfectly cooked air fryer bacon everytime with no splatter and easy clean up!
Print
Pin
Rate
Want to lose weight and get healthy for life—without dieting, drugs, or making yourself miserable?
We can help! Tell me how!
Ingredients
4-5

pieces

bacon

cut of choice
Instructions
Turn on your air fryer. Preheat the air fryer to 350°F/180°C, set the time according to the cut desired crispness below.

Regular Cut Bacon: 5-6 minutesCrispy Regular Cut Bacon: 7-8 minutesThick Cut Bacon: 5-6 minutesCrispy Thick Cut Bacon: 8-9 minutesBacon Bits: 10-11 minutes

Open the basket and lay 4-5 pieces of bacon on the venting tray in the basket. Close basket and cook. That's all enjoy!
Notes
Nutrition is shown for 100g/3.5oz bacon, centre cut (middle).
The carbs, fat, and grams of protein of your bacon will vary depending on whether you are cooking thick bacon, streaky bacon, thinner slices, or turkey bacon.
See the table above for all the nutrition facts.
Nutrition
Serving:
1
100g
Calories:
467
kcal
Protein:
42.4
g
Fat:
31.4
g
Calcium:
16.5
mg
Iron:
0.1
mg
You might also want to take a look at the best high-protein breakfast ideas (that will keep you full). They are delicious and perfect for breakfast meal prep.
Get our FREE guide to finally fix your metabolism!
Losing weight & getting healthy is never easy, but lately you might feel like it's suddenly become impossible.
Our Flip the Switch guide will help you clearly understand what's been going on, as well as exactly what you can do to get your metabolism working again so that you can look and feel your best—it's easier and more simple than you think!