Our world and lives are ever-changing and constantly busy. To stay on track you need to learn how to stay low-carb even when you're busy!
You'll find some great tips here on how to accomplish just that!
Remember…you're never to busy to stay on track with your low-carb lifestyle! Being happy and healthy allows you to deal with other stressors and triggers in your daily life.
---
How to start low-carb
Eating and living the low-carb lifestyle isn't anything new. It's how our ancestors have eaten for thousands of years until the invention of the food pyramid.
Are you ready to create the ultimate 12-month blueprint for reaching your health & weight loss goals this coming year?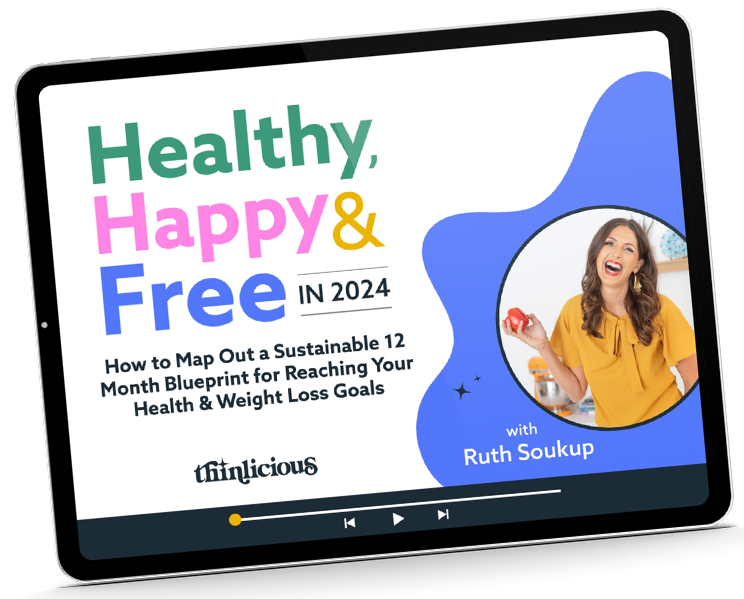 Our free on-demand video training will walk you through how to make 2024 THE year you set health goals…and keep them.
If you've been wanting to start a low-carb lifestyle, this post can provide some great tips and information on how to stay or start.
The beauty of living the low-carb lifestyle is that it's actually fairly simple to do.
And the simpler the meals, the more sustainable this way of life is.
What is a low-carb lifestyle?
When you stop eating sugar and junk carbs, you switch from being a sugar burner to a fat burner. You may choose to be on a low-carb diet or a keto diet. You will enjoy exactly the same foods, just how much and how often.
If you want to understand low-carb in a nutshell, it's eating real unprocessed food that is low in sugar and starchy carbs, especially the ultra-processed carbs.
Now no-one can argue with that surely?
Bread, grains, and sugars are all "no-no's" on a low-carb lifestyle and are one of the biggest reasons that people have trouble staying on track because sugar and flour are found in 80% of the supermarket "products".
Read More: How to start low-carb.
Benefits of a low-carb diet
Most people are unaware of how effective living a low-carb lifestyle is on almost every aspect of their life. Improved weight loss, stable lower blood sugars, reduced inflammation, reduced pain, improved insulin sensitivity and amazing healthy sustainable weight loss for life!
All by eating unprocessed nutrient-dense lower carb foods. Just Ditch The Carbs!
Many say low-carb is a fad but in fact, it is how we ate only a few generations ago. Low-carb is now enjoyed by millions of people around the world with incredible results.
Read More: The advantages of low-carb.
Is it healthy to eat no-carbs?
Keep in mind that living a low-carb lifestyle doesn't mean that you need to eat ZERO carbs…it just means that you are going to be eating a much lower amount of carbs than you were before. Especially the ultra-processed carbs, junk food, snacks, and sugar.
Most people try to stay under 50 grams of carbs per day. Even enjoying a moderate low-carb lifestyle (below 100g carbs) will still bring numerous health benefits.
How many carbs you consume each day will be dictated by your health goals and carbohydrate tolerance.
Generally, a low-carb diet is considered to be:
<100g/day = moderate low-carb
<50g/day = low-carb
<20g/day = keto
Many readers like to begin by simply reducing their carbs to a level that is sustainable and weight loss still occurs.
To work out your carbs, protein, and fat limits to enjoy each day, use the FREE macro calculator.
[convertkit form=2151230]
What are the potential side effects of eating low-carb?
Some people experience mild symptoms as they reduce their sugar and remove junk food from their daily diet. But these symptoms are short-lived.
These side effects can vary from person to person and some people may not experience any; however, some may include lightheadedness, fatigue, "foggy" brain, and others. These symptoms are often referred to as "keto flu".
Read More: What Is The Keto Flu And How To Avoid It.
Now that you know a little bit about the low-carb lifestyle, it's time to focus in on how you can stay low-carb even when you're super busy.
---
4 Proven Ways To Stay On Track
Is it possible to stay low-carb when you're always running out of time?
Absolutely. 100% YES! Once you get the hang of living low-carb, it's actually really, really simple. The trick is to find out how you can make your low-carb and keto lifestyle work for you.
Tips for stay low-carb no matter what your schedule
Everybody's life is different. Some days are fast while others may seem to drag on forever. Do you know what derails a low-carb lifestyle quicker than anything else? If you guessed yourself, you're 100% correct.
You hold the key to staying on track and planning out each and every day. You make the decisions about what you're going to eat and what you're going to put in your body.
When you feel like your days are too chaotic to stay on track, remember these 4 proven simple tips to help!
1: Plan your weekly meals ahead of time
We're all busy and sometimes that means we're too busy to get home and made dinner. And when that happens, that leaves everyone scrambling to try and find something to eat. Often times these are the moments that lead to unhealthy choices and decisions.
Instead of allowing yourself to cave in, take the time to plan out your meals in advance. Sit down Sunday night and write out all your low-carb menu for the week, heck, even 3 days at a time will be a lifesaver!
Plan your breakfast, your lunch, your dinner, and even your snacks and do whatever you can to prep and get prepared.
There are two ways to plan your meals, pen and paper, or why not try a FREE month trial of my low-carb and keto meal planning service?
During the days that you're busy, using your crockpot or Instant Pot can be a great resource in helping you to achieve a great low carb meal with very little time.
2: Easy Breakfast Ideas
These are my top 5 quick and easy breakfast solutions, they will stop you from driving to the nearest drive-through on your way to work.
Grain-free granola – one batch will last 2-3 weeks. Serve 1/4 cup with natural unsweetened yoghurt and berries.
Egg cooker – simply turn the egg cooker on before you hop in the shower, by the time you are out and dried, the egg cooker will be chirping away with a cooked breakfast for you.
Scrambled eggs – everyone has 2 minutes to make eggs right? If you don't, the harsh reality is to set your alarm for 5 minutes earlier.
Creamy coffee – a yummy creamy coffee only has 1-2g carbs compared to a milky coffee which can have up to 25g carbs.
Leftovers – reheat and you have breakfast ready in less than 2 minutes.
More Low-Carb Breakfast Recipes …
3: Don't tempt yourself with fast food
We get it. Fast food is convenient and when you're hungry after a crazy day and there's nothing else around, it can be a quick and easy solution. But don't let one bad day ruin all your hard work.
These are my top 4 tips to prevent you from being in this situation again.
Leftovers – my mantra is Leftovers Are King!!! Learn to cook once, but serve twice. Never go back for seconds and always freeze leftovers to build up a selection of low-carb homemade freezer meals.
Slow-Cooker/Instant Pot – if you know your day is going to be hectic and you have kid's soccer or basketball until late, then why not put the slow-cooker on before you leave home? Instead of a take-out (that you know you will regret), you step in the door to a home-cooked meal. Just take a look at all the easy slow-cooker recipes. My favourite recipe has to be the self-saucing meatballs. You can even prepare the recipe into the slow-cooker dish the night before.
Low-Carb Snacks – If you find that you're hungry and you can feel a sugar/carb craving beginning to rear its ugly head, have some low-carb snacks available to help fight off those cravings. Top 10 Easy Low-Carb Snacks. Keeping low-carb snacks in your car. Why not have some nuts or beef jerky, they are both great snacks that don't require you to worry about keeping them hot or cold. That way, when you're driving down the road, you won't be tempted to pull into the drive-thru for a high-carb snack.
Supermarket dash – if you are in my FREE low-carb support group, you will know that my go-to emergency meal is to pop into the grocery store to pick up a hot rotisserie chicken (Top Tip: check for hidden sugars and sticky sweet sauces) and a bag of pre-made salad. I literally dump the salad on our dinner plates, shred some chicken on top and add whatever bits and pieces from the fridge to make it a complete meal. Cheese, mayo, avocado, cherry tomatoes. Make it a production line and your kids can even make their own dinner themselves – win-win! Read more: Best Pre-Packaged Keto Meals
Read More: Freezer Meals For Meal Prep & Easy Low-Carb Slow-Cooker and Instant Pot Recipes
4: Make certain that you always take the time to eat
No matter how busy you are, you take the time to eat. Eat mindfully. Enjoy every single bite.
I have always had the rule that I will never eat in the car, I will never eat while walking and I will never eat in the street.
I eat every single meal and snack intentionally.
My life is just as crazy as the next person, but to say you can only eat breakfast in the car is not doing yourself any favours, both for your long term diet success and your stress levels.
How many HOURS have you wasted worrying about your diet and weight?
How To Stay Low Carb Even When You're Busy
Now that you know these simple tips to stay low-carb even when you're super busy, you can rest easy knowing that your schedule doesn't have to control your eating habits.
Stay strong, plan ahead and take action and you'll jump over any time constraint or hurdle when it comes to staying low-carb!
And remember, if all else fails, life happens, I get it. Take a look at my 5 Top Tips To Eat Out and Stay Low-Carb.
---
More articles you may like:
Get our FREE guide to finally fix your metabolism!
Losing weight & getting healthy is never easy, but lately you might feel like it's suddenly become impossible.
Our Flip the Switch guide will help you clearly understand what's been going on, as well as exactly what you can do to get your metabolism working again so that you can look and feel your best—it's easier and more simple than you think!