Running errands, driving kids to all the places they need to go…when it's one place after another, that drive-through starts to sound pretty tempting.
You know how you'll feel afterward, but you're still so hungry.
At Thinliciousâ"¢, we don't believe in deprivation. You don't have to feel hungry in order to lose weight.
Are you ready to create the ultimate 12-month blueprint for reaching your health & weight loss goals this coming year?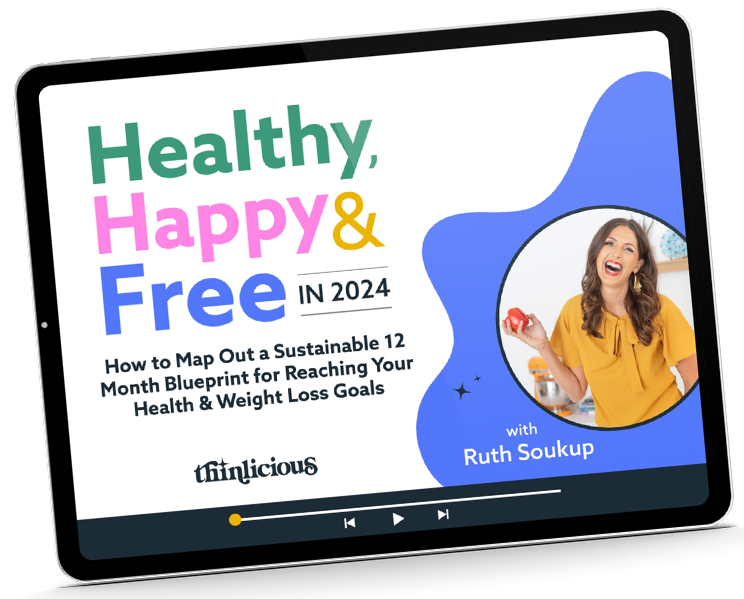 Our free on-demand video training will walk you through how to make 2024 THE year you set health goals…and keep them.
Instead of fighting your empty stomach, prepare for the busy day by packing your purse with low-carb, high-fat snacks.
As a woman on the go, you need portable keto snacks that will keep your cravings in check and fuel you with energy. Because let's face it, when you feel full and energetic, you don't think twice about that carb-filled fast food. In fact, you feel better without it!
So, what do you keep in your purse to stay keto on the go?
Some of our favorite portable options include jerky or beef sticks, cheese crackers, hard cheese slices and protein bars made with low-carb ingredients.
These tasty treats are quick and easy to grab when you're on the go, so don't hesitate to stock up!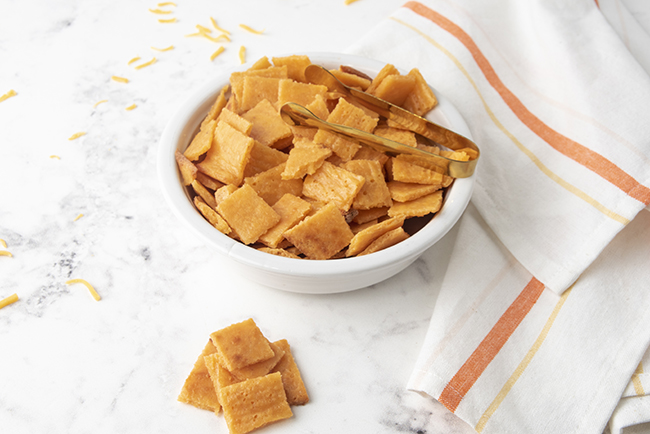 Keto On The Go: Portable Snacks
You need snacks in your purse that will stay delicious when you're away from home.
These snacks should also be high in protein and have enough healthy fats to silence those hunger pains and fill you up!
Whether you're traveling or running errands, pack one of these snacks with you to stay keto on the go.
1. Nuts and seeds
Nuts and seeds can be a healthy addition to your snack bag in small amounts.
We caution you to be careful with how many nuts and seeds you eat at once. Yes, they are a fantastic source of protein and healthy fats, and they satiate salty cravings. But they sure do have a lot of carbs too!
Still, a few low-carb nuts and seeds can be a fantastic on-the-go snack to keep in your purse. These are the best ones to pick, along with how many carbs are in one cup:
Pecans: 14 grams total carbs, 4 grams net carbs
Macadamia Nuts: 19 grams total carbs, 7 grams net carbs
Walnuts: 11 grams total carbs, 6 grams net carbs
Almonds: 28 grams total carbs, 12 grams net carbs (be very cautious with eating raw, whole almonds)
Flax Seeds: 49 grams total carbs, 0 grams net carbs (there are also 49 grams of dietary fiber, making them a zero-carb seed)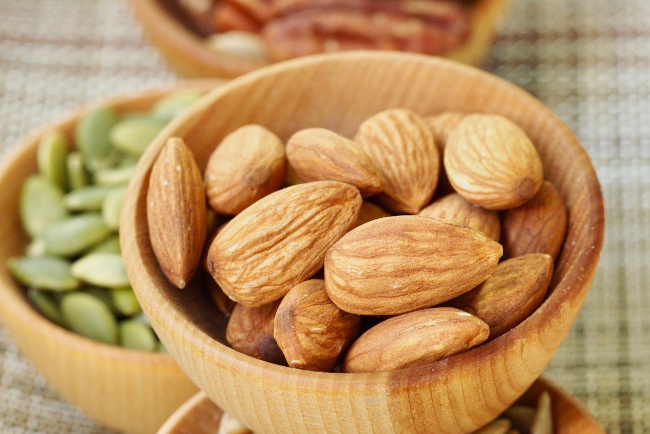 2. Jerky or meat sticks
Buy beef jerky or meat sticks that are made from grass-fed beef or other lean cuts of meat. This is a great source of protein that will help curb your hunger without spiking your blood sugar levels.
When you buy unsweetened meat sticks, there are 0 grams net carbs; it's just a snack of meat. Always read the ingredients labels first. Some brands sneak sugar into the flavoring.
3. Low-carb Berries
Berries are another excellent choice for keto on the go.
They are packed with essential vitamins and minerals to keep you energized throughout the day while on the go. They are also a natural and healthy way to eat something sweet without eating too many carbs.
Here are the types of fruit with the least amount of carbs, along with how many carbs are in one cup:
Raspberries: 15 grams total carbs, 7 grams net carbs
Blackberries: 14 grams total carbs, 6 grams net carbs
Strawberries: 12 grams total carbs, 9 grams net carbs
Avoid blueberries. They have a whopping 21 grams of total carbs in one cup, with just 4 grams of fiber.
Bananas and cherries also don't make very smart keto snacks. Both have more than 15 grams net carbs per serving.
4. Hard Cheese
Yes, cheese is always a smart on-the-go keto snack. It's super portable and always fills you up. If you're going to be away from home for hours on end, we suggest packing hard cheese, not soft string cheese.
Trust us. That string cheese turns pretty sad in the bottom of a dark purse after an hour.
Hard cheese lasts a lot longer. Plus, there are some incredible flavors that make you glad you packed them!
Try one of these fun types of hard cheese:
Asiago
Gruyère
Manchego
Parmesan
Pecorino Romano
Gouda
5. Homemade Cheese Crackers
In just 15 minutes, you can bake a huge batch of homemade cheese crackers! They taste like Cheez-Its, but they only have 1.9 grams of carbs in each serving.
You can flavor them however you want too! The original sharp cheddar flavor won us over, but you could also add some Everything Bagel seasoning on top.
This is a wonderful way to enjoy a satisfyingly crunchy snack when you need something fast and need to munch on something keto on the go.
6. Nut Butter and Celery Sticks
Bring along two tablespoons of your favorite nut butter and some celery sticks. This high-fiber, high-fat snack won't go bad without refrigeration.
These are the best types of nut and seed butters to pack, with the amount of carbs in one tablespoon:
Cashew Butter: 4.4 grams total carbs
Almond Butter: 3 grams total carbs
Peanut Butter: 3 grams total carbs
Sunflower Seed Butter: 3.7 grams total carbs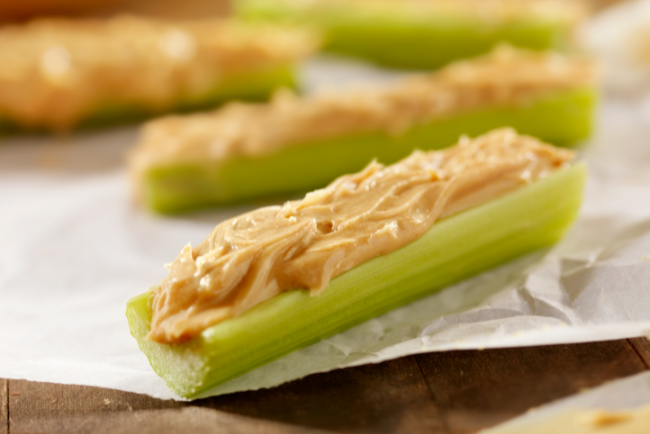 7. Keto protein bars (Magic Bars)
Our Magic Bars are great portable snacks that are packed with healthy fats, protein and other nutrients to keep you energized no matter where your travels take you.
Make your own Thinlicious Magic Bars. You won't be surprised by hidden carbs or unhealthy fake fiber. They have an almond flour crust, sugar-free condensed milk filling and are topped with pecans, walnuts, unsweetened coconut flakes and sugar-free chocolate chips.
Surprisingly, each serving only has 4.65 grams of carbs but 7.1 grams of protein and an astounding 15.2 grams of fat.
These little bars will definitely make you feel full when you're kinda hungry.
8. Kale Chips
Kale chips are another fantastically crunchy snack to pack in your keto on-the-go bag. They won't fill you up like the Magic Bars will, but they can give you something to munch on when you're craving something salty and crispy.
The air fryer is the easiest way to make them. Just massage some oil and seasoning into the leaves, place them in the air fryer basket and cook them for about 5 minutes at 375ºF. This recipe is really easy to follow.
There are about 6 grams of total carbs per serving. If you don't have an air fryer, bake the kale chips in your oven. Wholesome Yum has a tangy salt and vinegar kale chips recipe we love.
9. Cured Meat
Pack your purse like you're taking a charcuterie board with you. Along with some hard cheese, add some cured meat to your bag.
Salami, pepperoni and Spanish chorizo are some of our favorites! These are different from beef sticks because they are often made from pork.
Here's how many carbs are in one slice of each of our favorite types of cured meat:
Pepperoni: 0 grams of carbs
Salami: 0.3 grams of carbs
Spanish Chorizo: 0.5 grams carbs
10. High-Protein Magic Bread
Admit it, sometimes you're just craving a baked good from a coffee shop. When those cravings hit ya, munch on a slice of soft and fluffy Magic Protein Bread. It's a wonderful choice for keto on the go.
It has the most incredible mouthfeel—almost as light as angel food cake. With only 0.4 grams total carbs per slice and 6.7 grams of protein, you'll feel full without the crazy sugar spikes.
In fact, a slice of Magic Protein Bread, some pepperoni and a few slices of hard cheese is a delicious low-carb lunch that doesn't need to be refrigerated.
So whether you're stuck in traffic or waiting in line at the grocery store, grab one of these portable keto snacks and stay on track! Break out those hunger pangs and get snacking today.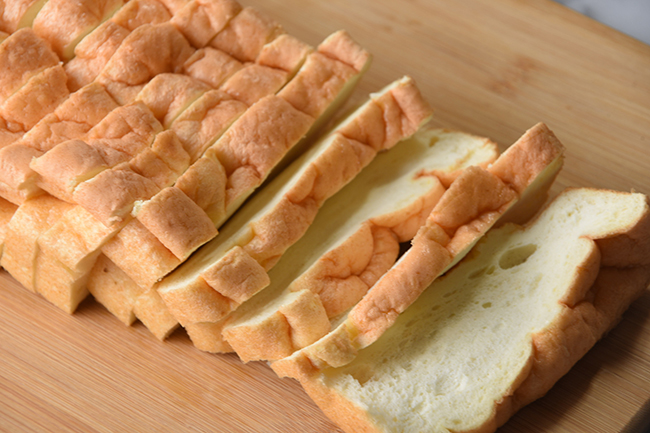 Best Snack Containers
No matter which of the snacks you pack, you'll need something to put them in. Use one of these easy containers. They are some of our favorites!
Tools you'll need
Check out these snack containers next time you want to take some keto snacks with you on the go!
Preparation Keeps You On Track
With these snacks in your purse, you'll always be able to stay on track with your keto diet no matter where life takes you!
So what are you waiting for? Get out there and stock up on portable keto snacks today! Your body and waistline will thank you for it. And remember, just because a snack is portable doesn't mean it has to be unhealthy or loaded with sugar. By choosing the right foods, you can stay energized and satisfied while staying Thin Adapted.
Are you ready to lose weight and get healthy for life without dieting, drugs or making yourself miserable? Our brand new (and totally free!) on demand video training will help you understand why it's been so hard and what do to about it.
PIN FOR LATER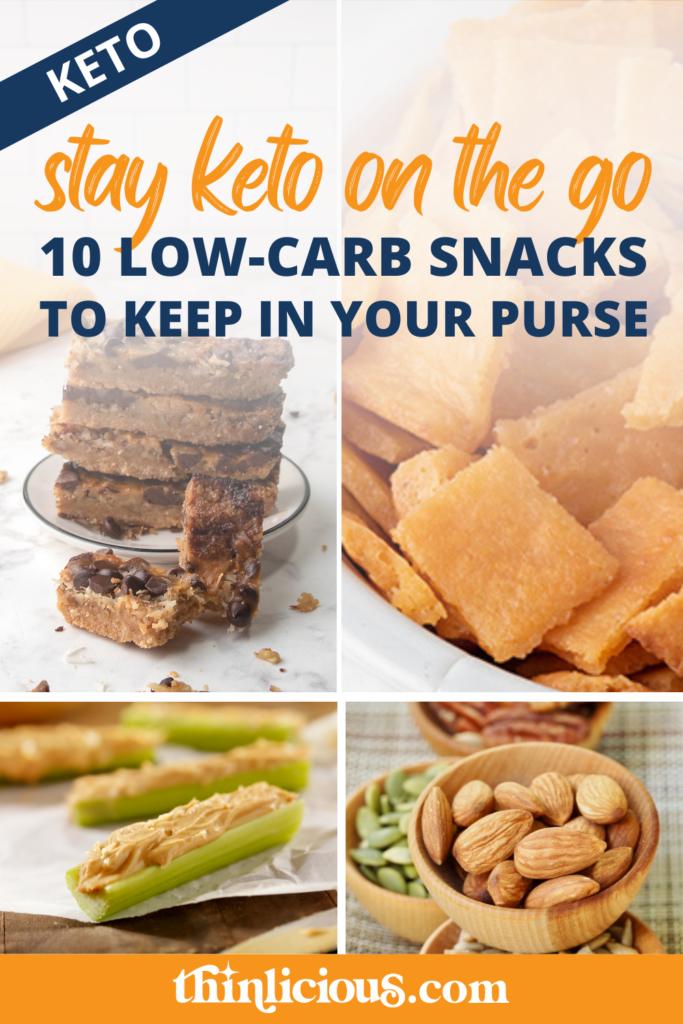 Get our FREE guide to finally fix your metabolism!
Losing weight & getting healthy is never easy, but lately you might feel like it's suddenly become impossible.
Our Flip the Switch guide will help you clearly understand what's been going on, as well as exactly what you can do to get your metabolism working again so that you can look and feel your best—it's easier and more simple than you think!