Keto Crispy Cornish Hens with delicious low-carb roasted vegetables is the perfect healthy one-pan meal when you want to make a splash!
These beautifully roasted Cornish hens are perfect for special occasions, holidays, dinner parties, or date nights at home. I've even got the perfect keto side dishes to serve with chicken.
Keto Crispy Cornish Hens
If you have been wanting to try your hand at cooking a Cornish hen now is the perfect time to try it! You will love this incredibly simple recipe that will let you cook a Cornish hen so that it is flavorful, moist, and has perfectly crispy skin.
It is the perfect way to impress your loved ones or guests with minimal effort.
Are you ready to create the ultimate 12-month blueprint for reaching your health & weight loss goals this coming year?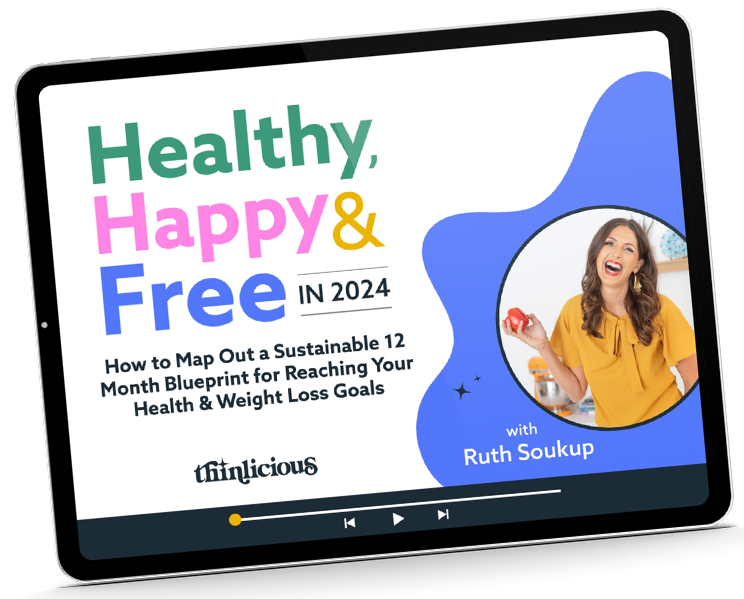 Our free on-demand video training will walk you through how to make 2024 THE year you set health goals…and keep them.
A Cornish hen is a small hen that usually weighs between 1-2 lbs (500g-1kg). Each hen is the perfect size for an individual serving, but can also be cut in half to serve two people.
Cornish game hens are not baby hens. They are a small breed of hens that at maturity are only 1-2 lbs.
So you have someone in your house that is wary of eating a baby hen, rest assured, they are just small hens.
How To Make The Skin Crispy On A Cornish Hen
The key to making the skin crispy on a Cornish hen is to cover the skin with butter or olive oil before baking.
The skin on a Cornish hen is very thin so you do not need to pull the skin away from the breast and place the oil under the skin as you might on a whole chicken.
Simply brush on olive oil over covering the chicken in softened butter is enough.
I prefer to use butter when cooking a Cornish hen. I have found that butter traps the moisture in bird better than olive oil and add a lovely dimension of flavor.
However, olive oil works just as well to crisp the skin on your hens.
What To Do If You Forgot To Defrost Your Cornish Hens
I usually place my hens in the refrigerator a day or two before I am going to cook the hens to defrost. However, sometimes we just forget to defrost our meat before we need it.
Luckily, a cornish hen doesn't take as long to defrost as a whole chicken or turkey.
If you forgot to put the hen in the refrigerator the day before you can alternatively defrost the hen in a bowl of cold water in your kitchen sink.
The hen will take about 90 minutes to defrost in cold water. Place each hen in a separate bowl so that they defrost faster. This is a great option if you remembered to defrost it halfway through the day and are not in a rush.
However, if you realize your hen is still in the freezer shortly before it's time to cook the hen you are still not out of luck. You will simply need to cook your hens for about 30-40 minutes longer until it is cooked through.
ALWAYS test the thickest part of the meat to ensure it is thoroughly cooked throughout. You cannot eat any poultry that is remotely raw.
How To Roast Vegetables With Your Keto Crispy Cornish Hens
Roasting low-carb vegetables in the same pan as your hens give your vegetables amazing flavor.
Since the vegetables will be cooking for a long period of time it is important to choose vegetables that will hold their integrity while they cook. You don't want mushy vegetables.
My favorite low-carb vegetables to roast are radishes, Brussels sprouts, and yellow squash. You get a beautiful melody of colors, they hold their texture well, and taste great together.
To roast your vegetables with your hens toss them in melted butter so that they will crisp. Then spread them out in the same pan as your hens being sure they are not too crowded in the pan.
If you are cooking frozen hens delay adding the vegetables to hens until hens are halfway done cooking so that the vegetables do not overcook.
More Low-Carb Dinner Recipes …
How To Prep Your Keto Crispy Cornish Hens The Night Before
So, you are on top of your game right now and want to prep ahead of time. Great! Your hens and vegetables can be prepped up to 24 hours in advance.
Just prep and store your hens in separate containers in the refrigerator.
This will prevent cross-contamination between the vegetables and hens until you are ready to cook them.
What Spices To Use On Keto Crispy Cornish Hens
If you have a favorite dry rub for poultry you want to use on your hens feel free to use it. However, if you are not sure what you want to use I suggest keeping your seasoning simple but generous with onion powder, garlic powder, salt, pepper, and paprika.
The measurements for the seasonings below might seem small but remember so are your hens. So you can cover your hens with seasonings and not use a whole lot of seasoning.
The key is to make sure your entire hen is seasoned.
Some other seasoning options is to add fresh herbs, lemon juice, or ginger to your hens. I love sprinkling ground ginger over poultry.
Just keep in mind that carbs in seasonings can add up quickly, 1/4 tsp of any additional seasoning your add should be plenty to cover two hens.
Enjoy!
More recipes you may like: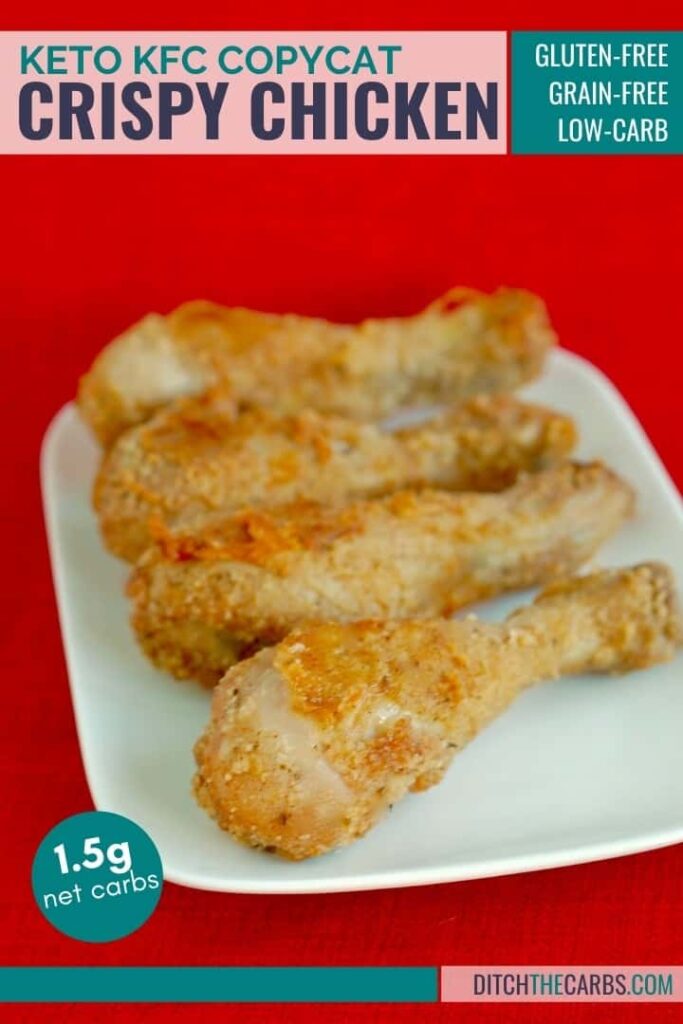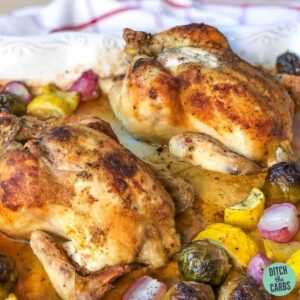 Keto Crispy Cornish Hens Recipe
You will love how quickly this beautiful one pan keto crispy Cornish hens meal comes together.
Print
Pin
Rate
Want to lose weight and get healthy for life—without dieting, drugs, or making yourself miserable?
We can help! Tell me how!
Equipment
Baking sheets – non stick

Meat Thermometer
Ingredients
2

cornish hens

2

tbsp

butter

softened

½

tsp

garlic powder

½

tsp

onion powder

¼

tsp

paprika

¼

tsp

poultry seasoning

salt and pepper

to taste
Roasted Vegetables (optional)
6

radishes

ends cut off and cut in half

1

cup

Brussels sprouts

ends cut off and cut in quarter

1

yellow summer squash

cut in large cubes

1

tbsp

butter

melted

salt and pepper

to taste
Instructions
Place your hens in the center of your baking pan ensuring that your hens are not touching. Pat the hens dry with a paper towel. Then, rub the softened butter over each hen.

In a small bowl mix together your seasonings to make a rub for your hens. Sprinkle all the seasoning over the hens to cover the entire hen.

Combine all your chopped vegetables together in a bowl. Cover with the melted butter and sprinkle with salt and pepper if desired. Next, spread the vegetables around the hens in your baking pan.

Cover your baking pan with foil and bake the hens at 190°C/375°F for 55-60 minutes or until the internal temperature of your hens is 70°C/165°F. The foil should be removed from the hens during the last 15 minutes of cooking to allow the skin to crisp.

Finally, remove the hens and let the hens rest for 10 minutes before serving to allow the juices in the hens to settle. Enjoy!
Notes
The nutrition panel is for 1 Cornish hen including butter and spices. Vegetables are optional and the choice of roasted vegetables will depend on your personal preference.
Nutrition
Serving:
1
Cornish hen
Calories:
1006
kcal
Carbohydrates:
1.3
g
Protein:
77.5
g
Fat:
74.5
g
Sodium:
375.5
mg
Potassium:
1062
mg
Fiber:
-2
g
Sugar:
0.1
g
Vitamin A:
959
IU
Vitamin C:
2.3
mg
Calcium:
49.5
mg
Iron:
3.5
mg
Get our FREE guide to finally fix your metabolism!
Losing weight & getting healthy is never easy, but lately you might feel like it's suddenly become impossible.
Our Flip the Switch guide will help you clearly understand what's been going on, as well as exactly what you can do to get your metabolism working again so that you can look and feel your best—it's easier and more simple than you think!