You will love the simplicity of Keto Eggs Benedict in the Instant Pot! This recipe is foolproof and you will have breakfast for the whole family in less than 5 minutes!
Keto Eggs Benedict
Making this classic brunch time meal has never been easier. All you need is about 5 minutes and you will have delicious eggs benedict for the whole family ready to eat; fresh hollandaise sauce and a quick and easy toasted low-carb muffin included!
Don't have a bunch of people to make breakfast for? No problem, you can easily adapt this recipe to serve 1 or 14. It really couldn't get much easier.
How to Make Keto Muffins
We took inspiration for our low-carb muffin from this 1 Minute Keto Muffins recipe. The muffins used in this recipe are a little different, but the concept is the same. Just mix the muffin ingredients listed below in a ramekin or mug and microwave for 90 seconds.
Ready to lose weight and get healthy for life without dieting, drugs or making yourself miserable?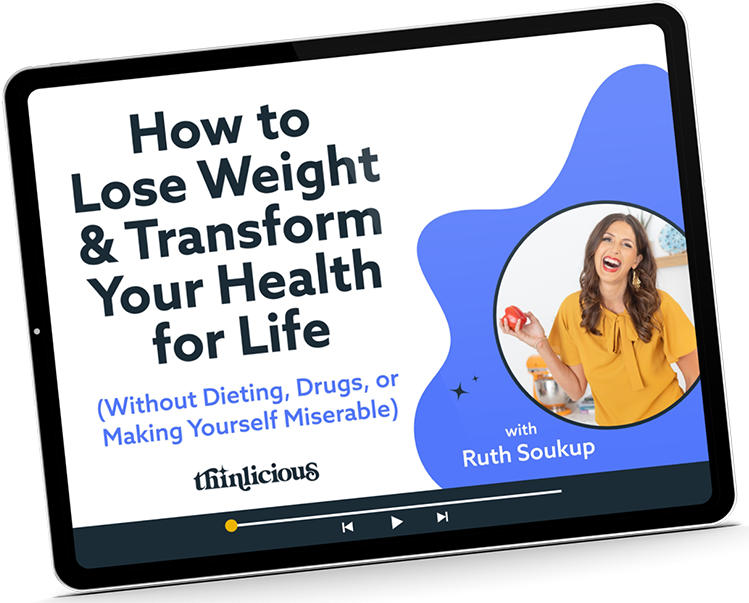 Our free on demand video training will help you understand why it's been so hard and what do to about it.
The muffin will firm as it cools and then you can slice the muffin in half for toasting. I popped mine in my toaster, but you could also use toast in the oven or toaster oven.
Since hollandaise sauce is made with egg yolks, I decided to use the egg whites in the muffins. No need to waste the wonderful egg whites.
How To Cook Poached Eggs In The Instant Pot
Making poached eggs in the Instant Pot is quick and easy. Just add a cup of water to the Instant Pot and place a trivet at the bottom. Then crack your eggs into a greased ramekin, silicone tray, or silicone muffin liners.
To poach the eggs arrange the containers on the trivet. Close the lid and cook the eggs for 1 to 2 minutes using the "pressure cook" or "manual" button. Once you hear the timer beep, quickly release the pressure and remove the eggs from the Instant Pot. Use a spoon to gently remove the poached eggs from the container.
The cook time for the poached eggs can vary depending on your elevation and the thickness of the container you use to cook your eggs. Because of this, I suggest you start with 1 minute cook time, check the eggs, and cook for one more minute if needed. You only have to do this the first time you make poached eggs. Once you have it figured out, you're all ready for the next time.
How To Make Easy Keto Hollandaise Sauce
To make the keto hollandaise sauce you will want to pull out your blender. Add your eggs and lemon juice to the blender, close the lid, and then press start. As the blender is going slowly pour your melted butter into the blender.
The hot butter will mix with the yolk and start to thicken. You will want to keep blending for about 30 seconds. Since the hot butter is used to cook thicken the sauce instead of a double boiler, you will want to make sure the butter is so hot, it's almost bubbling, barely melted butter won't do the trick here.
Keto Eggs Benedict in the Instant Pot
Now that you have made the muffins, eggs, and hollandaise sauce the only thing missing in the back bacon/ham/Canadian bacon (whichever it is called in your country).
I like to quickly pan sear my back bacon, but you can warm it up however you. You may want to heat your back bacon while the eggs are cooking so that your eggs stay warm.
Once your bacon is heated it's time to assemble the eggs benedict. Layer your eggs benedict by putting half the toasted muffin on at the bottom (trust me you want to toast that muffin). Then layer spinach if desired, back bacon, a poached egg, and top it off with a spoonful of hollandaise sauce.
That's really all you need to do! Breakfast done in 5 minutes! And since you are using your Instant Pot you do some of the steps while your eggs are cooking, just be sure to keep your ears open for the timer beep.
More healthy keto breakfast recipes you may like:
Get our FREE guide to finally fix your metabolism!
Losing weight & getting healthy is never easy, but lately you might feel like it's suddenly become impossible.
Our Flip the Switch guide will help you clearly understand what's been going on, as well as exactly what you can do to get your metabolism working again so that you can look and feel your best—it's easier and more simple than you think!