Without a doubt, a keto caesar salad is the best keto meal to order at any restaurant, but do you know how easy it is to make it at home?
All you need is a few simple ingredients together for a quick lunch or simple dinner PLUS learn how to make the magic 1-minute homemade Caesar salad dressing.
It's quick, easy, filling, packed with protein, and nutritious. PLUS it's only 4.5g NET carbs.
This delicious keto chicken salad can be served as a main meal or as a side dish for pork, beef, or chicken.
Ready to lose weight and get healthy for life without dieting, drugs or making yourself miserable?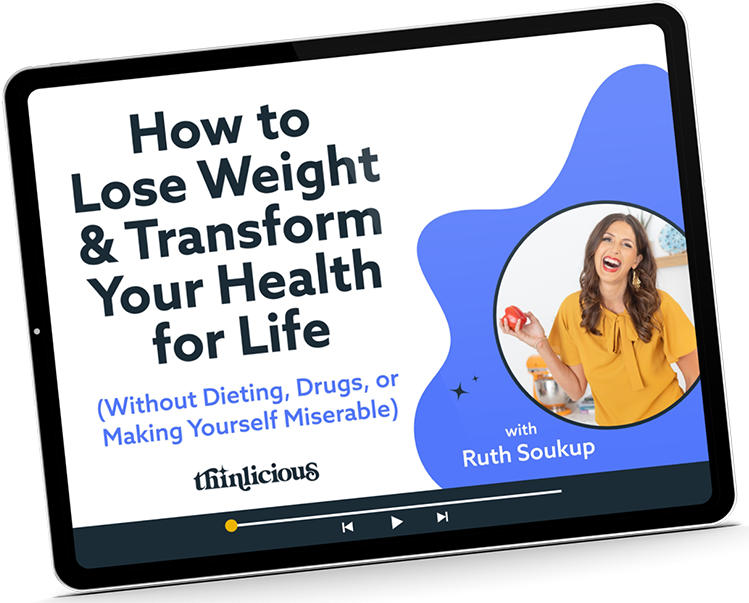 Our free on demand video training will help you understand why it's been so hard and what do to about it.
Is Caesar salad keto?
A traditional Caesar salad is not keto because it contains croutons made from wheat bread or gluten-free bread.
Common Caesar salad ingredients are lettuce, croutons, garlic, Dijon mustard, black pepper, Worcester sauce, anchovies, eggs, and parmesan cheese.
But with a few simple changes, you can lower the carbs and increase the protein to make it perfect for the high-protein low-carb diet, low-carb diet or keto diet.
Ingredients
A keto caesar salad is easy to throw together and typically consists of just a few basic ingredients. However, this is a high-protein salad with moderate-high fat and low-carbs, so the ingredients will be slightly different. As you'll see below, you can omit or swap many of these to create a salad you are happy with:
All ingredients and quantities are in the recipe card below.
Romaine lettuce – high in water, fibre, minerals, and vitamins like C and K, I love the crunch that romaine lettuce offers.
Cucumber – a standard Caesar salad recipe has croutons (made from wheat bread), which is not keto-friendly. To replicate that crunch, cucumbers will do nicely.
Tomato – optional, but traditional salads always need the colour and flavour of a few cherry tomatoes.
Chicken breast – grilled chicken is perfect in this recipe and adds to the protein. You can serve sliced chicken or cubed, whichever is easier. You can also use leftover chicken making this easy salad perfect for your keto diet.
Parmesan cheese – whether you like shredded parmesan cheese, grated parmesan cheese, or sliced, the flavour is excellent with this recipe!
Blue cheese – to amp up fat and flavour, I add a sharp blue cheese. This is completely optional.
Anchovies – you may omit these but they really do add the authentic Caesar salty taste to the salad.
Dressing – as you'll see below, I take the standard keto Caesar dressing and make it my own! This delicious homemade dressing will help you hit your macros. To make this keto Caesar dressing you'll need homemade mayo and anchovies.
Instructions
To make a Caesar salad you can either layer ingredients in your serving dish and add the dressing at the end, or you can make it in a large bowl, add the dressing and mix gently with your hands to ensure all the salad is coated with your homemade mayonnaise.
I prefer to layer it on the plate and leave the dressing on the table so everyone can add the quantity they prefer.
There are many opinions on what exactly should go into a classic Caesar salad, but in reality, you can add what you like. Adaptable recipes are the best and most likely to be actually made, rather than a prescriptive recipe.
This keto Caesar salad starts with a huge base of leafy greens, I like baby kale, but any leafy green is superb. Any other salad ingredients you need to use up can be added next such as baby tomatoes, spring onions, or cucumber cubes. Now add your choice of protein.
Add your favourite cheese, for me it has to be blue cheese and parmesan. The classic anchovies are next, or maybe another oily fish that you prefer such as smoked salmon slices.
Now serve with, or drizzle over the top, with homemade mayonnaise. I cannot emphasise enough how incredibly easy and nutritious it is to make your own mayonnaise.
Substitutions & variations
One thing that's fun about a keto Caesar salad is that you don't have to stick with the standard ingredients. Why not add cooked diced bacon and avocado too? Anything goes.
Feel free to experiment with ingredients and really make this keto Caesar salad your own!
Lettuce
Swap out the typical romaine lettuce for another variety. I've found arugula to add a nice peppery bite, but also enjoy baby kale. I will use mixed greens if that's what I have available too.
Cheese
A classic keto Ceasar salad has parmesan cheese, but if you aren't a fan, you can swap it up. Parmigiano Reggiano is aged longer than parmesan cheese and can add a deeper flavour.
You can also sub it out for feta, blue cheese, or even plain cheddar…whichever you prefer.
Protein
Instead of grilled chicken, feel free to add another source of protein. Diced cooked bacon pieces, a poached egg, sliced boiled egg, cooked shrimp, cooked prawns, or a low-carb vegetarian source of protein.
Herbs and seasoning
The cheeses and Caesar dressing are both delicious, but you might also want to add garlic powder, dried onion flakes, bagel seasoning,
Storage
Just like any fresh salad, this keto Caesar salad recipe will be best if enjoyed right away. Once you add the anchovies and mayo, you won't be able to keep it in the fridge for long. It's best eaten within 24 hours otherwise the salad greens will go limp and brown with the addition of the salad dressing.
Keto salad meal prep
If you want to prep ahead for this chicken Caesar salad, you can:
Grill your chicken (or keep leftover chicken) stored in an airtight container in the fridge for up to 3 days.
Prep the individual salad ingredients and store them in an airtight container for 1-2 days. Once you wash lettuce or other leafy greens, you can keep them in a large ziplock bag or container with a piece of kitchen paper. The paper helps to absorb any excess water and helps to keep the lettuce crisp.
Make your mayonnaise and pour it into a jar with a lid. Keep in the fridge for up to 3 days.
Then when you want to enjoy a fresh keto salad, simply put the salad together, add your anchovies and mayo, and enjoy!
What to serve with Caesar salad
To turn your keto salad into a complete meal, you can serve with cheesy keto garlic bread, almond flour bread, coconut flour bread or keto breadsticks made from mozzarella dough.
Recipe tips
How to make keto Caesar salad fast.
Making a keto Caesar salad at home is my go-to meal when we are in a hurry. It is my healthy family 'fast food' and cheaper than takeaways. Just buy these two things on your way home via the grocery store:
1: A hot rotisserie chicken (without stuffing or sauces).
2: A bag of salad or leafy greens.
When you get home it takes no time at all to put the keto Caesar salad on your kitchen table and throw some extra ingredients together that you have probably sitting in the fridge already such as cheese, olives, avocado, etc.
How to make keto Caesar salad family-friendly.
Because you add whatever salad ingredients, cheese, or protein you have in the fridge (you know I always encourage you that leftovers are king), then pour over the top plenty of homemade mayo.
Children always love a fun meal that they can make themselves and have some control over. They are able to choose whichever ingredients they like from the fridge and add them to their salad. If you are struggling to get kids to eat their greens, give this keto Caesar salad a try!
Keto salad FAQ
Is restaurant Caesar salad keto?
Most traditional Caesar salads are not keto but with a few simple changes, you can lower the carbs and increase the protein. Simply ask for no croutons, extra cheese, extra chicken, and often a poached egg is available as a salad optional extra.
How many net carbs are in a Caesar?
How many carbs are in a Caesar salad will depend on what ingredients have been used, how many croutons have been added, and whether it is served with bread on the side? Dressings often have added sugar. For example, Bertucci's Caesar salad has 28g carbs (source: Cronometer).
What salad dressings are OK for keto?
Ready-made dressings often contain unhealthy oils such as canola oil or sunflower oil and often contain added sugars and starches that don't fir in with your keto diet. You can make your own mayonnaise with an egg and olive oil, or you can make a simple keto salad dressing made with olive oil and vinegar.
More keto salad recipes
Please leave a comment with your favourite keto salad ideas. What do you add to make them high-protein, nutritious, and filling?
Get our FREE guide to finally fix your metabolism!
Losing weight & getting healthy is never easy, but lately you might feel like it's suddenly become impossible.
Our Flip the Switch guide will help you clearly understand what's been going on, as well as exactly what you can do to get your metabolism working again so that you can look and feel your best—it's easier and more simple than you think!