Use the EASY coconut flour conversion chart and learn to AVOID the number one mistake most people make PLUS the top 10 best coconut flour recipes.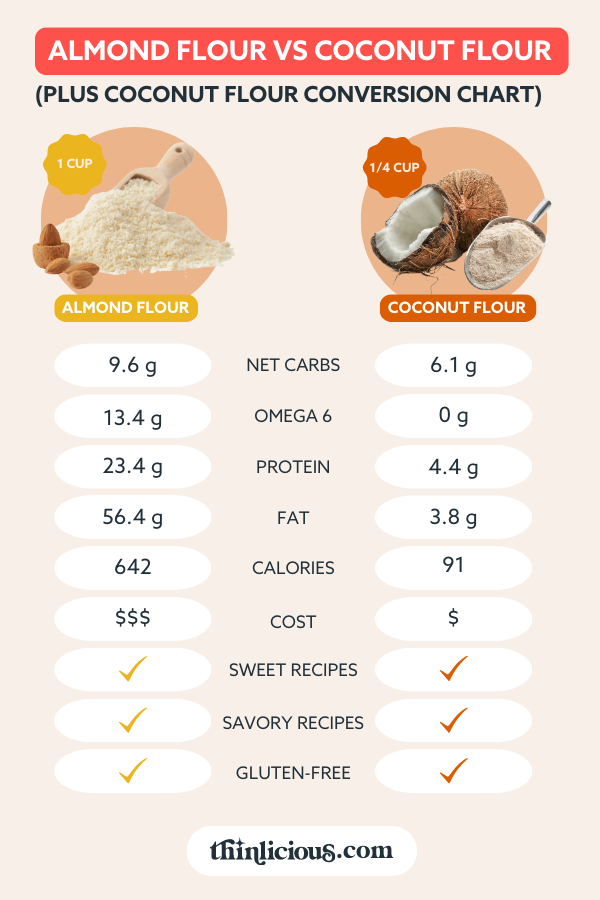 Both are gluten-free, both are grain-free and both are used heavily in low carb and keto cooking … but which is best and how do you use them?
Ready to lose weight and get healthy for life without dieting, drugs or making yourself miserable?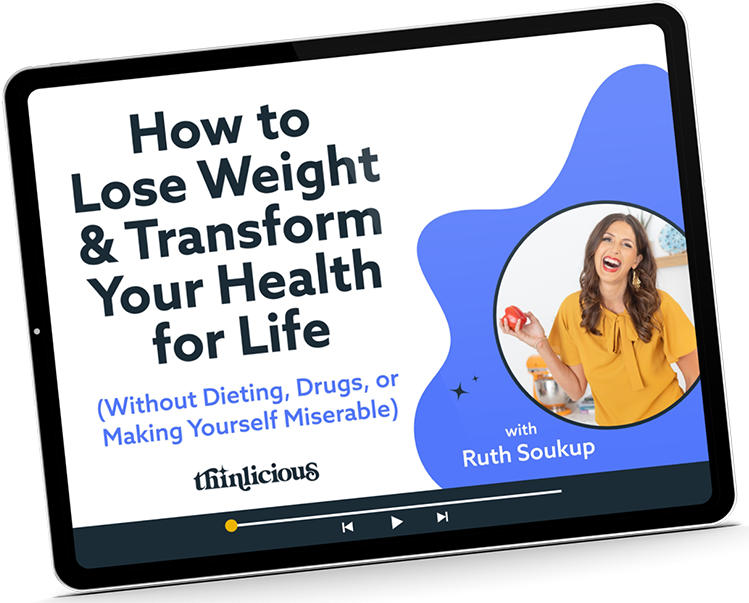 Our free on demand video training will help you understand why it's been so hard and what do to about it.
Baking 101 (tips & charts)

If you are new here, you may want to print a copy of the cooking conversion charts. You'll discover kitchen conversions for metric/imperial, tbsp to ml, temperatures, and even international ingredient names. So no more guessing what a recipe needs.
What is coconut flour?
Coconut flour is dehydrated and defatted flesh from the coconut (coconut meat). It is the high fiber by-product of making coconut cream and coconut milk.
The dried coconut pulp is ground to make a super-fine flour that is naturally high fiber, low-carb, low-fat, and naturally gluten-free flour.
Coconut flour can be used in a variety of savory dishes and sweet keto baking recipes such as keto pancakes, keto waffles, coconut flour cakes, and coconut flour cookies.
How does coconut flour work?
Coconut flour is dehydrated so is incredibly absorbent and so recipes will require more liquid.
Extra eggs are required to help improve the texture of the baking and to help the cake to rise. These extra eggs also help the coconut flour recipe to be high-protein.
You must allow a cake batter made with coconut flour additional time to absorb these extra wet ingredients so the cake batter can swell and thicken.
What is almond flour?
Almond flour is made from ground whole blanched almonds and is the most common keto flour used by beginners.
Blanched almond flour has the skins removed, unblanched almond flour does not have the skins removed.
It takes 90 whole almonds to make 1 cup of almond flour.
Almond flour is a natural gluten-free flour commonly used in keto baking. It has a slightly sweet flavor and nutty flavor with a similar texture to traditional flour.
It is versatile because it can be used in sweet recipes such as cakes, cookies, and pancakes, or savory recipes such as garlic bread, almond flour pie crusts, and is a great replacement for breadcrumbs in recipes such as keto chicken nuggets, keto crumbed pork and grain-free keto fried chicken (KFC).
What's the difference between almond flour and almond meal?
Almond flour is creamy colored and is finely ground almonds, usually with the skins removed.
Almond meal is darker colored and is a coarser grade of ground almonds, usually with the skin attached.
They can both be used interchangeably in most recipes but almond flour is preferred for soft delicate cakes, and almond meal is best used in savory recipes.
Nutrition facts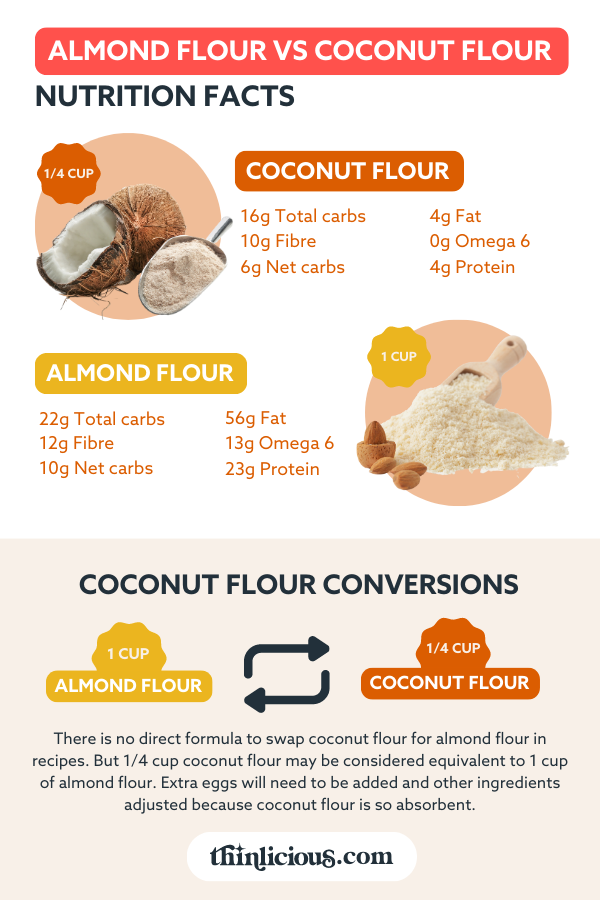 Nutrition facts for 1 cup (112g) of almond flour: 9.6 g net carbs, 23.4 g protein, 56.4 g fat, 642 calories.
Nutrition facts for 1/4 cup of coconut flour: 6.1 g net carbs, 4.4 g protein, 3.8 g fat, 91 calories.
Nutrition facts for 1 cup (125g) of all-purpose flour: 91.6 g net carbs, 12.9 g protein, 1.2 g fat, 455 calories.
Nutrition facts for 1 cup (120g) of gluten-free flour: 92.6 g net carbs, 5.5 g protein, 2.1 g fat, 432 calories.
Nutritional values from cronometer.com
What are the best low-carb flours to use?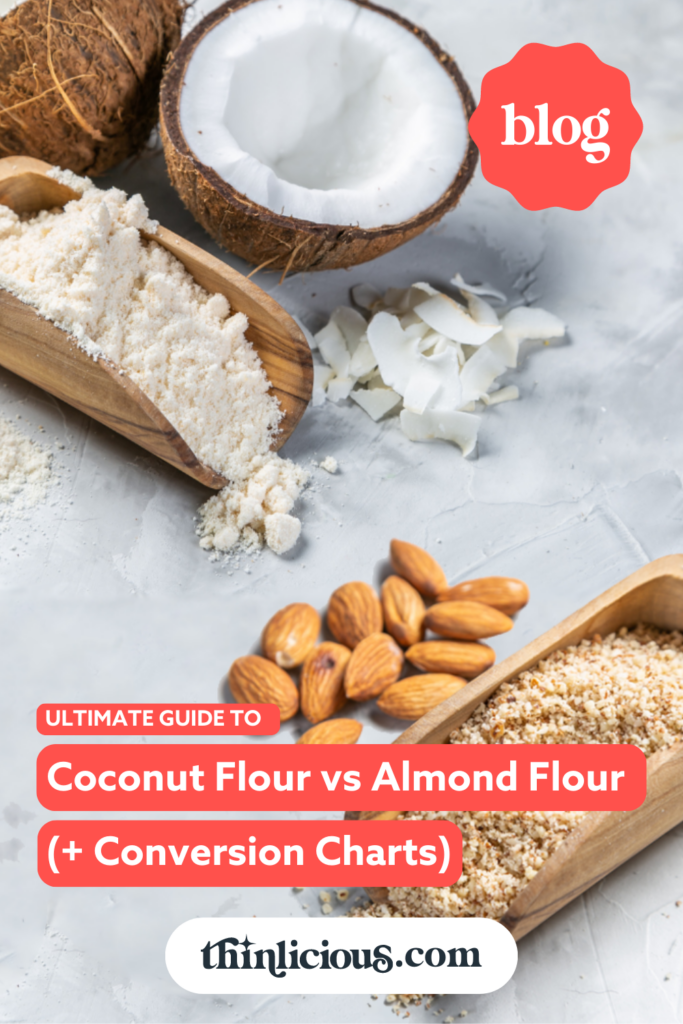 Both coconut flour and almond flour are low-carb flours and naturally gluten-free.
These are the most common low-carb flours and you can read about each one in the Ultimate Guide To Low-Carb Flours. It's a general overview of low-carb flours and how to use them.
Almond flour
Almond meal
Coconut flour
Flax meal
Peanut flour
Psyllium husk
Pumpkin seed flour
Sunflower seed flour
Benefits of using low-carb flours
There are so many benefits of using natural coconut and almond flour over traditional wheat flour.
When you are on a keto diet or monitoring your blood sugar, baked goods made with grain-free flours have all these health benefits.
High fiber – both coconut flour and almond flour are high fiber
High protein – coconut flour isn't as high as almond flour, but when you consider baking using coconut flour generally requires more eggs to help the baking rise and improve moisture, it can be considered a higher protein option.
Low-carb – both are lower in carbs than wheat flour, all-purpose flour, and gluten-free flour. 1 cup of all-purpose flour contains 92g net carbs compared to 10g net carbs in 1 cup of almond flour, and 6g net carbs in the equivalent 1/4 cup of coconut flour (40% less than almond flour).
Nutrition – both are better than wheat flour and grains. But don't rely on low-carb baking to provide you with the basis of your nutrient-dense diet.
3 benefits of baking with coconut flour vs almond flour
3 differences between almond flour vs coconut flour
"The FDA lists coconut as a tree nut but in fact, coconut is a seed of a drupaceous fruit. Most people allergic to tree nuts can safely eat coconut. Coconut allergy is reasonably rare. If you are allergic to tree nuts, talk to your allergist before adding coconut to, or eliminating coconut from, your diet.â€
1: Allergies
Coconut flour recipes are allowed in most schools that have a nut-free policy.
With the increasing number of allergies, more readers are asking for tree nut-free recipes. An increasing number of schools have a nut-free policy for baking and school lunches.
If your children attend a school with a nut-free policy, baking with nuts is out of the question.
And because so many low-carb recipes use almond flour/meal, this limits what baking you can send your children to school with.
2: Costs
Coconut flour is cheaper than almond flour (and you use less).
Coconut flour is an economical low-carb flour to buy and to use because you only use 1/4 of the volume of almond flour.
Coconut flour is almost half the price of almond flour/meal.
3: Fat content and quality
Coconut flour is lower in fat.
Almond flour has a higher fat content but it is the quality of fat that is important.
Almond flour is high in omega 6 which is the pro-inflammatory polyunsaturated fat that we want to avoid in large quantities.
This isn't so important when you are just eating a few almonds as a snack, but to rely on cups of almond meal/flour for meals and baking, really does make a difference and adds up quickly.
Coconut flour is lower in fat (another reason why it is so absorbent for liquids in recipes), but it is stable saturated fat.
"Excessive amounts of omega-6 … promote the pathogenesis of many diseases, including cardiovascular disease, cancer, and inflammatory and autoimmune diseases, whereas increased levels of omega-3 PUFA (a low omega-6/omega-3 ratio) exert suppressive effects." Source.
Conclusion: Coconut flour is versatile, cheaper, healthier, has better omega 3:6 ratios, and is far lower in carbs than almond flour.
Coconut flour cooking tips
If you think "coconut flour sucks" then you need to learn these 3 tips.
For those of you new to cooking with coconut flour, it can be tricky to work with unless you understand how coconut flour works and behaves.
Tip 1: Allow the coconut flour to rest.
Coconut flour is made from dehydrated and defatted coconut meat, so it is very absorbent.
When you make cookie dough or cake batter, the mixture needs to rest and swell to absorb the moisture and thicken.
For example, if you were to make my keto waffles and don't allow the batter to stand for a few minutes while the waffle maker is heating up, you may think the batter is too liquid and too runny to create the perfect waffle.
If however, you allow the batter to rest for a minute or two, you will see the batter thickening all by itself.
Tip 2: Add enough eggs.
Coconut flours need plenty of eggs to provide moisture, protein, and structure, and to help a keto cake rise and stay fluffy.
Tip 3: Add enough flavors.
Some people are sensitive to the subtle flavor of coconut flour and the extra eggs. You may need to add extra vanilla extract or sweeteners in sweet recipes or additional chees, herbs, and spices in savory recipes to override the subtle coconut flavor it has.
How to swap almond flour for coconut flour?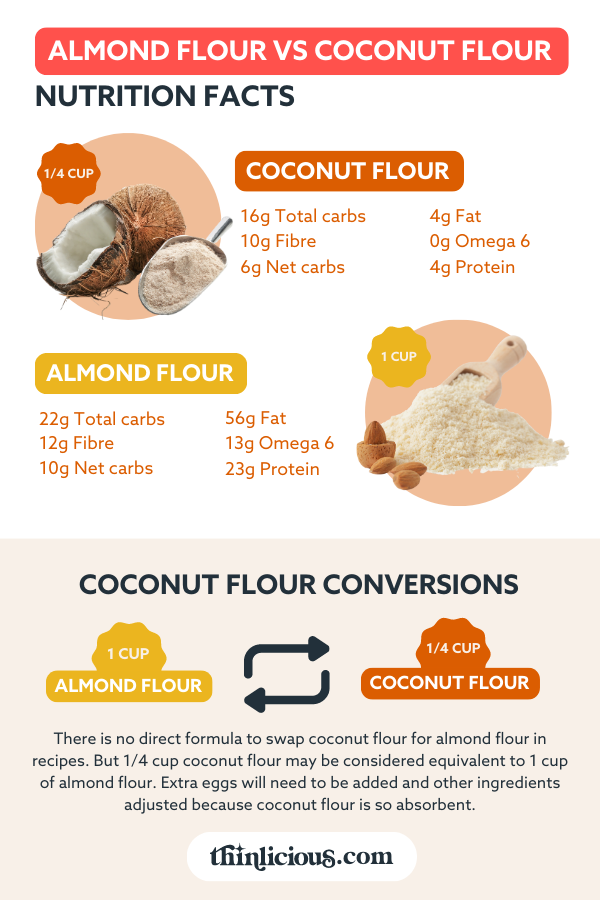 Unless you are very experienced at low-carb cooking, you cannot directly substitute coconut flour in almond flour recipes or regular wheat flour.
I recommend that you begin to bake with coconut flour using recipes that have already been developed using coconut flour.
Once you feel comfortable with the properties of coconut flour, you might want to try experimenting with converting some almond flour recipes.
Coconut flour conversion table
The best recipes to begin converting are those that only use a small amount of almond flour. A recipe that only needs 1/2 cup of almond flour is much easier to convert to coconut flour than a cake that uses 2-3 cups of almond flour. It simply won't work.
Use a 1:4 ratio of coconut flour instead of almond flour.
1/4 cup coconut flour = 1 cup almond flour
1 cup coconut flour needs 6 eggs and 1 cup liquid
Allow the batter to swell and absorb the liquid then adjust accordingly.
If the batter is too wet, add 1 tablespoon of coconut flour at a time until it thickens
If the batter is too dry, add 1 egg or 2 tablespoons of liquid and mix until smooth
How to substitute almond flour for coconut flour
Every recipe will vary but as a rough guide to get you started to substitute almond flour, 1 cup of almond flour = 1/4 cup of coconut flour PLUS extra eggs and extra liquid.
To substitute coconut flour, 1/4 cup = 1cup almond flour with fewer eggs and less liquid.
Top 10 best coconut flour recipes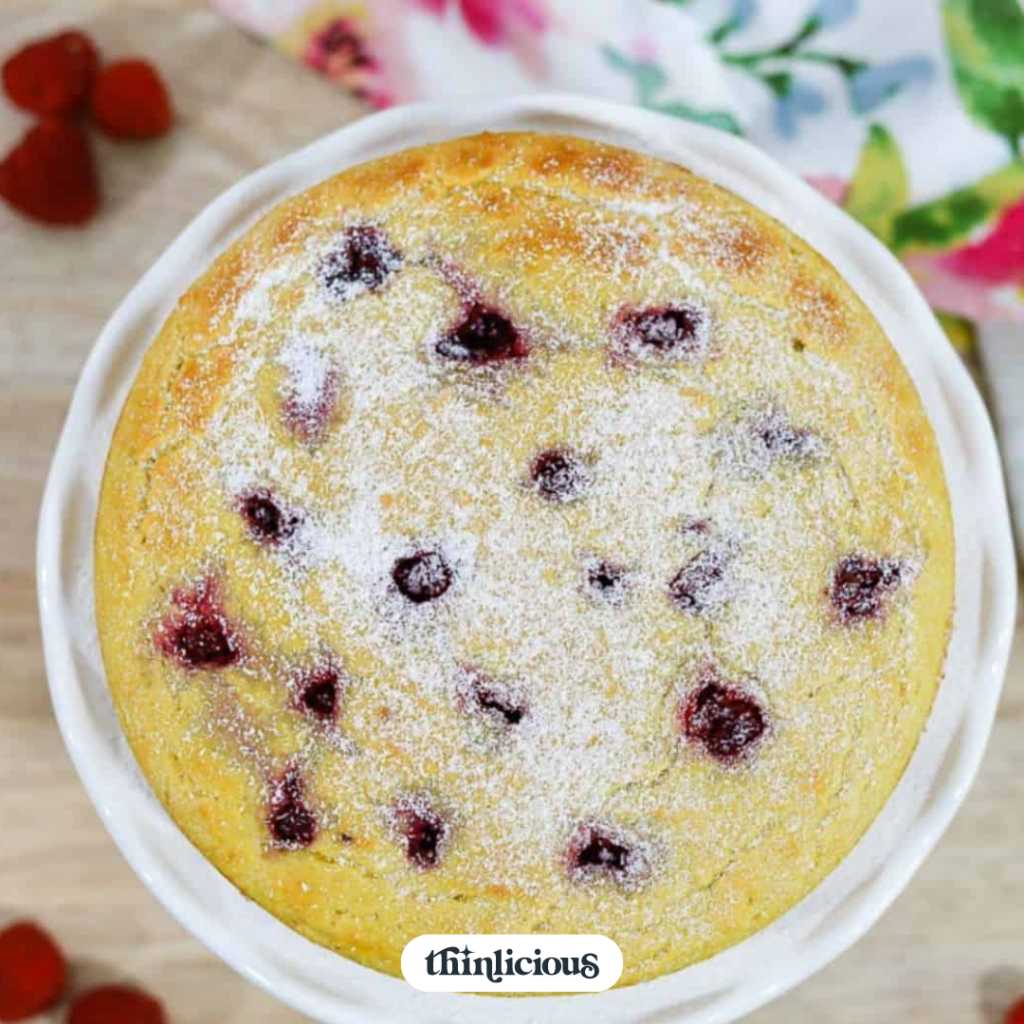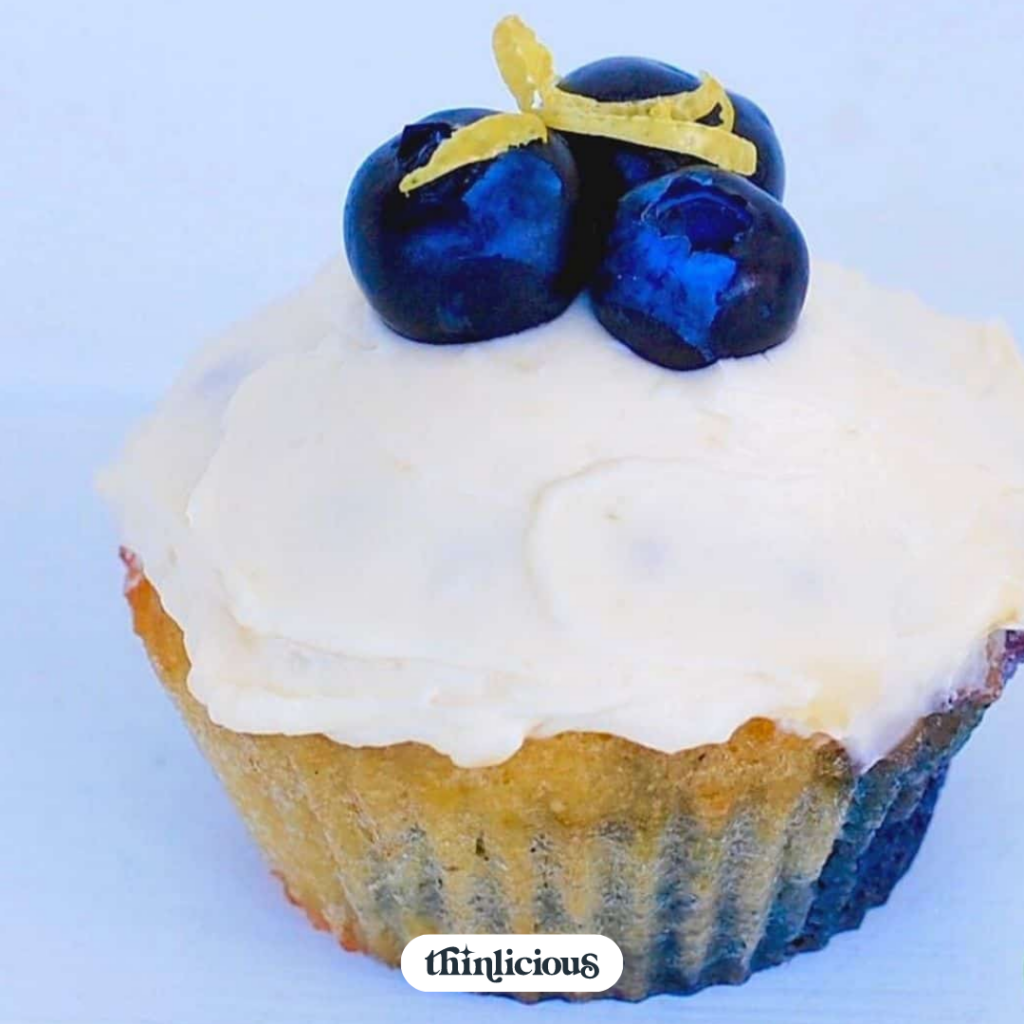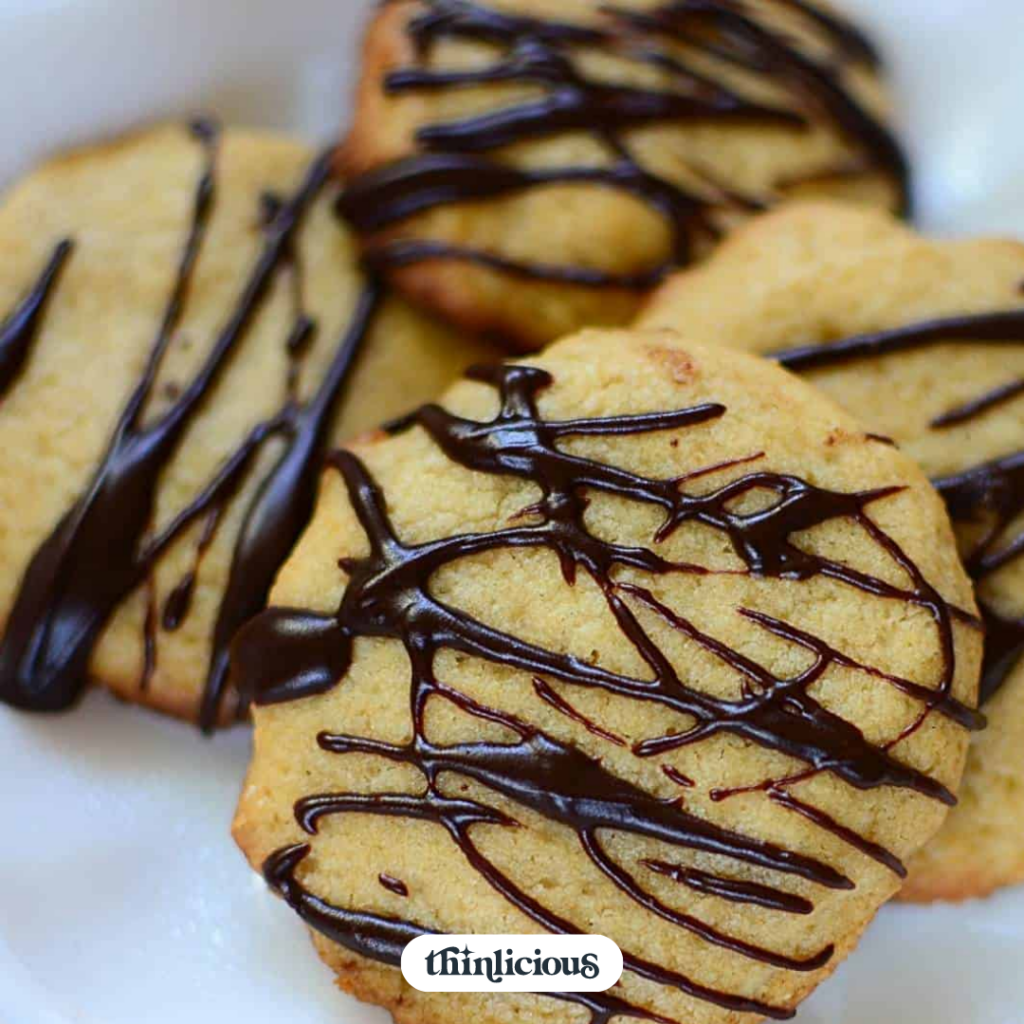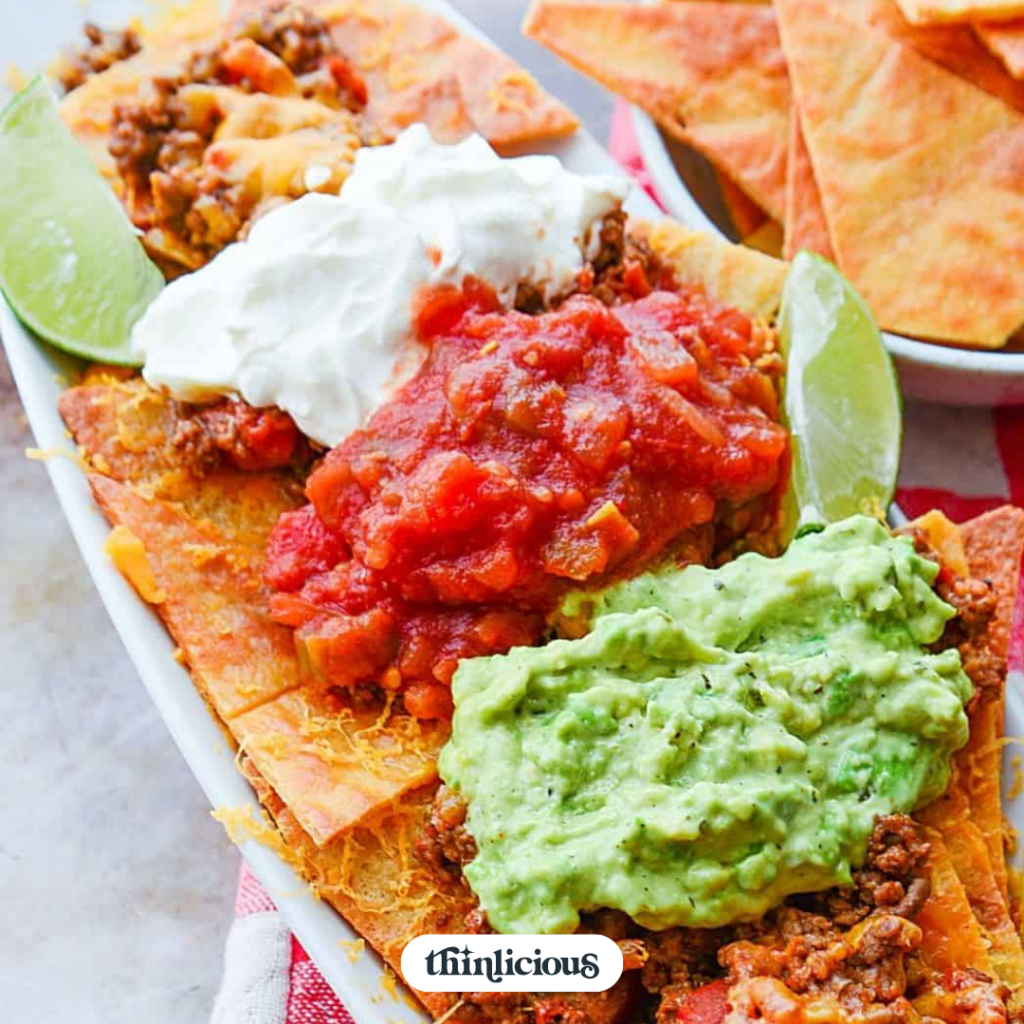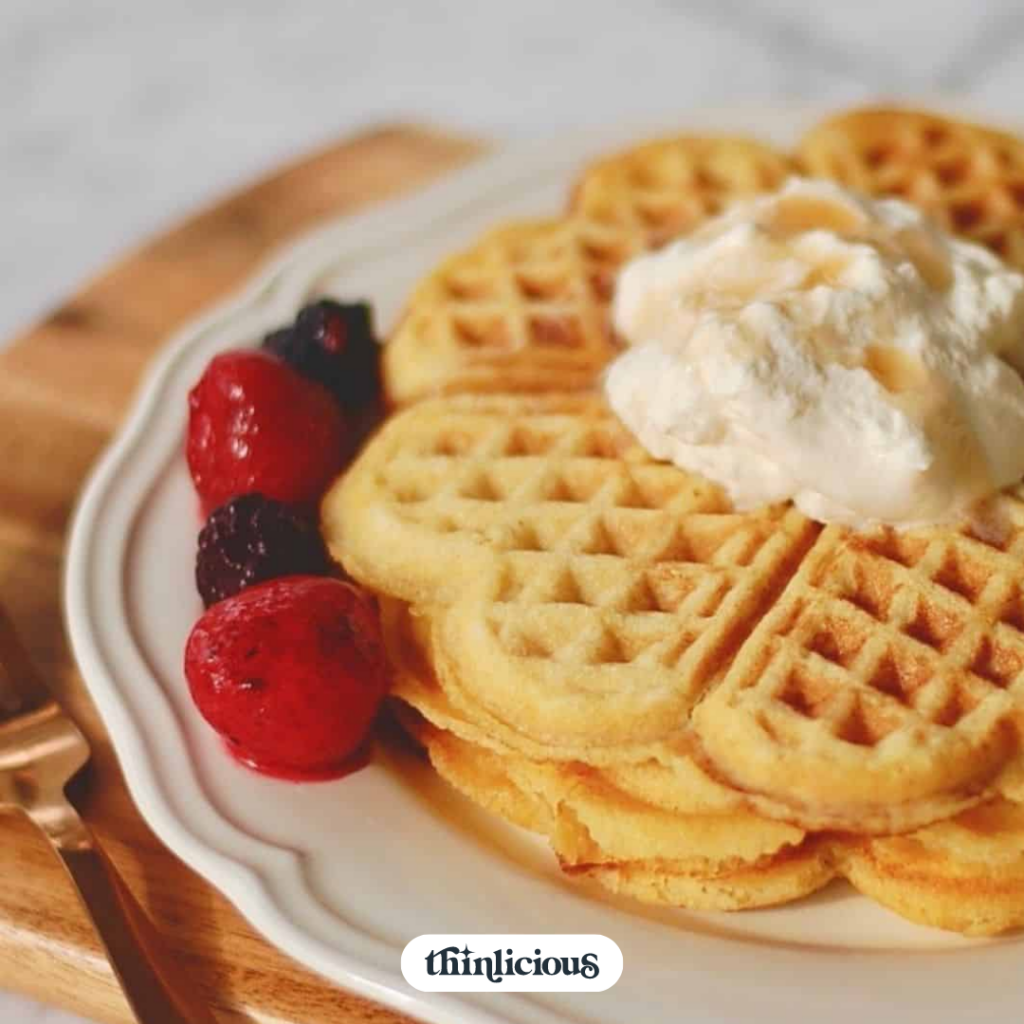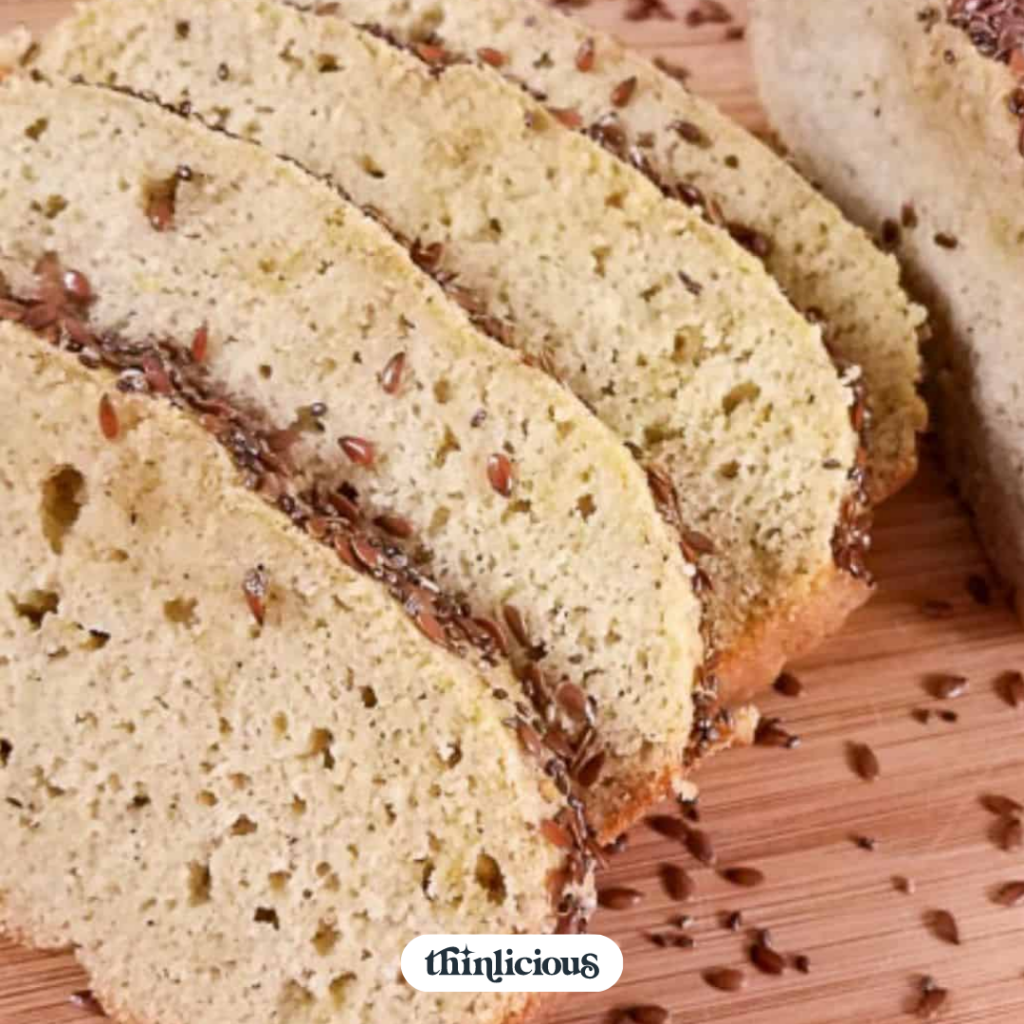 If you love cooking with coconut flour, these are the 10 most popular and easiest coconut flour recipes for beginners.
Most recipes on Ditch The Carbs will have substitutions for coconut flour and almond flour. For example, the Fat Head keto pizza recipe can now be made with almond flour OR coconut flour.
Coconut flour vs almond flour FAQ
Is almond flour better than coconut flour?
The almond flour debate in keto recipes depends on whether you have tree nut allergies, whether you want low-fat flours, or high-fiber flours, or whether calories and weight loss are a priority.
Is almond flour or coconut flour better for cakes?
Finely ground almond flour is more popular in keto cakes and Paleo baking, but if you have nut allergies and can tolerate coconut flour, almond flour, and coconut flour cakes can both be soft and delicious.
Can I replace almond flour with coconut flour?
You can use the coconut flour conversion table above as a guide but it is not easy to swap almond flour with coconut flour or conventional flour. They have completely different properties.
Is coconut or almond flour better for keto?
Coconut flour is lower in net carbs, higher in protein, and has fewer calories so better for the keto diet.
Where to buy coconut flour or almond flour (and what to look for)?
You can buy all types of keto-friendly flours worldwide from iHerb or from my Amazon Low-Carb Keto Store.

Organic coconut flour is the best if you can afford it, and make sure you buy coconut flour not desiccated coconut. They are not the same.

Buy almond flours such as blanched almond flour, or almond meal, in small enough quantities that you will use it before its expiry date.
Can you make your own coconut flour?
You can but it takes a very long time and it will never be as good as store-bought coconut flour.
How to make your own almond flour?
Buy blanched almonds and place them in your food processor or coffee grinder and chop until they are ground. This is called almond meal. When grinding almonds make sure to stop before they turn into almond butter.
How often should you eat keto baking?
Low-carb keto baking, whether it is from coconut flour vs almond flour, should not be relied upon regularly. Part of the ethos of going low carb is not to rely on sweet tastes too often, but to use them occasionally.

It is always better to reach for keto baking rather than high-carb high-sugar cakes and cookies. But they must begin to make less of an appearance in your weekly meal plan
Which flour is best for those with celiac disease?
One of the biggest challenges in a gluten-free diet is which type of flour to use. You need to avoid all grain-based flours and whole wheat flour. All low-carb flours and keto flours are naturally gluten-free.
What can I use in place of almond flour?
Alternative types of flour are ground sunflower seeds, ground flaxseeds, psyllium husk powder, flaxseed meal, oat fiber, and other nut flours such as walnut flour. All are low in grams of net carbs and suitable for the ketogenic diet.
Which flour has the highest grams of protein?
Almond flour has 23.4 grams of protein per cup.
Which flour has the lowest grams of carbohydrates?
Coconut flour has 16 grams of total carbs, 10 grams of fiber, and a net carb count of 6.
Why do some keto recipes use xanthan gum?
Xanthan gum is a thickener and is often used in sauces but also used in baking to help replace gluten otherwise some gluten-free cakes and cookies will crumble and fall apart.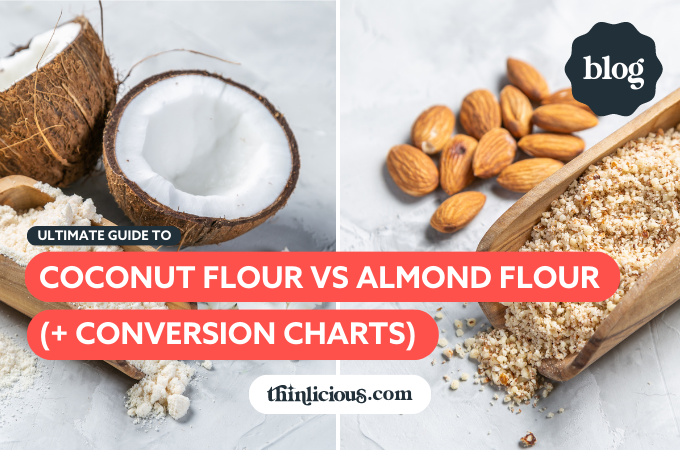 You can search all the recipes using the coconut flour recipe index. You'll find coconut flour cookies, muffins, bread, mug cakes, pizzas, fudge, waffles, bagels, and even low-carb coconut flour chicken nuggets!
Read More: The Ultimate Guides Series
Get our FREE guide to finally fix your metabolism!
Losing weight & getting healthy is never easy, but lately you might feel like it's suddenly become impossible.
Our Flip the Switch guide will help you clearly understand what's been going on, as well as exactly what you can do to get your metabolism working again so that you can look and feel your best—it's easier and more simple than you think!