My keto tortillas are "flexible and bendy as a gymnast".
PLUS they are egg-free, only 2.1g net carbs per tortilla, and ready in under 10 minutes!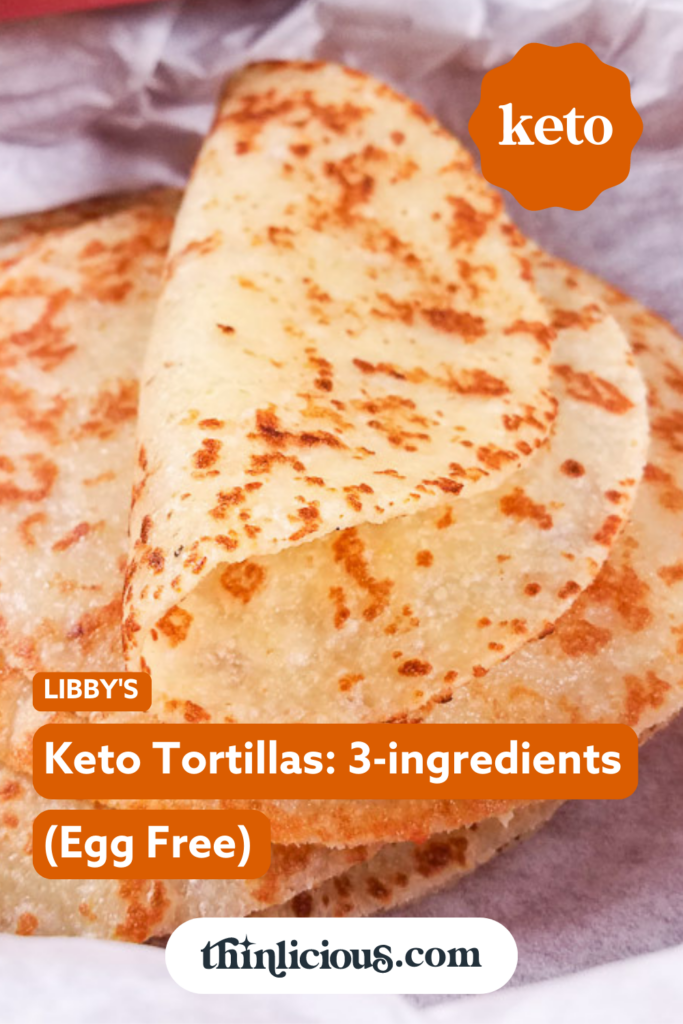 The taste and texture are so similar to regular carb-loaded tortillas you won't even realize you are eating a low-carb option.
Are you ready to create the ultimate 12-month blueprint for reaching your health & weight loss goals this coming year?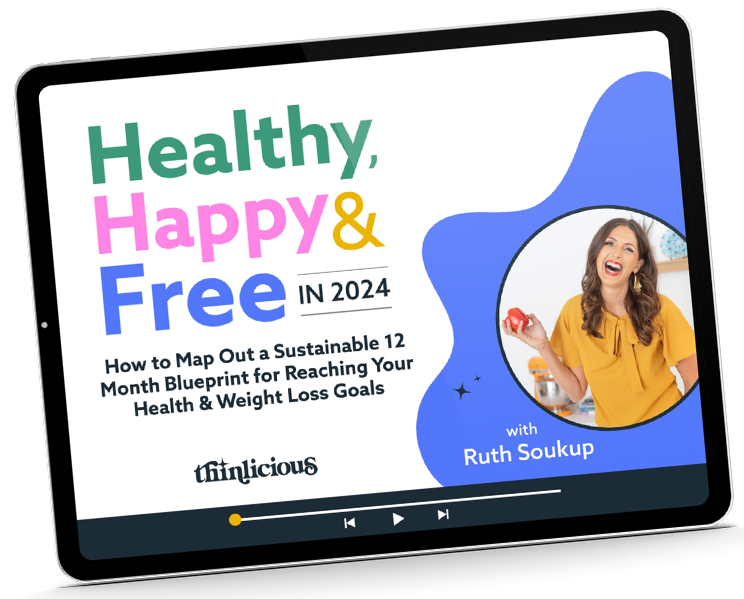 Our free on-demand video training will walk you through how to make 2024 THE year you set health goals…and keep them.
3 Ingredient keto tortillas
This is another keto bread recipe inspired by Fat Head dough.
Who knew mozzarella cheese could be used in so many ways? While these tortillas are not exactly made with Fat Head it follows the same principles.
These keto tortillas have a texture much like regular tortillas, and when they are cooked are sturdy enough to hold your fillings.
They are not gritty or graining like some tortillas recipes, but chewy, just like the real deal.
To make these ingredients you only need 3 ingredients and a microwave. If you don't have a microwave, don't worry. I'll include stovetop directions at the bottom.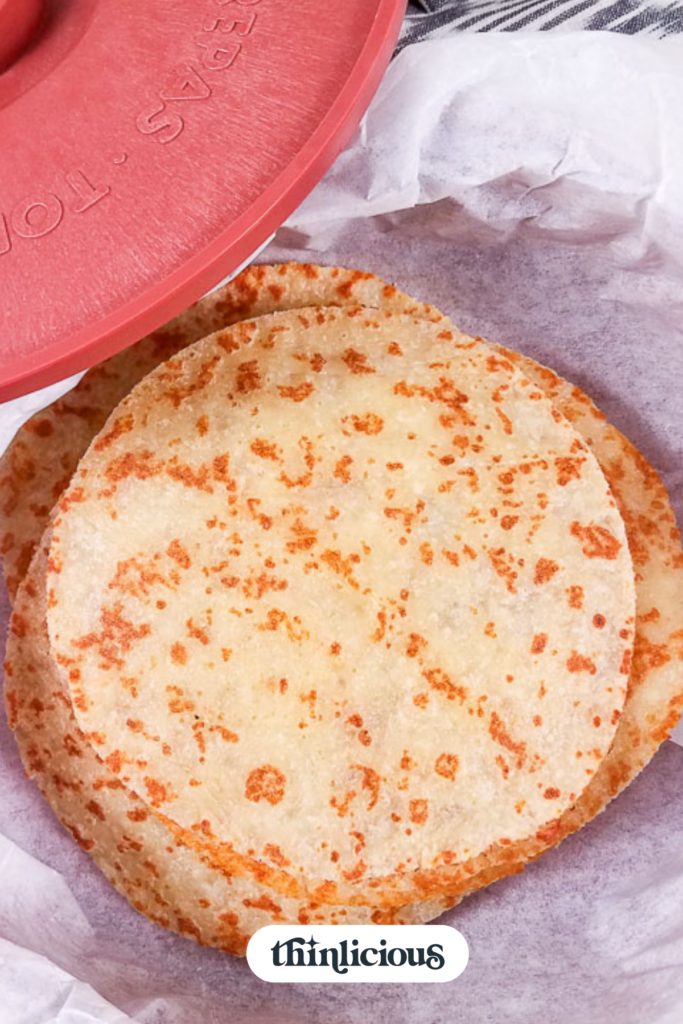 Instructions
This recipe moves quickly, so before getting started make sure you have everything you need ready to go.
I recommend cutting your parchment paper and locating a rolling pin before making the keto dough.
Once you have your parchment paper and rolling pin ready to go it's time to make your dough.
Step 1: To make the dough you will want to mix together some shredded mozzarella cheese, almond flour, and xanthan gum in a microwave-safe bowl so that the cheese is coated in the almond flour and xanthan gum.
Step 2: Next, microwave your bowl of cheese for 1 minute. When the minute is completed, knead the melted cheese into a ball with the back of a spoon.
Step 3: Once the mozzarella dough forms a ball, place the dough back into the microwave for 30 seconds and knead the dough again with your spoon to form a ball again.
Note: The dough can also be melted in a saucepan on low heat on the stove. Be sure to continuously stir cheese until it melted and forms a ball.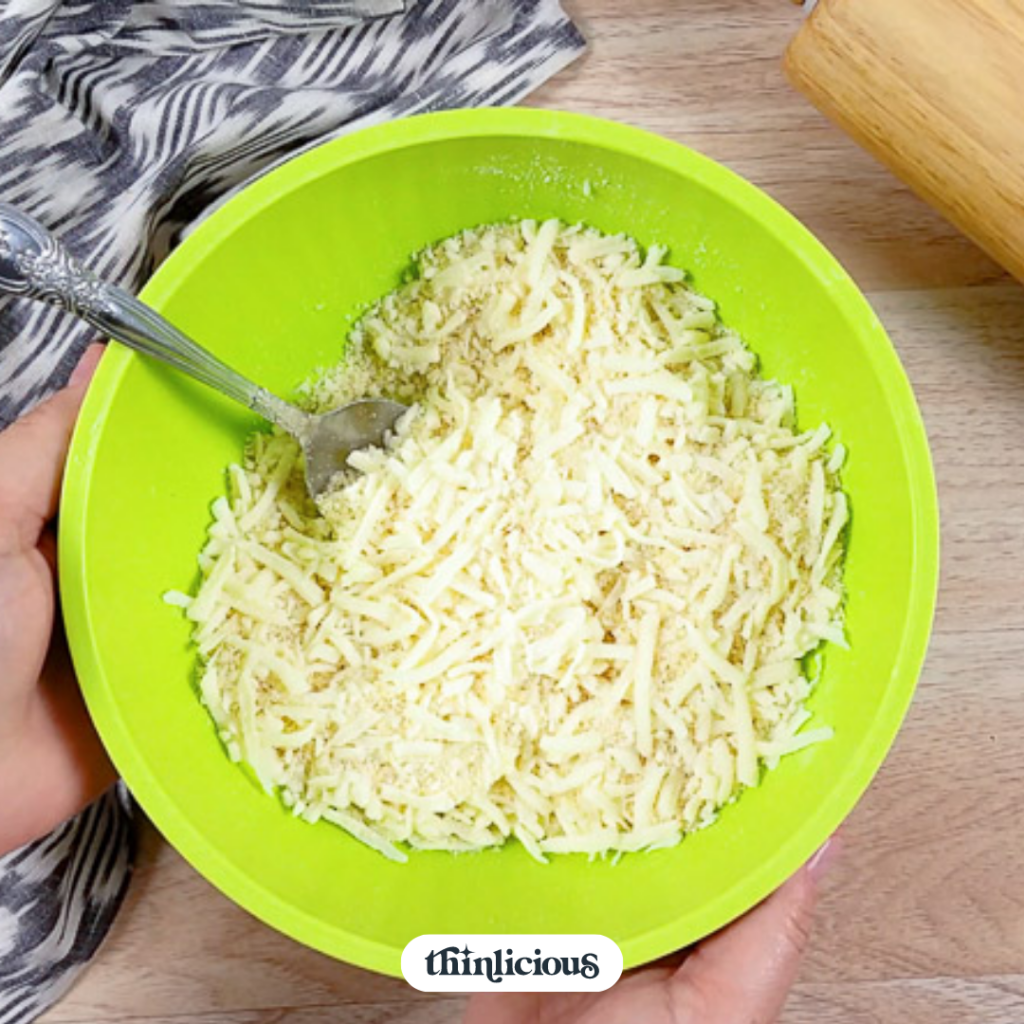 How to shape tortillas
While your dough is still hot place your ball of dough in between two sheets of parchment paper and roll the dough out thinly with your rolling pin.
You will want to roll the dough until it is about 1/8th cm or 1/16 in thick. Then remove the top layer of parchment paper from your dough.
Next, you will want to cut out your tortillas.
To make sure my tortillas are perfectly round I like to place a small bowl face down on the dough like a cookie cutter and cut around the bowl with my knife. You should be able to get 6 tortillas the first time through.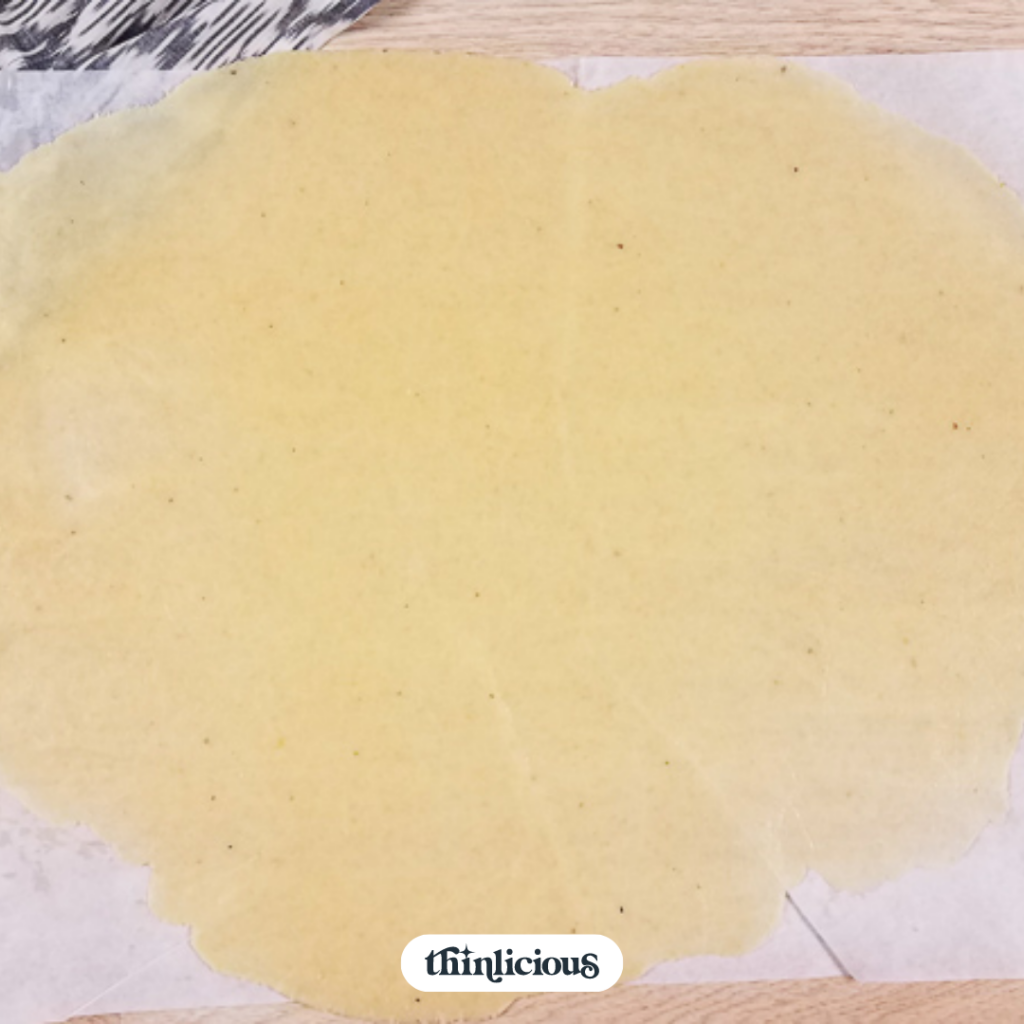 Place the dough scrape back into the microwave-safe bowl and reheat the dough for 15-30 seconds. Knead the dough into a ball with a spoon and then roll out the dough and cut out more tortillas.
I was able to get a total of 8 taco-sized tortillas that were about 15cm wide. Any scraps can be cut into strips and cooked to make tortilla strips to top soups and salads.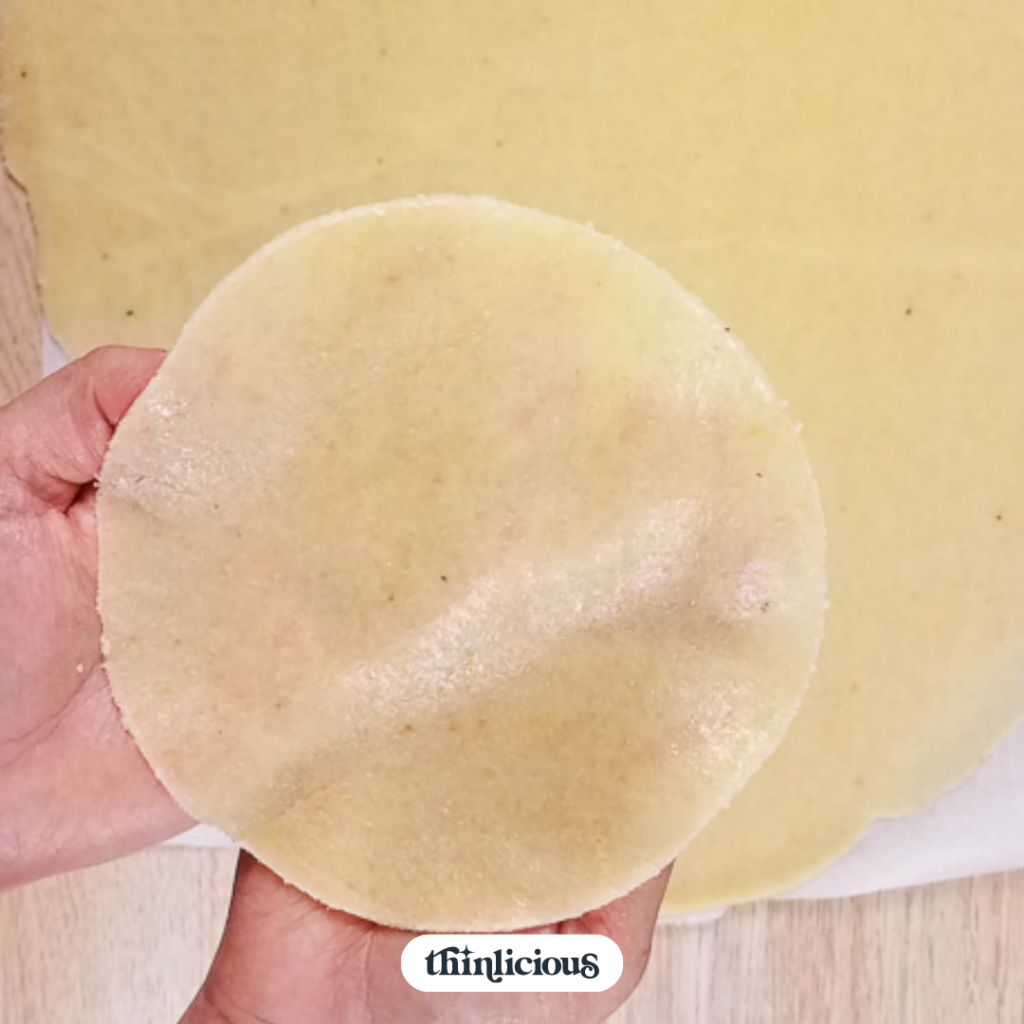 How to store tortillas
You can make your tortillas as needed or make them in advance so that they are ready to cook when needed. The tortillas are best stored uncooked in the refrigerator or freezer.
To store the tortillas place them in an airtight container or bag and then store them in the refrigerator or freezer.
Tortillas will last in the refrigerator for up to a week and the freezer for 1 to 2 months.
Tortillas can be cooked one at a time as needed.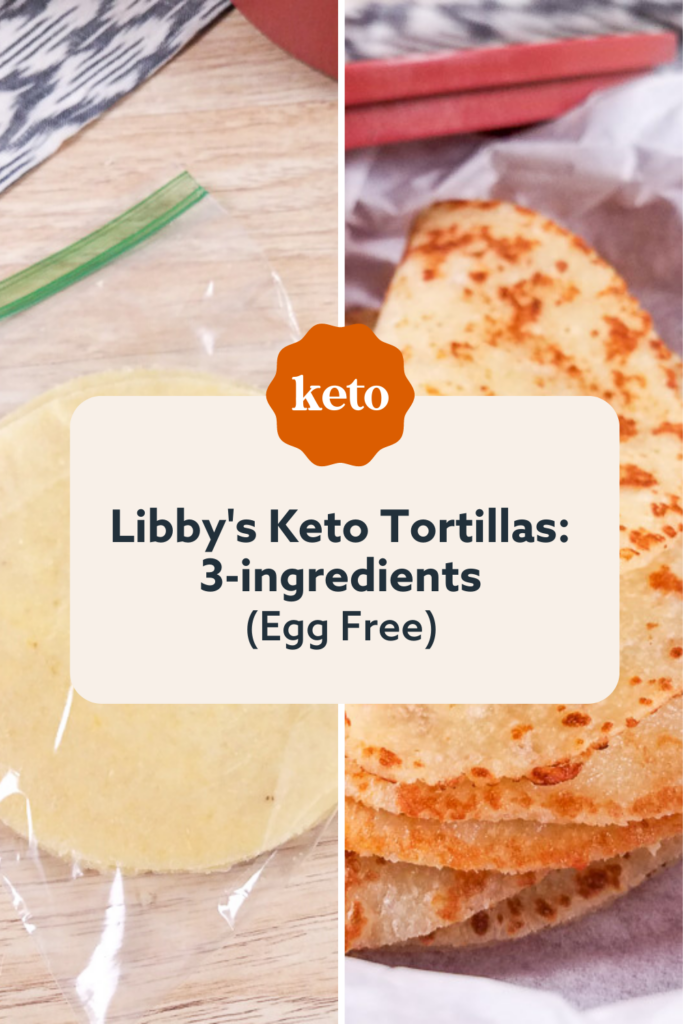 How to heat tortillas
To cook the tortillas heat a pan on medium-high heat on the stove.
When the pan is hot place the tortillas flat in the pan for 15-30 seconds, then flip the tortilla over to cook the other side. No oil is needed to cook your tortillas.
You can cook however many tortillas fit in your pan at one time. You will know your tortillas are ready to flip when the dough is no longer translucent.
If the tortilla folds while flipping, don't worry. Use a spatula to spread the tortilla out again until it is flat.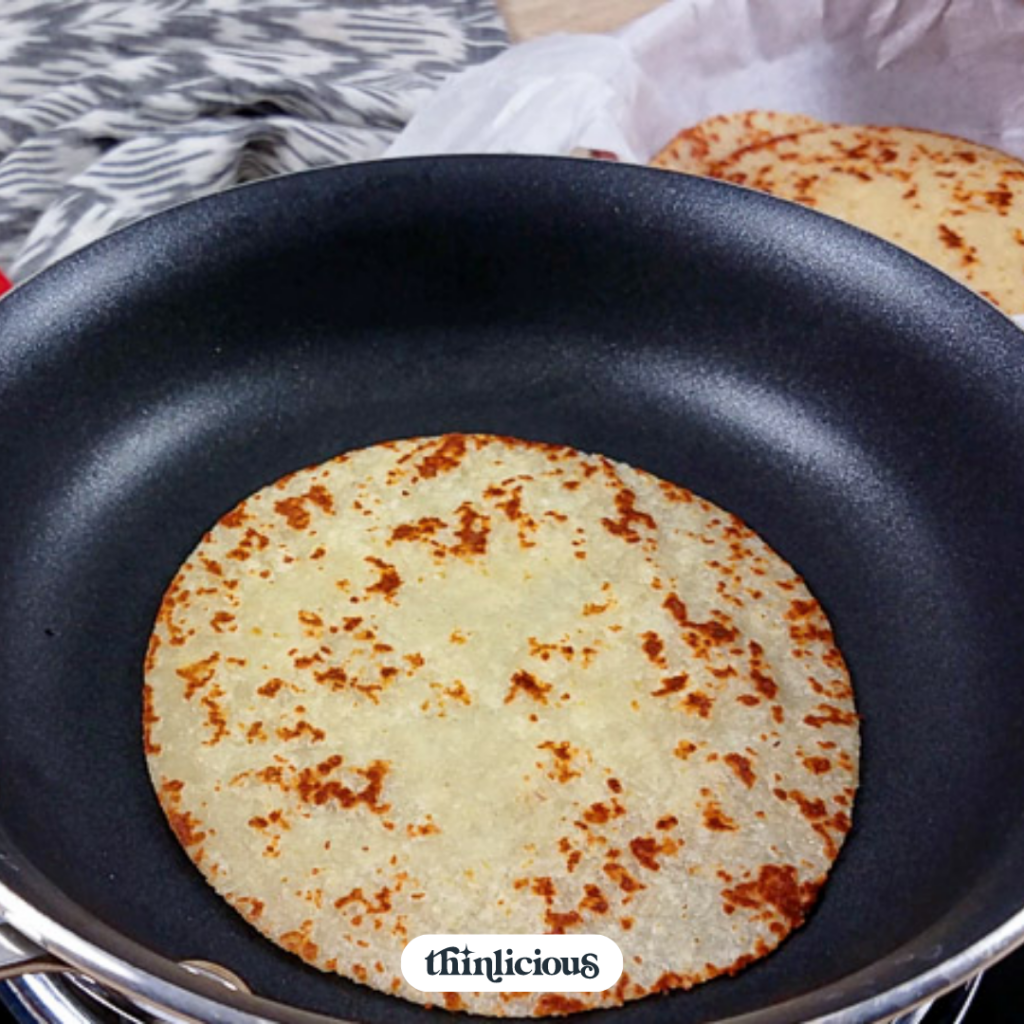 Easy recipes that use tortillas
Now that you have an excellent keto tortilla recipe start thinking of all the ways you can use them!
Each tortilla (assuming you make 8 tortillas out of the dough) has 2.1g net carbs. That is much lower than the 20g net carbs found in a regular corn tortilla.
I also find these tortillas very filling as they are made out of cheese. So while you might want to eat all the tacos, usually 1-2 tacos are more than enough to fill you up. Enjoy!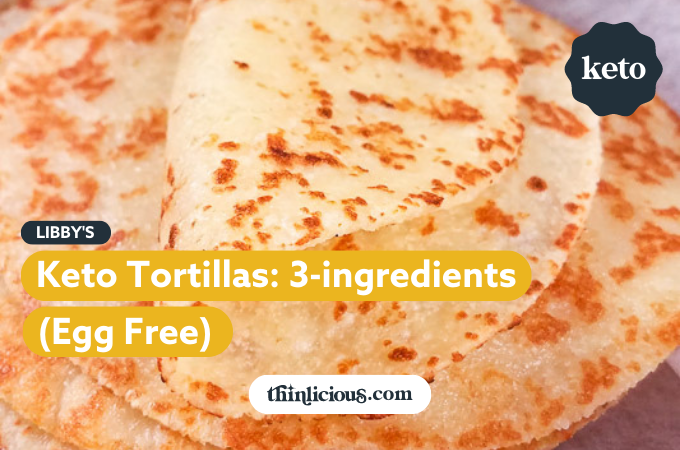 More low-carb Mexican recipes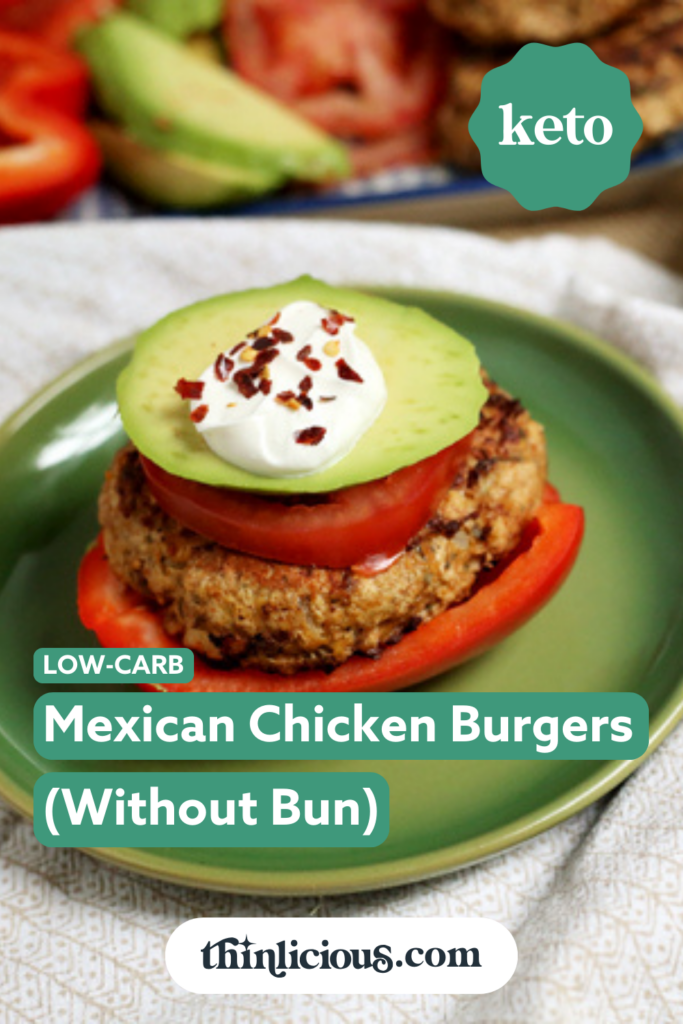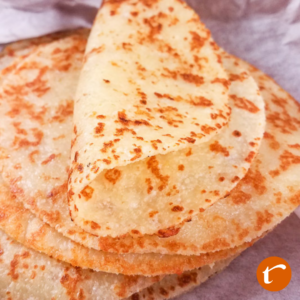 Keto Tortillas Recipe
These easy 3-ingredient keto tortillas will make you excited for Taco Tuesday again!
Print
Pin
Rate
Servings:
8
taco sized keto tortillas
Want to lose weight and get healthy for life—without dieting, drugs, or making yourself miserable?
We can help! Tell me how!
Equipment
Microwave

Mixing Bowls

Frying Pan

Parchment Paper
Ingredients
2

cups

pre-shredded/grated mozzarella

low-moisture

1

cup

almond meal/flour

1

tsp

xanthan gum
Instructions
Mix all your ingredients together in a microwave-safe bowl so that the cheese is coated with the almond flour and xanthan gum.

Place your bowl of cheese in the microwave for 1 minute. Knead the cheese with a spoon to mix the ingredients until it forms a ball of dough. Then microwave your dough for 30 more seconds. Knead the dough with the back of a spoon again..

Place the mozzarella dough between two long sheets of parchment paper. Roll the dough out until it about 1/8 cm thick. Remove the top layer of parchment paper and cut out your tortillas with a knife. Use a small bowl as a guide for cutting out the tortillas. You should be able to cut out about 6 – 15cm tortillas.

Collect the scraps, place them back into your bowl and microwave them again for another 15-30 seconds to soften the dough. Roll the scraps back out between the parchment paper and cut out 2 more tortillas.

Store the tortillas in an air tight container or bag in the refrigerator for up to a week. To cook the tortillas place them in the middle of a hot pan without oil. Let the tortilla crisp for 5-15 seconds on each side. Tortillas are best used warm.
Notes
You may get more or fewer tortillas depending on the size that you cut. You can use this dough to make larger or smaller tortillas.
You can also use a tortilla press to form your tortillas if you have one. Simply cut the dough into 8 equal portions and roll into 8 balls before placing them one at a time in the tortilla press.
Nutrition
Serving:
1
tortilla (makes 8)
Calories:
164.3
kcal
Carbohydrates:
3.9
g
Protein:
9.2
g
Fat:
13.2
g
Sodium:
186.4
mg
Potassium:
21.3
mg
Fiber:
1.8
g
Sugar:
0.8
g
Vitamin A:
189.3
IU
Calcium:
170.8
mg
Iron:
0.7
mg
Get our FREE guide to finally fix your metabolism!
Losing weight & getting healthy is never easy, but lately you might feel like it's suddenly become impossible.
Our Flip the Switch guide will help you clearly understand what's been going on, as well as exactly what you can do to get your metabolism working again so that you can look and feel your best—it's easier and more simple than you think!