This perfectly healthy homemade bread at only 1.9g net carbs per slice. This almond flour bread is gluten-free, low-carb, and has no sugar added! Enjoy this dipped in olive oil or with a layer of peanut butter or almond butter. Yum!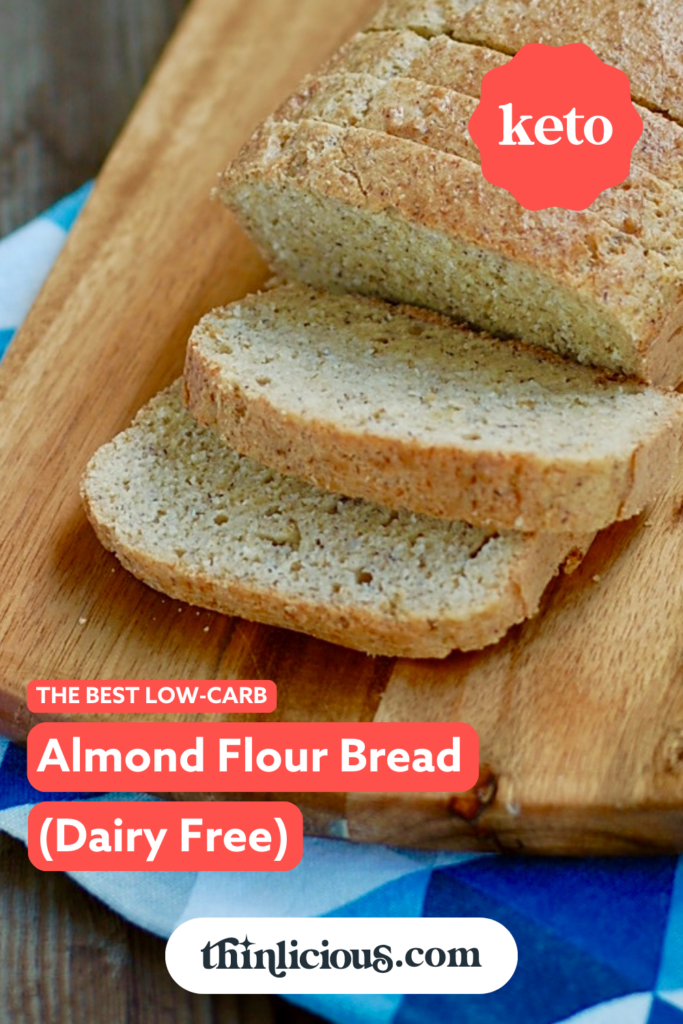 Almond flour bread recipe (for beginners)
If you are new to low-carb baking, bread made with almond flour is the easiest low-carb flour, to begin with.
Almond flour bread makes for a sturdy, yet light loaf. However, there is a bit of a science to working with almond flour! Read on for my top tips.
Are you ready to create the ultimate 12-month blueprint for reaching your health & weight loss goals this coming year?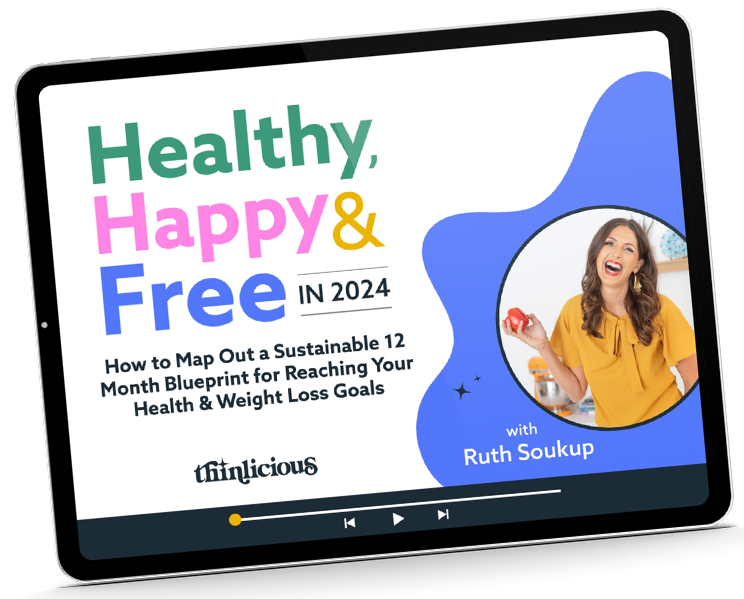 Our free on-demand video training will walk you through how to make 2024 THE year you set health goals…and keep them.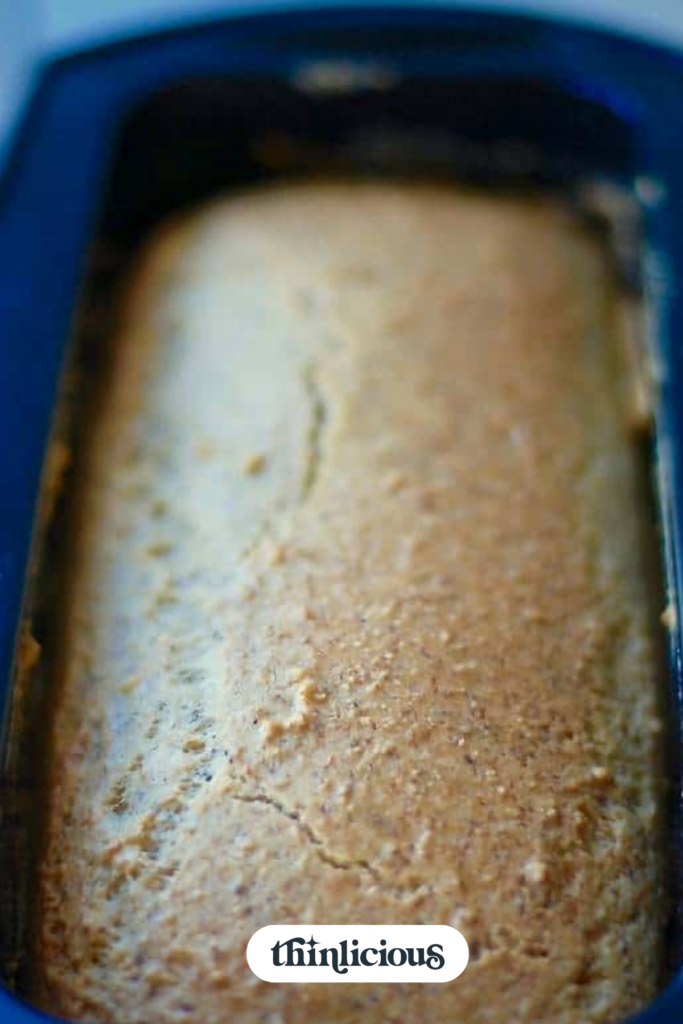 How to make bread with almond flour
Almond flour is pretty easy and simple to bake with, especially for beginners.
It's the most popular low-carb flour to use. It's nutritious and has a wonderful mild nutty flavor. You can use it for savory keto recipes and sweet recipes too.
There are a few things however, you need to understand because you cannot directly substitute almond flour for wheat flour (or coconut flour!) in your regular baking recipes. But don't worry, if you have only ever made wheat flour bread, I'll teach you how easy low-carb flours are to use.
Can I make almond flour?
Yes, you can make almond flour, ground almonds, or almond meal in your food processor.
One cup of whole almonds produces about one cup of almond flour.
You can use whole almonds with the skin on, and so your almond flour (almond meal) will have tiny brown flecks and will be higher in fiber. Or you can use blanched almonds that have had the skins removed. You will have finer cream-colored ground almonds.
Simply put the whole almonds in a food processor with the blade attachment. Close and lock the lid securely. Pulse at high speed until you can see ground almonds.
Be careful not to process the almond meal too much otherwise you will end up with almond butter. It is lovely to make your own homemade keto almond butter, but it's not what you need when you want homemade almond flour.
Do I need to knead bread?
No, you don't need to knead the bread. Kneading bread is often required when a bread recipe uses yeast and sugar, or apple cider vinegar and baking soda to allow the baking agents to work and help the bread to rise. The bread dough is then often left in a warm place to rise again.
This simple almond flour bread recipe however is made in one large mixing bowl. It's so easy. It's truly just a 2-step process.
You don't need yeast, you don't need a bread machine, you don't need to knead the bread or wait for your bread to rise. This keto bread recipe couldn't be easier.
Is the bread fluffy?
This quick bread recipe is light and slightly firm. It's not heavy or stodgy like a traditional wheat flour loaf. The texture is more like a soft cake.
Almond flour doesn't behave like wheat bread flour (that you may be accustomed to), because there is no gluten to make the bread stretchy or soft.
So in order to make basic almond flour bread behave like regular wheat flour, eggs are used for structure, protein, and air.
I also use psyllium husk which absorbs water many times its own volume. It also helps give structure and volume to a low-carb bread recipe and adds plenty of fiber.
The famous 2-step method
There are two simple steps to this dairy-free almond flour bread.
Add the dry ingredients to a large mixing bowl, then add the wet ingredients.
Mix.
Yes, it's that simple!
Just make sure you have a prepared loaf pan lined with baking parchment paper. The parchment paper will allow you to easily remove the almond bread from the greased loaf pan and place it on a wire rack to cool completely.
Bake until golden brown and cooked in the center.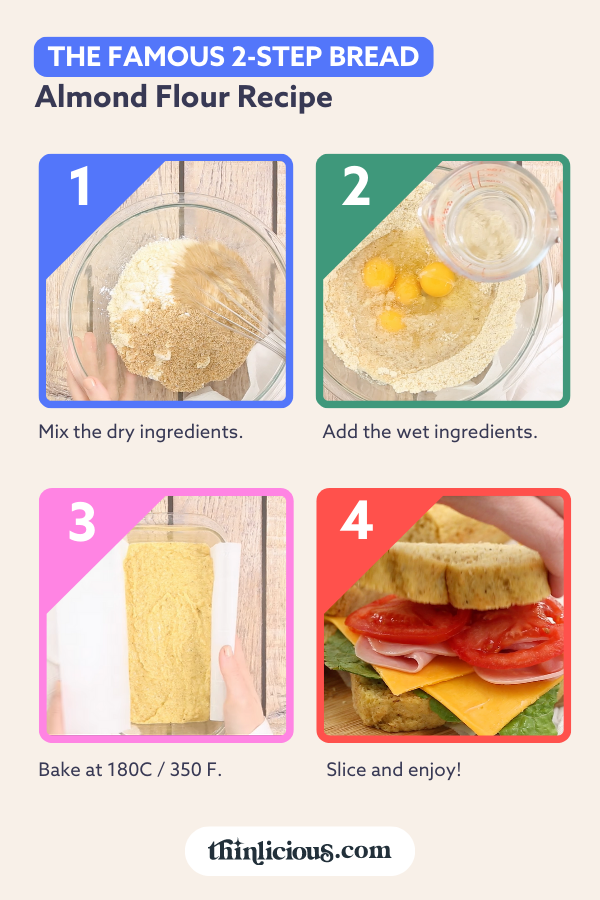 Ingredients
There are only 4 dry ingredients needed to make this simple low-carb bread recipe.
All quantities, ingredients, and instructions are in the recipe card below.
almond flour (or almond meal)
fresh baking powder (always check the expiry date)
salt (add to your preferred taste)
psyllium husk
The wet ingredient list is also quite simple.
eggs (medium)
melted coconut oil
water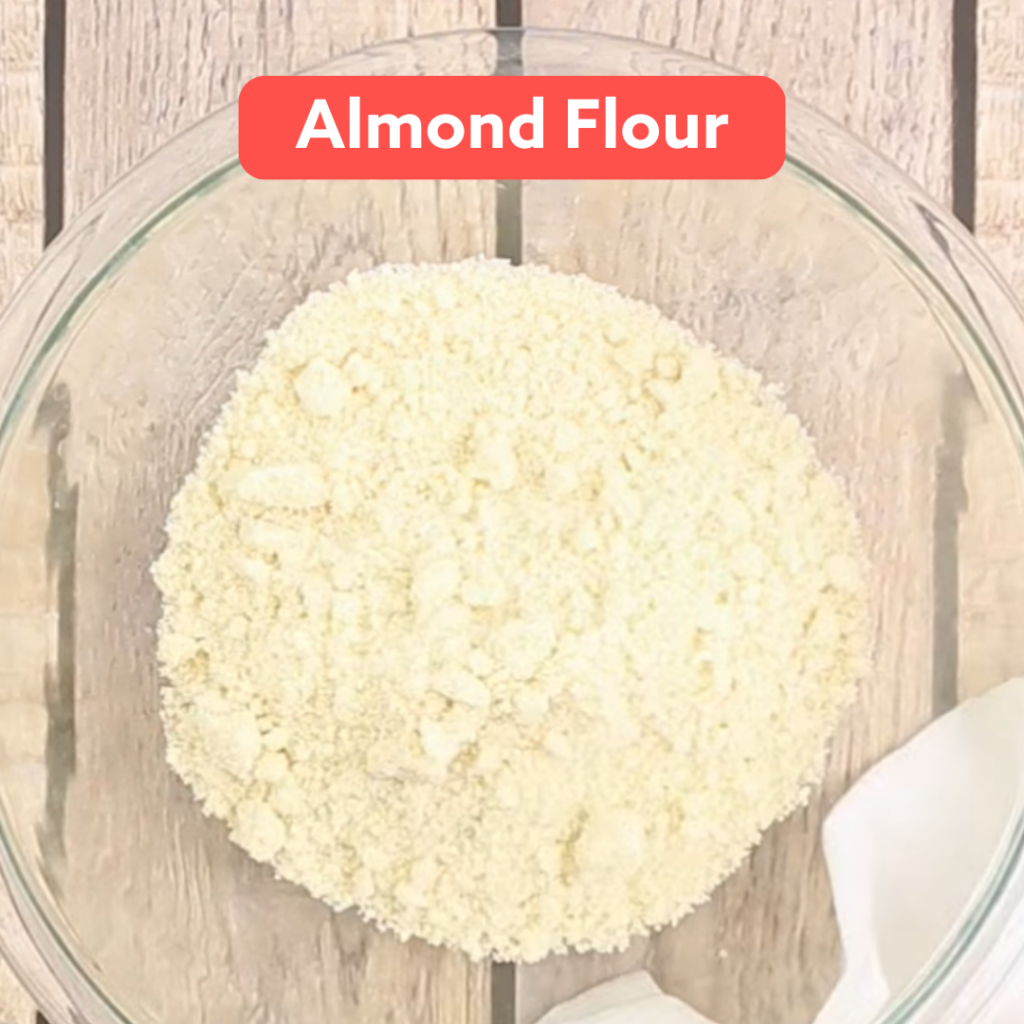 Why use almond flour?
1. Naturally grain and gluten free
Almond flour is a naturally grain-free and gluten-free flour.
If you are still buying gluten-free bread – STOP! Why? Because gluten-free products are expensive, ultra-processed, and generally made with high carb, starchy flours such as rice flour, potato starch, and tapioca starch.
Save your money, and make your own healthy gluten-free bread instead with this almond flour bread recipe!
2. Excellent source of nutrients
Almond flour isn't just a convenient thing to bake with—it's actually good for you too! Almonds are an excellent source of:
fiber
iron
magnesium
copper
vitamin E
manganese
3. It's keto-friendly
If you are following a low carb or keto diet, this almond flour bread is perfect! It's very low in carbohydrates and higher in fat than typical wheat bread flour.
Almond flour nutrition per 1 cup (112 g ): 9.5 g net carbs, 23.4 g protein, 56.4 g fat, 642 calories.
Nutritional values from cronometer.com
To learn more about different types of low-carb flours, make sure to check out The Ultimate Guide to Low Carb Flours.
Read more: Gluten free vs grain free
Serving
Toast it with butter for your morning toast, or make it into the base for your avocado toast. Perhaps you'd enjoy this with some cream cheese, peanut butter, or sugar-free nutella? What about french toast with some low carb maple syrup?
Or, simply enjoy this almond flour bread in place as low-carb sandwich bread.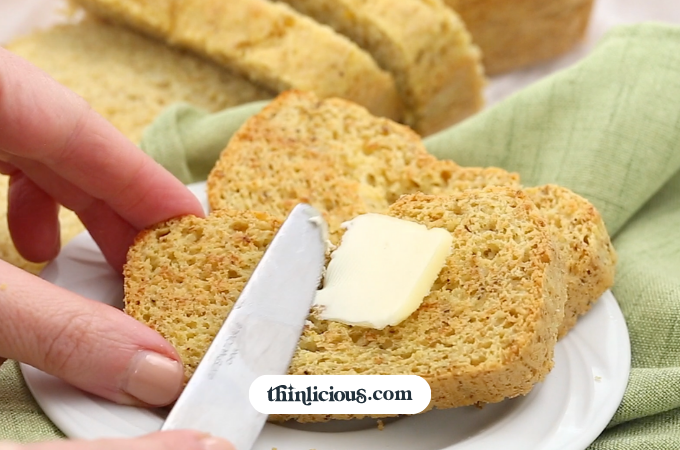 Of course, there are obvious ways to serve almond flour bread. it is a quick and easy low-carb side dish for pork, chicken, or beef.
But, there's so much more you can do! What about cubed and fried to use as keto croutons on your salad? Or perhaps some low-carb bread crumbs to make some keto-friendly fried chicken? Roast chicken stuffing? Keto turkey stuffing?
The possibilities are TRULY endless with this almond flour bread recipe!
Variations
Italian bread: swap out extra virgin olive oil for the coconut and add some Italian seasoning and grated parmesan to the batter. Then bake for 30 minutes, remove from oven and sprinkle generously with more parmesan. Serve warm and dip each slice in extra virgin olive oil.
Jalapeno cheese bread: add diced jalapeno mixed into the batter along with some cheddar cheese.
Mediterranean loaf: sprinkle in some choped black olives, feta, rosemary, and sundried tomatoes.
Cinnamon bread: add a few shakes of cinnamon and the sweetner of your choice to the batter. Serve with butter.
Storage
Almond flour is moisture-sensitive, is preservative-free and is made with fresh ingredients. You need to make sure it's in an airtight container. In the cooler winter months, I tend to keep it in the pantry, and in the summer I store the keto almond bread in the fridge. Here, it can keep for up to three days (not that it ever lasts that long in our family of 5).
Alternatively, you can slice the bread and then freeze it with a piece of baking paper between each slice.
Recipe FAQs
Can I make this recipe in a bread machine?

Maybe. It depends on what breadmaker settings you are using. This low-carb gluten-free bread doesn't need any kneading or rising, so those bread maker functions are not necessary.

You can, however, use the mix and bake functions potentially, depending on how your bread maker works. I have not personally tried this, but plenty of readers have and report good results!
What can I substitute out for psyllium?
Psyllium husk is vital for this recipe. It adds bulk and structure to the recipe. While I personally have only made this almond flour bread with psyllium, many readers have reported using ground flaxseed meal instead, with good results.
Can I use a different oil instead of coconut oil?
If you aren't a fan of coconut oil, or just prefer to try something new, there are a few things you can use instead. Olive oil and avocado oil both work well. Additionally, some readers have reported using melted butter.
Why did my almond flour bread turn purple?
This typically occurs due to psyllium husk reacting with baking powder. Thankfully, it's still completely safe to enjoy!
Why did this almond flour bread recipe turn out so moist?
If your almond flour bread is still wet in the middle, it's likely due to excess moisture having been added, not enough almond flour has been used or it hasn't been baked for long enough.

To counteract this, you may require a tablespoon or two extra almond flour to thicken the batter. However, this batter is wetter than you would expect for bread dough. You literally pour it into the prepared loaf pan! So, a bit of trial and error may be needed until you nail the consistency!
Which almond flour can I use?
When substituting almond flour you can use blanched almond flour, almond meal, or ground almonds. You can even make your own almond flour in the food processor. You may need to add an additional tablespoon if your bread batter is too wet.
Baking 101 (tips & charts)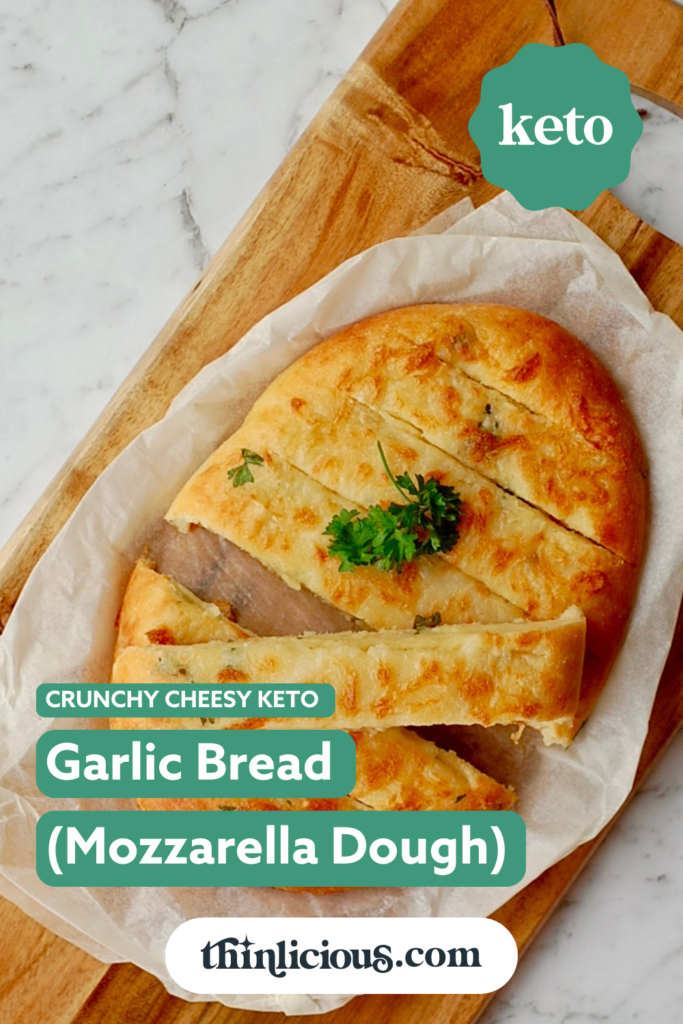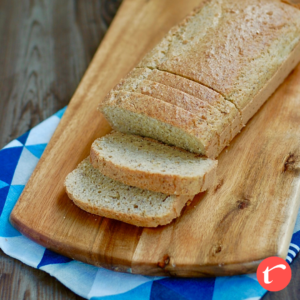 Low-Carb Almond Flour Bread Recipe
The easiest recipe for low-carb almond bread … with only 2 steps! A low-carb almond flour bread that slices like the real thing. Perfect sliced for a low-carb sandwich, toasted or even used for a bread stuffing.
Print
Pin
Rate
Want to lose weight and get healthy for life—without dieting, drugs, or making yourself miserable?
We can help! Tell me how!
Equipment
Mixing Bowls

Measuring cups and spoons

Loaf pan
Ingredients
200

g

almond meal/flour

2

tsp

baking powder

1

tsp

salt

or to taste

20

g

psyllium husk

4

eggs – medium

50

g

coconut oil

melted

125

ml

warm water
Instructions
Place all the dry ingredients in a mixing bowl.

Add the eggs, coconut oil and warm water. Mix until combined well. Do not over mix.

Pour into a lined loaf tin or a silicon loaf tin. Bake at 180C/350F for 30 minutes, or until golden on the outside and cooked thoroughly inside. It appears some ovens require a longer cooking time, so please be guided by your oven.
Nutrition
Serving:
1
slice (makes 15)
Calories:
126
kcal
Carbohydrates:
3.9
g
Protein:
4.4
g
Fat:
11.3
g
Fiber:
2
g
Sugar:
0.6
g
Pair this almond flour bread with these delicious keto soups:
SaveSave
Get our FREE guide to finally fix your metabolism!
Losing weight & getting healthy is never easy, but lately you might feel like it's suddenly become impossible.
Our Flip the Switch guide will help you clearly understand what's been going on, as well as exactly what you can do to get your metabolism working again so that you can look and feel your best—it's easier and more simple than you think!