Want an easy dinner that practically cooks itself? Look no further than these keto crockpot meatballs. The self-saucing meatballs are juicy and have the most delicious tomato sauce.
No need to pre-brown or pre-fry your meatballs.
I'm a fan of dinners that come together quickly, and this crock pot recipe for homemade meatballs fits the bill. You can even make the meatballs the night before then just pop it all together in the slow cooker in the morning.
Come home to made-from-scratch homemade meatballs everyone in the family will rate 5 stars…whether they are low-carb followers or not!
Are you ready to create the ultimate 12-month blueprint for reaching your health & weight loss goals this coming year?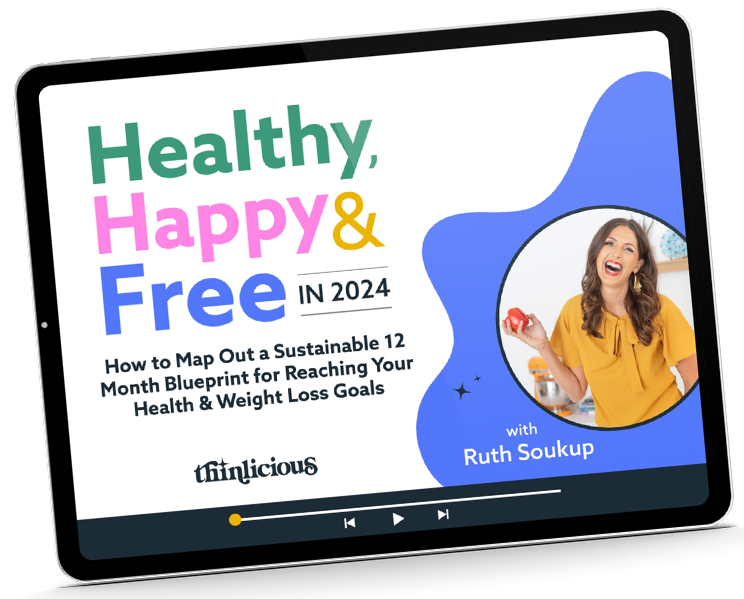 Our free on-demand video training will walk you through how to make 2024 THE year you set health goals…and keep them.
Serve with zoodles and you have a nutritious healthy easy dinner. Who says eating real food has to be difficult or complicated?
Ingredients you need
Making these low-carb crockpot meatballs recipe is simple. Here's what you'll need to make this dish. All quantities and full instructions are in the printable recipe card below.
Onion – I recommend a brown onion (yellow onion). You don't need to dice it up. Just quarter it.
Garlic – crushed garlic or whole garlic is best. You can use garlic powder too.
Bacon – this is where this dish gets a lovely smoky flavour. Don't skip this part! The bacon is spread it out through the meatballs and disperse the taste into the tomato sauce.
Ground beef – you can also use ground pork or even ground turkey (or a combination).
Herbs – you can play with these and totally change the flavour of these slow cooker meatballs just buy trying different herbs. See the "variations" section below for more ideas.
Egg – a fresh medium egg helps to bind the keto meatballs and prevent them from falling apart. May be omitted if you have an egg allergy.
Can of chopped tomato – look for one with no added sugars. I prefer 100% chopped tomato rather than marinara sauce. You can also use crushed tomatoes if you prefer a smoother sauce.
How to make homemade meatballs (in the blender)
The complete instructions, prep time, and quantities for crockpot meatballs are in the printable recipe card below.
The crockpot meatballs are all made in the food processor, then rolled and placed directly into the removable slow cooker dish. This step can even be done the night before and kept covered, in an airtight container, or in the slow-cooker bowl in the fridge so you are ready for the morning rush.
Crockpot meatballs are a great recipe for the end of a busy day and will help you stay on your low-carb diet or keto diet.
STEP 1: Make your keto meatballs.
Place your fresh garlic, quartered onion, and sliced bacon into the bowl of your food processor. Pulse until finely chopped.
Add the ground meat, fresh or dried herbs, and fresh medium egg. Pulse until smooth.
Pulse all the ingredients for your keto meatballs until smooth. This ensures the bacon and flavors are evenly distributed throughout each meatball.
Use cooking spray to the inside of the slow cooker dish so the beef meatballs won't stick.
Remove the food processor blade and roll a generous spoon of the mixture (golf ball size) into meatballs, placing the raw meatballs into the slow cooker dish.
Step 2: Add your tomatoes
In the morning, turn the slow-cooker to HIGH or LOW setting depending on how long you would like to cook your meatballs.
Pour the canned chopped tomatoes over the prepared meatballs and stir. You can use fresh tomatoes but the tinned tomatoes tend to work better and produce a thicker sauce.
Step 3: Cook
Cook meatballs on LOW for 6-10 hours or HIGH for 4-6 hours. But be guided by your own experience with your own slow cooker instructions as they all vary.
How to make keto tomato sauce
Often, people enjoy meatballs with a variety of sugar-laden sauces that add carbs and calories. In this recipe, you won't find any grape jelly and bbq, cranberry sauce, barbecue sauce, or sweet and sour sauce mixture. Instead, these meatballs self-sauce in a simple tomato base.
The sauce is not a traditional store-bought tomato sauce (or tomato ketchup), but more of a tomato gravy. The keto meatballs cook in the gravy and when it's time to serve you drizzle additional delicious tomato sauce (tomato gravy) over your bowl of meatballs and zoodles.
The beauty of the self-saucing keto tomato sauce is that all the lovely juices and fats that come out of the ground beef meatballs as they cook, helps to thicken and make a rich, filling yet delicate sauce.
If your tomato gravy separates, just stir it together to mix the oils, tomatoes, and flavours together. If you want a thicker keto gravy, you can add xanthan gum or cream cheese and whisk gently over medium heat.
Variations
Want to change this recipe up? Here are a few options.
Ground pork meatballs – instead of making these crockpot meatballs with ground beef, try using pork or a 50-50 mix of both.
Italian meatballs – adding Italian seasoning to your crockpot meatballs will give them so much flavour! Try a combination of your favorite herbs or just purchase an Italian seasoning blend.
Spicy crockpot meatballs – I love a good kick of spice, but my kids don't. To appease us all, I add chili sauce to my meatballs after I've served myself. Chili sauce tends to be low carb but make sure you read the labels and double-check.
BBQ meatballs – if you really want, you can add a bbq sauce to these crockpot meatballs. However, don't go buy a bbq sauce off the shelves. Chances are, it's full of added sugar! Instead, make my simple no-sugar bbq sauce. It's tangy and delicious! Grab the bbq sauce recipe here.
Swedish keto meatballs – make a delicious keto creamy mushroom sauce and pour over your meatballs when ready to serve.
How to serve keto meatballs
Many traditional meatball recipes are served with high-carb side dishes such as mashed potato, bread, and pasta. But you can easily avoid these unnecessary sides by serving your meatball recipe with a store-bought bagged salad, coleslaw, or sliced cabbage.
Other great side dishes to serve with meatballs:
Low-carb vegetable noodles are such a healthy alternative to processed pasta. Traditional wheat pasta is high starch, high carb and will raise your blood sugars.
When you make zoodles (zucchini noodles) let your children make them. Vegetable pasta is fun to make and children love cranking the handle and watching the zucchini spirals take shape.
But the best side dish to serve with ground beef meatballs has to be zoodles, spaghetti squash, or 3 ingredient keto pasta (egg free).
Which cheese is best with meatballs?
When it's time to serve your keto meatballs, place the mashed cauliflower, zoodles, or spaghetti squash in a serving bowl, add your cooked meatballs from the gravy, and pour extra keto gravy over the top.
Now cover or sprinkle the whole meal with grated parmesan cheese or shredded cheese. Mozzarella cheese is beautiful and as it melts over your meatballs, it becomes authentic Italian stretchy and chewy meatballs and cheese.
Storage
You can place the crockpot meatballs in a meal prep container (I prefer glass, particularly when dealing with tomato sauce as it stains plastic terribly.
It will keep in the fridge for about 3 days.
You can also make these into frozen meatballs by adding the container to the freezer. I like to proportion out a few frozen meatballs per container for easy meal prep!
Pre cooked frozen meatballs can be microwaved or added to a saucepan and heated over medium heat.
I hope you and your family love this tasty meatball recipe! This is one of my favorite lowcarb dinner ideas. Enjoy!
Meatball FAQs
Can I make meatballs ahead of time?
Yes, keep the fresh meatballs in the bowl of your crockpot or slow-cooker in the fridge for up to 2 days before cooking.
Are meatballs keto?
Most traditional meatballs are not keto because they have bread crumbs or added flour to bulk up the ground beef and to help make the meatballs stick together. And avoid all honey garlic meatballs, heinz chili sauce, apple jelly, grape jelly, or sweet chili sauce. They're all full of sugar and will make your blood glucose skyrocket.
How to store cooked meatballs?
Keep in an airtight container in the fridge for up to 3 days. May be frozen for up to 3 months.
How to reheat frozen meatballs?
Allow your frozen meatballs to defrost first by sitting covered on the kitchen bench for a few hours or using the defrost function of your microwave.

Always check the middle of your meat balls in your storage container to make sure there is not a frozen meatball hidden.

Reheat by placing your crockpot meatballs in a saucepan over the stovetop, reheating in the oven, or using the reheat function of your microwave. Test the center of a few meatballs to make sure they are hot and there are no cool spots.
How many meatballs does this recipe make?
It depends on how large or small you make each meatball. The recipe will serve 8 people. You will make fewer if you roll large meatballs, and more if you roll small ones.
Can I halve or double the recipe?
Yes, you can use the 2X, 3X, or 4X to increase the servings or use the slider to adjust to only serve one or two people.
Do I have to pre-cook meatballs before putting them in the crockpot?
No pre-cooking is required. You don't need to fry or brown the raw meatballs either. Throw everything together in your slow-cooker and let your crock pot do the hard work for you.
Do you thaw meatballs before putting them in the crockpot?
If you are using frozen meatballs you can cook them directly from frozen. Add an extra 1 hour on high or 2 hours if you cook on low to allow for cooking frozen meat.
Can you overcook meatballs in a crockpot?
It's difficult to overcook meatballs in the slow-cooker. But if you do the meatballs may fall apart and you'll end up with a ground beef marinara sauce (which might actually be really yummy).
More keto meatballs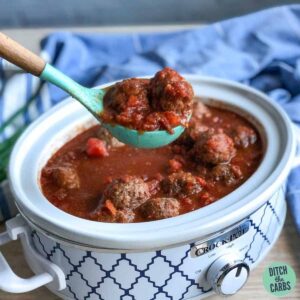 Self-saucing keto crockpot meatballs recipe
Self-saucing keto crockpot meatballs (4.2 g NET carbs) is a simple and healthy mid-week family dinner. Serve the juicy sauce over zoodles or mashed cauliflower.
Print
Pin
Rate
Want to lose weight and get healthy for life—without dieting, drugs, or making yourself miserable?
We can help! Tell me how!
Ingredients
Meatballs
1

onion

quartered

2

cloves

garlic minced

2

slices

bacon

diced

1

kg

ground/minced beef

favourite herbs – I use rosemary

thyme, oregano, marjoram and sage

1

eggs – medium

salt and pepper

to taste
Self Saucing Tomato Sauce
800

g

tinned/canned chopped tomatoes
Instructions
Meatballs
Oil the inside of the slow cooker dish so the meatballs won't stick.

Place the quartered onions, whole garlic, and bacon in the food processor. Pulse until finely chopped.

Add the ground beef (minced beef), herbs, and egg. Pulse until smooth.

Remove the blade and roll a generous spoon of the mixture into meatballs, placing each one into the slow cooker dish.
Self-Saucing Tomato Sauce
Pour the canned (tinned) tomatoes over the meatballs. You can use fresh tomatoes but the canned (tinned) tomatoes tend to work better and produce a thicker sauce.

I cook on LOW for 6-10 hours or HIGH for 4-6 hours. But be guided by your own experience with your own slow cooker instructions as they all vary.
Nutrition
Serving:
1
serve
Calories:
371.9
kcal
Carbohydrates:
5.6
g
Protein:
23.8
g
Fat:
27.9
g
Sodium:
271.6
mg
Potassium:
567.1
mg
Fiber:
1.4
g
Sugar:
3
g
Vitamin A:
149.1
IU
Vitamin C:
10.6
mg
Calcium:
61.4
mg
Iron:
3.6
mg
So what is your favourite slow cooker meal? Leave a comment below.
Get our FREE guide to finally fix your metabolism!
Losing weight & getting healthy is never easy, but lately you might feel like it's suddenly become impossible.
Our Flip the Switch guide will help you clearly understand what's been going on, as well as exactly what you can do to get your metabolism working again so that you can look and feel your best—it's easier and more simple than you think!