Looking for a delicious and nutritious low-carb protein shake recipe? Try this creamy and satisfying shake made with whey protein powder, almond milk, and almond butter.
In the mood for a different flavor? No problem!
Make this a build you own shake and customize it with different add-ins such as chia seeds, berries, spinach, or cocoa powder.
Are you ready to create the ultimate 12-month blueprint for reaching your health & weight loss goals this coming year?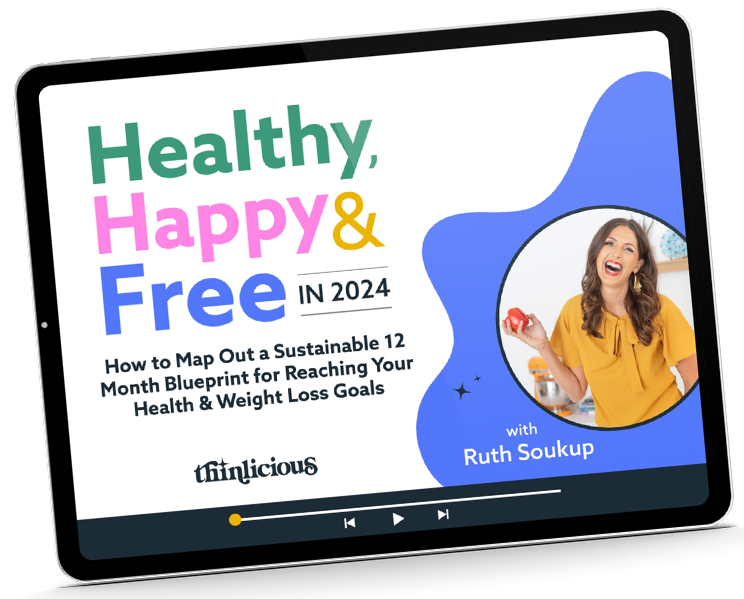 Our free on-demand video training will walk you through how to make 2024 THE year you set health goals…and keep them.
With only 3.3g net carbs this shake is perfect for a quick and easy breakfast or post-workout snack.
If you love our Easy Keto Berry Smoothie Recipe, then you will surely love the ease and deliciousness of these shakes.
Ingredients
The ingredients used in this keto protein shake are the perfect base recipe for a quick and easy breakfast on the go, a satisfying post-workout snack, or a healthy meal replacement option.
With customizable add-ins and a creamy texture, it's a versatile recipe that can fit into any dietary or nutritional plan.
Low-carb whey protein powder – A high-quality protein powder made from whey isolate that is low in carbs and high in protein. Vanilla or plain flavored.
Unsweetened almond milk – A dairy-free, low-carb alternative to milk that adds a creamy texture and nutty flavor to the shake.
Almond butter – A rich and creamy nut butter made from ground almonds that adds healthy fats and protein to the shake.
Ice cubes – Chilled cubes of water that help to thicken and cool the shake for a refreshing and satisfying texture.
See the recipe card below for quantities.
Instructions
You will want to begin with making the base for your protein shake. Once you have the base you can customize the flavors to your liking.
Add all your ingredients together in a blender.
Then blend until smooth. Pour into a glass and enjoy!
Making your low-carb protein shake with a base recipe means you only have to keep one plain or vanilla protein powder on hand.
Hint: opt for plain or even a vanilla-flavored whey or pea protein powder. These flavors give you the most flexibility with your shakes. If you're in the mood for chocolate, just add some unsweetened cocoa powder!
Substitutions
Customizing your low-carb protein shake is to meet your nutritional needs to easy. Check out our list below to see ways to alter the shake to meet your needs:
Add more protein – You can add additional sources of protein to the shake, such as a tablespoon of chia seeds, hemp seeds, or collagen powder.
Add more fat – If you want to increase the fat content of the shake, you can add a tablespoon of MCT oil or coconut oil.
Add more fiber – You can add a handful of spinach, kale, or other leafy greens to increase the fiber content of the shake.
Add more sweetness – If you want a sweeter shake, add a pinch of your favorite low-carb sweetener or a few drops of liquid stevia.
Change up the base – Instead of almond milk, you can use coconut milk, cashew milk, or heavy cream as the base of the shake.
Add more texture – For a more interesting texture, you can add chopped nuts, cacao nibs, or shredded coconut on top of the shake.
Add more nutrients – You can add a teaspoon of maca powder or spirulina to boost the nutrient content of the shake. You can also add ginger or turmeric to take advantage of the anti-inflammatory properties.
Keep in mind that any changes made to the recipe will alter the nutritional values found below.
Variations
This low-carb protein shake has endless customization options and can be tailored to suit any taste preference or nutritional goal. To get you started, here are 4 easy variations you make by adding just one more ingredient.
Vanilla – add 1/2 tsp vanilla to the base recipe or use vanilla-flavored protein powder.
Chocolate – the addition of 1 tablespoon of cocoa powder gives your shake just enough chocolate flavor.
Berry – 1/4 frozen berries are all you need to make this shake berry flavored. Use the berries with the lowest carbs possible to meet your macro goals!
Green – adding a handful (about 1/2 cup) of leafy greens is a great way to add more vegetables to your diet. You can use baby spinach or a variety of leafy greens.
See this Best Keto Green Smoothie on my website!
Equipment
To make this low-carb protein shake recipe, you will need a few pieces of basic equipment:
Blender – A blender is necessary to blend all of the ingredients together into a smooth and creamy consistency if you are adding anything like berries or greens to your smoothie.
Measuring cups and spoons – Accurately measuring out the ingredients is important for the texture and taste of the final shake.
Glass or shaker bottle – Option to mix your shake if you don't have a blender or want the ice blended into the shake. You can mix your base recipe, vanilla, or chocolate shake in a shaker bottle and take it to go.
Overall, the equipment needed for this low-carb protein shake recipe is minimal and likely already available in most kitchens.
Storage
This low-carb protein shake recipe is best enjoyed immediately after making it for optimal freshness and texture.
If you have leftovers, you can store the shake in an airtight container in the refrigerator for up to 24 hours. Give it a good shake or blend before drinking, as the ingredients may separate over time.
Top tip
If you prefer a thicker shake, use less almond milk, or add more ice cubes to thicken it up. On the other hand, if you prefer a thinner shake, you can add more almond milk until you reach the desired consistency.
FAQ
Can you drink protein shakes on a low-carb diet?
Yes, protein shakes can be a great addition to a low-carb diet as they provide a convenient and quick source of high-quality protein, which is essential for building and maintaining muscle mass and promoting overall health.
Do protein shakes help you lose weight?
Protein shakes can be a helpful tool for weight loss when combined with a keto diet and regular exercise, as they can help increase feelings of fullness, reduce calorie intake, and preserve muscle mass during weight loss.
Are protein powders good for a low-carb diet?
Protein powders that are good for a low-carb diet include whey isolate, collagen, egg white, and pea protein, as they are all low in carbs and high in protein.
Related
Looking for other recipes like this? Try these: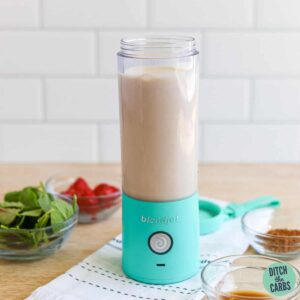 Build Your Own Protein Shake
Customize this low-carb protein shake recipe for a perfect quick and easy breakfast or post-workout snack.
Print
Pin
Rate
Want to lose weight and get healthy for life—without dieting, drugs, or making yourself miserable?
We can help! Tell me how!
Equipment
Blender

Measuring cups and spoons
Ingredients
Protein Shake Base
1

cup

almond milk unsweetened

1

tbsp

almond butter

optional

1

scoop

protein powder

ice
Vanilla
½

tsp

vanilla extract

base protein shake
Berry
¼

cup

frozen berries

base protein shake
Chocolate
1

tbsp

cocoa powder (unsweetened)

base protein shake
Green
½

cup

baby spinach

or other leafy greens

base protein shake
Instructions
Add all the ingredients to a blender and blend until smooth.

If the shake is too thick, add more almond milk or water to thin it out to your desired consistency.

Add ice cubes as desired to make the shake colder and thicker.
Nutrition
Calories:
157
kcal
Carbohydrates:
4.1
g
Protein:
26.3
g
Fat:
5.2
g
Sodium:
388.4
mg
Potassium:
90
mg
Fiber:
0.8
g
Sugar:
2.3
g
Vitamin A:
80
IU
Calcium:
415
mg
Iron:
2
mg
Food safety
Get our FREE guide to finally fix your metabolism!
Losing weight & getting healthy is never easy, but lately you might feel like it's suddenly become impossible.
Our Flip the Switch guide will help you clearly understand what's been going on, as well as exactly what you can do to get your metabolism working again so that you can look and feel your best—it's easier and more simple than you think!